---
Saturday 2 May
Chester City 1 Darlington 2

League Two
Attendance: 1,945 (520 Darlington) Half Time 0-0
Booked: Kelly.

Chester City: Spencer, Rule, Roberts, Kelly (Platt 78), Barry, Owen, Mannix (Jones 61), Harris, Wilson, Ellams, Lowe. Subs not used: Partridge, Rutherford, Smith.
Darlington: Kazimierczak, Purdie (Fortune 68), Austin, Miller, Valentine, Poole (Main 58), Kennedy (Groves 77), Ravenhill, Burgmeier, Griffin, Abbott. Subs not used: Liversedge, Hulbert.
Referee: Mike Russell (Hertfordshire).



It was an understandably subdued atmosphere at Deva Stadium for the final game of the season. Relegation had to all intents and purposes been confirmed seven days before with the 2-2 draw at Aldershot Town. Prior to the match Ryan Lowe, who with the absence of Paul Linwood, was made captain of the day, picked up a thoroughly deserved Player of the season award. John Danby came runners-up.
Manager Mark Wright made a couple of changes for this final match. James Vaughan, who leaves for Australia soon, and the injured skipper Linwood missed out so there was a starting place for David Mannix and Glenn Rule.
City, looking to end the disappointing season with a win, came closest to breaking the deadlock in the opening stages. Lowe headed a Laurence Wilson cross wide within five minutes and moments later Przemyslaw Kazimierczak in the visitors goal collected another inswinging Wilson effort.
At the other end Jamie Spencer was called in to save a fierce shot from Adam Griffin and repeat the feat when saving from Jason Kennedy. Spencer then had to head clear for the edge of the box to deny Franz Burgmeier.
A poor back pass from ex-City player Ricky Ravenhill almost let in Lowe but Kazimierczak cleared before the loose ball could be turned home.
The best chance of the half fell to top scorer Lowe on 30 minutes who really should have done better than to shoot straight at Kazimierczak after being played in with a great through ball from the City right.
Chester started the second period in positive fashion as Kevin Roberts met an Anthony Barry corner but could only direct his header over the bar.
James Owen saw a shot from 18 yards go wide of the target before Lowe combined well with Lloyd Ellams, who was having a good game, in a move that saw the youngster pull a shot just past the far post
However on 70 minutes the Blues fell behind. A Glenn Rules back pass caught Spencer out of this goal on the left of the penalty area. With no forward near him a frantic scramble back saw Spencer drop on the ball and handle it off the line. Referee Mike Russell had no hesitation in awarding an indirect free-kick six yards from goal.
The City players lined up along the goal line but couldn't prevent the ball being tapped to Pawel Abbott who fired the ball home inside the left post and cue a rather bizarre forward roll celebration routine involving half the team in front of the 500 away fans!
In the closing stages Wilson saw a great shot tipped over by Kazimierczak but he couldn't prevent City getting the equaliser they deserved in the last minute as Barry's dipping right wing cross was spectacularly headed into his own net by Ian Miller.
However the scoring wasn't over and Darlo hit the winner deep into stoppage time. Following a quick interchange of passes on the left the ball was played back to dangerman Abbott in the area by Curtis Main, the City defence failed to clear and the striker was given time and space to smash home his second goal at the near post from close range.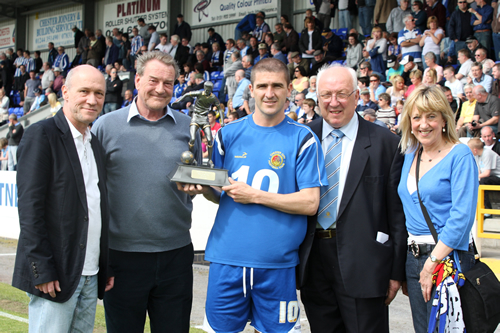 Picture © Evening Leader

• Final League Two table | More photographs


---
Saturday 25 April
Aldershot Town 2 Chester City 2

League Two
Attendance: 3,100 (232 Chester) Half Time 1-1
Booked: Owen, Lowe.

Aldershot Town: Bull (Jaimez-Ruiz 67), Soares, Newman, Elvins, Sandell, Hudson, Donnelly (Hylton 67), Davies, Cochrane, Grant, Robinson. Subs not used: Straker, Hutchings, Connelly.
Chester City: Spencer, Roberts, Linwood (Rule 47), Kelly, J.Vaughan, Barry (Partridge 62), Owen, Harris, Wilson, Lowe, Ellams (Jones 86). Subs not used: Rutherford, Platt.
Referee: Phil Gibbs (West Midlands).



A battling draw for City but it's not enough as the Blues are relegated to non-league for the second time in nine years. The main problem for City's demise this season has been a lack of firepower and once again this was exposed as a number of chances were created but not converted at the Recreation ground.
Needing to win to take their survival hopes to the last game of the season the Blues couldn't have got off to a better start.

There was barely a minute on the clock when Ryan Lowe intercepted a poor back pass and shot at Nikki Bull, the keeper could only parry the effort to 18-year-old Lloyd Ellams, making his first start for City, who was pushed over in the box by Ricky Newman and referee Gibbs had no hesitation in pointing to the spot.

Ryan Lowe stepped up but saw his spot kick saved by Bull diving low to his right but City's top scorer was quickest to react and score from the rebound to the delight of the 200+ City fans in the corner of the ground.

Anthony Barry tested Bull with a swirling cross and Lowe shot over as City started the better of the two sides.

The home side leveled on 14 minutes however as the pacy Kirk Hudson raced through on the right to meet John Grants through ball and lob the advancing Jamie Spencer in the City goal. Hudson almost added a second minutes later but this time Spencer was on hand to save his low shot.

It was an open game and City created two more great chances before the break, both falling to Lowe. The first chance saw Lowe shoot wide from an acute angle, the second he was put through ono-on-one with Bull but as he attempted to round the 'keeper in the edge of the box saw the ball taken off his feet by Bull.

At the other end Spencer did well to palm away a Jake Robinson long range effort for a corner as the two sides finished the half on level terms.

The start of the second half was bizarrely delayed while the players lined up as the Kohima Band and Corps of the 3rd Battalion The Princess of Wales's Royal Regiment stoically trooped off, referee Gibbs showing them the red card in the process!

Just after the break manager Mark Wright was forced to replace the injured skipper Paul Linwood by Glenn Rule. With the visitor's defence reshaping the home side took advantage. Both Hudson and Robinson tested Spencer before Hudson scored his second goal of the game to put the Shots ahead. He intercepted a Scott Davies through ball on his chest, turned, and sent an unstoppable first-time volley screaming past Spencer.

Spencer did well to deny Hudson a hat-trick moments later as City were rocked on the back foot. To their credit through the snatched a lifeline through Ellams on 63 minutes. Both Lowe and substitute Richie Partridge failed to convert from close range, and with Bull lying injured in the six yard box, the ball fell to Ellams to score with ease. Bull played no further part in the game and was replaced by the substitute goalkeeper.

Partridge had a great chance to give the Blues the lead but he elected to shoot instead of perhaps squaring for the better placed Lowe and saw his shot saved by Mikhael Jaimez-Ruiz. With the game entering added time Partridge was presented with a free header six yards out but could only head straight at the 'keeper.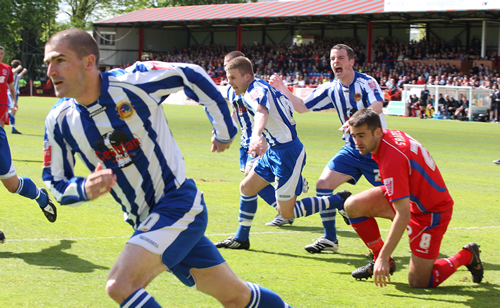 •
More photographs
---
Saturday 18 April
Chester City 0 Bournemouth 2

League Two
Attendance: 3,349 Half Time 0-1
Booked: J.Vaughan.

Chester City: Spencer, Roberts, Linwood, Kelly (Jones 80), J.Vaughan, Barry (Rutherford 59), Harris, Owen, Wilson, Lowe, Ellison (Partridge 46). Subs not used: Mannix, Rule.
Bournemouth: Jalal, Cooper, Garry, Pearce, Wiggins, Molesley, Hollands, Robinson, Goulding (58 Feeney 58), Fletcher (Bradbury 90), Pitman (Connell 90). Subs not used: Guyett, Price.
Referee: Paul Taylor.

City's fragile hopes of avoiding relegation wilted in the sunshine as Bournemouth turned up the heat and won this crucial encounter.

Thanks to a hard-earned victory at Accrington on Easter Monday while Bournemouth lost at home to leaders Brentford, Chester's destiny lay in their own hands. All they had to do was win their remaining three fixtures to guarantee survival in the Football League for another season. But this was easier said than done and when you bear in mind that City have not recorded consecutive wins since October 2007 – eighteen months ago.

Chester's Lilliputian army lined up against the comparative giants of Bournemouth – who were literally man for man head and shoulders above City's players. Ellison and Lowe lead the line but didn't win a header between them all afternoon. All the more frustrating because City could find no width and their attacking ideas were limited to hopeful airborne punts forward.

Confidence was not helped by conceding a calamitous early goal. A harsh free kick was awarded when Lowe scrapped for the ball with Anton Robinson following an equally harshly awarded corner. Pitman floated a cross towards the far post which eluded everyone and drifted into the net. 'Keeper Spencer was guarding the same post but must have taken his eye off the ball as players jostled for position in front of him.

City were then out-muscled by a hard-working Bournemouth side who did enough to stifle any hopes Chester had of getting level again. Chances were few – Molesley had the best effort for the Cherries – his volley from outside the area was well parried by Spencer. At the other end Chester hardly got a look in – Ellison less potent playing centrally than lurking on the left wing.

Confusion reigned when Cherries 'keeper Jalal handled the ball outside his area. Referee brandished a yellow card straight away when it might easily have been red.

Partridge replaced a labouring Ellison after half time but could prompt no improvement in City's play. Too often midfielders seemed to be wading through treacle trying to make a pass when nothing much was on – so quickly were they closed down. The nearest they came to equalising was when Roberts just failed to connect with Wilson's right wing corner. It made for a very disjointed and disappointing performance in front of a decent sized crowd tempted to the Deva at the prospect of a potential great escape for the Blues. When Robinson latched on to the loose ball following Spencer's save and drove it into the net for a second Bournemouth goal, reality began to sink in for the City faithful.

Now a win at Aldershot next Saturday is a minimum requirement for survival followed by beating Darlington the following week. Even then City will be reliant on other results going their way. It would be a miracle if City stayed up – perhaps the real miracle is, given the circumstances, that Mark Wright and City's paper thin squad are still in contention even at this late stage.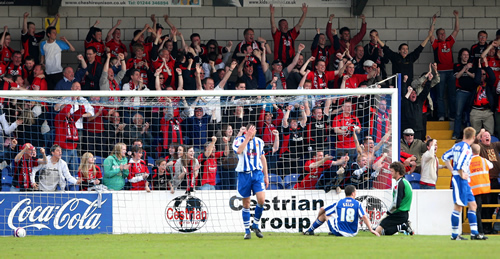 •
More photographs
---
Monday 13 April
Accrington Stanley 0 Chester City 1

League Two
Attendance: 1,100 Half Time 0-1
Booked: Linwood.

Accrington Stanley: Arthur, Cavanagh, Edwards, Murdock (Charnock 46), Procter, Ryan, Turner (Grant 60), Miles (Mullin 69), Lindfield, Williams, Symes. Subs not used: Hibbert, Kay.
Chester City: Spencer, Roberts, Wilson, Kelly, Linwood, J.Vaughan, Lowe, Harris, Ellison (Jones 62), Owen (Rule 85), Barry. Subs not used: Partridge, Rutherford, Mannix.
Referee: Tony Bates (Staffordshire).



A penalty from Ryan Lowe was enough to bring three points from Accrington Stanley and complete the double of the Lancashire side. City still remain in the bottom two but have closed the gap on relegation rivals Bournemouth to just one point and boosted their chances of escaping relegation.
Mark Wright wielded the changes following Saturday's disappointing display against Macclesfield Town. In came Kevin Ellison, Shaun Kelly, Jay Harris and James Owen at the expense of Richie Partridge, Paul Rutherford, Glenn Rule and David Mannix.
It was Harris, playing against his former side, who saw the first opening but shot high and wide in the opening five minutes. At the other end City fans had Kelly to thank as he headed over a dangerous Peter Cavanagh free-kick for a home corner. Colin Murdock also went close for the home side heading a John Miles corner wide at the far post.
Lowe saw home goalkeeper Kenny Arthur make a fine save as City's leading scorer almost added to his total following an Anthony Barry corner.
Unlike Saturday's performance City were taking control of the game in the opening period. Good build up play involving Ellison and Lowe set up Barry who saw a shot from outside the box fly just wide. Youngster James Owen, making his first start for City, also shot wide when well placed.
On-loan 'keeper James Spencer tipped over a Robbie Williams cross moments before City took the lead in the 41st minute. Lowe worked his way into the box and was brought down by Murdock. Lowe dusted himself down before sending Arthur the wrong way from the penalty spot to the delight of the City fans behind the goal.
The Blues started the second half as they ended the first. Ellison saw an angled shot fly just wide before he was replaced by Ben Jones. Jones almost made an immediate impact as he shot over from six yards after Paul Linwood had flicked on a Barry corner.
Jones was to be denied again as Phil Edwards tackled the young striker after good work down the right from Lowe had set him through.
At the other end Spencer had little to do but was on hand to save a John Miles effort 15 minutes from time and was crucially in the right place to deny Cavanagh effort in the final minute as City hung on for a deserved victory.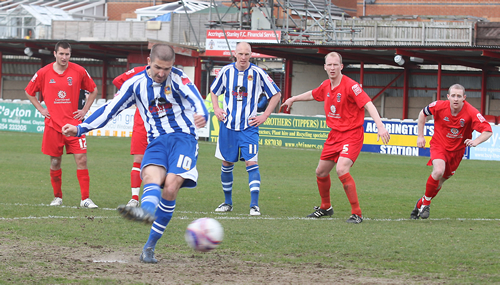 •
More photographs
---
Saturday 11 April
Chester City 0 Macclesfield Town 2

League Two
Attendance: 2,248 (459 Macclesfield) Half Time 0-2
Booked: none.

Chester City: Spencer, Roberts, Linwood, Rule (Jones 46), Wilson, Barry, Mannix (Harris 32), Rutherford, J.Vaughan, Partridge (Kelly 64), Lowe. Subs not used: Smith, Owen.
Macclesfield Town: Brain, Brisley, Morgan, Brown, Deen, Bell, Rooney, Tolley, Daniel, Evans (Green 77), Yeo (Thomas 62). Subs not used: Sinclair, Hadfield, Reid.
Referee: Andy Woolmer (Northamptonshire).



City followers arrived at the Deva hopeful of a resurrection on this Easter weekend. But the stone lay firmly fixed over the entrance to the tomb as such hopes were dashed by Cheshire cousins Macclesfield.

Chester had been lifted by a long overdue win last week at Notts County and Macclesfield, without a win in five, looked fair game to be dragged into the relegation vortex. But in truth this was a hugely disappointing performance from City – their confidence and more worryingly, fighting spirit, seemed to desert them again.

The Silkmen soon had a stranglehold on the game with two goals in the first half an hour. The first came following a free kick needlessly given away on City's right. Bell's driven effort rebounded to the edge of the area where John Rooney drilled in a shot through a crowd of players and into the back of the net. Spencer, City's new loan signing in goal could not be faulted as his view of the ball must have been obscured but he might have wished City's outfield players had closed down Rooney more quickly.

Spencer kept City in the game when Evans sprung the home defence with ease down the left flank, parrying his shot round the post. He could do nothing to keep out Evans' next effort though. A clever ball from Daniel set him though and his thunderbolt of a shot cannoned in off the bar.

Mannix was substituted shortly after he had misdirected a pass woefully and Harris came on. The pair of them both had the cloud of FA allegations of a betting scandal hanging over them to occupy their thoughts.

After the break Wright threw Ben Jones on instead of defender Glenn Rule as City tried to salvage something from the game. Nat Brown, on loan from Wrexham in the visitors' defence was continuing to have an outstanding game and Chester's youngster found the going tough against him.

Shaun Kelly replaced Partridge just after the hour mark as Chester tried increasingly desperately to claw their way back into the game but they struggled to make clear opportunities despite hard graft. Rutherford's curling shot was caught comfortably by Brain. Despite a succession of corners City failed to test Brain further. Kelly was close to getting his head on to a Lowe cross but could not quite react quickly enough. Lowe saw a snapshot whizz just the wrong side of the post.

City's sluggish start to the game had cost them dear and Macclesfield's band of supporters celebrated almost certain safety in the sunshine. The only scant consolation for Chester was that Grimsby had lost as well but on this showing even a one point gap seems like a chasm.


---
Saturday 4 April
Notts County 1 Chester City 2

League Two
Attendance: 4,035 (230 Chester) Half Time 0-1
Booked: Rutherford, Mannix.

Notts County: Pilkington, Picken, Edwards, Johnson (Tann 12), Clapham (Canham 71), Hamshaw, Thompson, Butcher, Weston, Forrester (Forte 59), Facey. Subs not used: Strachan, Fairclough.
Chester City: Danby (Smith 87), Roberts, Linwood, Rule, J.Vaughan, Barry, Mannix, Rutherford, Wilson (Owen 16), Partridge (Jones 86), Lowe. Subs not used: Ellams, Kelly.
Referee: Kevin Wright (Cambridgeshire).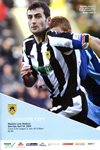 Chester finally got their first win in 2009 thanks to a great all-round performance by the team, with some added drama during the 90 minutes making it a real outing to remember for the 230 travelling fans.
City made three changes from the home draw against Bradford, with Paul Rutherford, Lawrence Wilson and David Mannix joining the starting-XI. And after an inauspicious start by both sides, it was Mannix who made the first significant impression.
Chester won a corner when a cross from Ryan Lowe was deflected out by a Notts defender. When the ball came over, the home defence were caught totally napping and an unmarked Mannix headed the ball home to send the City fans, housed alongside the pitch in the Jimmy Sirrel stand, into wild celebrations.
There was only 13 minutes on the clock at that stage, with four of those minutes used up for treatment to City captain, Paul Linwood. More injury drama came on the 16th minute when an injured Wilson was replaced by James Owen.
By now City were playing with five at the back, with Anthony Barry putting in a great performance as a makeshift left-back. Notts only had a couple of half chances in the first 45 minutes and a scuffle on the terrace when stewards and police escorted a City fan out of the stand caused more interest for most of Meadow Lane than the action on the field.
The second half had barely started when the ball came to a lively Paul Rutherford, who dinked the ball over on-rushing 'keeper Kevin Pilkington, with unmarked Ryan Lowe running toward the goal on hand to tap the ball in. City fans almost couldn't believe their eyes, and it was so soon after the re-start that a number of them missed the vital strike as they lingered over their half-time beer.
County got more into the game and came close with a couple of attempts, but one went into the side netting and the other was well held by John Danby. The closest they came in that spell was another strike which hit the crossbar.
Just as the game looked to be heading for an inevitable Chester victory there was more drama to come when Danby got himself badly injured making another save. He was treated for a long time, leading to booing from the County fans, who assumed he was time-wasting.
He made a brave attempt to continue, but, in obvious pain, he desperately indicated for a sub. There was another attempt at an on-the-field fix, but he had no choice but to come off. He was replaced by Ben Smith, but it was striker Lowe who had no hesitation in donning the gloves and green shirt.
It was heart-in-mouth time for City fans, with five minutes of normal time and then seven minutes of injury time to play with a striker between the posts. County responded as you'd expect with an out-and-out attack.
An inevitable goal came on the 88th minute, but not before Lowe had pulled off one good save and only saw the ball go past him when one of the countless Notts forwards pounced on a rebound from another save.
The seven minutes of injury time seemed to go on forever, but Notts attempts to score were just a bit too wild and Chester kept thwacking the ball away. Any Chester runs forward were just attempts to hold onto the ball for as long as possible.
Full-time came with a massive sense of relief to the Chester team, and they all came over to celebrate with their fans, with the goal scorer-turned-keeper chucking his gloves into the crowd. It was a moment to treasure and the team spirit on view must have boosted City's survival hopes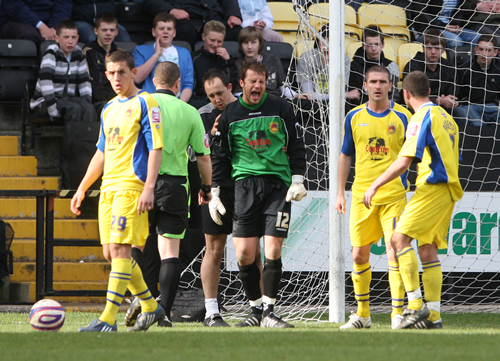 •
More photographs
---