---
Saturday 27 April
Alfreton Town 2 Chester 2
Conference National North
Attendance: 530 (151 Chester) Half Time: 0-1
Booked: -.

Alfreton Town: Nicholson, Platt, Wilde, O'Brien (Hinchley 74), Riley, Hotte, Bacon (Brough 79), Curry, Peniket, Sinnott, Allan. Subs not used: Ridley, Ramsbottom, Grice.
Chester: Shenton, Jackson, Waters, Burton, Howson, Grand, Dudley, Roberts, Asante, Waring, Mahon (Murray 74). Subs not used: Livesey, Green, McKenna, Crawford.
Referee: Scott Simpson.

Chester played well and lead twice in their final game of the campaign but were pegged back by ten-man Alfreton Town to end the season in ninth place.

The Blues should have come away with all three points, but this performance and their ability not to make their dominance count, perhaps sums up why they have missed out on the play-off's by just three points.

Chester took the lead on the quarter hour after Craig Mahon had won a free kick. The Blues took advantage and Gary Roberts and Anthony Dudley combined to set up Akwasi Asante who slotted home his ninth goal of the season. Minutes later George Waring forced a fine save from Ben Nicholson in the home goal as the visitors pressed for a second goal.

Nicholson was called into action again just before the interval making a smart save from a deflected Mahon shot on goal.

The home side were reduced to ten men midway through the second period as Tom Allan saw red from referee Scott Simpson. Despite this the home side were level just two minutes later as Josh Wilde who forced the ball home from close range following a Danny O'Brien cross from the right.

In a frantic period of play Chester regained the lead two minutes later as Waring met Scott Burton's headed pass to head past Nicholson.
Nine minutes from time Wilde chested the ball down before sending an unstoppable 25-yard volley past Grant Shenton for the home equaliser.

Chester pressed for a winner and were unlucky when Waring saw an effort hit the post before referee Simpson blew the final whistle to end the season.
Rate Chester's performance
---
Monday 22 April
Chester 0 Brackley Town 0
Conference National North
Attendance: 1,592 Half Time: 0-0
Booked: Mahon, Roberts, Shenton.

Chester: Shenton, Grand, Howson, Waters, Jackson, Roberts, Burton, Crawford (Green 62), Mahon (McKenna 62), Murray (Dudley 62), Waring. Subs not used: McAllister, Thomson.
Brackley Town: Lewis, Murombedzi, Walker, Byrne, Hall, Dean, Lowe, Armson, Ndlovu, Baker (Fairlamb 71), Walker (Sterling-James 85). Subs not used: Nti, Myles, Jackson.
Referee: Elliott Swallow.



Chester's home campaign concluded with a blank scoresheet against play-off bound Brackley Town. The visitors impressed in the first half especially as they dominated the Blues who were fortunate to reach the interval with their goal intact.

Howson and Grand partnered one another in central defence after Livesey was injured in the warm up and struggled at times to cope with the immense physical challenge of Ndlovu. The Brackley forward turned his man and got through to shoot fiercely at Shenton who did well to parry the effort to safety. The visitors won a number of corners and seemed to be trying out several training ground manoeuvres which City did well to repel.

Panic stations ensued when referee Elliot Swallow awarded an indirect free kick on the edge of Chester's six-yard box for dangerous play. It was all bodies on the goal line as Chester's wall stood firm after Brackley's first attempt was disallowed as a false start.

The Saints had an even better chance to break the deadlock when Mahon clipped Shepherd Murombedzi's heels in the penalty area and the referee pointed to the spot. To rub salt into Mahon's wounds, aggrieved at conceding such a soft penalty, he was booked as well. Byrne stepped up confidently and then scooped the ball over the bar – much to the delighted approval of those in the Harry Mac. Should their play-offs have to be decided on sport kicks the thought of this one might come back to haunt Byrne.

Somehow City escaped until half time but Brackley had been quicker of mind and body all over the pitch. Although City looked a little bit more resilient at the start of the second half they were still decidedly lacking in pace and continued to make negligible impact on an assured Brackley defence.

On the hour mark, however, three subs were introduced all at once and City's tempo began to lift. McKenna and Green began to run purposefully across the park, with the ball at their feet and the Blues attacking ideas livened up. Howson blazed a howitzer well wide from distance after one of McKenna's mazy runs. Green left his marker behind with a Cruyff turn and crossed to the far post, just beyond the head of Waring. Dudley's drag back just failed to come off on the edge of the area which would have capped a great move.

Green lost his way on one foray into the box but with the full-time whistle approaching launched a venomous effort at the end of a good move with McKenna which Lewis partially saved. Howson failed to connect with the rebound before Waring was given offside. The Exiles, match sponsors today, chose Gary Roberts as their man of the match – he worked tirelessly in the midfield battle. Shenton could not have been far behind, though, he had one of his best days in the Chester goal.

City's outside chance of making the play-offs evaporated with that Green effort but at least they had given a livelier account against very solid opposition for the last half an hour of the match. Their efforts were reflected in the warm applause the players received at the end of the match. The appreciation showed by those who stayed no doubt a reflection that, after the traumas of last season, some sense of stability had been restored this time – and the though they may have fallen short of the play-offs this season, some foundations have been laid for the future.
Colin Mansley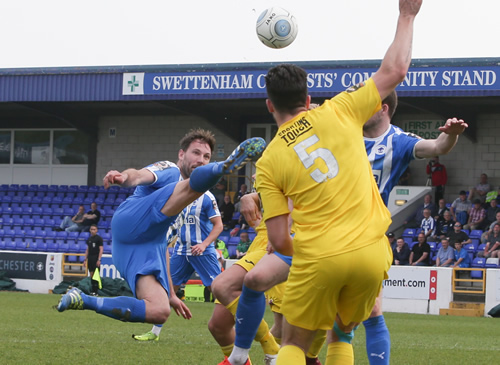 Picture © Rick Matthews

• League table
Rate Chester's performance
---
Friday 19 April
Ashton United 0 Chester 3
Conference National North
Attendance: 468 Half Time: 0-1
Booked: Livesey.

Ashton United: McMahon, Lees, Regan, Chalmers (Swaby-Neavin 66), Ashworth, Goulding, Sheridan, Mantack (Reed 46), Hobson, DiMaio, Tomsett. Subs: Roberts, Ennis, Kay.
Chester: Shenton, Jackson, Howson, Grand, Livesey, Waters, Roberts (Mahon 66), Burton (Green 72), Murray, Dudley (Crawford 66), Waring. Subs not used: Thomson, Green, McKenna.
Referee: Sam Barrott.



Goals from man of the match Iwan Murray, Danny Livesey and George Waring bring a comfortable victory at relegation threatened Ashton United, Chester's third successive away victory.

The Blues made three changes to the side that drew with York City with Iwan Murray, Anthony Dudley and Steve Howson making the starting X1 at the expense of Craig Mahon, Matthew Thompson and George Green who all started on the bench.
Chester started well with Gary Roberts shooting over from long distance and George Waring forcing a save from George McMahon in the home goal following a header from a pinpoint Murray cross.
Murray was involved in much of Chester's attacking play and he gave the Blues the lead with his first league goal on 32 minutes as he pounced on a loose ball outside the box before advancing and shooting past McMahon.
Simon Grand headed over a Murray corner as Chester looked to double their lead their dominance warranted. The second goal duly came just after half-time as Danny Livesey rose to head home a Roberts free-kick.
The points were wrapped up with half an hour to go as man of the match Murray swung in another corner that was met by Waring at the far post who game McMahon no chance with his powerful header.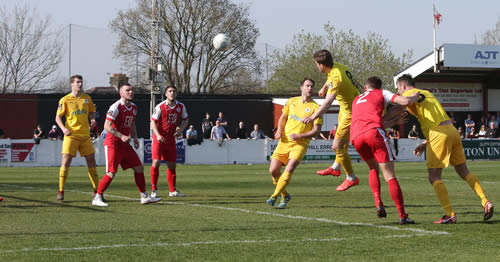 Picture © Rick Matthews

• League table
Rate Chester's performance
---
Saturday 13 April
Chester 2 York City 2
Conference National North
Attendance: 1,772 Half Time: 0-1
Booked: Waters, Waring, Roberts.

Chester: Shenton, Thomson, Grand, Livesey, Waters, Jackson, Roberts, Burton (Murray 62), Mahon (Crawford 80), Green (Dudley 62), Waring: Subs not used: Howson, McKenna.
York City: Whitley, Griffiths, Ferguson, Newton, Moon, Moke, Langstaff, McLaughlin, Burrow (Wright 89), Burgess, Kempster (Parkin 80). Subs not used: York, Bencherif, Bartlett.
Referee: Aaron Bannister.



A reaction was looked for after Tuesday night's drubbing by Stockport County but for the first forty-five minutes of this encounter it looked as though Chester were still punch-drunk. York seemed the more organised and cohesive as they had the lion's share of possession. Langstaff was put through on goal but his shot was well saved by Shenton.

Former Wrexham player Adriano Moke opened the scoring when he suddenly found himself with ample room on the edge of the City penalty area, giving him plenty of time to curl a shot just inside the far post. Plenty of finger pointing went on among the Blues team in the immediate aftermath but the Minstermen were worth their lead at half time.

The Blues were thrown an escape route early in the second half when Mahon floated in a free kick from the left. Keeper Whitley came for it. Inexplicably missed it and the ball cannoned into the empty net off the head of defender Shaun Newton. There can have been few more popular own goals at the Deva than this one. Newton is still remembered for his comments that whilst playing for Chester he was really wishing he could play for Wrexham. Who knows what was passing through his mind when this goal went in – though he was clearly unhappy with his keeper.

Dudley and Murray were introduced for the struggling Green and Burton and City's energy levels duly increased. Blues had their tails up after the equaliser and the Harry Mac was raised from its torpor. But against the run of play York took the lead again. Newton's wayward clearance was rescued from the touchline by Langstaff who outwitted Matty Thompson and fired the ball across the box. His cross was met at the far post by McLaughlin whose shot hit the post and then rebounded in off Shenton.

But Chester battled back and continued to force the visitors to retreat. Murray's low corner found its way to Waring at the far post and the tall Cestrian tucked in another equaliser. Shortly afterwards Jamal Crawford was thrown on for a home debut and sprinted clear on a through ball before being shepherded away from goal by a recovering defender. The Blues finished strongly but had to be content with a draw. Some pride had been restored after Tuesday but the solitary point means that qualification for the play-offs is looking unlikely.

It looks like both of these Roman cities will be playing each other again next season. Ironically it was York that Chester replaced when they returned to the Football League in 2004. Both will harbour dreams of getting back but will need to consolidate for a while yet.


•
League table
Rate Chester's performance
---
Tuesday 9 April
Chester 0 Stockport County 6
Conference National North
Attendance: 2,565 (1,100 Stockport) Half Time: 0-3
Booked: Roberts.

Chester: Shenton, Waters, Jackson, Grand, Livesey, McAllister, Roberts, McKenna (Waring 53), Mahon, Asante (Mooney 71), Dudley (Howson 54). Subs not used: Burton, Green.
Stockport County: Hinchcliffe, Minihan (Cowan 60), Duxbury, Turnbull, Palmer, Stott, Thomas, Walker, Bell (Osborne 79), Warburton (Keane 55), Stephenson. Subs not used: Ormson, Gilchrist.
Referee: James Bell.



Chester were thrashed 6-0 by Stockport who headed to the top of the table as the Blues slipped to tenth following this humiliating defeat.

The Blues started badly and were a goal behing in the opening ten minutes as a Scott Duxbury cross evaded Matty Waters at the far post where Adam Thomas headed back for ex-Blue Nyall Bell to tap home from close range.

Ten minutes later the Hatters doubled their lead through Sam Walker whose low shot took a deflection to take it past Grant Shenton in the home goal. As a contest the game was over on the half hour as the visitors grabbed their third goal. A mix-up between Simon Grand and Danny Livesey allowing Bell to run through on goal and score with easy past Shenton.

Chester rarely threatened though Ben Hinchcliffe was called into action making a fine save to deny Livesey who headed a Craig Mahon cross goalwards.

The Blues management made changes bringing on George Waring and Steve Howson but to little effect as Darren Stephenson side footed home Stockport's fourth goal moments after Bell just failed to complete his hat-trick.

Walker added the fifth goal from the penalty spot after Sean McAllister had fouled Stephenson, and the misery was completed at the death with substitute Jordan Keane scoring the sixth goal from long range.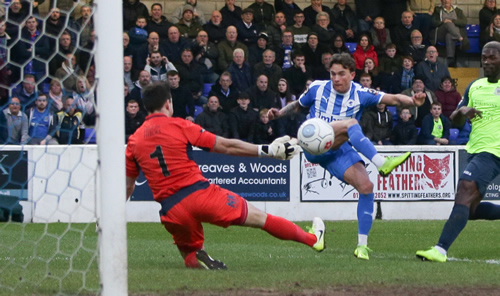 •
League table
Rate Chester's performance
---
Saturday 6 April
Nuneaton Borough 2 Chester 3
Conference National North
Attendance: 688 Half Time: 1-1
Booked: Roberts.

Nuneaton Borough: C.Belford, Obeng, Sharpe, Townsend, Addison, Lundstram, Lussey (Kelly-Evans 83), Caton (Dunkley 80), Calveley, Edmunds, Allen (Eccleston 70). Subs not used: T.Belford, Morrison.
Chester: Shenton, Waters, Grand, Livesey, Jackson, Mooney (Mahon 67), McKenna, McAllister, Roberts, Asante (Green 80), Dudley (Waring 61). Subs not used: Howson, Marsh-Hughes.
Referee: Amy Fearn.



Chester consigned their hosts to relegation from National League North and earned themselves a rare away victory when they scored a stoppage time winner at Nuneaton Borough's Liberty Way.
It was hard to think there was something to play for in this game, with City still having an outside chance of the play-offs and Nuneaton having an unlikely shot at National League survival. Both teams played with a casual air in front of just 688 paying supporters.
It was the travelling fans who were cheering first when Akwasi Asante scored after just four minutes following a good pass from Sean McAllister. But it then felt like Chester relaxed as Nuneaton tried to get back into it, with Grant Shenton making a great save from Ryan Edmunds.
There were a number of half chances for both sides until Nuneaton got back on level terms on the 36th minute. A header from a free kick hit the post and re-bounded out to Miles Addison, who had no problems finding the net.
Following the half-time entertainment, which mostly consisted of enviously watching the tiny ball boys sharing chips, Chester started the second half as the brighter of the two teams. Danny Livesey deservedly put them ahead just six minutes after the re-start when Chester had won their second corner of the half, with Livesey putting his leg out at the right time from a Ben McKenna corner.
But with 86 minutes gone, Nuneaton scored an unlikely equaliser when Mike Calveley found the net after a goalmouth melee. It felt like the result might stay tied, but Chester pressed on, cheered on by at least a quarter of the crowd.
A George Green injury time corner was cleared off the line, before McKenna put the ball back into the danger area. He found Livesey's head, and the ball ended up in the net via a lucky deflection. Referee Amy Fearn blew for full-time moments after, giving Chester their second away win in a row and effectively relegating Nuneaton.
Sue Choularton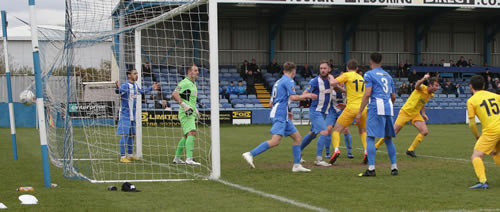 Picture © Rick Matthews
Rate Chester's performance
---