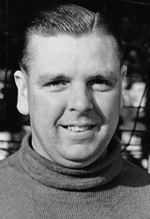 Former goalkeeper Bill Shortt died recently in Plymouth aged 83. Our condolences go out to his family and friends.
Although Bill never played in a Division Three North fixture for Chester he was the first choice keeper during the war years making more than 100 appearances. He went on to have a long and distinguished career with Plymouth Argyle.
Bill was born in Wrexham and signed for Chester as an amateur in 1938. He had been spotted by Frank Brown playing for Hoole Alex. in the Chester and District League while also working as a butcher's errand boy. With Cliff Owen and Alf Hobson in front of him in the pecking order Bill spent some time on loan with Wellington in order to gain experience. He was recalled during the 1939 close season and his form in the trial games indicated a promising future. Although Bill started the season as second choice he was given his debut in the club's first wartime fixture, against Tranmere Rovers, and went on to play in every league fixture that season.
During the war Bill was a member of the army and also guested for Plymouth Argyle. He made his final appearance for Chester in a Division Three North cup game against Rochdale in January 1946 and signed for Argyle, for £1,000, the following month. Coincidentally, he returned to Chester with his new club, twelve months later, for an FA Cup third round tie. It wasn't a happy homecoming for Bill as Chester won the tie 2-0 with goals from Tommy Astbury and Tommy Burden.
In April 1947 Bill won his first international cap for Wales in a 2-1 defeat against Northern Ireland in Belfast. For the next six years he competed with Liverpool's Cyril Sidlow for the Welsh goalkeeping jersey winning a total of 12 caps including one against England at Wembley. In 1950/51 he was a member of the Welsh team that won the Home International tournament.
Bill was a cool and confident keeper who, despite his rotundity, was excellent in the air. Weight proved to be a problem for Bill and in 1951 the Argyle physio put him on a course of "foam baths, dieting and hard training" to help him slim down. The regime paid off and he was soon back to his best form with one writer describing him as "the man who picks the ball out of the air like cherries off a tree."
Bill was a loyal servant to Plymouth and made 342 appearances for the Devon side before moving to Tavistock Town in the 1956 close season. In 1951/52 Bill won a Third Division South Championship medal with Argyle. After retiring from football he was the landlord of a pub in Plymouth.