Click on the images for larger pictures.

Although the current Accrington Stanley only formed in 1968 their predecessors were regular visitors to the city from the time that Chester entered the league in 1931 until the demise of Stanley in 1962. Indeed the two teams first met in the Lancashire Combination Division One, back in the 1911/12 season and played each other every year until the outbreak of the First World War.
The final two games between the sides took place in the 1961/62 season but these results were later expunged from the records following Stanley's resignation in March. The deduction of three points from Chester's total meant that they finished bottom of the league that season below Hartlepools United.
---
Accrington Stanley 0 Chester 1
(Jones)
Division Four 26 August 1961
Attendance: 4,106
Accrington Stanley: Smith, Forrester, Walton, Wilson, Richardson, Hamilton, Devine, Ferguson, Hudson, Bennett, Mulvey.
Chester: Hardie, Hughes, Donaldson, Hennin, Kennedy, Edwards, Morris, Fitzgerald, Davies, Pritchard, Jones.

Chester travelled to Peel Park for their first away game of the season following a win against Oldham Athletic and a defeat by Bradford City at Sealand Road. Meanwhile, Accrington also had three points having beaten Darlington and lost to Tranmere. For Chester, an injury to Billy White meant a start for Alan Pritchard while Republic of Ireland international, Peter Fitzgerald, was switched to inside right to accommodate the youngster. Stanley kept the same side that had beaten Darlington.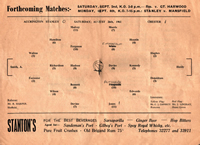 The early chances fell to Chester. Future Welsh international Ron Davies shot inches over while Pritchard's attempt to lob goalkeeper Alex Smith also just cleared the bar. Chester took the lead after 23 minutes when Fitzgerald fed the ball out to diminutive winger Mervyn Jones and his shot carried over Smith just inside the far post. To many people it looked like a cross but after the game Jones said he did it deliberately when he saw the keeper advance off the line in anticipation of a cross.

Stanley responded quickly and Malcolm Edwards cleared off the line from Paddy Mulvey who also shot over when he really should have scored. In the second half Chester were guilty of playing too much "continental football" and it was reported that their short passing game made Stanley look foolish. However, Chester's failure to press home their advantage almost cost them dearly and keeper John Hardie came to the rescue in the closing stages with two saves from George Hudson.
In the event Chester won the game more comfortably than the 1-0 scoreline suggested. They made a number of openings but were guilty of some bad finishing with most of the blame heaped on the shoulders of poor Davies who was nowhere near his best form. Despite this it was a happy Chester team that made the journey back to the city although the players thought they should really have won by more goals. The previous season it had been February before they had won their first away game so it was a welcome relief to pick up points away from Sealand Road so early on.
---
Chester 0 Accrington Stanley 0

Division Four 23 December 1961
Attendance: 2,153
Chester: Hardie, Hughes, Gill, Hennin, Kennedy, Bellett, Fitzgerald, White, Davies, Edwards, Jones.
Accrington Stanley: Smith, Forrester, Walton, Smith, Wilson, Hamilton, Devine, Milner, Wareing, Ferguson, Mulvey.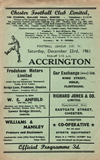 By the time that the two teams met just before Christmas they had both completely lost their way. Chester were third from bottom and managerless following an embarrassing FA Cup defeat to Lancashire Combination side Morecambe which had resulted in the sacking of Stan Pearson. They were also 16 games into a record breaking 26 games without a win.

Things weren't much better for Stanley, one place below Chester. They had just parted company with Jimmy Harrower and playing affairs were in the hands of caretaker managers Bill Smith and Harry Hubbick. They were also without a win in eight games, a sequence that eventually stretched to 16 matches and their resignation from the league. In the event it was hardly surprising that the game ended goalless on a bitterly cold night.
The game itself was poor and the tactics from both sides appeared to be kick and rush. If anything Accrington were marginally the better side but both sets of forwards had little idea of how to score. Although John Hardie had a quiet time in the Chester goal he almost allowed a Jim Milner shot to slip through his hands while Jack Wareing shot wide within the first few minutes.

Both Fitzgerald and Davies had chances for Chester but Derek Hennin came closest with a shot that brought the save of the match from Smith. In the closing minutes Ronnie Hughes cleared off the line from Mike Ferguson but a goalless draw was an appropriate result.
---
Three months later both sides had still failed to register another victory and in the first week of March Accrington tendered their resignation to the League leaving Chester bottom of the pile.
Of the players that represented Stanley in the 1961/62 season two went on to play for Chester. Centre half Bob Wilson, who played in Accrington's final league game against Crewe, joined Chester before the start of the 1962/63 season having had a successful trial against Hamborn in April. Bob only played 15 games for Chester before moving on to Sankey's of Wellington where he was also manager. He later returned to his native Scotland and managed junior side Arbroath Vics. Meanwhile Brian Bades, who played two games for Stanley, moved to Sealand Road at the start of the 1963/64 season via Horwich RMI and Stockport County. He also played 15 games and scored one goal before a transfer to Runcorn at the end of the season.
Chas Sumner [Published 25/11/03]