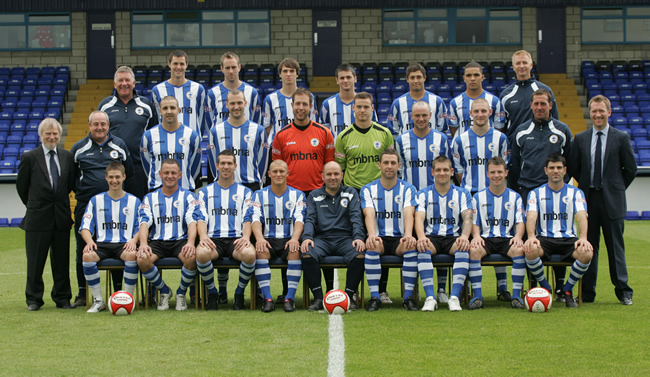 Picture © Evening Leader

Back Row: Alan Barber (Assistant Coach), Rob Hopley, Andy Burgess*, Chris Williams, Michael Aspin, Mark Peers*, Josh MacAuley*, Gary Powell (First Team Coach).
Middle Row: Chris Pilsbury (Chairman), Jimmy Soul (Assistant Coach), Adriano Rigoglioso*, Danny Meadowcroft*, Richard Whiteside, Chris Oldfield, Daniel Mahoney*, Stuart Jones, Gary Jones (Assistant Manager), Steve Ashton (Chief Executive).
Front Row: Roger Sharrock, Stuart Graves*, Greg Stones, Iain Howard, Neil Young (Manager), George Horan (Captain), Mark Connolly, Anthony Sheehan*, Michael Wilde.

Not in picture: Carl Ruffer, Richard Foulkes.
Photograph taken prior to the away match at Salford City on 25 September.