Click on the images for larger pictures.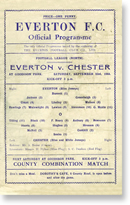 This summer a series of public events will be held to commemorate the 60th anniversary of the end of the Second World War. The proceedings will be held across the country culminating in National Commemoration Day on Sunday July 10th. Separate ceremonies will also be held to mark VE and VJ Days with the VE Day ceremony taking place on May 8th and the VJ Day ceremony taking place on Aug 21st. The Football League will also be marking the occasion by looking at football's contribution during the war years.
When war broke out, in September 1939, Chester had just started their ninth season in the Football League. Two wins and a draw had put them in fourth place in Division Three North but normal league football was suspended following the declaration of war on September 3rd. In October a formal league of 12 clubs was organized giving Chester the opportunity to compete against clubs like Liverpool, Everton and the two Manchester clubs. Chester finished ninth in the first Regional League (Western Section).
Throughout the war years Chester continued to compete against the bigger clubs from the area and achieved some spectacular results. In many cases the team was augmented by guest players who were stationed in the area and unable to turn out for their own side. The difficulties in raising a side also meant that many local players were given an unexpected opportunity to represent the club.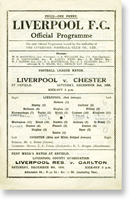 In the 1942/43 season Chester beat Manchester United twice. The 4-1 victory in January was watched by only 1500 spectators at Sealand Road and included goals from Jimmy McIntosh and Harold Iddon who were both on the books at Preston. The other scorer was Leslie Compton, the Arsenal full-back, who became the oldest player to make his England debut in 1950 at the age of 38. Compton represented Chester on a number of occasions and even scored a hat-trick for the club when he played at centre forward in a 5-4 victory against Everton in February 1943.
Many of the wartime games were high scoring and there could often be a huge turnaround in results over a few days. In the 1943/44 season Chester beat Liverpool 3-1 with two goals from West Bromwich's Robin Newsome but sent a weakened team to Anfield the following week and were hammered 9-0. In the same season they also lost 3-1 to Manchester United and then beat them 5-4 a mere seven days later. Other high scoring game that season included an amazing 9-5 victory over Crewe, a 9-2 home defeat to Everton and an 8-4 reverse at Wrexham.
In December 1944 Chester hammered Manchester City 7-1 with a Scottish forward line including Armstrong (Aberdeen) and the Hearts pair Andy Black and Bobby Hamilton. Black, a Scotland international, was one of the stars of the 1944/45 season and Chester unsuccessfully tried to sign the popular forward after the war.
Another famous name to appear in blue and white was Ellesmere Port born Joe Mercer who had played more than 150 times for Everton before the war winning five England caps. When league football resumed he played for Arsenal and later famously managed Aston Villa, Manchester City and England. One of the all-time great centre forwards also played for Chester. Tommy Lawton of Everton and England played in a friendly against the RAF and scored 5 goals in an 11-4 victory.

Two of Chester's most noted players also made their full debuts during the war. Local boys Tommy Astbury (left) and Dick Yates both featured in the opening wartime fixture against Liverpool. Queensferry born Yates still holds the City record for most goals in a Football League season with 36 in 1946/47. Astbury, arguably one of Chester's greatest players, went on to play more than 300 times for the club in peacetime football and was awarded two Welsh international caps against England in 1945. He also guested for Manchester United in the League North Cup Final of 1945 when he finished on the losing side.

Another future Welsh international, goalkeeper Bill Shortt, also launched his football career with Chester during the war years. Shortt (right), who died last year, made more than 100 wartime appearances at Sealand Road but joined Plymouth Argyle for £1000 in January 1946 and went on to play 12 times for Wales. Local youngster Dave McNeil was a regular at left back during the war and went on to play more than 100 times for the club when hostilities ceased. Other players were not so lucky however. Half-back Reg Dutton appeared frequently in the side but never played a peacetime league fixture while Ellesmere Port born Derek Williams played nearly 100 times at centre half but only featured twice in Division Three North.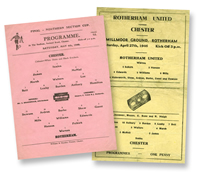 In the interim season, before the return to regular football, Chester featured in the two legged final of the Third Division North Cup Final against Rotherham United. After a 2-2 draw at Millmoor more than 12,000 spectators turned up at the Stadium to see if Chester could lift the cup but they left disappointed as the Millers secured an aggregate 5-4 win.
The continuation of football during the war helped improve the morale of the British public as they struggled to come to terms with the horrors of the conflict. Like many clubs Chester had to overcome transport difficulties and problems in raising a side but a journey down Sealand Road provided a welcome distraction from the hostilities. With goals aplenty, First Division opposition and the chance to see unfamiliar names in a blue and white shirt Cestrians could at least take their minds off the war for 90 minutes a week.
Chas Sumner [Published 30/4/05]