Continuing our look at the whereabouts of former City players: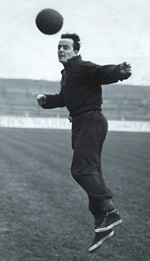 A recent visitor to the Deva Stadium has been Jimmy Anderson, who played 62 games for the club between 1957 and 1960. Born in Glasgow, on Christmas Day 1932, Jimmy started playing football with the Boys Brigade and by the age of 15 was representing local amateur club Partick Avondale. He joined the army in 1951 and played for the battalion side, RAOC Hilsea in Portsmouth. It was while playing army football that he was spotted by Bristol Rovers. Jimmy got off to a good start at Rovers and the local paper was enthusiastic about his home debut, describing him as follows:- "Jimmy doesn't run with the ball much but he covers a tremendous amount of ground. He helps the rest of the defence, schemes and places himself in the right place at the right time. His distribution was well nigh perfect." Jimmy went on to play 24 games for Rovers between 1954 and 1957.
"I was in the same battalion side as Rovers player Barrie Meyer who also played cricket for Gloucestershire and went on to become a test umpire. Barrie had recommended the outside left to Rovers but when the assistant manager came down to watch a game he ended up signing me instead. I made my Football League debut against Liverpool at Anfield in the old Second Division. I remember Billy Liddell was in the Liverpool side and we got beaten 5-3, their inside left, John Evans, scored all five goals."
In June 1957 Jimmy joined Chester for a small fee. Coincidentally the Chester manager at the time, John Harris, had played in the same team as Jimmy's father. Jimmy made his debut, at left half, against Tranmere Rovers and was virtually ever-present in the 1957/58 season picking up a Welsh Cup runners-up medal and a Lancashire Cup winners medal at the start of the following season.
"I made the move to Chester because I thought I would do well moving down a division, I also thought it was a lovely city. I played left half even though I was naturally right footed, I had been a left back in my early days and also played at centre half but I wasn't really tall enough for that position. I think my strong point as a player was that I was never afraid and wouldn't draw out of a tackle. I was never built for speed but I recall that Ronnie Hughes was an exceptionally fast player. One of the other players I remember from my time at Chester was Ron Davies who went on to play for Wales. I recommended him to Bristol Rovers but they couldn't afford him. He was a tremendous prospect with a lot of ability. Even in practice matches he was difficult to play against, all arms and legs. I also remember a player called Bobby Burke who looked good in training but he got injured early on and I don't think he played for the first team."
At the end of the 1957/58 season manager John Harris moved on to Sheffield United and was replaced by former Manchester United and England international Stan Pearson. However the arrival of Bobby Hunt and later, Frank Clempson, severely restricted Jimmy's appearances and he was released in 1960.
"I thought I had done well in my first season at Chester but my face didn't seem to fit when Stan took over and I didn't play many games over the next couple of seasons. At the end of the 1959/60 season I went to Rhyl, where former Chester player Phil Turner was the manager, but I didn't really like it there and only stayed for a year. I then moved back to Bristol and signed for Weymouth in 1961. I enjoyed my time at Weymouth more than at any other club. Frank O'Farrell was the manager there and I had met him a couple of times when I had played for Bristol Rovers against West Ham. He also played at Chester in Norman Bullock's testimonial. I remember that we did well in the FA Cup one season and got to the Third Round where we played Frank's former club Preston. I stayed with Weymouth for two seasons and then stopped playing completely. I moved back to Chester in 1968 and worked at Vauxhalls for seven years and then did some contract work in the construction industry."
---