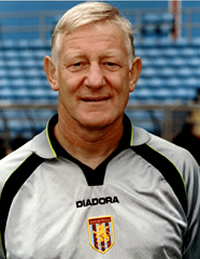 Whenever the subject of an all-time Chester X1 is raised you can guarantee that Jim Walker will be one of the names figuring prominently at full back. Jim attended the goalless draw with Telford United, back in September, a team managed by his close friend and former Derby County colleague Mick Jones. After the game he took some time to have a chat about his career.
Jim was born in Northwich and started his football career as an amateur with local club Northwich Victoria, making his debut for them in the 1966/67 season. Early in 1968 he signed forms for Derby County on the understanding that if Derby were happy with him transfer talks would be opened. Under the deal Jim would have returned to Northwich to sign professional forms so that a transfer fee could be paid. Unfortunately for Vics this agreement never worked out and they only received a modest sum for a player who clearly had a bright future in the game. Jim started his first full season at Derby as a regular in the team that went on to win the Second Division championship but lost his place to John McGovern after Christmas. Over the next few years his adaptability made him a valuable utility player at the Baseball Ground and Jim made six appearances in their 1971/72 championship winning side. After 35+7 appearances for Derby Jim was transferred to Brighton in 1974 in a joint £25,000 deal that also involved Tommy Mason. It was Brian Clough's former assistant at Derby, Peter Taylor, who signed Jim and he made 24+4 appearances as a left sided midfielder for Brighton before a £6,000 transfer to Peterborough United in February 1976. The stay at Peterborough proved brief and in November 1976 he moved to Chester. For Jim it proved a great move. As he explained he wanted a move back to Cheshire and was good friends with Alan Oakes who was Chester manager at the time. It was also a return to familiar ground as he often used to watch the club at Sealand Road during his schooldays. Jim went straight into the side at left back and was a first team regular until an achilles injury forced him into retirement in 1981 after 171+1 league appearances. Jim remained at Sealand Road and started training as a physiotherapist although he also helped out with the coaching and even had a stint working in the club shop one summer when it was based in the city centre.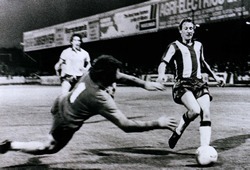 In 1983 Jim went to Kuwait, with the former Derby County manager Dave Mackay, and acted as coach for Al Arabi. After two years in the Middle East he returned to Britain and was appointed physio at Blackburn Rovers. In 1986 Jim became the physio at Aston Villa and he has now been associated with the club for 17 years. He is currently the Head of Sports Science at Villa Park and is studying for a Masters degree at Leicester. He lives in Sutton Coldfield.
Looking back on his time at Chester he believes that the team at the end of the 1970s was a really good side. "There were two top class goalkeepers, Brian Lloyd and Grenville Millington, and we had defenders of the calibre of Trevor Storton, Bob Delgado and Nigel Edwards with Ian Edwards and Ian Mellor playing up front". Jim was also in the side when Ian Rush made his breakthrough and recalls that everyone at the club could see he was going to become a star. "In training he used to keep the ball and no-one could get it off him. Whenever we played you could always rely on Rushy getting a goal." It was during Jim's era that Chester finished in their highest ever league position, 5th in the old Division Three in 1977/78, and they also reached the FA Cup 5th Round on two occasions. In 1977 Jim felt they were extremely unlucky to lose to Wolves in the 5th Round and in 1979/80 they faced Ipswich Town at the same stage. Jim remembers that they were given little chance against a team who had just beaten Everton and Manchester United. However Brynley Jones gave Chester an early lead before Ipswich scraped through 2-1. Those fans with long memories may remember a brilliant goal scored by Jim against Chesterfield at Sealand Road – certainly one of the best I have seen. Jim himself remembers that Chesterfield were going extremely well at the top of the table and needed a win to secure promotion. From a corner, at the Sealand Road end, Chesterfield forward Ernie Moss cleared the ball and Jim hit a screamer, first time on the half volley, from 30 yards. As he admitted when he had tried this on other occasions the ball had usually ended up in Kwiksave car park.
One of the funniest incidents Jim remembers from his Chester days concerns his son who used to play around the stand and on the Kop with Alan Oakes' son Michael (the current Wolves keeper) on match days. It was a game against Bristol Rovers and Jim had retired from playing and was making one of his first appearances on the pitch as a physio. He ran over to the pitch, close to the touchline on the Popular Side, to treat an injured player. While he was tending to the injury he was shocked to find his son suddenly materialise by his side asking "What's wrong with him dad. My mates want to know?"
---