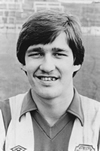 The Youth Cup is a competition where young players first catch the eye of regular supporters and there is every possibility that at least one member of tonight's Chester side will feature for the first team sooner rather than later. Last season the City youngsters were defeated by Blackpool in the 2nd Round. Included inthat line-up were Shaun Whalley, who had already made his Football League debut, Paul Rutherford who made his first team breakthrough in the LDV game at Cambridge earlier this season and goalkeeper Ryan Brookfield who has been a familiar figure on the substitutes bench this year.
The most famous graduates of the Chester youth team were Ron Davies and Ian Rush. Davies featured in the 1959 youth cup side, beaten 12-1 by Liverpool, but went on to play 29 times for Wales as well as Norwich, Southampton and Manchester United amongst others. Rush, of course, needs no introduction having had an extensive career with Liverpool, Juventus, Leeds, Newcastle and Wrexham after his record transfer from Chester. Back in the 1970s he was a member of the team that reached the last 32 for two successive seasons. Several other players also reached the City first team without scaling the heights of Rush. The 1977/78 team included Paul Needham and Richie Gendall who broke through in the early eighties with 57 and 5 league games respectively. The following season they were joined by Peter Zelem (above) (129 games), Dave Brett (67 games) and Terry Cooke (49 games).

City reached the third round in 1981/82 where they were defeated by Sunderland after a replay. No fewer than six members of that team also played for the first team. Phil Harrington (right) inherited the goalkeeping jersey from Grenville Millington before moving to Blackpool and Cork City while Mike Williams, Greg Moffatt, Mark Dean, Peter Bulmer and John Allen all featured briefly for City in the Football League.

In 1985/86 the City youngsters were eliminated at the third round stage by Port Vale after thrashing Stamford 9-0 and, more impressively, Leeds United by five goals to nil at Elland Road. Chester certainly benefited financially from this squad as they later received £225,000 from Norwich City for Colin Woodthorpe (still playing at Bury), £87,500 from tonight's visitors Wigan for Chris Lightfoot (left) and £25,000 from Cambridge United for Brian Croft.
In recent years the most successful product of the team has been current Crewe and Wales Under-21 full back Darren Moss. Darren featured in the 1998 team that was knocked out by Manchester City. Also included in that team were Matt Doughty, Chris Blackburn and Martyn Lancaster who all featured heavily for City in the Conference. In addition, Chris Hopwood, Wes Kilgannon, Paul Roberts and Danny Carson also made fleeting appearances for the first team. Incidentally one of the Manchester City scorers in the 2-0 victory back in 1998 was Shaun Wright-Phillips. What price one of tonight's players fetching £22 million in the transfer market?
Chas Sumner [Published 13/12/05 Chester City v Wigan Athletic Youth Cup programme]