---
Saturday 25 February
Grimsby Town 1 Chester City 0

League Two
Attendance: 4,058 Half Time 1-0
Booked: -.
Grimsby Town:
Mildenhall, McDermott, Futcher, Jones, Newey, Toner, Bolland, Woodhouse, Parkinson, Jones, Cohen. Subs not used: Mendes, North, Barwick, Goodfellow, Downey.
Chester City: Gillet, Albrighton, Hessey, Ellender (Artell 73), McNiven, Drummond, Curtis, Regan, Lowe, Branch (Richardson 77), Blundell. Subs not used: Harrison, S.Vaughan, Tait.

Referee: R.Lee (Brentwood).

Mark Wright's first game back in charge at Chester saw a narrow defeat at Blundell Park that leaves City still in 19th spot, three points above a relegation place.
New loan signings Mark Albrighton and Paul Ellender took to the field on a cold Grimsby afternoon as City's new-look central defence alongside Scott McNiven who played in a sweeper role. Wright opted for Ryan Lowe Michael Branch and Gregg Blundell up front, with tall strikers Marcus Richardson and Paul Tait starting on the bench alongside another loan player, goalkeeper Paul Harrison.
The Blues started well forcing a corner in the opening minute, Stewart Drummond got on the end of Lowe's delivery but steered his header wide of the target. Lowe tried an attempt himself from all of 30 yards after 13 minutes but his shot also went wide as City were forced into long-range efforts with clear-cut chances at a premium.
At the other end gary Cohen shot wide when well placed and Ben Futcher went close with a header across goal following a free kick that just failed to meet an incoming Town player.
For the Blues, Drummond saw a header caught by Steve Mildenhall as the ball touched the bar and Blundell shot wide as City again failed to find the target.
Three minutes before the break the Mariners took the lead as Gary Jones rose unmarked to head home, across goal, Curtis Woodhouse's right wing cross. The home side almost added a second just before the whistle but shot stopper Stéphane Gillet pulled off a fine save to deny Futcher.
At the start of the second period City had a good chance to draw level but Lowe shot into the side netting, in front of the small away contingent, after a quick break down the right.
Jones went close to adding a second only his shot was caught by Gillet as the Town striker tried to repeat his goalscoring effort following a Woodhouse free-kick. City forced successive corners, Lowe's first was cleared, the second caught at the near post by Mildenhall in the home goal.
Midway through the second period Ellender had to leave the field for treatment after a clash with Cohen and despite returning for a brief five minute spell was eventually replaced by David Artell.
Lowe sent a rasping free-kick just over with 20 minutes remaining before Wright brought on Richardson at the expense of Branch as City looked for an equaliser. Five minutes later though it was the home side who had the chance to double their advantage.
Woodhouse was fouled form behind in the box by Drummond and referee Hall, officiating in only his fifth League match, pointed to the spot. Woodhouse took the spot-kick himself but sent the ball sailing over both Gillet and the crossbar.
Four minutes of time were added on during which the Blues forced two corners but saw both efforts cleared after goalmouth scrambles.
This was a better defensive display from the Blues, especially considering the two new players only signed 24 hours before, but the lack of goalscoring still causes concern with Saturday's must win home match against Torquay United next up.
---
Saturday 18 February
Chester City 0 Leyton Orient 2

League Two
Attendance: 2,210 Half Time 0-1
Booked: Gillet, Davies, Dimech.
Chester City:
Gillet, McNiven, Artell, Dimech, Regan (Richardson 78), Walker (Blundell 70), Drummond, Curtis, Davies, Tait (Asamoah 84), Branch. Subs not used: S.Vaughan, Hessey.
Leyton Orient: Garner, Miller, Zakuani, Mackie, Lockwood, Easton, Simpson, McMahon (Demetriou 90)
, Keith (Barnard 68), Alexander, Connor. Subs not used: Tann, Steele, Morris
.
Referee: T.Parkes (West Midlands).

Saturday's sixth successive home defeat at the hands of Leyton Orient proved to be manager Keith Curle's swan song as he was sacked following this reverse that sees City sit uncomfortably four points above a relegation place back to the Nationwide Conference.
Curle has paid the ultimate price for a disappointing run that has seen City slip from play-off hopefuls in early December to relegation candidates in just eleven weeks. The Blues' early season form that saw them scoring goals for fun in an entertaining fashion is now a distant, happy, memory and the harsh reality of a relegation dogfight looms on the horizon.
City were dealt a pre-match blow with the news that top scorer Ryan Lowe failed in his fitness battle to recover from a calf injury. Central defender Luke Dimech was recalled to the side and there was a place in the starting X1 for midfielder Tom Curtis following his two match suspension. Record signing Gregg Blundell again began the match on the bench.
Tom Curtis nearly opened the scoring in the third minute – for the visitors! his headed clearance slipped inches over his own bar for a corner. Paul Connor shot wide soon after and Michael Branch saw a long-range comfortably held by Glyn Garner in the visitors goal as chances were few and far between in the opening period.
On 34 minutes it was the visitors that scored the all-important opener. Matt Lockwood pumped through a high ball for Connor to chase down the left, with Stéphane Gillet coming out to meet the striker he rounded the keeper only to have his ankles tripped by the Luxembourg international who was fortunate to receive a yellow and not a red card. Lockwood despatched the penalty with all the confidence of a player who's netted his previous 24.
City responded quicky and Ben Davies saw a shot well saved by Garner, but blotted his copy book minutes later receiving his fifth yellow card of the season that will rule him out for Saturday's trip to Grimsby Town. Striker Paul Tait was also denied by Garner from long range.
Chester kept the O's waiting for the start of the season half and when they emerged they took the game to the visitors and totally dominated for a 20 minute period.

The Blues were guilty of missing three good chances all from within six yards. Stewart Drummond sent a measured shot wide and Tait was guilty of putting two wide, one a rebound from a Davies shot that had come back from the post.
Garner was well placed to tip a Tait effort over the bar but after weathering the City pressure Orient scored a second decisive goal on 72 minutes. The lively sent in a teasing cross that eluded Gillet and the City defence, the ball was picked up by Alexander who pulled back a cross for Connor to finish what he'd started as he swept the ball home from 15 yards in front of a delighted east London following.
Curle made three late substitutions but City failed to test Garner as the curtain came down on Keith Curle's reign at Chester.
---
Saturday 18 February
Chester City
Under 18
1 Shrewsbury Town 18 1

Youth Alliance North and Midlands West Conference
Half Time 1-0
Chester City: Brookfield, Cadwallader, Kelly, Roberts, Marsh-Evans, Scales, Carroll (Owen 11) Wade, Rutherford, Holroyd, Newton (Feliciello 60). Subs not used: Humphreys, Armstrong, Morgan.
Shrewsbury Town: Jones, Momey, Dean, Sutton (Ellison 49), Cain Draper, Williams (Sharrad 69) Keating (Wright 62), Adaggio, Morris, Wallis. Subs not used: N/A.
Referee: B. Robinson.

With Airbus playing on Friday night the first choice pitch was out of bounds and the game was played on the training pitch. Although an hour before kick off the pitch was frozen in parts the game went ahead and it soon cut up pretty bad and became boggy in parts.
However, it was Chester who adapted better, and within the first 15 minutes they had a couple of half chances through Holroyd and Kelly, both producing fingertip saves from 15 year old Jones in the Shrewsbury goal.
With Owen replacing the injured Carroll after eleven minutes Scales had to shoulder the responsibility in midfield, and at times he coped admirably, linking up well with his full backs Cadwallader and Kelly, with Rutherford also dropping of deep to assist. Nevertheless, despite having majority of the possession it took Chester until the 32nd minute to unlock the Shrewsbury defence, and when they did it was with a magnificent piece of play from Rutherford.
Brookfield kicked the ball long and high up field, and with his back to goal it seemed that his best option was to head the ball on, but having seen Holroyd's run, Rutherford somehow played the ball first time on the volley with the outside of his right foot and delivered a lovely weighted ball straight into the path of Holroyd. With the keeper bearing down on him Holroyd knocked the ball around him and despite being caught by the keeper he managed to get back on his feet and shrug of the challenge from Momey to slot the ball home.
Despite continuing to hold Shrewsbury at arms length for the remainder of the half, the boys failed to increase their lead and went in at half time only one goal to their good.
Nine minutes into this period Chester should have put this game to bed, when Adam Wade spurned a golden opportunity from only three yards out. The chance came, when out of nothing Rutherford guided the deftest of header's into the feet of Holroyd. Already in the penalty area Holroyd drew the keeper over to his near post and cut the ball back across the six-yard box to Wade who was unmarked with an open goal at his mercy. With everyone expecting him to just tuck the easiest of chances away, he blasted the ball not only over the bar, but also over the protective netting behind the goal and into someone's back garden.
Although Chester again dominated in terms of possession, they failed to increase their lead and on the hour mark coach Jim Hackett changed the formation to 4-5-1 with Rutherford and Holroyd now playing out wide, and Cadwallader up front as the lone striker. Despite having five in midfield Chester soon lost the upper hand and Shrewsbury started to see more of the ball, albeit not to much effect. However, from the seventieth onwards, one always had a gut feeling that Shrewsbury would get themselves back into this game and when it happened it came as no real surprise.
With three minutes of normal time remaining Chester found themselves defending two corners in quick succession, culminating in Dean hitting the ball first time on the volley from outside the penalty area. With the ball coming through a crowd of players, Brookfield spilled the ball into the path of Adaggio who slammed the ball into the net from eight yards out. With only a couple of minutes left Chester came close with efforts from Scales, just over, and Rutherford inches wide.
Overall, this was a scrappy affair and although Chester probably edged it on possession they failed to stamp their authority on this game and missed numerous half chances along with one clear-cut opportunity. Although the pitch wasn't the best, this was a far cry compared to the team that destroyed Macclesfield last week. Fact remains that Shrewsbury where there for the taking, and for that reason alone Chester should look at this as two points lost!
---
Saturday 11 February
Chester City 1 Stockport County 2

League Two
Attendance: 3,446 Half Time 0-0
Booked: none.
Chester City
Gillet, McNiven, Artell, Hessey, Regan, Asamoah (Branch 61), Drummond, Walker, Davies, Tait, Blundell (Lowe 56). Subs not used: S.Vaughan, El Kholti, J.Vaughan.
Stockport County: Spencer, Clare, Williams, Deharall, Robinson, Hamshaw (Malcolm 77), Allen (Wolski 69), Briggs, Griffin (Singh 62), Bramble, Dickinson. Subs not used: Singh, Wolski, Malcolm
.

Referee: C.Foy (St. Helens).


Manager Keith Curle was forced to play a not fully-fit Sean Hessey after defender Luke Dimech was taken ill with tonsillitis prior to the kick-off. There was a debut for striker Paul Tait who signed in the week as the Blues started with Ryan Lowe and Michael Branch on the bench.
It was the visitors, backed by a large following who created the early chances. Goalkeeper Stephane Gillet came out smartly to catch a Matthew Hamshaw free-kick, and Tes Bramble was in the thick of the action shooting wide after intercepting a weak header back from Hessey, and having a 'goal' disallowed on 16 minutes by referee Foy for handball.
At the other end Carl Regan saw an effort go wide from 20 yards and Derek Asamoah curled an effort just wide as City pressed again. Tait almost scored a debut goal but saw his header go just wide of Spencer's goal.
Just after the half hour mark, Hatters defender Ashley Williams was in the right place to block a Ben Davies effort from six yards for a corner. Davies took the resulting flag-kick but the ball sailed over to the far post and was cleared.
City also saw efforts from Stewart Drummond and Gregg Blundell fail to hit the target when well placed.
Just before the break the Blues had Gillet to thanks for keeping the scores level as he made a great save to deny Hamshaw's volley.
City upped the tempo after the break and carried a much greater threat to their east Cheshire rivals but again they had Gillet to thanks for a smart save just after the restart.
Around the hour mark Curle made a double substitution, introducing Lowe for Blundell and Michael Branch for Asamoah. Branch was given an early opportunity but saw his weak shot saved by Spencer. Minutes later the Blues were behind as the Blues lost possession from a throw-in, the ball was played forward to Dickinson who beat Gillet from a narrow angle to put the visitors one up.
The lead lasted only four minutes as Lowe got onto the end of a good pass from Tait to steer the ball home in front of the City faithful.
Minutes later City thought they'd taken the lead as Justin Walkers's effort bounced on the line up to the crossbar and rippled the netting before bouncing down and out, as referee Foy waved play on.
With just two minutes remaining, and the game heading for a draw, City lost possession from their own corner kick, Briggs played in Dickinson who advanced, beat Hessey, and scored past Gillet to the delight of the away fans behind the goal.
---
Saturday 11 February
Chester City
Under 18
4 Macclesfield Town Under 18 0

Youth Alliance North and Midlands West Conference
Half Time 1-0
Chester City: Craig Vernon, Kelly, Potter, Cadwallader, Marsh-Evans, Scales (K. Jones 77), Carroll Wade (Owen 70), Rutherford, Holroyd, Newton (N. Humphrey). Subs not used: Morgan, Feliciello Giavanni.
Macclesfield Town: Cooper, Reid, Jennings, Flynn (Brisley 64), Jeffries, Henchcliffe, Matranga Hadfield, Dennis (Johnson 74), Whyte, Edwards (Hunt 53). Subs not used: Bunting, Rick.
Referee: R.Johnson.
'FAIL TO PREPARE! PREPARE TO FAIL!'

With the main contingency of Macclesfield players arriving just 15 minutes prior to kick off, one wondered what effect this would have on the game. Due to a later game at Airbus the referee was unable to deviate from the stipulated kick off time, and the Silkmen started without any kind of warm up, and where made to pay the price for their poor preparations.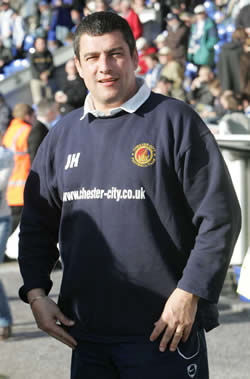 Although Chester looked the sharper of the two they looked content just to keep the ball and failed to make any impression in the first quarter of an hour. However, just when the game looked to be turning into a mind-numbing affair Chester took the lead just before the 20-minute mark. With a good spell of possession, the ball was passed square to Marsh-Evans at centre half whose long ball found Newton out on the left wing. Newton got to the dead ball line and fired in a low cross into the six-yard box, with good pace on the ball it just required a side foot into the net and Holroyd duly obliged from just three yards out. With Macclesfield still reeling they where fortunate not to go further behind a couple of minutes later, when Rutherford delivered a first time cross from the right flank into the penalty area and the keeper comfortably saved Holroyd's header.
Despite having the majority of possession, Chester failed to capitalise, and continually lacked with their final ball. If anything, the possession only succeeded in frustrating the Silkmen who lost all discipline and the half soon deteriorated with rash challenges becoming the norm.
The half time fears that Chester hadn't killed off a poor opposition where soon put to rest within six minutes of the restart when Chester doubled their lead. Rutherford who was playing up front, dropped deep into his own half, turned and ran a good forty yards skipping past challenges with ease, where he guided the ball out to Carroll on the right flank. With no one to beat Carroll crossed the ball into the box where the unmarked Holroyd headed the ball back across the keeper and into the bottom corner.
With the second goal in the bag the second half just seemed to fly by with Chester encamped in the Macclesfield half. Right across the park Chester dominated in every position, and when they rarely lost possession they fought tooth and nail to get it back. Scales, Carroll and Wade worked well together in midfield and Holroyd was now taking his chances. However, a special mention must go to Paul Rutherford who orchestrated everything.

Ten minutes after the restart Rutherford's shot produced a fine save from Cooper and from the resulting corner Holroyd should have hit the target but his technique let him down. With the onslaught Macclesfield just lost the plot, and at one point it looked like the game would boil over, with Chester players taking things into their own hands due to inadequacies of all three officials. With all this possession one just wondered how long it would be before Chester scored again, and in the 70th minute they went three up.
In a rare moment, Macclesfield got a corner and from the headed clearance Rutherford turned with the ball and played it to Potter, who in turn found Kelly, whose shot went agonisingly over. From the resulting goal kick Wade found Rutherford who got around the left back and cut the back to Holroyd who had the easy task of side footing the ball into the net from close range. Four minutes later and Chester went four up with the goal of the game from left back Potter. With the ball being half cleared out of the Macclesfield area Potter picked the ball up and took on his marker. He then played a one-two with Holroyd who back heeled the ball into Potter's path, who then continued his run into the box, where he rounded the keeper and slotted home.
With a four-goal cushion Chester took their foot of the gas momentarily and Macclesfield had their first shot on target in the 81st minute. However, it was only a slight lapse and Carroll was unlucky when his long-range shot cannoned off the upright with two minutes left of normal time, and it didn't stop there. In injury time Rutherford skipped past two lunging tackles and on stumbling into the penalty area he managed to pick out Owen, whose shot was parried straight back out into a crowded penalty area, where Holroyd reacted first. Having knocked the ball around him, the keeper then hauled Holroyd down. However, for some strange reason the assistant mysteriously flagged him offside and the referee waved away any penalty appeals and awarded a free kick to Macclesfield.
On the whole, this was a magnificent performance from Jim Hackett's team who dominated from the first whistle right through to the last.
---
Saturday 4 February
Carlisle United 5 Chester City 0

League Two
Attendance: 6,561 Half Time 2-0
Booked: Davies, Regan.
Carlisle United:
Westwood, Arnison, Gray, Murphy, Aranalde, A.Murray, Lumsdon (McGill 84), Billy, Holmes (G.Murray 77), Hawley, Bridges (Hackney 84). Subs not used: Bradley, Livesey.
Chester City: Gillet, McNiven, Regan, Roberts (Robertson 45), Horwood, Lowe, Vaughan, Drummond, Davies, Branch (Blundell 79), Asamoah (Richardson 63). Subs not used: Dimech, Corden.
Referee: G.Lewis (Cambridgeshire).


City's disappointing run continued with this thrashing at the hands of Carlisle United who moved to the top of the League after this comprehensive victory at Brunton Park. The result proved too much for chairman Steve Vaughan who dismissed three of Keith Curle's backroom staff 48 hours later in an effort to arrest a slump that has seen City lose 10 from the last 11 league games and drop to 17th in League Two.
With David Artell suspended and Luke Dimech relegated to the bench, two of Curle's midweek loan signings Mark Roberts and Evan Horwood stepped in. Roberts was to be replaced at half-time by another young debutant Chris Robertson.
Playing in a strange combination of light blue shirts with dark blue shorts City were given an early warning of what was to come as Michael Bridges raced clear only to shoot wide of goal in the opening minute, a few minutes later Carl Regan blocked another dangerous looking effort form the former Bristol City striker.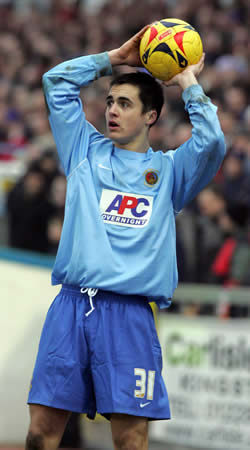 Peter Murphy saw a direct free-kick, conceded by Ryan Lowe, go just wide of Stéphane Gillet's upright as the home side applied the early pressure.
City's best effort in the opening period came after 13 minutes when Ben Davies saw a sharp free-kick parried by Kieren Westwood in the home goal, Derek Holmes was first to react and clear the danger before the other Derek, Asamoah, could pounce.
A minute later the Cumbrians took the lead that all their early pressure had promised. Adam Murray took advantage of a flick-on from Holmes to shoot past Gillet, a last ditch effort from Horwood to clear the ball from the line seemed to have been successful but the assistant referee signaled a goal.
The home side kept up the pressure and Bridges went close on two occasions, including a long-range lob, before City, at last, managed to get more into the game. Asamoah set up Davies who shot high and wide. Westwood saved from an Asamoah header and the home side cleared a Davies corner before doubling their advantage on the stroke of half-time.
Dangerman Bridges picked the ball up in midfield, brushed of City's weak challenges as the Blues defence backed off, before shooting left-footed past Gillet giving the 'keeper no chance.
Curle replaced Roberts with Robertson at the break as City looked to get back into the game and just three minutes into the second period they were given a golden opportunity.
Davies was adjudged to have been fouled on the edge of the box by Murphy and referee Lewis pointed to the spot. Michael Branch stepped up but sent his spot-kick straight down the middle to be saved by Westwood's legs much to the despair of the City fans on the open terrace behind the goal.
There were load appeals for a penalty at the other end soon after following a challenge by Scott McNiven on Holmes but the vociferous home protests were waved away.
Minutes later though a foul by Chris Robertson on Karl Hawley on the edge of the box resulted in a penalty that was duly despatched by Chris Lumsden. Curle made a second change bringing on Marcus Richardson for Asamoah up front.
The home side piled on the pressure with wave after wave of attack and seven minutes later added their fourth. Holmes flicked on a cross from Bridges to leave Hawley racing through on Gillet before sweeping the ball inside the far post.
Eight minutes from time substitute Glenn Murray completed the rout curling the ball past the exposed Gillet for the fifth goal after City's defence had once again gone awol.

Picture © Evening Leader
Rate City's performance — sorry, no star option not available.
---