---
Saturday 27 January
Chester City 1 Mansfield Town 1

League Two
Attendance: 2,129 (335 Mansfield) Half Time 0-1
Booked: Hand, Steele.

Chester City: Danby, Allen, Bolland, Hessey, Marples, Martinez, Hand, Bennett (Holroyd 61), Wilson (Sandwith 37), Blundell, Steele (Rutherford 85). Subs not used: Cronin, Marsh-Evans.
Mansfield Town: White, Baptiste, Buxton, Hjelde, Jelleyman, Brown (Boulding 80), Dawson, D'Laryea, Hamshaw, Conlon, Gritton (Lloyd 85). Subs not used: Muggleton, Arnold, Charlton.
Referee: P.Melin (Surrey).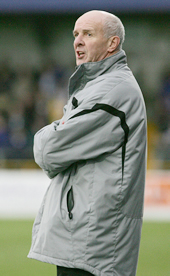 City brought to an end a run of three straight home league defeats but it was really a case of two points dropped against a dogged Mansfield Town side, managed by former Chester favourite Billy Dearden (right), that played the last 80 minutes with ten men following the sending-off of Barry Conlon for violent conduct after a challenge on Phil Bolland.
With Jon Walters headed for pastures new there was a place up front alongside Gregg Blundell for Lee Steele with youngsters Chris Holroyd and Paul Rutherford recalled to the bench. Graham Allen made his second full appearance of the season in a reshuffled defence.
Chester pressed from the start with White the busier of the two keepers for the opening period as Dean Bennett saw an effort blocked after good work from Steele and Blundell saw a tame shot easily saved by White.
On ten minutes the game erupted as referee Melin gave Conlon a straight red card following an off-the-ball incident with Bolland. City continued to press and Laurence Wilson, who once had a loan spell with the Stags, almost hit the target with a 20-yarder after he picked up on a poor clearance from Jon-Olav Hjelde. Long-range efforts followed as Steele brought out a good save from White and Martinez who shot just over on 30 minutes.
Against the run of play the it was the Stags who opened the scoring two minutes later. Allen fouled Martin Gritton and from Hamshaw''s free-kick Jake Buxton headed past John Danby. Buxton was in the thick of the action straight down at the other end as he was on hand to block a Jamie Hand effort.
City were forced into a substitution as Wilson had to be carried from the field with a ankle injury to be replaced by Kevin Sandwith.
Buxton again denied City after good work from Blundell had cut the ball back to set the striker up. Danby was a virtual spectator at the other end but was called upon to save from a Dawson free-kick.
Hand had City's last effort of the half, again from long range that failed to test White as it dipped over the bar.
Danby was called into action five minutes after the break and had to head the ball clear after a long punt upfield from White had sent Gritton through past the City defence.
Blundell was denied as he saw a close range header saved by the overworked White as the Blues continues to press home their man advantage. Manager Mark Wright introduced Holroyd into attack at the expense of Bennett. A minute later and City were deservedly level as Hessey sent Steele through on the edge of the box and he coolly chipped a shot over the advancing White into the far corner.
Holroyd came close to scoring his first senior goal for the club fifteen minutes form time as he met Blundell's left wing cross only to head against an upright from close range. White was well placed to save five minutes later as Holroyd this time chanced his luck with an overhead kick.
As the game drew to a close City went close twice again. Sandwith let loose a trademark pile driver from all of 20 yards that White tipped over the bar. The corner was swung in by Martinez and met by Allen at the back post who steered his header home only to see it disallowed for pushing.
---
Saturday 20 January
Bristol Rovers 0 Chester City 0

League Two
Attendance: 5,694 (178 Chester) Half Time 0-0
Booked: Linwood, Wilson, Walters.

Bristol Rovers: Phillips, Lescott, Hinton, Elliott, Carruthers, Haldane, Lines, Disley, Sandell, Walker, Lambert (Rigg 66). Subs not used: Green, Green, Willshire, Parrinello.
Chester City: Danby, Hessey, Bolland, Artell, Linwood, Hand, Sandwith, Martinez, Wilson, Walters, Blundell. Subs not used: Palethorpe, Steele, Holroyd, Cronin, Allen.
Referee: P.Crossley (Kent).



City did well to come away from the Memorial Stadium with a hard-fought point, in a game spoilt as a spectacle by the dreadful pitch and the swirling wind.

The already waterlogged surface had been used for a Bristol rugby game the night before and patches of it resembled a mudbath, with the rest looking a world away from the billiard table Portman Road pitch we'd last seen City play on.

Referee Phil Crossley passed the pitch as playable around lunchtime, but conditions were still in doubt as we went through the turnstiles at 2.45pm and were handed "emergency vouchers" to use for a re-match in the event of an abandonment.

Neither side were going to demonstrate their silky footballing skills in those conditions and for much of the first half, the 178 City spectators braving the biting winds probably got more enjoyment from the real Cornish pasties on sale.

The Chester defence didn't put a foot wrong all game, with goalkeeper John Danby putting on a decent performance – the first-half seeing him make a save from a volley, firmly catch a couple of penetrating crosses and parry another dangerous shot to safety.

City's only real first-half chances came from a disappointing Roberto Martinez free-kick and a later tame shot. There was also a half-hearted shout for a handball in the Rovers' penalty area.

Half-time talk centred on speculation about where Rovers will be playing when 'the Mem' is developed into an 18,000 all-seater stadium. A re-visit to Bath's Twerton Park seems favourite – but, if we're in the same division by then, please don't make it yet another January game!

Thankfully Chester did their best to warm up the away fans in the second half. Gregg Blundell was clear on goal not long after the re-start, only for him to shoot wide. Jonathan Walters also wasted a good chance when he was just a few yards out, but hit straight at goalkeeper Steve Phillips.

City did have the most of the second half, enjoying most of the possession and winning several corners. There was no outstanding player, although they did play well as a unit and Martinez did his best to stamp his authority in the difficult conditions.

However they failed to capitalise on their second-half domination and just before full-time, Rovers almost got a late winner. A well-taken free kick was headed towards goal only a few yards out. But Danby had the measure of it, and made a good save to keep City in the game.

Soon after the referee put us all out of our frozen misery and although most neutrals would have gone home well before full-time (through cold, boredom, or both), they'd have agreed a draw was a fair result.


| | |
| --- | --- |
| | |
| | |
| --- | --- |
| | |
---
Tuesday 16 January
Ipswich Town 1 Chester City 0

FA Cup Round 3 Replay
Attendance: 11,732 Half Time 0-0
Booked: Danby, Martinez, Artell.

Ipswich Town: Price, Wilnis, Bruce, Naylor, Harding, Peters, Williams, Legwinski (Richards 46), Roberts, Lee, Haynes (Clarke 76). Subs not used: Supple, Casement, Brittain.
Chester City: Danby, Marples, Wilson, Bolland, Artell, Bennett, Hessey, Hand, Martinez, Walters, Blundell. Subs not used: Palethorpe, Sandwith, Linwood, Rutherford, Steele.
Referee: K.Friend (Leicestershire).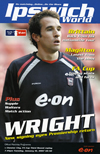 City's extended FA Cup run came to a brave end by the slenderest of margins at Ipswich Town as the Blues held their Championship hosts until six minutes from time when Matt Richards curled a shot from the edge of the box past the despairing dive of John Danby to finally settle the tie.

Over the two matches City will count themselves unfortunate not to have progressed further in the competition, they spurned guilt-edged chances at Deva Stadium and had the ball in the net twice at Portman Road but just couldn't find that killer touch in front of goal which has now seen them fail to score in five of the last seven matches.
As expected Ashley Westwood failed to make the side following a hamstring injury on Saturday so there was a return to the defence for Sean Hessey in the only change from the weekend.
City got off to a good start with Laurence Wilson combining well with Gregg Blundell to force a corner in the opening minutes right in front of around 500 chanting City fans packed into the upper tier of the Cobbold Stand. The inswinging corner was dealt easily by Price in the home goal.
The play swept to the other end as full-back Fabian Wilnis sent in a cross to the far post where Danny Haynes failed to connect.
Minutes later City had the ball in the net only for the 'goal' to be ruled out. Jon Walters was fouled outside the penalty area but the ball broke for Blundell who stretched to prod the ball past Price as referee Friend blew for the earlier infringement instead of allowing advantage. The resulting free-kick from Hessey hit the Ipswich wall standing about seven yards in front of it!
Ipswich were feeding their right wing all though the first half as the tricky Jaime Peters looked to turn the City defence on every occasion. One cross saw a rare slip by David Artell but Hessey was on hand to clear the danger. Minutes later Peters again turned the City defence, cut inside and sent a shot fizzing across goal past the far post.
The home side were beginning to dominate and almost took the lead as Cestrian Gary Roberts curled a free-kick over the City wall and onto the top of the crossbar and out after Hessey had fouled Alan Lee just outside the box in a dangerous area. Hessey was on hand to make a great last-ditch tackle to deny Peters a goalscoring opportunity.
City still broke with purpose though and Jamie Hand, who had a good game throughout, sent a 25-yarder just wide of the left hand post. Back at the other end Phil Bolland made a great saving tackle to block Haynes just as the young player had a sniff of goal.
Chester conceded another free-kick in a dangerous position on the right just before the break. Roberts sent his first effort over the angle and onto the roof of the City net, it looked for a split-second that it had sneaked in the corner.
The last action of the half saw City's hard working forward line chasing through onto an over-the-top ball only to see defender Alex Bruce stretch and knee the ball back to Price, referee Friend waved away City's appeals of a back-pass as City left the field at the break to a well deserved ovation from their fans.
Martinez forced Price to push a shot out for a City corner soon after the restart, though the corner was scrambled clear. It was the home team though, who introduced Richards for former Fulham player Sylvain Legwinski at the break, who began to enjoy more of the possession.
John Danby did well to save a powerful Peters effort that came at him through a ruck of players and Haynes again spurned a chance shooting wide after a quick break. Artell and Martinez found themselves in the referee's notebook.
The Blues fans, who had been singing non-stop from the start of the second period, stepped up the volume as City had the ball in the net again following an inswinging Martinez corner though the effort was ruled out for a push on Price.
The home side introduced a third substitute in Billy Clarke and minutes later Danby did well to catch a tricky Peters cross from a narrow angle under his crossbar.
Six minutes from time City's defence finally cracked. Gavin Williams played a ball square to Richards outside the area on the left and his first time shot curled into the bottom corner past three defenders and despairing dive of Danby.
With four minutes of added time indicated City threw everyone forward and went so close to grabbing an equaliser. Martinez fed Blundell down the right wing who cut in and sent a superb cross right across the six yard line but just inches out of reach of the onrushing Walters at the far post.
Seconds later the final whistle brought the cup run to an end and City left the field to a standing ovation from their traveling army, and a fair few locals as well.
---
Saturday 13 January
Chester City 0 Wycombe Wanderers 1

League Two
Attendance: 2,336 (246 Wycombe) Half Time 0-0
Booked: Linwood, Martinez, Hand.

Chester City: Danby, Artell, Westwood (Linwood 38), Bolland, Marples, Martinez, Hand, Bennett (Sandwith 58), Wilson, Blundell (Steele 58), Walters. Subs not used: Palethorpe, Hessey.
Wycombe Wanderers: Batista, Martin, Williamson, O'Halloran, Golbourne, Grant, Oakes (Torres 45), Doherty (Anya 45), Palmer (Onibuje 74), Easter, Betsy. Subs not used: Young, Crooks.
Referee: N.Swarbrick (Lancashire).

City suffered their third successive home defeat this time at the hands of promotion chasing Wycombe Wanderers but in truth this was a match that neither side deserved to win at a blustery Deva Stadium.
Both sides in fact could hardly muster a serious effort on goal during the entire 90 minutes before the Chairboys broke two minutes from time to give Jermaine Easter the simplest of far-post tap-in's to bag the three points.
Phil Bolland returned to the City defence following suspension at the expense of Paul Linwood who started on the bench.
The Blues were first out of the blocks and spurned an opportunity in the opening minutes as Jon Walters failed to control a through ball after being sent through by Dean Bennett. Both sides found the windy conditions difficult to cope with and were unable to test either 'keeper.
Just after the quarter hour Roberto Martinez sent Laurence Wilson through the Chairboys offside trap but he could only shoot wide as another rare opportunity went begging. Wilson had another opportunity ten minutes later after beating two Wycombe defenders he shot straight at Ricardo Batista in the visitors goal who made a simple save.
Chester were forced to replace Ashley Westwood before the break after he suffered another hamstring strain, Linwood took his place in defence.
The visitors made two changes at the break as they tried to step-up to exert some pressure on the home defence, wayward shots from Jermaine Easter and Russell Martin were all they had to show for their efforts though.

Mark Wright did as his opposite and introduced Lee Steele and Kevin Sandwith into the action. With ten minutes remaining Steele did well to beat two defenders and find space to cross for Martinez who could only direct his header straight at Batista.
City's closest effort came with just three minutes remaining. Dave Artell's free-kick was touched past Bastita, and Walters saw a lob cleared from the line by Martin. Substitute Onibuje picked the ball up and passed to Kevin Betsy on the right who raced down field and delivered a telling cross to the unmarked Easter at the far post who had the easiest of chances to seal the winning goal.
---
Tuesday 9 January
Grimsby Town 0 Chester City 2

League Two
Attendance: 3,012 Half Time 0-0
Booked: -.

Grimsby Town: Barnes, McDermott, Whittle, Grand, Newey, Till (North 68), Ravenhill , Pulis (Boshell 76), Rizzo (Harkins 68), Jones, Paterson. Subs not used: Murray, Hegarty.
Chester City: Danby, Linwood, Westwood, Artell, Marples, Wilson, Hand, Martinez, Bennett (Hessey 83), Blundell, Walters (Steele 90). Subs not used: Sandwith, Allen, Palethorpe.
Referee: K.Wright (Cambridgeshire).



Chester recorded their third away league victory on the spin at a rain-soaked windswept Blundell Park. Media reports earlier in the afternoon suggested that the game was off due to a waterlogged pitch but, although the conditions were difficult, the news proved to be unfounded.

Manager Mark Wright perhaps surprisingly decided to start with Shaun Hessey, playing well recently, on the bench with Dean Bennett promoted to the starting X1, while Paul Linwood stepped into the defence due to Phil Bolland's one match suspension.
On a ground where they haven't won since 1979 (they have only played at Blundell four times since though) Chester started the better side and went on to control the pace of the game throughout. It was a quarter of an hour though before City threatened, Bennett crossed for Linwood who saw his header blocked and cleared to safety. Moments later at the other end John Danby was well placed to save a header from Simon Grand, making his debut after signing on loan from Carlisle United earlier in the week.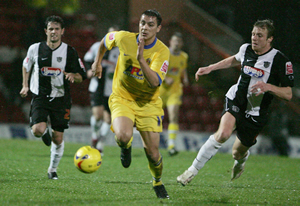 City created several good efforts in the first half but found Phil Barnes in the home goal in good form and he was to deny City on several occasions. David Artell had the best opportunity to open the scoring, Martinez sent over a high corner that found the unmarked City defender but he saw his effort pushed away by Barnes from just six yards out. The overworked 'keeper made another save minutes later to deny Jon Walters who powered a header on target.
As for the home side John McDermott, given a through ball by ex-City loan player Ricky Ravenhill, had their first real effort when he powered a 25-yarder just over the bar in a rare threat on the City goal.
Barnes again was called into the action to make another telling save as Gregg Blundell steered a powerful header that was heading for the top corner before the 'keeper's intervention kept his side level at the break.
Seven minutes after the break City took a deserved lead. Martinez swung in an outswinging right wing corner, it was met by a towering header from Westwood who saw his effort crash off the bar and down near the line, Dave Artell was first to react and bravely dived in between the Mariners defenders to head the ball over the line for his first goal of the season, picking up a knock in the face for his troubles.
City pushed for a second and it was the turn of Martinez to test Barnes with a long range effort.
On 72 minutes City doubled their lead. Some fine interplay in midfield set Simon Marples away down the right into space. He exchanged passes with Walters and then clipped a cross over the far post for Blundell, who despite leaning back, stooped to send a header just inside his near post for a quality finish to end the best move of the match.
Alan Buckley brought on three substitutions but despite this his side found the City defence in resolute mood. Artell blocked a goalbound effort from Tom Newey to preserve the two goal advantage and the only other real scare came when Cestrian Gary Jones headed over when he should really have done better with five minutes remaining.

City reached a historical target with their win at Blundell Park as this was their 1,000th Football League victory.
---
Saturday 6 January
Chester City 0 Ipswich Town 0

FA Cup Round 3
Attendance: 4,330 (1,160 Ipswich) Half Time 0-0
Booked: -.

Chester City: Danby, Bolland, Artell, Westwood, Marples, Martinez, Hessey (Bennett 78), Hand, Wilson, Blundell, Walters. Subs not used: Sandwith, Linwood, Rutherford, Holroyd.
Ipswich Town: Supple, Bruce (Casement 46), De Vos, Naylor, Harding, Roberts, Legwinski, Garvan, Richards (Williams 68), Lee, Clarke (Haynes 68). Subs not used: Price, Peters.
Referee: J.Moss (West Yorkshire).

Chester will be kicking themselves for not finishing this tie at the first attempt. For most of the game they were superior to their Championship opponents all over the pitch and but for some poor finishing would surely have joined Swansea and Nottingham Forest as one of the shocks of the round. As it was the two sides drew a blank and replay at Portman Road on Tuesday 16 January for the right to host Swansea City in the fourth round.
Of City's two pre-match hamstring injury worries, Ashley Westwood made the starting X1 while fellow defender Paul Linwood took a place on the bench that contained no substitute 'keeper, nor Lee Steele who has signed a full-time contract on Friday, but wasn't registered in time for the match.
Ipswich started quickly in the Deva sunshine and Jon Danby was called into action within the first five minutes to comfortably save from a Billy Clarke header directed straight at him then palming wide a Sylvain Legwinski shot as Town were finding space down the City right.
City began go exert themselves after this initial period and carved some good chances. Gregg Blundell was set though by defender Phil Bolland but Shane Supple deputising for Lewis Price in the town goal, rushed out to smother the danger. After 16 minutes Blundell, and the Blues supporters, thought he'd given City the lead. Jon Walters, who had a great game up front, exchanged passes to set Blundell through and he finished superbly past Supple only to be denied by the raised Linesman's flag.
Blundell's finishing let him down badly moments later when he really should have opened the scoring. He picked up a loose ball after the visitors had failed to clear and raced through one-on-one with Supple, as the keeper advanced Blundell clipped the ball over him and inexplicably wide of the goal to the relief of the visiting fans packed in behind it.
City's defence were coping admirably at the back but In a rare attack at the City Alan Lee powered in a header that Danby held.
At the other end Shaun Hessey was the next to be denied by Supple as City continued to apply the pressure. Blundell shot agonisingly wide of the far post and City's midfield also played their part with Jamie Hand unleashing a long-range effort and Roberto Martinez saw an effort deflected by Supple's body just before the Blues left the field to a well deserved standing ovation.
No doubt fresh from a half-time roasting Ipswich started the second half well, forcing City onto the back foot. Dave Artell and Phil Bolland had their work cut out to contain the lively Lee. The Blues still managed to break effectively and Laurence Wilson only just cleared missed the target after breaking through down the left and chipping Supple who, not for the first time, advanced out of his area to meet the ball but retreated just in time to tip the ball over.
On 68 minutes Ipswich manager Jim Magilton made a double substitution up front before Dan harding sent a shot fizzing wide of Danby's post
Chester seemed to tire in the dying minutes and were almost punished as Lee his the crossbar after flicking on a Williams corner, the ball fell to Jason De Vos whose close range effort was defected onto the foot of the post and out to safety after an almighty scramble.
Just before the end Simon Marples was well placed to turn behind a Haynes cross and Danby held on to the inswinging flag-kick. City applied some pressure during three added minutes, Blundell shot wide before referee Moss, who had a good game throughout, blew the final whistle to end a pulsating tie.
---
Monday 1 January
Notts County 1 Chester City 2

League Two
Attendance: 4,019 (164 Chester) Half Time 1-1
Booked: Bolland.

Notts County: Pilkington, Pipe, White, Hunt, McCann, Ross (Silk 55), Somner (Mendes 73), Smith, Parkinson, Lee, Dudfield (Martin 73). Subs not used: Deeney, Edwards.
Chester City: Danby, Bolland, Westwood (Bennett 81), Artell, Marples, Hand, Hessey, Martinez, Wilson, Blundell (Steele 81), Walters. Subs not used: Palethorpe, Sandwith, Semple.
Referee: P.Miller.


The Blues got off to a winning start as goals from Jonathan Walters and Ashley Westwood brought a deserved victory at a rain swept Notts County. Just 164 City fans braved the New Year's Day hangovers to make the trip to Meadow Lane but they were rewarded for their efforts with the three points that keep the Blues in 15th place in League Two.
On the back of two home drubbing's City started the better as Jamie Hand shot over when well placed early on and Ashley Westwood was off target too as he headed wide on two occasions.
Westwood was also in action at the other end as he threw himself at a Jason Lee shot to block the effort after County's leading scorer had done well to get his shot on target from a narrow angle.
Jon Danby fumbled an effort from Jay Smith from just outside the box, he let the shot bounce off his chest, but recovered in time to beat the onrushing Lawrie Dudfield to the rebound.
On 34 minutes City took the lead with a bolt from the blue. A clearance from Alan White fell invitingly for Jon Walters who crashed back a 30-yard shot that gave Kevin Pilkington no chance in the home goal.
Minutes later Gregg Blundell should have doubled the City lead. A mistake by David Pipe let in the Blues striker to run on goal but with Pilkington coming out to close the angle Blundell lofted the ball high and wide and the chance was gone.
On the stroke of half-time the Blues were made to rue that miss as the Magpies drew level with Lee heading home a Dudfield cross past Danby to end a scrappy first period.
The second half proved as stop-start as the first, neither goalkeeper was troubled for long periods as the rain swept down.
County were having more of the play after the break and made a double substitution on 73 minutes bringing on pace up front in the form of Dan Martine and Junior Mendez. Mendez found himself free in the box minutes later and saw his cross-shot cleared for a corner by the City defence.
City took the lead with 12 minutes remaining with one of their few attacking moments of the half. Roberto Martinez broke for City after the Blues had cleared a corner and as the midfielder advanced he crossed from the right to the far post. Westwood rose above the Notts defence to head past Pilkington and a defender on the line to the delight of the small band of City fans behind the goal.
Westwood had to leave the pitch soon after with a hamstring injury to be replaced by Dean Bennett, Lee Steele was also introduced into the fray with nine minutes remaining at the expense of Blundell.
County pressed for an equaliser as the Blues defended in numbers to protect their slender lead as Mendez again saw an effort blocked by the City rearguard. With two minutes remaining Lee shot wide in the last meaningful action of the game as the City defence held firm for three priceless points.
---