30 January 2010

MATCH OFF

The home match today against Grayes Athletic has been postponed due to a frozen pitch.
The decision was made following a pitch inspection by a local referee at 11:00.

---
29 January 2010

BOTTOM TWO MEET

All eyes will be on the size of the Deva Stadium crowd tomorrow as Chester play Grays Athletic who lie just one place above them in the Conference. Last weeks record low attendance against Salisbury City of just 425 (that contained 193 paying customers) looks set to be broken tomorrow against a side who've lost seven and drawn one of their last eight matches.

Tomorrow's game is the first to be played at Deva Stadium since the official supporters club City Fans United called on its members to boycott home matches until such a point where the club has been placed into local reputable ownership.

The two sides last met in Essex in early November with the Blues running out 3-1 winners. Goals that day came from the impressive on-loan striker Michael Coulson and two from Nick Chadwick – both have since departed Deva Stadium. That victory was in fact the last time City won a match!


Chester will once again be without captain Tim Ryan who serves a suspension, so it looks like the team that lost 4-0 at Mansfield Town on Saturday will be the same one that takes the field tomorrow.

---
27 January 2010

CASE ADJOURNED

The case today has been adjourned for 42 days until 10 March. It was stated in court that Chester City Football Club 2004 Limited are currently seeking a CVA. The club owe the HMRC £26,125 and other creditors are owed £20,000.

Following the clubs latest escape Bob Gray said: "We're still in there fighting. The court went through all the facts and figures with our legal department and have reached this conclusion. It only took 15 minutes. And we're still hopeful that someone can come in with the money to clear the club's debts."

• Exiles Blog of the days swift proceedings
---
D-DAY

Chester City Football Club (2004 Limited) appear in the Court 55 of the Royal Courts of Justice in London this morning following the petition to wind-up the club from HMRC. The hearing will not take place before 11:30hrs. The club owe £26,000 in tax and unless the money is paid, or agreement reached upon an adjournment, liquidation of the football club is a distinct possibility.

---
26 January 2010

ASKING PRICE DROPS TO ONE POUND

The Vaughan family have put the club up for sale for the princely sum of £1, providing any purchaser pays off all the club debts – as yet an unknown figure. The club are due in the High Court in London tomorrow to face a winding up order over £26,000 in unpaid tax. Sources say that the club will be legally represented at the hearing after appointing a Manchester-based legal team to look after the matter.

A statement from the club states: "Stephen Vaughan Junior is prepared to sell 100 per cent control of Chester City Football Club for one pound. Stephen Vaughan Junior is offering control of the club to City Fans United, any other consortium, or any individual who wants to buy the club."

"The new owners will take on all existing creditors and will need to guarantee to pay existing creditors of the new company. The Vaughan family are putting the club first by putting their shareholding in Chester City Football Club up for sale."

Full disclosure will be made available to potential purchasers, subject to proof of funding being made available.

Mike Blood of Brabners Chaffe Street, 55 Kings Street, Manchester, M2 4LQ has been instructed to act on the clubs behalf in connection with the sale.
---
25 January 2010

HOW LONG CAN THIS GO ON?

It's reported that City were apparently unable to afford to pay for a temporary physiotherapist on Saturday as the young Blues side were beaten 4-0 at Mansfield Town. Chester could only name four substitutes and also handed a full debut to Sam Coulter. The youngster made a promising debut despite turning out for 70 minutes with the youth team against Tranmere Rovers the day before!

Against a more experienced side the Blues were comfortably second best to a Stags outfit who moved into the play-off places following their victory. It's over ten hours now since City scored a goal! Glenn Rule's effort against Altrincham on 21 November was the last time the ball his the back of the opponents net.


Ahead of Wednesday's Winding-Up hearing in London the director of football Morell Maison (pictured) said: "I'm confident. I'm not in control of the situation, so I'm as confident as I can be without being in control of the situation. Assurances have been given, and negotiations and discussions are going on with HMRC. I'm very confident they will get to the place both sides need to be."

"I don't believe that Chester City Football Club is going to fall over at that particular hurdle."
"We are quite a way down the road since Boxing Day in bringing investment to the football club. But we are at a tricky part where Mr Vaughan's family have to make some decisions. They have rejected one offer they have received, they are mulling over another, and there are negotiations going backwards and forwards.
"We can bring as many potential investors to the table as we like, but they have to make a decision. In the meantime there is a serious situation at the football club.I have been in consultation with the PFA and the Conference all week to try and get more players squeezed through. We are facing a tough time trying to get players in, but I am trying to get the rules relaxed, but they have refused.
"We have managed to reduce the debt at the club over the last week, but it is tough work."

• Conference table
---
22 January 2010

CFU CALL FOR BOYCOTT

Following the results of a survey carried out amongst its membership asking whether an official CFU boycott should be called for, 72% responded YES, 23% considering it as an option, leaving only 5% against.

As a result of this City Fans United have now called on members to boycott future home matches at Deva Stadium, the full CFU statement reads:


Last week, the CFU committee sent out a Survey to its members involving questions regarding the future of Chester City Football Club.
One of the questions asked was whether the current situation at the club merited an official boycott, and as of midday today, the result of that was a resounding 72% in favour of such a move, with an additional 23% considering it as an option, leaving only 5% against.
It is on this basis that we are now recommending, based on the supporters views, that all members of City Fans United officially boycott all remaining home games until such a point where the club has been placed into local reputable ownership. It is also clear that the majority of CFU members want the current owners and shareholders to depart the club and sever all ties with the club. Chester City at present, sits at its lowest ebb in its 125 year history, facing relegation to the sixth tier of football.
During this Survey, which found that 99.5% of respondents believed a change of ownership was essential, the CFU committee have made no recommendations, or tried to influence its members into making this decision.
Also contained in the survey, was a question on whether a phoenix club would be supported, should the current club fold, which again, is not our wish, but we have to plan for all possibilities. Based on this we can report that 98% of respondents to the survey backed the idea of the establishment of such a club should the current one cease to exist.
Full details of the Survey results will be published in the next few days on www.cityfansunited.com
---
CONFERENCE EGM POSTPONED

The Football Conference were forced to postpone yesterday's scheduled meeting at Hinckley United after several 'senior, decision-making officers' from Chester, asked by the Conference to attend, failed to turn up!

Dennis Strudwick, the Conference general manager said:

"We were looking to meet senior personnel in a decision-making capacity, but, without wishing to sound condescending, they sent Bob Gray. Nobody else turned up."
"We can't deal with the club's former chairman Stephen Vaughan as he is a banned director after failing the 'fit and proper person's test. But his son is now the named chairman and they also have a new director of football in Morell Maison."
"We are trying to help the club. We have done our utmost in that respect this season, but we need to speak to them about issues such as whether they have yet paid the wages they owe for November and December."
"And we now have to reconvene another meeting with them as soon as possible."
---
21 January 2010

CHADWICK LEAVES CHESTER
| | |
| --- | --- |
| | Nick Chadwick has become the latest player to leave Chester. The 27-year-old forward, whio is the clubs leading scorer, has signed an 18 month contract with Conference side Barrow after passing a medical at Holker Street. Chadwick joins another ex-City player Gregg Blndell who joined the Bluebirds in the new year. Chadwick joined the Blues on the eve of the season from Shrewsbury Town and in his time at Chester scored 7 goals in 23+1 appearances. |
---
20 January 2010

LATE WINNER SINKS YOUNG BLUES

A Matthew Tubbs penalty five minutes from time consigned Chester to their eighth home defeat in twelve matches this season.

A great performance from John Danby had earlier denied The Whites goals on three occasions but he was unable to stop the late spot-kick awarded following a Kevin Roberts handball from a corner. The attendance of just 425, which included 18 from Salisbury, is believed to be the lowest gate for a league match in the clubs history. Only 192 of these were paying customers!

City are next in action on Saturday afternoon when they visit Field Mill to play sixth placed Mansfield Town.

• Current table

---
CONFERENCE EGM

The club have confirmed they will be present at an EGM called by the Football Conference on Thursday. The off-field situation at Deva Stadium should be top of the agenda!

---
19 January 2010

BLUES BACK IN ACTION

City play their first game of 2010 tonight as Salisbury City make their first visit to Deva Stadium. The Whites will be facing an young Chester team under currently under caretaker manager Morell Maison. Salisbury currently lie two places above the drop zone having had ten points deducted after entering administration. The two sides last met in September when a Ben Wilkinson goal brought a share of the points from the Raymond McEnhill Stadium as the sides fought out a 1-1 draw.

---
18 January 2010

PHIL WHITLOCK 1930-2009

One of Chester's stars from the 1950s, Phil Whitlock, died recently. Our condolences go out to his family and friends.

• Obituary

---
15 January 2010

CRAWLEY MATCH OFF

Following a pitch inspection at Broadfield Stadium this afternoon, tomorrow's match against Crawley Town has been postponed.

---
HMRC ISSUE WINDING UP PETITION

The club (Chester City 2004 Limited) have been served with a winding up petition by HMRC. The order was presented on 25 November 2009, by the Commissioners for HM Revenue and Customs, of Bush House, Strand, London WC2B 4RD, claiming to be Creditors of the Company, and it will be heard at the Royal Courts of Justice, Strand, London WC2A 2LL, on 27 January 2010, at 10:30 hours (or as soon thereafter as the Petition can be heard).

The action has been brought following an unpaid £26,000 tax bill. Full details are in the London Gazette.

• The London Gazette

---
14 January 2010

CRAWLEY MATCH

There will be a further pitch inspection at Broadfield Stadium at 15:00hrs on Friday ahead of City's scheduled match there against Crawley Town on Saturday.

---
OWEN THE LATEST TO LEAVE
| | |
| --- | --- |
| | James Owen is the latest player to be released by City. The former youth team player is a Wales Under 23 international midfielder and looks to have a bright future in the game. Owen made 12+10 first team appearances in a Blues shirt. |
---
12 January 2010

REARRANGED MATCHES

The home match against Kidderminster Harriers, postponed due to a frozen pitch on New Year's Day, has been rearranged for Wednesday 17 February, kick-off 19:45hrs. The club have rearranged the home fixture with Barrow frozen off over Christmas, for Tuesday 2 March, also at 19:45hrs.

---
11 January 2010

BARRY HAS CONTRACT TERMINATED
The annual January player exodus from Deva Stadium has begun as City midfielder Anthony Barry has had his contract terminated by the club by mutual consent. Barry, 23, signed for Chester in the summer of 2008 from Yeovil Town and during his time at Deva Stadium made 55+8 appearances, scoring two goals.

The official club website states that all money owing to him has been paid.


---
HARVEY EXITS DEVA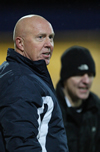 Manager Jim Harvey has left the football club by mutual consent amid rumours that Director of Football Morell Maison is to take charge of team affairs, he's currently serving a touchline ban until the end of the season.

The likeable Harvey, who didn't have contract, worked wonders in impossible conditions during his three month spell at the club. He was a firm fans favourite, sticking by his task of having to work with a wafer thin squad – having been unable to bring in players due to a transfer embargo. He was forced to blood several youth players for first team duties and was full of praise for their attitude at all times. To compound his problems Harvey's former players have now gone two months without pay.

Of his departure Harvey said: "My departure came about quite simply. I received a phone call from Stephen Vaughan who told me that Morell Maison wanted to bring in his own management team, I am obviously bitterly disappointed to leave Chester by mutual consent because I loved my time there, but life was always very difficult under the circumstances."
"I thoroughly enjoyed working with the players and I got on well with the Chester supporters. My family still live in that area and I'd love to think I can return and manage Chester again in better times. I'm really sorry my time at Chester has come to an end."
"I've only informed club captain and assistant manager Tim Ryan about my decision so far, but I'm hoping to get an opportunity soon to speak to the rest of the players. I am now obviously available for the Kidderminster Harriers job and it is a job I would be interested in."

• Former managers


---
FORMER CHESTER PLAYERS

The Former Players Association continues to grow and has just enlisted its 40th member, Tom Sloan. If you know the whereabouts of former first team players or managerswho may be interested in joining then their website contains membership details.

• CFU statement
---
7 January 2010

CFU TO MEET MAISON

A representation from the committee of City Fans United will be meeting with Director of Football Morell Maison in the near future. They wish to discuss Maison's plans for taking the club forward with his new role. Members of the Vaughan family will not be in attendance. The organisation have issued a statement prior to the meeting and welcome question from fans to put to Maison. Any question(s) for consideration should be emailed to media@cityfansunited.com

The CFU statement goes on to say: "We wish to place on record our continuing appreciation of the efforts of both the squad and in particular the manager, Jim Harvey, who has maintained his dignity even in these most trying circumstances. We will therefore be seeking assurances that Jim will remain as manager for the foreseeable future and will retain sole responsibility over playing matters."


• CFU statement | Minutes from the meeting
---
5 January 2010

NEW EASTBOURNE DATE

City have rearranged their outstanding home game with Eastbourne Borough for Tuesday 16 March, kick-off 19:45hrs. The original match was abandoned following an on-pitch protest against the disastrous Vaughan family running of the club.
---
4 January 2010

BLUNDELL COMPLETES MOVE
City forward Gregg Blundell has completed his move to Barrow on a permanent basis following his loan spell with the Holker Street club. Blundell scored his first goal for the club in the Boxing Day home draw with Gateshead. He's signed an 18 month contract with The Bluebirds.

With the club's financial situation in a dire state, other senior players are expected to follow Blundell out of the club during the January transfer window. The more younger players such as Kevin Roberts, James Owen and Shaun Kelly who have all featured in the first team over the last 12 difficult months will also be targetted.

It is believed that the players, who have yet to receive their November/December wages, have been told to stay away from the club and if they can find a new club they are then free to leave.


---
3 January 2010

GRAY DENIES DEVA EXIT

Bob Gray has told the Non-League Paper that he hasn't resigned from his post as managing Director following last weeks board meeting.

He said: "Morell Maison and his colleagues have met all the staff at the football club and put forward their goals and objectives to save the club. They've got some very good ideas and they are going to look for investment in the community. We need to stop the backbiting and get behind them. Unless someone else comes in and offers Stephen Vaughan the money he wants and deserves for the club, we've got to give Morell a good go – or we wonvt have a club. I intend to stay put to make sure the transitional period with the new people goes smoothly, but if they don't want me to stay involved I'll walk away."
---
1 January 2010

MATCH OFF

Following a pitch inspection at 09:30hrs today's home match against Kidderminster Harriers has been postponed due to a frozen pitch. The Blues are not in action now until 16 January when they travel for a first-ever meeting with Crawley Town.
---