FREDDIE WILLCOX 1922-2015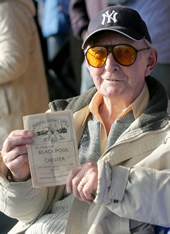 Former Chester defender Freddie Willcox has died in Liverpool at the age of 92. The St Helens born right back made 16 Division Three North appearances in the 1947/48 season and was also a member of the team that reached the Fourth Round of the FA Cup.

As a youngster, growing up in the 1930s, Freddie represented a strong Liverpool Schools side that remainedunbeaten in 30 games. After playing for St Paul's Boys Club in Derby Lane he joined Everton as an amateur just before the war. The hostilities put a hold on his footballing activities and while serving in the army he took part in the D Day landings and also fought in the Middle East. After the war he rejoined Everton but with international players like Tommy Lawton and Joe Mercer in the side it proved difficult for him to break through into the first team.

In 2007 Freddie visited the Deva Stadium, as a guest of the club, and reminisced about his time playing for the club. He recalled playing in a pre-season trial match during summer 1947 when manager Frank Brown came round to his house at midnight to persuade him to sign for the club. Freddie made his debut in a 2-2 draw at Rochdale in October but his best memories were of the FA Cup run when Chester secured an impressive 1-0 win at Crystal Palace before being beaten 4-0 by a Blackpool team containing Stanley Matthews and Stan Mortensen. Freddie had good reason to recall the first goal as he had raced back in an attempt to save the situation and collided with the upright. He said that he received mild concussion as a result of the incident and couldn't remember much about the rest of the game.

Towards the end of the season Freddie fractured his tibia and fibia in a tackle; an injury that eventually brought a premature end to his footballing career. In the 1948/49 season he played for the Reserves in the Cheshire County League side and represented the league against their counterparts from the Southern League. After leaving Sealand Road he played for South Liverpool and captained them against Chester in a Welsh Cup tie in 1949/50. When he retired from the game Freddie worked at Ford's in Halewood for 23 years and lived in Liverpool.

The club send out their condolences to his family and friends.

Football League – 16 appearances 0 goals
First Chester game – v Rochdale (A) 25 October 1947
Last Chester game – v Rotherham United (H) 14 February 1948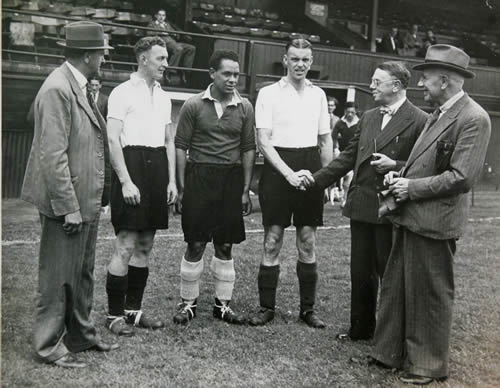 Freddie here is pictured second from left next to manager Frank Brown. The other two players are new signings Tommy Best and William Young along with two directors.
Chas Sumner [29/1/15]

LATEST NEWS

LEAGUE SUSPENDED
The National League North has been suspended for the next two weeks with immediate effect.
more »
LAST MATCH

BLUES HELD AT BRADFORD
The Blues are denied victory by a goal in stoppage time as Bradford fight back to take a point from a pulsating game.
more »
CLUB HISTORY

Everything you need to know about the club's history, honours, records and kits. Complete list of fixtures from 1885 and much more.
more »
SUPPORTERS
EXILES BLOG
The Exiles have set up a blog to provide away match information and articles for Blues fans living away from Chester. You can read it here
Exiles » | ISA »