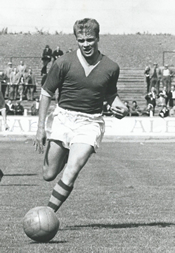 Chester FC are sorry to learn of the passing of former player Jerry Ireland who died recently after a long illness. A local man, Jerry remained a part-time player throughout his Chester career and made 40 Football League appearances for the club, scoring 8 goals, between 1957 and 1962.
Jerry attended Chester City Grammar School and after signing terms at Sealand Road made his debut for the Cheshire County League side at the end of the 1956/57 season. At the time he was a college student and went on to become a lecturer in building and construction at university in Liverpool.
It was John Harris who gave Jerry his first team debut, in a 1-1 draw with Southport in September 1957 with a longer run at inside right commencing the following February which included a sequence of four goals in six games. Despite this successful spell he started the following season in the reserves and it was only when Stan Pearson succeeded Harris as manager, in April 1959, that he returned to the first team. With Pearson looking to promote youngsters, the likes of Jimmy Cooper, John Pimlott and future Welsh international Ron Davies, were all given opportunities and Jerry had another good spell in the team in December 1959 when he managed another sequence of four goals in six games.
The 1960/61 season saw Jerry back in the reserves and he only appeared eight more times in the Football League over the following two campaigns. However he remained a regular presence in the Cheshire County League side for whom he amassed more than 100 appearances in total before signing for Altrincham in summer 1962 and later went on to play for Chester Nomads.
Jerry acted as best man at the wedding of former full-back John Evans who remembers him as a very academic and thoughtful man: "On the field of play he was a very technical performer and never wasted a pass. He was very fit and had tremendous stamina so as a full back, playing behind him, I knew I could always rely on him to help out. He is a great loss and will be sorely missed."
The club send out their condolences to his family and friends.