---
Tuesday 2 August
Chester 1 Burnley U21 2
Pre-Season Friendly
Attendance: 577 Half Time 1-0
Booked: -.

Chester: Worsnop, Evans, Astles (Mahon 46), Vassell (Jones 46), Hunt (Waters 46), George (Shaw 46), Hughes, Joyce, Durrell (Crawford 60), Alabi (Edwards 46), Akintunde. Subs not used: Roberts.
Burnley U21: Mitchell, Birch (Koiki 63), Dummigan, Yao, Anderson, Dunne (Olomowewe 72), Jackson (Chakwana 60), Thomas, Murdock, Metz (McNeil 70), Leitch (Agyei 46). Subs not used: King, Howarth.
Referee: Joe Johnson (Liverpool).

James Akintunde gives Chester a first half lead but The Clarets strike twice after the break to run out winners in this final pre-season warm up. Manager Jon McCarthy used the final match to rest Blaine Hudson and Kane Richards who were both carrying knocks while Theo Vassell returned to the side from injury.

Chester had plenty of possession early on but created few chances, with James Alibi missing the goal from a narrow angle the best of the efforts. The Blues broke the deadlock after Sam Hughes and Clarets goalkeeper Conor Mitchell had challenged for a cross and Akintunde scored from the loose ball heading home from a narrow angle.

The Blues held onto the lead until the 57th minute when Frazier Murdock scored from close range. The Clarets scored their second on 72 minutes as Dan Agyei outpaced Sam Hughes before scoring past Jon Worsnop.

One final concern for McCarthy was the sight of Craig Mahon limping off after a late heavy challenge.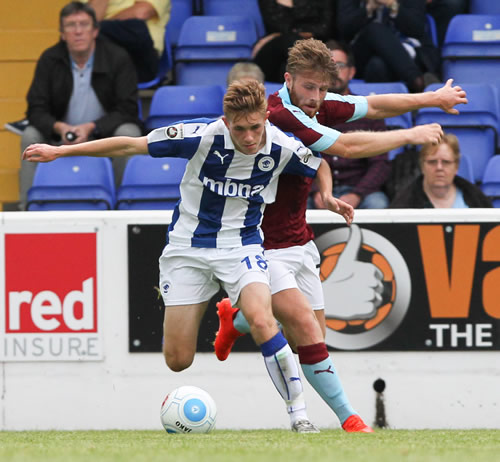 Picture © Rick Matthews (Chester Leader)


Rate Chester's performance
---
Saturday 30 July
Chester 0 Burton Albion 3

Pre-Season Friendly
Attendance: 721 Half Time 0-1
Booked: Shaw.


Chester: Roberts, Vassell (Waters 46), Hudson (Hughes 80), Astles, Horwood (Hunt 37), Shaw, George, Mahon (Durrell 69), Chapell, Alabi (Akintunde 69), Richards (Joyce 80). Subs not used: Worsnop, Evans.
Burton Albion: McLaughlin, Flannagan (Edwards 17), Dyer, Mousinho, McFadzean (Harness 75), Turner, Palmer, Akins, Beavon, McCrory, Irvine. Subs not used: Bywater, Butcher, Delaney, O'Grady.
Referee: David McNamara (Preston).

Chester are well beaten by Championship side Burton Albion in their latest pre-season friendly. The Brewers dominated the first half pushing Chester back for the majority of it. Blues goalkeeper Liam Roberts was tested in the opening minutes pushing away a powerful 20-yard effort from Damien McCory.

An accidental clash between Craig Mahon and Tom Flannagan saw the Burton player unfortunately stretchered off in a neck brace. McCory had two more efforts on goal before the visitors broke the deadlock on 21 minutes, Stuart Beavon turning home a left wing cross past Roberts.

At the other end Jordan Chapell lobbed over the bar following a quickly taken Evan Horwood free-kick. Horwood was replaced soon after with a slight hamstring injury to be replaced by Johnny Hunt.

Kane Richards headed wide at the back post following a corner as Chester spurned their best chance of the half just before the break. Four minutes after the restart Burton doubled their lead through a close range Lucas Atkins header.

Chapell and Richards both forced saves and substitute Elliott Durrell saw a 25-yard free-kick fly just over the bar as Chester looked to pull a goal back.

Four minutes from time through Atkins scored his second and Burton's third with a well taken shot from the edge of the box giving Roberts no chance.


Rate Chester's performance
---
Tuesday 26 July
Nantwich Town 1 Chester 1

Pre-Season Friendly
Attendance: 322 Half Time 1-1
Booked: -.


Nantwich Town: Parton, White (Bourne 71), Touray (Bennion 71), Harrison (Curtis Jones 45), Bailey, Riley, S.Jones (Cal Jones 78), Hall (Jackson 78), Stair (G.Abadaki), Cooke (Kapend 71), Gordon (O.Abadaki 71). Subs not used: Moorhead, Cabaye.
Chester: Roberts (Worsnop 45), Horwood (Evans 80), George (Joyce 68), Hudson (Hughes 78), Astles, Shaw (Reeves 80), Durrell (Mahon 68), Hunt, Waters, Akintunde (Chapell 68), Alabi (Richards 45). Subs not used: Evans, Reeves.
Referee: TBA.

Chester remained unbeaten in pre-season after Elliott Durrell scored his first goal for Chester to earn a draw at Northern Premier League side Nantwich Town.

After a bright opening The Dabbers took the lead on 17 minutes with the experienced Steve Jones giving Liam Roberts no chance with a well struck 25-yarder after the Blues defence had failed to properly clear a corner.

Chester responded well, James Alibi sent an effort from the edge of the box just wide and trialist Oluwaseun Akintunde, who had impressed with a hat-trick at Marine on Saturday, headed over when well placed following a pinpoint Durrell cross.

The Blues drew level on 31 minutes as Durrell scored from short range despite the linesman's flag raised for an offside.

After the break Akintunde forced Dave Parton in the home goal to pull off a fine save. With a host of substitutions in the second period both sides lost momentum and chances were at a premium, those that were created fell mainly to the home side who almost grabbed a winner late on through Ryan Jackson only for the Nantwich substitute to be denied by Jon Worsnop.


Rate Chester's performance
---
Saturday 23 July
Marine 3 Chester 5

Pre-Season Friendly
Attendance: 292 Half Time 1-5
Booked: -.


Marine: Cooper (Hare 46), Field, Short, Hughes (Noonan 87), Smart (Clair 75), Pilliner (Brizzell 53), Davies (Bellew 52), O'Hare (Byrne 52), Whyte (Conway 82), Anouro (Foley 75), Mwasile (Williams 90).
Chester: Jones, Hughes, Heath, Evans, Murray (Excel 46), Reeves (Muscat 46), Newton (Newitt 46), Waters (Ellams 46), Akintude (Mendes 46), Hamilton, Baillie.
Referee: James Madine (Liverpool).

A first half hat-trick from 20-year-old trialist James Akintunde saw Chester come away from Marine with a victory. Akintunde, who has previously played fro Cambridge United, was one of a number of trialist's on show and grabbed his opportunity with three well taken goals in just ten minutes.

Matty Waters gave Chester the lead on 18 minutes with a long range curling free-kick. Akintunde opened his account on 28 minutes converting a James Baille cross. Two minutes later he added a second meeting Waters' cross and beating Matty Cooper in the home goal at the near post.

Six minutes from the break Akintunde latched onto a through ball and rounded Cooper to slot home and complete his hat-trick and score Chester's fourth.

Sam Hughes gave Chester a 5-0 lead from the penalty spot before Marine pulled a goal back to complete the first half scoring through Chad Whyte.
Chester made five changes at the break and goalkeeper Keighan Jones produced a fine save to deny substitute Callum Byrne adding a second Marine goal, but he could do nothing moments later to prevent Warren Bellew finding the net.
Elliot Nevitt almost added a sixth for Chester, his effort crashing back off the crossbar before James Foley added a third for Marine, with a 20-yarder, two minutes from time to complete the scoring.
Rate Chester's performance
---
Wednesday 20 July
Chester 3 Airbus UK Broughton 2

Pre-Season Friendly
Attendance: 589 Half Time 2-0
Booked: -.


Chester: Worsnop, Waters, Hudson, Astles, Horwood (Evans 65), Mahon, George (Joyce 65), Shaw (Hughes 65), Hunt (Chapell 22), Alabi (Durrell 65), Richards.
Airbus UK Broughton: Nield, Roberts-Nurse, McGinn, Michael, Williams, Connolly, Edwards, Monteiro, Wignall, Smith, Murphy. Subs: Mendes, Bassangue, Hulley, Evans, Blake, Cook, Maldon.
Referee: Dave Underwood (Lancashire).

A late goal from Craig Mahon brings Chester victory after the Blues had led 2-0 at the break. Welsh Premier League opponents Airbus had stepped in at the last minute to replace the Bolton Wanderers X1 who cancelled their planned visit, and fielded two ex-Blues in Matty McGinn and Ashley Williams in their starting line-up.

Chester took the lead on 28 minutes wih Kane Richards heading home an Evan Horwood cross. The Blues doubled their lead four minutes before the break as Richards was fouled in the area by Paul Connolly, James Alibi stepped up to score from the resulting penalty.

A well struck goal from trialist Fabio Bassangue just after the break saw Airbus back into the game and the visitors went on to equalise in the 64th minute with a deflected Kevin Montiero shot.

Manager Jon McCarthy made four substitutions and with four minutes remaining Chester notched a late winner through Craig Mahon.




Rate Chester's performance
---
Saturday 16 July
Altrincham 2 Chester 2

Pre-Season Friendly
Attendance: 503 Half Time 0-1
Booked: -.


Altrincham: Dawber, Patterson, Cyrus, Hannigan (Heathcote 72), Charlton, Joyce (Hasler-Cregg 54), Goodall, Menagh (Moult 54), Lynch, Lawrie, Reeves (Hattersley 60). Sub not used: O'Loughlin.
Chester: Worsnop (Jones 87), Waters (Newton 74), Hudson (Astles 45), Vassell, Horwood (Heath 63), Chapell (Exell 83), Hughes (George 45), Shaw (Joyce 63), Hunt (Evans 45), Durrell, Richards (Alabi 45).
Referee: Richard Bartlett (Cheshire).

While we didn't see every familiar face we were expecting at Altrincham, with the news that Robins' summer signing Craig Hobson had taken a knock, it was good to have a chat with ex-Chester manager Neil Young when we arrived for this pre-season friendly.
Jamie Menagh also started for Altrincham, while the Blues named triallists Joe Heath, Rakim Newton, Wade Joyce, Kevin Exell and goalkeeper Keighan Jones. But it was Kane Richards who made the first impression on the game when he scored for Chester within the first 25 minutes.
Another familiar name this time Damian Reeves – featured on the scoresheet when he replied for Altrincham with a well-taken goal on the 15th minute of the second half. Then ex-Chester loanee Danny Hattersley made it 2-1 to Altrincham less than 10 minutes later. But Chester substitute James Alibi replied soon after that with a good run into the box and strike less than 10 minutes later to even the score up.

Sue Choularton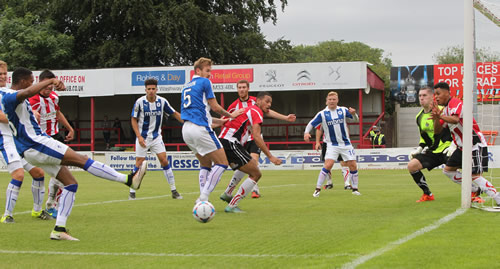 Picture © Rick Matthews (Chester Leader)
Rate Chester's performance
---
Wednesday 13 July
Chester 0 Wigan Athletic 0

Pre-Season Friendly
Attendance: 1,180 Half Time 0-0
Booked: -.


Chester: Roberts (Worsnop 46), Vassell (Waters 65), Hudson (Exell 85), Astles, Horwood (Heath 65), Mahon (Newitt 85), Joyce (Newton 75), George (Hughes 75), Hunt (Evans 65), Alabi (Durrell 46), Chapell (Richards 46).
Wigan Athletic (first half): Nicholls, Taylor, Warnock. Morgan, Burn, Perkins, Gilbey, Power, Jacobs, Wildschut, Davies
Wigan Athletic (second half): Nicholls, Daniels, Hendrick, Pearce (Whitehead 75), Taylor, Morsy, Chow, Huws, Colclough, Odelusi, Cosgrove.
Referee: Michael Salisbury.

Both Liam Roberts and Jon Worsnop made a series of good saves as Chester fought well to hold a strong Wigan side. The Latics started the stronger side and Roberts denied both Craig Davies and Yanic Wildschut as the visitors pressed for an early goal.

Chester had the best chance of the opening half just before the break as James Alibi broke clean through only for Lee Nicholls in the visitors' goal to deny the striker.
The Blues defence with Ryan Astles and Blaine Hudson forming a good partnership, were holding firm as Wigan, who made a raft of changes at the break, pressed in the second period. Worsnop made a fine save to deny Emyr Huws from long range, and Sam Cosgrove cleared the bar when he should have done better from close range.

Worsnop denied Huws again before Kane Richards almost opened the scoring latching on to a loose back pass but the deflected effort just went wide of the post.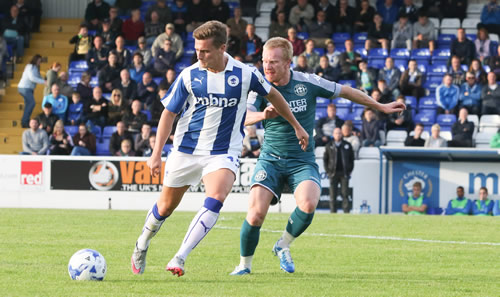 Picture © Rick Matthews (Chester Leader)
Rate Chester's performance
---
Saturday 9 July
Sandbach United 0 Chester 4

Pre-Season Friendly
Attendance: TBA Half Time 0-1
Booked: -.


Chester (first half): Roberts, Waters, Hudson, Astles, Heath, Chapell, Joyce, Shaw, Durrell, Richards, Hassell.
Chester (second half): Roberts, Evans, Killock, Hughes, Horwood, Mahon, George, Newton, Hunt, Alabi, Edwards (Exell 70).
Referee: TBA.

Chester's pre-season preparations got up and running with a 4-0 victory at Sandbach United. Manager Jon McCarthy was forced into a change in the starting line-up as a finger injury forced Jon Worsnop out meaning a full 90 minutes for loan signing Liam Roberts. There were also six trialist's on show: Joe Heath, Ryan Edwards, Aaron Hassall, Kevin Exell, Rakim Newton and Wade Joyce.
Kane Richards opened the scoring just after the half hour with a fine long range shot following a Ryan Astles through ball.
Six minutes into the second period James Alibi added a second following an exchange of passes with Jonny Hunt. Trialist Edwards (ex-TNS) slotted home the third goal on 65 minutes.

Hunt and Craig Mahon both forces saved from Joe Grant in the home goal before Hunt wrapped up the scoring with a free-kick seven minutes from time.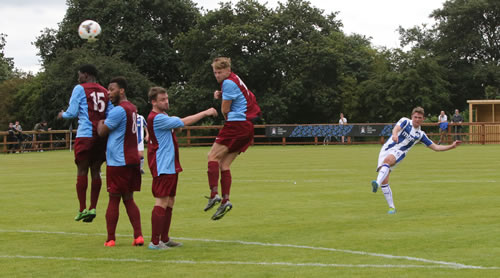 Picture © Rick Matthews (Chester Leader)
Rate Chester's performance
---