30 April 2011

CHESTER CHAMPIONS


Chester were crowned Evo-Stik Division One North champions yesterday at the end of a nerve-wracking afternoon which saw the Blues lose 2-1 at Garforth Town only for their nearest rivals Skelmersdale to win 7-2 but not quite do enough to snatch the trophy on goal difference.

An amazing 2,200+ Blues fans journeyed to Garforth from all over in expectation of a Chester win to end the season in style. A Michael Powell goal on the stroke of half-time gave Chester the cushion they wanted as rivals Skem took a 3-1 interval advantage over already-relegated Ossett Albion.

Garforth weren't going to make things easy though and to their credit scored two very well taken goals after the break as news of Skelmersdale's free-scoring afternoon drifted across the terraces as 3-1 became 7-1 with 15 minutes remaining. Chester created a couple of half chances to equalise and news of a second Ossett goal momentarily relieved the pressure.

As Chester's game ended an anxious five minute wait was endured before confirmation of the full-time score from Stormy Corner brought a jubilant pitch invasion and the presentation of the cup and trophies to the relieved players and management.

For manager Neil Young it's a second successive promotion having taken Colwyn Bay to the Premier League via the play-off's last season. He told the Evening Leader: "There was mixed emotions at Garforth and we did look nervous and drained because the expectation for us to win the title was so high."
"Friday was not my best day at the office, but the moment when I realised we had won the league title was the highlight of the season for me."
"I am proud to be the first manager of Chester FC and to help the club win promotion in our first season. I'm told that a phoenix club has never achieved promotion before in a first season, but we got the job done."
"The title win with Chester is a massive fill-up for me because of all the hard work that has gone on behind the scenes. A huge pat on the back is deserved for our club board and backroom staff after we maintained our position at the top of the league table from October onwards."

The cup along with the team will be at the Exacta Stadium from 12.30 today where the celebrations will continue....

•
Final league table
---
29 April 2011

CFU PROMOTION PARTY
The CFU will be holding a promotion party at CHester Racecourse on Friday 20 May. The evening is hosted by Chester fan Jonathan Legard and will see the CFU present their Player of the Year Award on the night along with the release of the 2010/11 season review DVD which will be available to purchase on the night.


Tickets are priced at £10.00 and include a free raffle although there will be a second raffle and auction on the night with some exclusive items including a full 2011/12 yellow away kit.

Ther are 400 tickets available and they will be on sale from 12.00hrs tomorrow at the Club ticket office with sales limited to two tickets per person on production of a CFU membership card.

Shirt sponsors, who will receive their players shirts, will receive one complimentary ticket per home / away sponsorship package and should contact Ann Wiggins on 01244 371376 or via ann.wiggins@chesterfc.com to confirm their attendance. One additional ticket may be purchased on a first come, first served basis.
---
26 April 2011

DOUBLE DELIGHT FOR BLUES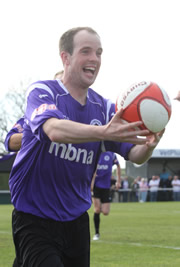 What a weekend for Chester! Saturday's 2-0 victory over Bamber Bridge saw the home campaign finish in style in front of the largest crowd of the season, 3,307 which created a new league attendance record in the process. The Blues scored twice in the opening period through Chris Simm and Michael Powell, and despite having both manager Neil Young and Michael Taylor red carded, held firm for three precious points towards the championship as rivals Skelmersdale United were held 1-1 by Curzon Ashton.

Saturday's great win though was bettered by a second half performance yesterday at AFC Fylde where the Blues stormed back from being a down down at half-time to sweep aside the hosts with goals from Michael Powell, his third in three matches, Michael Wilde and man-of-the-match Robbie Booth (left) to the delight of the 1,000 Blues support.
Skelmersdale's 4-1 win over Prescot Cables ensured the championship will be decided on the final day of the season this Friday. Chester have a three point advantage over the Lancashire side and and, crucially, a goal difference that is eight goals better.

The Blues travel to play Garforth Town knowing that a point will be good enough, while Skem host already relegated Ossett Albion who have already conceded a massive 127 goals so far in this campaign!

A delighted Neil Young told the Evening Leader: "The fact that Chester have nearly won promotion hasn't sunk in yet and it probably won't sink in, but I am proud of what I have achieved so far."
"I'm looking forward to a little bit of a rest and to seeing my family for a couple of weeks at least after Friday's match at Garforth. I'm hoping we'll have the league trophy on display at the club's presentation evening."
"People have said the league title isn't won yet and we have to go out and be professional in our last game on Friday."
"Nothing would be more embarrassing than to see us throw it away, so we have got to make sure we go to Garforth and we put on a professional performance and that we try and get to the 100 points total as well as improve on our impressive away record."

•
League table
| Garforth match information
•
Bamber Bridge Pictures
| AFC Fylde Pictures
---
21 April 2011

FLYING THE FLAG FOR CHESTER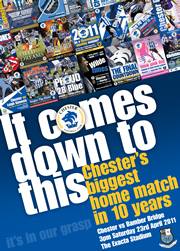 A bumper crowd is expected at Chester on Saturday as the Blues complete their home league fixtures with a match against seventh placed Bamber Bridge, kick-off 15:00hrs. The event has been designated Flag Day by CFU and 3,000 blue and white flags are on order to help create a special atmosphere.

On the pitch, three wins in the final three league games would ensure the Evo-Stik Division One North championship comes to Chester at the first attempt. Despite the recent downturn in form, manager Neil Young will be hoping the side repeat the form of their last home game when they created numerous chances in beating Cammell Laird 2-0.

Skelmersdale's defeat at Lancaster on Tuesday means the destiny of the title was back in Chester's hands and Young believes his squad have got what it takes to lift the silverware in the next eight days. He told the Chester Chronicle: "I have massive faith in these players – massive faith. You don't get to 91 points, score 101 goals and only concede 33 by being lucky. You get that from being very good at what you do. We will be doing everything we can to get us over the line."

The main pressure I'm under is to keep the pressure off the players. You only had to look in the dressing room after the match on Saturday to see they were down. I've got to keep them away from the bit of negativity that is around."

Following Saturday's match Chester travel to Lancashire on Monday for an all-ticket clash against fellow promotion contenders AFC Fylde who are guaranteed a play-off spot. There are injury concerns over both Chris Simm and Ashley Williams ahead of the crucial weekend.


For those who can't get to the Bamber Bridge game on Saturday there is of course free full live internet commentary, sponsored by The Exiles, on the Blues Live website.

---
20 April 2011

PRICELESS GOAL BOOSTS CHESTER

A last minute goal from Alex Johnson last night gave Lancaster City a 1-0 win over second placed Skelmersdale United as the championship race swung back in the Blues' favour. United now sit one point behind leaders Chester with both sides having three games to play. Chester are at home to Bamber Bridge on Saturday and then travel away for an all-ticket match at AFC Fylde on Monday and Garforth Town the following Bank Holiday Friday (29th). Skelmersdale's run in is: Curzon Ashton at home on Saturday, Prescot Cables away on Monday and already relegated Ossett Town at home on the Friday.

•
League table
---
18 April 2011

OUT OF OUR HANDS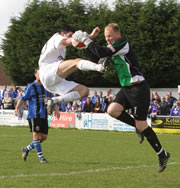 Saturday's disappointing draw at ten-man Radcliffe Borough along with Skelmersdale's 1-0 win at Warrington Town means that should the Lancashire side win their remaining four matches they will finish as champions. Chester's one time 15 point lead lead over Skem, having then played two matches more, is now down to just one point and their rivals play that game in hand tomorrow night at Lancaster City.

The Blues gave a debut in goal on Saturday to Josh Lennie and took the lead in the opening half with a close range effort from recalled Michael Powell. Following the break however a slip by Lennie allowed Declan Fletcher to equalise for the home side. Borough were then reduced to ten men after Shaun Connor upended Chris Simm in the area. Top scorer Michael Wilde though pulled his spot kick yards wide of the left hand post. Worse was to follow as substitute Osebi Abadaki gave the home side a shock lead against the run of play.

Time was running out as substitute Kyle Wilson turned on a sixpence to rifle home the equaliser from six yards out on 90 minutes. And there was more drama at the death as George Horan rose at the back post to meet a Chris Williams cross only to see his goalbound header somehow clawed out and against the post by the inform home goalkeeper Nick Culkin.

Young told the Evening Leader: "I'm very frustrated and very disappointed because for the first time this season the destiny of the league title is out of our hands."
"We have got to try and stay positive, but I'm finding that very difficult. But we must move on and prepare for our next game on Saturday against Bamber Bridge."
"It's not over yet. We have to stay positive and hope that Lancaster, Prescot Cables, or Ossett Albion will do us a favour by beating Skelmersdale. If not, then it's the play-offs. I've been there twice before and I'll get my team up to try and win if we face that situation."
"I think our problems have been down to pressure. I have tried my best to take the pressure myself. When you manage a club like Chester with the fan-base and the will to do well I think you can feel the pressure, particularly when we are on a downward spiral."
"If we are buoyant and we're winning, things are fine, but when we do concede a goal when we've been on top everybody feels deflated."
"I'm frustrated because we've imploded again after bossing the game in the first half and it is very difficult to lift a team like ours after they see Michael Wilde miss a penalty. I don't like using pressure as an excuse, but the expectation is very high at our football club as everybody knows, but the majority of the players should be able to deal with the situation regardless of the club's hopes."
"I know the pressure has layed very heavily on my shoulders but I didn't take the Chester job thinking it was going to be a luxury."
"We have probably achieved very quickly which probably hasn't helped, but when I took the job I had great belief in my own ability to do the job and it's probably in some ways come back to kick me in the teeth a bit because we've been top of the table since October."
"A lot of work was done behind the scenes in setting the football club up a nd the job that the people at the club have done in such a short space of time has been unbelievable."
"From the professional side I'm just very disappointed that, at this moment in time, I haven't been able to carry out my side of it after we were in such a good position."

• League table
| More Pictures
---
13 April 2011

STAND UP AND BE COUNTED


Chester's Monday night defeat at Curzon Ashton coupled with Skelmersdale United's victory over Lancaster City last night has left the Lancashire club just three points behind the Blues and with a game in hand. Chester were beaten 3-1 at Curzon and, according to manager Neil Young, turned in one of their worst performances of the season.

Defensive slips were once again punished with two goals being conceded just before the break, and the third from a rare mistake by Ashley Williams sooon after the restart. Substitute Robbie Booth score a last minute consolation goal.


Young told the Chester Chronicle: "I worry myself silly when things go wrong but at the end of the day people have got to stand up and be counted."
"The first goal we've cleared our lines and then there's a lad getting a free header six yards from goal; second goal we haven't cleared our lines and the lad has finished it off and the third goal is a back pass which killed any chance we had of getting back into the game."
"To be fair, Curzon were the better team, but we were woeful and it was probably our worst performance of the season as a team.
"I always question myself and I'll look at myself and think whether picking the same team was the right decision. But I still think there was enough out there to do better. Ultimately Curzon wanted it more and I'd struggle to name anybody who did well for us."

The Blues travel to Radcliffe Borough on Saturday, kick-off 15:00hrs, looking to get back to winning ways and avenge the surprise defeat to the Manchester-based side who won at Chester 3-2 in mid December. Young will be able to select captain George Horan again following his two match ban but midfielder Iain Howard will be unavailable as he begins a three match suspension.

• League table
| More Pictures
---
11 April 2011

WILDE BRACE EASES PRESSURE

Two scond half goals from Michael Wilde were enough to bring Chester a deserved victory over Cammell Laird on Saturday. The Blues increased their lead at the top of the division to six points after nearest challengers Skelmersdale United's great unbeaten run came to an end at Chorley.

Blues manager Neil Young said: "I thought we played very well. We had a number of chances in the first half, hit the bar and their goalkeeper also made a very good save from Chris Simm. So we had to be patient. There have been times this season when the crowd and the players have got a little bit nervous and we have conceded. But today I thought we were in control of the game for the 90 minutes and we should have won by more. So I've got to give the lads credit."

The Blues are straight back in the action tonight when they travel to play fifth placed Curzon Ashton. The two sides fought out a 2-2 draw only two weeks ago with the Blues leading twice on that occasion only to concede two soft goals.

• League table | More Pictures




---
AFC FYLDE TICKETS
The match at AFC Fylde on Monday 24 April (Easter Monday) will be all-ticket. Chester have been allocated 1,000 terrace tickets and 75 seat tickets. Ticket prices are: Seats £10 (no concessions), terrace £7 adults, £4 concessions (U16, disabled, over 60's and students – all with valid ID – full time students only).

The tickets will go on sale to Season Ticket holders (Voucher E must be presented) from this Thursday at the following times:
Thursday 14 April: 10.00-16.00hrs, Friday 15 April: 10.00-16.00hrs, Saturday 16 April: 10.00-12.00hrs. Tickets will then go on general sale on Monday 18 April: 10.00-16.00hrs, then if there are any remaining Tuesday 19 to Thursday 21 April: 10.00-16.00hrs.
Tickets limited to one per person.
---
5 April 2011

LEAD CUT TO THREE POINTS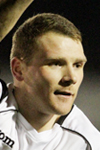 Chester's lead at the top of the table has been cut to three points following last night's 1-1 draw at Woodley Sports. Second placed Skelmersdale United's 1-0 home win over Harrogate Railway Athletic saw the Blues' nearest rivals for the championship narrow the gap, the Lancashire side have a game in hand over Chester but an inferior goal difference at the moment.

Substitute Chris Simm scored Chester's equaliser at Woodley in a poor game played in windy conditions and on an artificial pitch. Simm, left out of the starting line-up in favour of on-loan Tranmere teenager Jack Mackreth, scored just four minutes after coming on and almost bagged a winner moments later but he failed to turn in Michael Wilde's cross from close range.

Chester are next in action on Saturday with their penultimate home league match against local side Cammell Laird, kick-off 15:00hrs.
For those who can't get to the game there is of course full live internet commentary, sponsored by The Exiles, on the Blues Live website.

• League table | Match Pictures
---
DUO RECEIVE BANS
Following his red card at Mossley Iain Howard has received a three match ban and will miss the games against Radcliffe Borough, Bamber Bridge, and AFC Fylde. Meanwhile influential captain George Horan will miss two matches after picking up ten yellow cards. Horan must sit out the games against Cammell Laird and Curzon Ashton.
---
2 April 2011

HERO HORAN SAVES THE DAY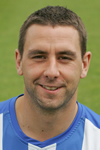 Captain George Horan scored another vital goal for the club, his tenth of the season, as ten-man Blues won 1-0 at Mossley on Saturday to maintain their five point lead from Skelmersdale United at the top of the Evo-Stik Division One North. Horan struck in the 53rd minute ramming the ball home from ten yards, to the delight of the large travelling support, after Michael Powell had seen an effort pushed out by Peter Collinge in the home goal.
The Blues played the last 70 minutes of the match with a man short after referee Ken Haycock had given a straight red card to Iain Howard after appearing to deem the player had made a two-footed tackle on Matt Kay.
Manager Neil Young thought the sending off was harsh to say the least, he said: "I don't think anyone in the ground – including their side and management team – knew what he red-carded him for. Only the referee knew. You can talk about respect but you've got to earn respect and I have to say I thought he had a bad afternoon. It was a disgraceful decision and a decision that can cost you games and league titles."

The victory at Mossley guaranteed Chester at least a place in the end of season play-off's.
The Blues are back in action again on Tuesday with an away fixture at Woodley Sports, kick-off 19:45hrs. The original match on 15 February was postponed due to floodlight failure prior to the kick-off.

• League table

---