27 April 2012

CIVIC RECEPTION TOMORROW FOR BLUES

The players, management and club officials will attend a civic reception on Saturday morning to honour their achievements of a second championship. Like last season the team will parade through town in an open top bus tomorrow.

The bus parade will leave the ground at 12.00hrs and reach the Town Hall at approximately 12.30 where it will be met by Sheriff of Chester Councilor Reggie Jones, himself a Chester supporter, Deputy Lord Mayor, Councillor Pam Booher, Leader of the Council, Councillor Mike Jones and Chief Executive, Steve Robinson. The route the bus will take will be: up Bumpers Lane, Sealand Road, Southview Road, Raymond Road, Canal Street, and Northgate Street to the Town Hall.
---
PRE SEASON FRIENDLIES

The club have announced the dates of the first of their pre-season friendlies...
Su
Jul 15
(A)
Tu
Jul 17

(H)

S
Jul 21
(H)
W
Jul 25
(H)
Tu
Aug 7
(H)
---
WESTMINSTER PRAISE FOR CHESTER

The back-to-back championship success of the club has been recognised in Parliament with an Early day motion in the House of Commons to congratulate the Blues
from John McDonnell MP, an honorary vice-president at Hayes and Yeading FC. The motion was the idea of Chester supporter Richard Hanford, a founder member of the Exiles, who works in Westminster for an independent parliamentary consultancy, and it states:


"That this House congratulates Chester Football Club on winning the Evo-Stik Northern Premier League title; acknowledges their remarkable achievement in scoring over 100 goals and amassing 100 points to win a second successive championship since this phoenix club, from the ashes of Chester City FC, was formed by City Fans United two years ago; and commends the community club as an excellent model of supporter ownership."
•
Early day motion 3007
---
23 April 2012

GOING OUT IN STYLE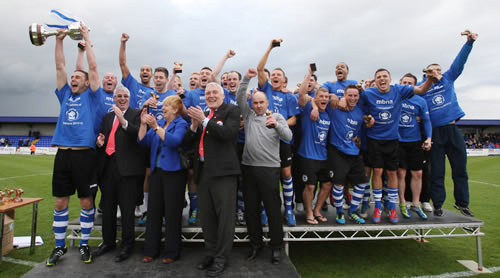 Chester completed their remarkable season with a 4-0 win over Marine to reach the double milestone of 100 points and 102 goals. The Blues tuned in a great display in an entertaining game that saw striker Chris Simm score a hat-trick – the first by a Blues player this season – in front of another bumper 3,500+ crowd.

The Blues were presented with the Northern Premier League Cup after the match as the Back-to-Back Championship party began, with the cup later appearing in the Blues Bar for all to see.

A delighted manager Neil Young told the Chester Leader: "It's been an unbelievable season because we've played less games than last season but we've come away with more points."
"The players have been tremendous and I can't praise them enough. Lads that haven't been playing regularly came in for the Marine game and showed they could walk into any side in our league."
"We've got a good group now to go forward with and we will be adding to that group, but I won't be adding massively. I want to keep hold of the majority of the lads that I've got and hopefully we can now continue to achieve in the Conference North."
"In football there is pressure and expectation, but the shackles have been off in our last two games and we've been playing like I wanted us to with players getting on the ball, coming off the flanks and getting involved, and Simmo (Chris Simm) playing off the last man."
"We've got a fantastic group of lads and people watching Chester have seen that all season. They have worked so hard for Chester Football Club."
"It has been great to see the supporters turn out in their thousands to get behind the club. Expectation levels at a part time football club like ours is not easy, but these lads have delivered two years on the bounce and that is great credit to every single one of them."
"I have said it before and I'll say it again, the work rate and work ethic at this club is fantastic. The lads are obviously disappointed when they don't play, but we stick together as a group and we have got our reward."

•
Final table


---
20 April 2012

TIME FOR THE CHAMPIONSHIP PARTY


A win and two more goals would give Chester fans even more to smile about tomorrow as the club welcome Marine for the final game of the season. The chance to score a century in both goals and points is a fantastic achievement and would cap off a remarkable season that has seen records broken along the way. Manager Neil Young will have midfielder Michael Powell available following suspension and goalkeeper John Danby has now recovered from injury.

Marine have an excellent away record that has seen them reach seventh place in the league. They have won 13 matches, drawn five and lost just twice on their travels this season.

Another bumper gate is expected and supporters are urged to arrive at the ground in plenty of time. Everyone attending tomorrow will be given a free 64-page commemorative match programme that will also contain details of the new away kit for next season in the Conference North.


The players will receive the Northern Premier League trophy following the game on a stage that will be erected on the pitch, manager Neil Young will also receive his March manager of the Month award from league officials tomorrow. The result of the City Fans United player-of-the-year awards will be announced before kick off.
•
Latest table
---
CIARAN GEDDES

The club has received some very sad new this week as seven year old Junior Blue member Ciaran Geddes collapsed and died whilst playing football at Locking Stumps Community Primary School, in the Birchwood area of Warrington.

In a statement, Ciaran's family said: "Ciaran was our young, rising star, he shined brightly in our lives. He was taken from us too soon but will never be far from our thoughts and dreams. His football was everything to him, and his beloved Chester FC."

Ciaran was a match mascot for the home game against FC Uniited of Manchester earlier in the season. A minute's applause will be held for Ciaran before tomorrow's match against Marine.


---
MBNA EXTEND DEAL

The clubs shirt sponsor MBNA have agree to extend their deal with Chester for another two years. MBNA will also become the club's principal partner. Chester chairman Chris Pilsbury said: "On behalf of the fans of Chester FC, I would like to thank MBNA for continuing their extremely valuable relationship with the club and further demonstrating their commitment to the local community."
---
19 April 2012

CHAMPION DISPLAY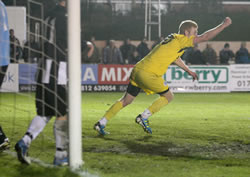 Chester displayed their championship pedigree with a 2-0 win at fourth placed Chorley last night as goals from Iain Howard and Marc Williams (pictured) completed the double over the promotion chasing Lancashire side. The Blues made a storming start taking the lead as early as the sixth minute as fine approach play by Robbie Booth and Chris Simm set up Howard to score from close range.

With over 800 Chester supporters present in the all-ticket crowd, and in fine voice as well, the Blues continued to dominate the opening period and nearly doubled their lead on three of occasions as Marc Williams, Wes Baynes and Levi Mackin all went close, twice hitting the woodwork. Chester sealed victory midway through the second half as Michael Taylor flicked on a Baynes corner for Williams to score at the far post. Matt Glennon was called on to make a couple of great saves late on to deny John Cunliffe as the Magpies pressed.

Chester conclude their season with a home game against Marine on Saturday. There will be another large crowd as the side receive the championship trophy following the match. A victory will see the Blues reach 100 points, and two more goals will make for a double century celebration.

• Latest table
---
18 April 2012

TRIO OUT TONIGHT

Chester will be without injured Michael Wilde and Matty McNeil along with the suspended Michael Powell for tonight's all-ticket match at Chorley.

---
16 April 2012

NGA AWARDS – GET VOTING!

Chester have been nominated in three categories for the end of season National Games Awards night to be held at Chelsea FC. The club are up for the Team of the Year, Goalkeeper of the Year and Goal of the Year categories.

For team of the Year they are competing against Fleetwood Town, Wrexham, Hyde, Wealdstone and Woking.

John Danby is short listed for the Goalkeeper award, no doubt the achievement of his record breaking number of clean sheets this season been recognised. John is competing against Alan Marriott (Mansfield Town), Joslain Mayebi (Wrexham), Jonathan North (Wealdstone), and Sam Russell (Forest Green Rovers).

Matty McGinn's championship winning goal against Northwich Victoria is nominated in the Goal of the Season category. Matty is in competition for the award with Jason Walker (York City), Lubomir Guentchev (Lowestoft), Jamie Vardy (Fleetwood Town), Andy Mangan (Fleetwood Town), and Jamie Tolley (Wrexham).

There are several ways to cast your vote: so please either...

Email it to NGAvotes@hotmail.co.uk
Facebook: Post at The Non-League Paper page
Twitter: Tweet your nominations and the award category to @NonLeaguePaper, and add the hashtag #NGA
Post: Please post your votes to The Non League Paper, Tuition House, St George's Road, Wimbledon SW19 4EU
---
15 April 2012

BLUES CONTINUE RUN

Goals from Chris Simm, Robbie Booth and Iain Howard give Chester three more points at Mickleover Sports on Saturday as Chester made it 14 matches without defeat. Relegation threatened Mickleover, like Stocksbridge last week, made Chester battle for the three points. Manager Neil Young made four changes from the side that clinched the championship against Northwich, and was pleased with the way his players coped.

"I thought the lads played well. I thought Ashley Williams did really well and I thought Marc Williams was impressive in the hole. We switched off a little bit in the second half but all in all it was a good performance."

"I thought we passed the ball very well, particularly in the first half, and if we could have got on the end of some of the moves there could have been a goal of the season contender. They came and had a good go but we could have scored more given the opportunities we had in the first half and later on in the game."
---
12 April 2012

CIVIC RECEPTION

The players, management and club officials have once again been invited to a civic reception to honour their achievements of a second championship. Like last season the team will parade through town in an open top bus on Saturday 28 April. The bus parade will leave the ground at 12.00hrs and reach the Town Hall at approximately 12.30 where it will be met by Sheriff of Chester Councilor Reggie Jones, himself a Chester supporter, Deputy Lord Mayor, Councillor Pam Booher, Leader of the Council, Councillor Mike Jones and Chief Executive, Steve Robinson. The route the bus will take will be: up Bumpers Lane, Sealand Road, Southview Road, Raymond Road, Canal Street, and Northgate Street to the Town Hall.
---
9 April 2012

NORTHERN PREMIER LEAGUE CHAMPIONS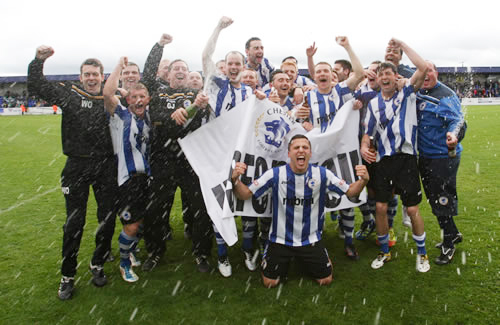 Chester claimed back-to-back championships today following a nerve-wracking 1-1 home draw with second placed Northwich Victoria. The Blues needed just a point to clinch the title from their nearest rivals but the record crowd of 5,009 saw the visitors take the lead two minutes into the second period as Chester failed to create any real chances of note in a scrappy game.

A red card for Ian Kearney ten minutes from time saw Chester push forward late in the game with the introduction of all three substitutes and five minutes from time leading scorer Matty McGinn, pushed forward following the introduction of Liam Brownhill at left back, added to his impressive tally with a 25 yarder that gave Ben Hinchcliffe no chance in the Vics goal.
A jubilant Neil Young said: "It's an unbelievable achievement but it's not just about myself. Me and Gary Jones hooked up together four years ago now and we've had a play-off final defeat and three promotions."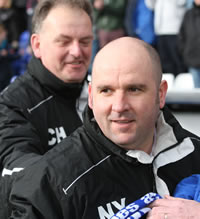 "I was asked a question when the people from Chester first came to visit me and that was, 'would I be able to get the club out of the North West Counties?' I believed I could but now I'm standing here two years later – and having invoked a two-year contract, which is good – with two championships at the next level up is unbelievable."
"It's also quite emotional as we do put a lot of work in. All credit to the players, they have been absolutely fantastic. I am a taskmaster and I don't smile very often but I want to give them all the credit in the world as they've been absolutely tremendous this season."
"It was an unbelievable goal and Matty's got that quality. When he cut inside I thought he was going to cross it but then he's hit it. It was a fantastic finish and cue delirium."

"A second successive automatic promotion campaign is massive for the club, the players and everybody connected with Chester. I can still remember walking through the door at Chester when I agreed to take over and it's phenomenal to think what we have now achieved."

"The fans have turned out in their droves all season and they have backed us to the hilt and thankfully we've been able to bring them success. To achieve two successive promotions is a massive achievement especially when you realise it has been achieved from scratch."

"It's hats off to everyone at Chester and to my family for allowing me to spend as much time as I do at the club."

• Latest table
| Match report | More pictures
---
8 April 2012

ALMOST THERE!


A draw with second placed Northwich Victoria tomorrow will be enough to see Chester win the Northern Premier League at the first attempt, and in doing so, seal their second successive championship. Supporters are urged to get to the ground early as a bumper gate around the 4,000 mark is expected for the clash between the league's top two sides which kick's-off at 15:00hrs. Should the Vics win tomorrow Chester would need two more points to guarantee the silverware.

Chester recorded their ninth successive victory with a dogged 2-1 at Stocksbridge Park Steels yesterday to take them to the brink of the title. First half goals from Chris Simm and Robbie Booth paved the way for the victory but the Blues had to withstand a lot of second half pressure at Stocksbridge once the home aide had deservedly got themselves back into the game with a goal seven minutes after the restart.

Manager Neil Young is looking forward to seeing his side clinch the title before their own fans: Young said: "After what we experienced at Garforth it would be fantastic to do it at home – and there'll be no better time than Monday against Vics."
"We'll be up against the team closest to us and a team who have also done really well so I'm sure if we can get a big crowd the place will be bouncing."
"If we can win the title at home it will be a massive party for the supporters. They have been fantastic all season and we saw that again on Tuesday when we took 500 to Kendal on a horrible night. They'll be so pleased if we can do it at home."

• Latest table
---
5 April 2012

FOUR POINTS NEEDED

Northwich Victoria's 3-1 win over Mickleover Sports tonight means Chester can't now wrap up the Northern Premier League title at Stocksbridge on Saturday. A win at the weekend though would leave the Blues needing just a point from the match against Northwich Victoria on Monday to seal the championship. The Blues are expecting to host a record crowd for the new club on Monday, the current highest crowd of the season was 3,560 against Nantwich Town on 2 January and a figure of 4,000+ could well be achieved next week.
---
4 April 2012

MANAGER OF THE MONTH

Congratulations to manager Neil Young who has been named Evo-Stik Northern Premier League Manager of the Month for March. The Blues won all five of their matches during the month which saw them extend their lead at the top of the table. The award will be presented prior to the final home game of the season against Marine on Saturday 21 April. Young said: "I'm very happy to have won the award but it is the players who have won it for me. I put my faith in the players but once they go over the line it is up to them to do the business."
---
GRITTY BLUES EDGE TOWARDS TITLE

Chester recorded their eights successive victory last night as they won 3-0 at a wintry Kendal Town. Chris Simm had given the Blues a half time lead and further goals after the break from Christian Smith and Ashley Williams wrapped up the points against a plucky Cumbrian side.

• Latest table
---
2 April 2012

WILLIAMS MAKES COMEBACK

Ashley Williams returned to the squad on Saturday. The midfielder now fully recovered from the dislocated shoulder he received at the match at Hednesford Town seven months ago, received a great reception from the 3,000+ crowd as he came off the bench for the last five minutes as Chester maintained their eleven point lead at the top of the league following Saturday's 2-0 win over Whitby Town, the seventh successive victory.

With Michael Powell receiving his tenth yellow card of the season, and with it a two match ban, Williams could be set for a starting place once again before the end of the season as the Blues look to wrap up the league championship in the next week.

Manager Neil Young was delighted to see his young midfielder return, he said: "He's worked so hard to get to the level of fitness he's currently at – which is outstanding – and I thought it would be a great time to get him out on the pitch and give him a lift because he has been down when he's not been playing. But hopefully over these next six games he'll play a major part in bringing the championship to Chester."

Chester are back in league action tomorrow night when they make the trip to Kendal Town, kick-off 19:45hrs.

• Latest table


---