---
Monday 29 August
Woking 3 Chester 1

Conference Premier
Attendance: 1,271 Half Time 2-1
Booked: Hunt, Worsnop, George, Horwood.


Woking: Poke, Caprice, Gordon, Jones, Saah, Yakubu (Saraiva 78), Penny (Ansah 68), Murtagh, Ugwu, Kretzschmar (Carter 76), Lewis. Subs not used: Hall, Edgar
.
Chester: Worsnop, Horwood, Hunt (Durrell 46), Astles, Hudson (Hughes 46), Chapell (Akintunde 70), Lloyd, George, Shaw, Alabi, Richards. Subs noy used: Roberts, Mahon.
Referee: Robert Whitton (Essex).

A game that started so full of optimism for the travelling Chester fans after the fantastic 4-0 home win against Sutton saw their expectations dashed when Woking secured their first win of the season.
Chester, starting without Craig Mahon, who featured so well on Saturday, began brightly enough. Tom Shaw had a half-chance in the opening spell, but shot wide.
However, as Woking pressed forward, a poor clearance from the Chester box fell to Kieran Murtagh. He was well outside the box, but in plenty of space, and scored a great goal on the 17th minute.
Still, the Blues fans expected Chester to make a comeback and a melee in the box soon after led to a James Alabi header hitting the crossbar. Not long after Chester did find their equaliser when Ryan Lloyd headed home from a Johnny Hunt cross.
But they'd barely recovered from their celebrations when Woking's Joey Jones scored with a great header from a Max Kretzschmar cross.
There was a change of formation for Chester in the second half, with Elliott Durrell and Sam Hughes coming on to replace Johnny Hunt and Blaine Hudson.
The Blues didn't seem to settle into the new pattern of play and their chances were few and far between. Hughes put on a reasonable display, winning a couple of headers in the box, but failing to make any realistic chances.
It was Woking who settled the match on the 75th minute when a good shot was only parried by Chester goalkeeper Jon Worsnop. Gozi Ugwu was in a threatening spot and had no trouble scoring the third Cards' goal.
Chester made little threat on the goal during the rest of the match and Woking knew they'd done enough to earn their first victory of the campaign, so the game petered to an end after one minute of injury time.
Sue Choularton

• League Table
Rate Chester's performance
---
Saturday 27 August
Chester 4 Sutton United 0

Conference Premier
Attendance: 1,625 Half Time 2-0
Booked: Richards, Horwood, Mahon, Shaw.


Chester: Worsnop, Vassell (Joyce 71), Hudson, Astles, Horwood, George, Shaw, Durrell (Chapell 74), Lloyd, Mahon (Hunt 85), Richards. Subs noy used: Roberts, Hughes.
Sutton United: Worner, Amankwaah, Beckwith, Collins, Gomis (Bailey 60), Fitchett, Eastmond, Spence, Dickson (Biamou 60), Deacon, Burge (Stearn 60). Subs not used: Morrell, Downer.
Referee: Steven Rushton (Staffordshire).

City entertained Sutton for the first time in their history. The new boys had made a flying start to the season but which version of Chester would turn up? Would it be the team that convincingly beat the otherwise invincible Dagenham or the one which meekly submitted to the South's other promoted team Maidstone a few days later?

Thankfully for Blues fans it was the former as Chester swept in to the attack from the word go. Durrell won a corner on the right and the ball landed at Shaw's feet. He seemed to have an age to take aim but his shot rebounded off the post and the follow up was deflected clear. It was not much later that the Blues forged ahead as Blaine Hudson crisply glanced a header in from Durrell's left wing cross from a free kick. The two players showed an understanding that began twelve miles down the road when they played for that other team whose name escapes me.

Sutton moved the ball about swiftly and pulled Chester's defence this way and that as they switched the play from one wing to the other. They were clearly well drilled and playing with confidence despite the early set back. The U's came unstuck though when Mahon robbed possession back for City and made a telling pass to set Richards off on the break. He carried the ball into the left side of the penalty area, shrugged off a defender's challenge and curled a shot towards the far post. Worner parried it at full stretch but only into the path of Ryan Lloyd who followed up and gleefully smashed the ball into the net for City's second goal inside eight minutes.

It seemed a long time for Chester to have to hold on to a lead but against a very competent opponent they did that and more. Worsnop did well to keep out a fierce shot when Dickson got through for a clear sight at goal but other than that the Blues restricted their chances of conceding. The Chester keeper pulled off another magnificent save in the second half from Burge's free kick to preserve City's advantage.

Richards proved a nuisance to the visitors defence and received close attention from several challenges. The referee called Luke George over as he warned Richards about reacting too strongly and then had little choice but to book him a few minutes later when he tangled with another opponent.

He continued to tread a fine line in the second half but McCarthy kept faith in him. His trust was rewarded towards the end of the contest as Richards latched on to the lively Chappell's subtle pass and jinked in to the area. He went down as a defender's flailing challenge failed to find the ball and referee Rushton pointed to the spot. The U's were incensed by the award but had to accept that after all they had dished out to Richards he had out-guiled them in the end.

Shaw thumped home the penalty, just managing to squeeze it under Worner's body.

Theo Vassell had been stretchered off with concussion following what initially seemed an innocuous challenge as he forayed forward. There was plenty of added time for City to add icing to the cake. Shaw was brought down just outside the area. Horwood lined up the shot but instead cleverly rolled the ball to Richards in the box and the Blues forward hooked it into the top corner – a pleasing reward for his efforts.

Chester have shown against two in-form and fancied sides that they can match and, at times, out play them. The secret now is to build a bit of that confidence and consistency into their play. I brought a couple of visitors with me and they were well impressed – thoroughly enjoying the game after I had been warning them not to expect too much. I could cope with Chester being as unpredictably good again.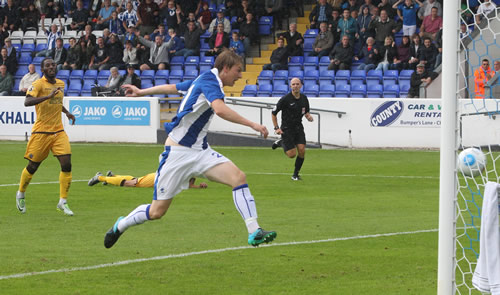 • League Table | More pictures
Rate Chester's performance
---
Saturday 20 August
Boreham Wood 1 Chester 1

Conference Premier
Attendance: 335 Half Time 1-0
Booked: Horwood.


Boreham Wood: Smith, Nunn, Ricketts, Paine, Shakes, Davis (Kuhl 72), Moke, Ferrier (Chiedozie 79), Ilesanmi, Balanta, Devera. Subs not used: Woodards, Goodliffe, Boal.
Chester: Roberts, Horwood, Hudson, Astles, Vassell, Chapell (Durrell 72), Joyce, Lloyd, Mahon, Shaw, Richards (Hughes 88). Subs not used: Worsnop, Akintunde, Hunt.

Referee: Adrian Quelch.



A few seconds of total brilliance when Elliott Durrell lobbed the Boreham Wood goalkeeper from the halfway line to even up the scoreline made up for an otherwise miserable display from Chester FC.
That magical shot – which followed Durrell winning the ball close to the Chester box – will always stay in the minds of the travelling Blues fans, who must have made up about half the Meadow Park attendance of 335.
Until that moment, there'd only been one Chester shot on target in the blustery conditions – a strike from the otherwise anonymous Craig Mahon.
The game started off badly from a Chester perspective when a poor Ryan Astles clearance fell to the powerful Morgan Ferrier on the fifth minute. He easily passed Blaine Hudson and shot past goalkeeper Liam Roberts.
Throughout the rest of the first half, Boreham Wood continued to look threatening from the left-hand side. Ferrier had at least a couple of other chances from the same area.
Boreham Wood almost went 2-0 up in the second half, but Astles cleared the ball off the line. However, Chester's work rate seemed to change when Durrell replaced Ryan Chapell on the 73rd minute.
Durrell made himself busy across the park from the off, and deserved his memorable goal. Ironically, it came almost 20 years to the day that David Beckham made his name with a similar goal against Wimbledon.
Sam Hughes came on to replace Kane Richards on the 85th minute, and he helped ensure Chester continued their record of getting a draw against Boreham Wood. However, thanks to Durrell's super strike, this felt like a really special point and one that I won't ever forget.
Sue Choularton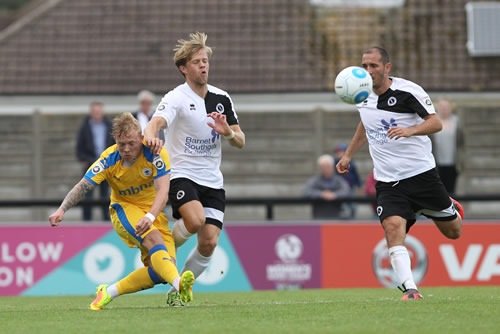 Picture © Rick Matthews (Chester Leader)
• League Table | More pictures
Rate Chester's performance
---
Tuesday 16 August
Barrow 3 Chester 2

Conference Premier
Attendance:1,351 (103 Chester). Half Time 2-0
Booked: Hudson, Horwood.


Barrow: Dixon, Beeley (Parry 46), Anderton, Diarra, Murray, Harvey, Meikle (Haworth 77), L Hughes, Harrison, Hannah (Bennett 81), Williams. Subs not used: Coughlin, Turnbull.
Chester: Roberts, Vassell, Hudson, Astles, Horwood, Joyce, Shaw, Durrell (Akintunde 60), Chapell, Hunt (Lloyd 60), Richards. Subs not used: Worsnop, Mahon, Hughes.
Referee: Ryan Johnson (Manchester).



A late second half fightback proved too late for the Blues who were left to rue early mistakes as Barrow ran out 3-2 wnners. Manager Jon McCarthy made two changes to the side beaten at home by Maidstone United on Saturday, in came Wade Joyce for his debut and Jordan Chapell who replaced the suspended James Alibi and Luke George.

The Bluebirds made a lively start, goalkeeper Liam Roberts was called on to produce a fine save to deny ex-Blue Ross Hannah in the opening minutes as he ran onto a defence splitting through ball.

Chester responded with an effort from Elliott Durrell that was saved, and a long range shot from Evan Horwood that flew wide.

Barrow came more into the game as the half wore on with Roberts doing well to deny both Lindon Meikle and Laim Hughes. Just after the half hour Barrow took the lead as Hannah pounced on an underhit back pass from Durrell, and rounded Roberts to score.
Two minutes later Jordan Williams doubled the lead heading home after Roberts had partially saved a Hannah strike. Williams almost added a third on the strke of half-time but smart defending from Ryan Astles cleared the danger.

The third goal for Barrow came 12 minutes after the restart as Williams got the better of Theo Vassell before striking the ball high into the net past Roberts from all of 25 yards.

Roberts made a great save to deny Harison notching a fourth goal before Chester pulled a goal back through substitute James Akintunde on 66 minutes scoring from close range following an Astles assist.

And three minutes later Chester had the ball in the net again as Akintunde's cross was slid home by Vassell.

Chester had a chance to complete an unlikely comeback in the dying minutes but Kane Richards saw a header go wide when well placed.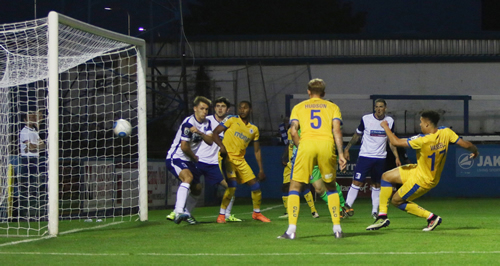 Picture © Rick Matthews (Chester Leader)
• League Table | More pictures
Rate Chester's performance
---
Saturday 13 August
Chester 1 Maidstone United 3

Conference Premier
Attendance:1,912 Half Time 1-1
Booked: Richards. Sent-off: Alibi.


Chester: Roberts, Horwood (Chapell 58), Vassell, Astles, Hudson, George, Shaw (Akintunde 70), Durrell, Hunt, Alabi, Richards (Mahon 58). Subs not used: Worsnop, Waters.
Maidstone United: Worgan, Mills, Lokko, Rogers, Acheampong, Paxman (Sweeney 75), Flisher, Evans, Murphy, Taylor (Dumaka 67), Greenhalgh (Hall-Johnson 82). Subs not used: Coyle, Karagiannis.
Referee: David Richardson (Halifax).



Chester were unable to build on the convincing midweek victory over Dagenham as they slumped to defeat against Maidstone United, and to make things worse saw striker James Alibi given a straight red card for a second half challenge.
The visitors started well putting Chester under pressure though goalkeeper Liam Roberts dealt with everything the Stones threw at him. Bobby-Jo Taylor saw a cross-shot flash wide and later Theo Vassell cleared a Tom Murphy effort off the line as Maidstone pressed.
The Blues responded with Johnny Hunt forcing a save from Worgan before the Stones took the lead with Anthony Acheampong heading home Murphy's right wing cross.
Durrell saw an effort from the right saved and Evan Horwood tried from long distance on two occasions with Worgan saving both.
Chester drew level on 31 minutes with a well taken effort from Alibi. The big striker picked up a Kane Richards pass, beat a defender and curved his effort past Worgan's dive.
The Blues enjoyed a spell of pressure with both Durrell, Luke George and Alibi going close to giving Chester the lead.
Ten minutes into the second period Roberts made a fine save to deny Ben Greenhalgh's goalbound effort, but he could do nothing two minutes later as Greenhalgh made amends scoring from close range meeting a right-wing cross.
Six minutes later Maidstone added a third as Alex Fisher fired home from 20 yards into the bottom corner.
Ten minutes from time Chester were reduced to ten men as Alibi was shown a straight red card following a challenge involving 'keeper Worgan in the area.
The final chance of the game fell to Dumebi Dumaka who saw his effort crash back from the post with Roberts beaten.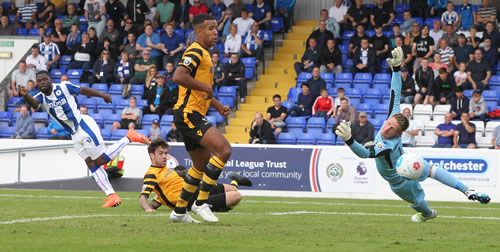 Picture © Rick Matthews (Chester Leader)
• League Table | More pictures
Rate Chester's performance
---
Tuesday 9 August
Chester 3 Dagenham & Redbridge 0

Conference Premier
Attendance:1,841 Half Time 2-0
Booked: Horwood.


Chester: Roberts, Vassell, Horwood (Mahon 74), Astles, Hudson, Durrell (Chapell 73), Shaw, George, Hunt, Alabi, Richards. Subs not used: Worsnop, Akintunde, Waters.
Dagenham & Redbridge: Justham, Williams, Widdowson, Doe, Robson, Robinson, Guttridge (Staunton 68), Hawkins (Benson 77), Maguire-Drew, Boucaud (Assombalonga 68), Okenabihirie. Subs not used: Cousins, Raymond.
Referee: Tom Nield (West Riding).



Chester responded to Saturday's defeat at Gateshead in fine style with a comprehensive home victory over newly relegated Dagenham & Redbridge.

Following a Luke Guttridge effort that flashed just wide in the opening minute the Blues took the game to their opponents and went ahead on 12 minutes as Elliott Durrell hit a spectcular half-volley from 25 yards past Elliot Justham in the Daggers goal after the visitors had failed to clear a high ball into the box.
Twelve minutes later Chester doubled their lead with another stunning strike as Tom Shaw picked up a Theo Vassell through ball, turned and struck a shot into the top left corner.
Jordan Maguire-Drew saw a free-kick slip wide of the Chester goal before Liam Roberts preserved the 2-0 lead with a great save to deny Oliver Hawkins' close range header in the final minute of the opening half.
Just before the hour mark Chester added a third as James Alibi rose at the near post to glance home Johnny Hunt's right wing corner.
Jordan Chapell and Kane Richards both went close to extending the lead in the dying stages of the game as the Blues held out for their first victory of the season.
Rate Chester's performance
---
Saturday 6 August
Gateshead 3 Chester 0

Conference Premier
Attendance: 991 (256 Chester) Half Time 0-0
Booked: Richards, Vassell, Shaw.


Gateshead: S.Johnson, Bolton, G.Smith, M Smith, Hogan, Fyfield, (York 90), D.Johnson (Ajala 67) Styche (Bowman 65), Mafuta, McLaughlin. Subs not used: Hanford, Sweeney.
Chester: Roberts, Hunt, Hudson, Astles, Vassell, Durrell, Chapell (Mahon 75), Shaw (Hughes 88), George, Richards (Akintunde 75), Alabi. Subs not used: Worsnop, Waters.
Referee: Peter Wright (Southport).



Three second half goals from Gateshead brought defeat in the opening game of the new season.
The Heed started well with Liam Roberts in the Blues goal being called on to cut out several crosses and save a one-on-one with Reece Styche.
Gateshead were creating what chances there were in the opening period. Wes York forced a save from Roberts then shot into the side-netting, while Gus Mafuta saw a long range effort just clear the Chester bar. James Bolton saw an effort blocked by the stoic Chester defence.
Just before the break an Elliott Durrell effort from all of 40 yards almost caught Johnson out in the home goal with the ball flying just over with the 'keeper off his line.
The Blues went close again soon after the restart with James Alibi heading powerfully over following Theo Vassell's cross.
Soon after Gateshead took the lead as McLaughlin and Mafuta combine a the edge of the box, their on-two set up Bolton whose effort was deflected in off the leg of Vassell.
A foul on Kane Richards presented Chester with a 20-yard free-kick but Durrell couldn't keep the effort on target. A minute later Heed doubled their lead.
York beat Durrell to the ball, played a one-two with Ryan Bowman before racing through and beating Roberts. Two minutes form time Manny Smith added a third goal heading home unchallenged after Chester had failed to clear a McLaughlin corner.

• League Table
Rate Chester's performance
---