---
Thursday 28 December
Chester 0 Curzon Ashton 1
National League North
Attendance: 2,095 Half Time: 0-0
Booked: Ngwatala, Stopforth, G.Roberts.

Chester: Griffiths, Jones (K.Roberts 68), Grand, Taylor, Morgan, Stopforth, Glendon (Waters 62), G.Roberts, Ngwatala (Dudley 72), Asante, Waring. Subs not used: Hughes, Elliott.
Curzon Ashton: Mason, Halls, Davies, Wroe (Jolly 44), Shaw, Ali, Miller, Calveley, Scott (Doyle 90), Evans, Baillie. Subs not used: McCann, Sloan.
Referee: Paul Brown
.



Chester's decade ended as a bit of a damp squib with a defeat and a flat performance at home against Curzon Ashton on Christmas Saturday.
Seasoned Blues fans could see it coming – as there always seems to be a slump around Christmas and they were facing a team who hadn't won away from home in the league all season. It was a double jinx waiting to happen.
Chester actually had most of the ball in the first half, and had a goal disallowed for offside on 12 minutes. It was Elton Ngwatala who put the ball in the net after a good move featuring George Waring and Joel Taylor. Along with Akwasi Asante, those four players had a promising start to the game and Blues fans did feel a goal would be coming.
But the closest Chester came to scoring in the first half was when Curzon goalkeeper Cameron Mason made an excellent save to block an Asante shot just as the home supporters were on their feet celebrating.
With Chester shooting towards the Harry Mac in the second half, there was an air of expectancy as the sun set at half time. But it was Curzon who made the first impression when former Blue Andy Halls scored with a great header not long after the re-start.
Much as Chester tried to get back into the game, there were few shots anywhere near goal from a player in blue - including a couple of wild strikes that sailed into the car park. Meanwhile the grey-clad Curzon side seemed to be in the right place to stop the home side advancing.
Goalkeeper Mason was called upon again to save an on-target Anthony Dudley strike and he also came out on top when Waring was in a one-on-one situation just as 90 minutes were up. Despite four minutes of stoppage time, Chester didn't come near to scoring that illusive equaliser. and 2019 ended in disappointing style.
On the positive side, it was good to see the attendance figure past the 2,000 mark. There were also moving tributes to club legend Gary Talbot with an emotional Cleggy starting a one minute's applause before the game, and another minute's applause taking place on the ninth minute. It was such a shame the game came nowhere near to matching that emotion.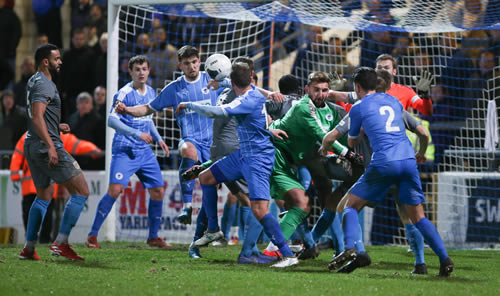 Picture © Rick Matthews
Rate Chester's performance
---
Thursday 26 December
Southport 1 Chester 3
National League North
Attendance: 1,830 Half Time: 1-1
Booked: Taylor.

Southport: Albinson, Mohammed, Winnard, Astles, Doyle, Morgan, Benjamin, Wood, Green (Oliver 74), Sampson, Bauress (Correia 57). Subs not used: Hanford, Woods, Homson-Smith.
Chester: Griffiths, Morgan, Grand, Livesey (Hughes 90), Taylor, Stopforth, Glendon, G.Roberts, Waring, Jackson (K.Roberts 85), Asante (Dudley 85). Subs not used: Ngwatala, Elliott.
Referee: Dale Baines
.



Chester moved back to third place after turning in their best performance of the season as they come from behind to win at Southport.

The Blues made three changes to the side held by AFC Telford last week. Jamie Morgan, Gary Stopforth and George Waring came in for Kevin Roberts, Elton Ngwatala and Anthony Dudley.

Chester started with purpose and on the front foot, Joel Taylor saw a deep cross loop over Charles Albinson in the home goal hit the post and rebound out to Stopforth whose effort on goal was well blocked.

Bradley Jackson also saw an effort just clear the bar as Chester, backed by a large Bank Holiday following looked to open the scoring. George Glendon was unlucky not to score twice in quick succession. First he saw a well struck low effort hit the post, and moments later saw another effort from close range smothered by Albinson.
Against the run of play the Sandgrounders took the lead midway through the half. Russell Griffiths saved a Zehn Mohammed effort but the loose ball fell to former player Ryan Astles who found the net.
Chester continued to press however and drew level on 34 minutes as George Waring converted a Glendon cross to steer the ball past Albinson to send the sides in level at the break.
Four minutes after the restart the comeback was complete as Akwasi Asante pounced on a loose ball after a Jackson challenge to score in the bottom corner. Glendon was again denied by a good save from Albinson as a third goal looked certain.

That third duly came on 70 minutes with a thunderbolt from Gary Roberts who let fly from 30 yards out to wrap up a happy three Christmas points for the Blues who leapfrogged their hosts into third place.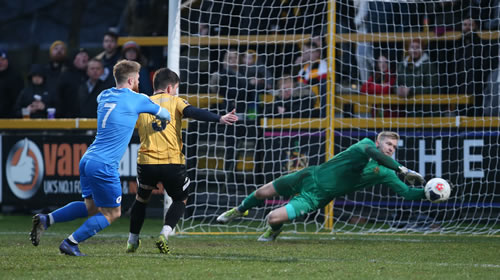 Picture © Rick Matthews
Rate Chester's performance
---
Saturday 21 December
Chester 0 AFC Telford United 0
National League North
Attendance: 1,756 Half Time: 0-0
Booked: Grand, Asante.

Chester: Griffiths, Taylor (Morgan 62), Grand, Livesey, K.Roberts, Glendon, G.Roberts, Jackson, Ngwatala, Dudley (Waring 62), Asante. Subs not used: Stopforth, Elliott, Hughes.
AFC Telford United: Yates, Birch, White, Deeney, Sutton, Streete, Barnett, Walker, Stenson (Dinanga 82), McQuilkin (Williams 82), Daniels. Subs not used: Lilly, Calder, Knights.
Referee: John Matthews
.



The Bucks came to the 1885 Arena still smarting from a midweek Trophy defeat at home to Leamington which saw them concede five goals. Manager Gavin Cowan said that he felt he had gone from Pep Guardiola to Pepperami. He had drummed a "Thou shall not pass" mentality into his squad as they sought to respond to their recent humiliation.
Try as they might Chester could not get through the two lines of defence between them and the Telford goal. The Blues had plenty of possession but as they tried to go forward a clutch of redshirts seemed to cluster around every Chester player on the ball. Telford had next to no attacking threat apart from lone striker Stenson. He demonstrated on one first half occasion that he needed an eye keeping on him as he got through for a chance on goal which Livesey blocked at the last possible opportunity.

Chester barely mustered a shot on goal so resolute was the Telford defence in the first half but in the second they did threaten several times as Telford dug in deeper and deeper in retreat. A nice dummy by Glendon allowed Waring to shoot and the tall forward really should have done better than hit the post from the edge of the area. A couple of half chances fell to Asante his first effort was wide and then a snatched shot following Jackson's switch to the left wing was straight at Telford keeper Yates.

Then as the game moved into its final phase, Asante was sent through by Morgan's delightful pass forward. As he entered the area he cut back to shoot – only for Bucks' defender Streete to slide in and seemingly take his legs from under him. To the amazement of all in the ground, referee John Matthews did not give what looked like a cast iron penalty but instead awarded a free kick to Telford. To rub salt in the wound he booked Asante for simulation. The decision denied all logic and incensed the home support and management too.

Matthews had been handing out yellow cards with increasing regularity as the game wore on and eventually they caught up with Telford midfielder Barnett – dismissed for accruing his second with a few minutes remaining. The decision did not alter the course of the game – unlike the penalty shout – and Telford clung resolutely to the point they had come for.

In a way it had been a stress-free afternoon for City supporters as Telford offered so little up front but the frustration at not being able to make the breakthrough was palpable.

Colin Mansley
Rate Chester's performance
---
Tuesday 17 December
Chester 2 Hednesford Town 1
FA Trophy Round One Replay
Attendance: 613 Half Time: 2-0
Booked: G.Roberts.

Chester: Griffiths, Morgan, Livesey, Grand, Taylor, Jackson, Elliott (Ngwatala 63), Glendon, G.Roberts, Asante (Hughes 63), Dudley (Waring 85). Subs not used: K.Roberts, Waters, Jones, Stopforth.
Hednesford Town: Wycherley, Curley, Griffiths, Bailey, Morris, Hurst (Gatter 81), O'Hanlon (Hodge 36), King, Glover, Abadaki, Reid. Subs not used: Fry, Chambers, Veiga, Waddison, Lycett.
Referee: Richard Aspinall.



Last Saturday's goalless draw at Keys Park had brought the two sides back to the 1885 Arena for this replay but a cold winter's night barely a week before Christmas did not attract much of an audience. Just over six hundred turned out to watch Chester progress to the next round of the FA Trophy which could conceivably end up at Wembley. They would hope to take a few more should they get there for the first time in their history.
Those who did attend were treated to some flowing football in the first half at least as the Blues cruised to a 2-0 lead. The move for the first goal began way back in the left back position as Simon Grand jinked past Osebi Abakadi and ran forward to feed the ball to Anthony Dudley – back in the side in place of Matty Hughes. Dudley and Asante worked the ball forwards for the overlapping Taylor whose cross was met with a first time shot by Asante. It looped up off a defender's challenge and Jackson nipped in at the far post to volley it into the roof of the net.
The second goal arrived following some excellent work by Elliott who twisted and turned with the ball to beat The Pitmen's captain Bailey on the right before crossing perfectly for Asante to nod powerfully home at the far post. Chester were well in control but got a warning before half-time when Glover shot on the turn from a narrow angle and Griffiths was forced to palm it around the post.

The warning seemed to go unheeded for shortly after the break Glover volleyed a shot into the bottom corner as Livesey's header came out to him. The goal infused the Pitmen with confidence and induced the jitters among Blues fans.

There was still a long way to go and City probed for a likely match-winning third goal. Jackson had plenty of the ball down the right – all too often though the cross was not fine-tuned enough to find a City forward. Hednesford, in luminous yellow kit, were seeing a lot of possession and moving the ball around fluidly without overly working Griffiths. The Chester keeper must have had his heart in his mouth however when Hurst's shot fairly thudded against the upright and back into play.

That was the closest the Pitmen came to an equaliser while at the other end Gary Roberts was just wide with an effort from the edge of the box after Hughes had set him up. Dudley was thwarted by a fine reaction save from Wycherley after Ngwatala's nicely weighted pass had given him the opportunity to shoot.

Chester did enough to hold on and closed the tie out to earn a place in the next round away to Royston, conquerors of Boreham Wood in this round. They themselves are just a couple of places below Hednesford in the same BetVictor Southern League Premier Central Division i.e. one level below Chester and two below the National League Premier.
Colin Mansley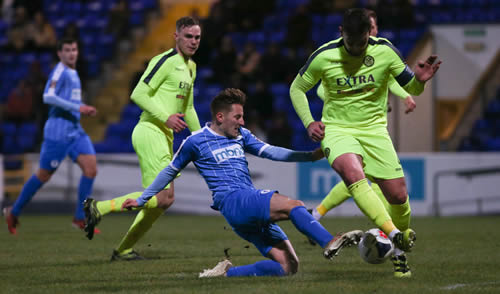 Picture © Rick Matthews
Rate Chester's performance
---
Saturday 14 December
Hednesford Town 0 Chester 0
FA Trophy Round One
Attendance: 565 Half Time: 0-0
Booked: Elliott.

Hednesford Town: Wycherley, Curley, Griffiths, Bailey, Morris, Gatter (Hurst 65), O'Hanlon (Reid 73), King, Glover, Fry, Abadaki (Hodge 86) Subs not used: Chambers, Veiga, Waddison, Lycett.
Chester: Griffiths, K.Roberts, Grand, Livesey, Taylor, Glendon, G.Roberts, Elliott (Ngwatala 83), Jackson, Hughes (Dudley 77), Asante (Waring 86). Subs not used: Morgan, Waters, Stopforth, Jones.
Referee: Ross Martin.

Chester and Hednesford face a replay on Tuesday night after the two sides fought out a goalless stalemate at Keys Park.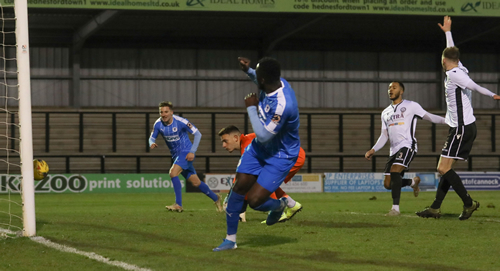 Picture © Rick Matthews
Rate Chester's performance
---
Saturday 7 December
Darlington 2 Chester 0
National League North
Attendance: 1,210 Half Time: 2-0
Booked: -.

Darlington: Connell, Hedley, Liddle, Wheatley, Laing, Storey, Rivers, Holness, Campbell (Thompson 76), Lambert (Watson 85), Donawa (Bascome 90). Subs not used: Holliday, Bell.
Chester: Griffiths, K.Roberts, Livesey, Grand, Taylor, Glendon, Stopforth, Ngwatala (Elliott 61), Jackson, Asante, Dudley (Hughes 61). Subs not used: G.Roberts, Morgan, Waring.
Referee: Kristian Silcock.



Chester made one change from the side that beat Bradford (Park Avenue) last weekend with Kevin Roberts returning to the starting line up to replace Jamie Morgan.

The Blues were given an early scare with Donawa volleying just wide in the opening minutes as the home side started brightly. Chances were few and far between with Danny Livesey heading wide before Darlo took the lead on 28 minutes.

A long through ball eluded the Chester defence and Omar Holness raced through on goal to lob the out-rushing Russell Griffiths and find the net.

Chester's main threat was coming from free-kicks. Joel Taylor sent in two that saw both Akwasi Asante and Simon Grand shoot wide.

On the stroke of half-time Chester conceded again as Griffiths cropped a cross and in the ensuing scramble Donawa beat Taylor to the loose ball to score from close range.

A floodlight failure saw a delay of nearly half an hour before the second half could begin. Asante almost pulled a goal back heading Bradley Jackson's cross goalwards only for Liam Connell in the Quakers goal to make a fine save.

Moments later Livesey had a goal ruled out for offside and Matty Hughes headed over from Jackson's teasing cross as Chester pressed to get back into the game.
Adam Campbell went close to adding a third as Grand cleared the danger from the Blues' goal-line. The last action of the game saw Griffiths produce a fine save to deny Steve Thompson who was sent through on goal one-on-one.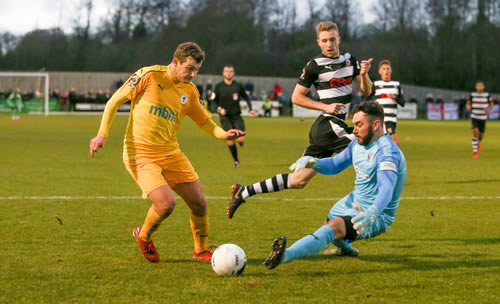 Picture © Rick Matthews

• Latest table
Rate Chester's performance
---