---
Monday 28 December
Chester 1 Chorley 2
National League North
Attendance: 0 Half Time: 1-2
Booked: Grand.

Chester: Gray, Morgan (C.Taylor 84), Askew, Weeks, Livesey, Grand, Johnston, Glendon, Elliott (Goodwin 71), Dudley, Bauress (Waring 71). Subs not used: Clark, K.Roberts.
Chorley: Urwin, Birch, Smith, Leather, Newby, Tomlinson, Shenton (Reilly 88), Henley (Baines 78), Garratt, Owens, Hall (Jebbison 78). Subs not used: Calveley, Putnam.
Referee: P.Shacklady.



Bernard Morley, shortly after this defeat to Chorley, spoke of his frustration that though his team tried to play flowing football "through the thirds" but it was the visitors who more shrewdly effective on the day. It was in the final third that Chester lacked the guile to unlock the Magpies' stubborn defence.

They achieved it just once as great approach play culminated with Elliott's through ball to Dudley who scored City's only goal of the game. Either side of this Chorley scored two, by comparison, scruffy efforts but both ended up in the back of the net. Both were the consequence of not clearing long Andy Owens throw-ins from the right. The first fell to Shenton who smashed the loose ball high into the net. The second was partially cleared but then driven back in to the penalty area and deflected to Conor Hall who was then felled as both Livesey and Grand converged to tackle him. Hall himself converted the resulting penalty kick.

The latter came in the third minute of additional time at the end of the first time and proved to be a decisive blow in the game. With their noses in front, Chorley were able to dictate the pace of the game after the break and managed it into a disjointed and staccato affair. City's best opportunity came when Johnston ran speedily with the ball half the length of the pitch and swept past the last defender only to stab his shot narrowly over the bar. Weeks also had a thundering effort from outside the box but slightly off target. Other than this the Blues were restricted to crosses from either flank, but mainly the right, which failed to reached their intended striker. Chorley defended their box so tenaciously.

In an effort to tip the balance Blues threw on Goodwin and Waring in place of Elliott and Bauress. The visitors responded by bringing on Baines to act as a third centre back. For the last five minutes Livesey went up front as loanee Connor Taylor came on for Morgan, and the Blues tried to batter the Magpies in to submission. But Chorley, despite seven minutes of added time, defended stoutly and held on for the three points.

Defending, as Morley acknowledge is something Chorley do very well. Already this season, despite a slow start in the League, they have achieved notable FA Cup success winning away at Wigan and Peterborough and that run has helped them to generate some funds (Owens – who had already faced City earlier this year for Radcliffe in their first pre-season friendly was signed on dual registration forms recently) and find some form in the League too – they are currently top of the form table over the last six matches and rapidly climbing towards the play off spaces in the full table.

Despite Morley's post-match frustration at City's failure to defend the second and third phases of those long throws, he and Jonno seem determined to continue with Chester's free-flowing style of play. "What is Plan B anyway?" asked Chester's joint manager. I suspect most City supporters would agree with this despite a hunger for the steely shrewdness that Chorley showed too. It may be that all of this counts for little in the context of the currently deepening coronavirus pandemic, but if Chester could find the telling pass or cross in the last phase of their own play more often, then they could reach the top and do so with style.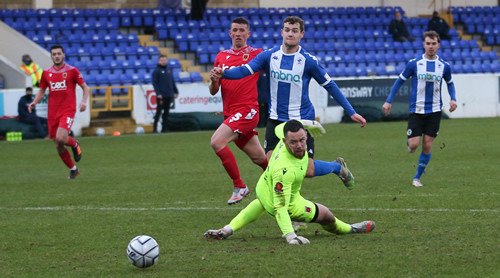 •
League Table
|
More photos
---
Saturday 26 December
AFC Telford United 1 Chester 2
National League North
Attendance: 1,680 Half Time: 1-1
Booked: Dudley, Weeks.

AFC Telford United: Griffiths, Vaughan, Streete, Meppen-Walter, Hardy, Walker, McHale, Jones, Davies (Oswell 83), Williams, Byrne. Subs not used: Rawlins, Bond, Lilly, Barnes-Homer.
Chester: Gray, K.Roberts, Morgan, Weeks, Livesey, Grand, Jackson (Johnston 45), Glendon, Dudley, Lacey (Elliott 55), Bauress (Waring 85). Subs not used: Askew, Goodwin.
Referee: Kristian Silcock.



Chester move third as they come from behind with two great goals from George Glendon and Anthony Dudley to bring a deserved victory at the New Bucks Head.

The Blues started well in front of a large partisan crowd, Brad Bauress seeing a shot pushed round the post by former Blue Russell Griffiths in the home goal wide in the opening minute.

The 'keeper was in action again soon after this time holding onto Glendon's 20 yarder and Courtney Meppen-Walter did well to block another goalbound effort from Bradley Jackson.

It was somewhat against the run of play that the home side took the lead on 18 minutes as Jordan Davies racing in down the right crossed into the area which evaded James Hardy at the near post but left Aaron Williams free to score, his effort beating Louis Gray and going in via the inside of the post.

Chester continued to press. Declan Weeks saw an effort flash just wide before the Blues drew level on 26 minutes. Telford conceded a free-kick which was quickly taken by Glendon, he took a deft return pass from Dudley to put him through one-on-on before slipping than ball past Griffiths for a deserved equaliser.

Jackson saw an effort deflected wide just before he had to withdraw with what looked like a hamstring injury on the stroke of half-time, John Johnston replaced him.

In the closing action of the half Gray made a fine save to deny James Hardy whose rising shot was heading for the top left corner.

The home side were allowing Chester plenty of space and time on the ball but went close themselves when Dom McHale send a free-kick just wide on the hour mark.

Chester completed their comeback minutes later when Johnston went on a mazy run in the the box before pulling the ball back for Dudley to coolly slot the ball home at the far post.

Paddy Lacey was forced off with injury, to be replaced by Danny Elliott. The Blues were rarely troubled with defenders Simon Grand and Danny Livesey in control at the back, and Gray saved from Meppen-Walter late in the game as the Chester held on for three valuable points.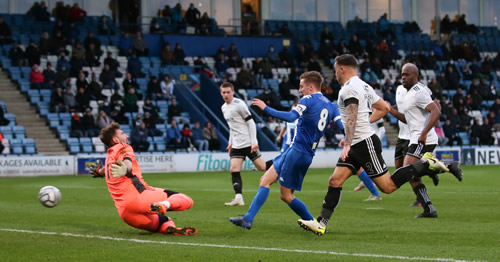 •
League Table
|
More photos
| Match Highlights (YouTube)
---
Saturday 19 December
Altrincham 2 Chester 1
FA Trophy Third Round
Attendance: 0 Half Time: 1-0
Booked: -.

Altrincham: Thompson, Senior, Holgate, Hannigan, White (Hampson 46), Moult, Smith (Richman 64), Kosylo, Hancock (Densmore 89), Peers, Ceesay. Subs not used: Hall, Salmon, Gould, Howarth.
Chester: Gray, K.Roberts (Askew 74), Morgan, Weeks, Livesey, Grand, Johnston (Waring 77), Glendon, Elliott (Goodwin 68), Dudley, Jackson. Subs not used: Clark, Lacey, Bauress, Marsh-Hughes.
Referee: A.Herczog.



This proved to be an entertaining game, with three excellent goals, which eventually went the way of the National League side. With the game switched to Deva Stadium at the last minute there was no time to arrange ticketing so the match was played behind closed doors.

Chester started well with Danny Elliott turning John Johnston's cross wide in the opening minutes. At the other end the Blues were given a let off as former Chester player Tom Peers shot into the side netting from close range after Yusifu Ceesay had got the better of Kevin Roberts.


It was a half of few chances, Ceesay saw a goal bound volley through a ruck of defenders saved by Louis Gray. As the game headed towards the break Robins defender Joel Senior let fly with a 30-yarder that gave Gray no chance as it found the net via the inside of the post.

It took Chester just four minutes into the second period to respond and draw level with a quality goal of their own as Dudley picked up a Johnston pass, turned and shot into the bottom right corner.

But within six minutes Altrincham led again. A Chester corner was headed clear by Kosylo, the midfielder advanced with the ball, beat Jamie Morgan before setting Peers free on goal to chip the advancing Gray to make it 2-1.

Thompson saved a Danny Livesey header as Chester pressed for a second equaliser. Both Declan Weeks and substitute George Waring saw efforts of goal but were unable to find a way through a well drilled Altrincham defence.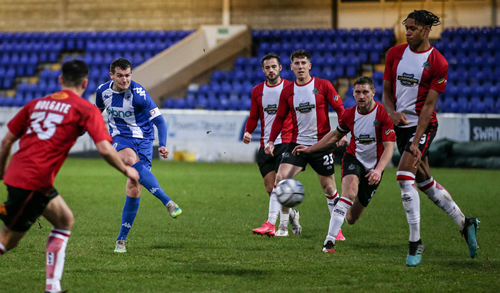 •
More photos
---
Tuesday 15 December
Chester 3 Bradford (Park Avenue) 1
FA Trophy Second Round
Attendance: 552 Half Time: 1-0
Booked: -.

Chester: Gray, K.Roberts, Morgan, Weeks (Burke 80), Lacey, Grand, Jackson (Elliott 84), Clark, Goodwin, Waring (Marsh-Hughes 63), Dudley. Subs not used: Lacey, Glendon, Johnston, Bauress.
Bradford (Park Avenue): Huffer, Ross, Boyes, L.Lyons, Haven (Hussain 60), Windass (Clee 46), Booty (J.Lyons 77), Hibbs, Dockerty, Knight, Downing. Subs not used: Atkinson.
Referee: Darren Rogers.



Chester won through to the next round of the FA Trophy with an assured win against Bradford Park Avenue. Managers Johnson and Morley rotated the squad to give a debut to Luke Clark and starts to Paddy Lacey and George Waring, Luke Goodwin and Brad Jackson. The visitors also gave a debut to England youth goalkeeper Will Huffer and a first start of the season to Regan Booty.

Playing an impressive brand of cohesive passing the Blues dominated the first half and went in to the break with a goal advantage. Jackson on the right and Morgan cutting in from the left had ample opportunity to run at the visitors' defence and cause them problems. Goodwin ran intelligently and strongly and saw his goal-bound shot parried round the post by Huffer. Weeks and Lacey purred like thoroughbreds in midfield, driving Chester forward and maintaining a solid grip on possession.

Chester's one moment of concern came early on when Kevin Roberts, playing at centre back, mis-controlled slightly and the visitors were through on goal. Gray saved bravely at the feet of first Knight then Downing.

Waring put the Blues ahead when he rose to meet Weeks' delightful cross form the right. Weeks himself might have added another but blazed his drive narrowly over the bar.

Avenue reconfigured after the break as Windass, injured in the first half, was replaced by Nicky Clee. The veteran midfielder recovered from an early tumble in a clash with Dudley to spray the ball out to either wing from deep midfield as the visitors sought to respond. Before long, however, Dudley had been felled while fashioning a shooting opportunity in the penalty area. He picked himself up and coolly despatched the penalty kick despite Huffer's attempts to play mind games with him.

Marsh-Hughes came on for Waring and later Weeks was withdrawn for young defender Harrison Burke to make his senior debut. It was from Burke's huge clearance that Goodwin managed to score his first ever goal for the senior side and Chester's third of the night. He nipped in to intercept Young's header back to Huffer, then took it round the 'keeper to score from a narrow angle. His joy was obvious for all to see as he ran across the goal line to celebrate in front of the Harry Mac.

Bradford retaliated almost immediately as Knight knocked in Hussain's whipped cross from the right but it proved to be little more than a consolation for the visitors. Blues go through to face local rivals and play-off nemesis Altrincham in the next round. They can take great confidence from the accomplished performance this evening as they do.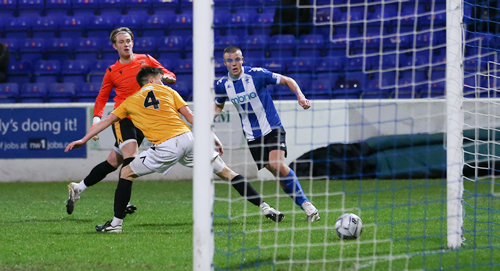 •
More photos
| Match highlights (YouTube)

---
Saturday 12 December
Boston United 0 Chester 0
National League North
Attendance: 0 Half Time: 0-0
Booked: Johnston, K.Roberts.

Boston United: Fitzsimons, Tootle, Duxbury, Garner, Shiels, Thanoj (Leesley 86), Green, Burrow, Thewlis, Hawkridge (Platt 64), Rose (Rollins 64). Subs not used: Dimaio, Preston.
Chester: Gray, K.Roberts, Morgan, Weeks, Livesey, Grand, Johnston, Glendon, Elliott (Waring 90), Lacey (Dudley 82), Bauress (Jackson 70). Subs not used: G.Roberts, Goodwin.
Referee: Jon Kenny.



Referee Jon Kenny dished our four red cards as Chester fought out a goalless draw in their first visit to the new Jakeman's Community Stadium.

Both goalkeepers excelled in the 90 minutes pulling off a series of fine saves to deny their opponents. Gray was in early action using his legs to block a near post effort from Jordan Burrow after meeting Andi Thanoj's cross. Chester responded and forced a save at the other end as Brad Bauress' through ball found John Johnston but Pilgrims'keeper Ross Fitzsimons rushed out to block the effort.

Gray saved along range effort from Thanoj and Fitzsimons saved from Bauress as both sides looked for the opening goal. Gray was beaten at one point but had Kevin Roberts to thank for heading Terry Hawkridge's effort off the line.

Gray twice denied Paul Green as the half ended in stalemate. Four minutes into the second half Boston coach Lee Stratford was given a red card following an altercation on the touchline over a throw-in.
Ten minutes from time Jordan Thewlis was sent-off for an off-the-ball incident with Roberts. Tempers flared in the dugout and joint manager Bernard Morley and Boston's Mitch Rose, who was in the stand having been substituted earlier, were both show a red card for a bit of pushing and shoving.

The second half saw few chances but once again man-of-the-match Gray pulled of a great save to deny Thanoj's goalbound header. With minutes remaining Danny Elliott had a great chance to grab all three points but he dragged his effort wide when well placed. With the game in stoppage time the Blues had another chance but George Waring, on for Elliott, headed George Glendon's pinpoint cross inches wide of goal.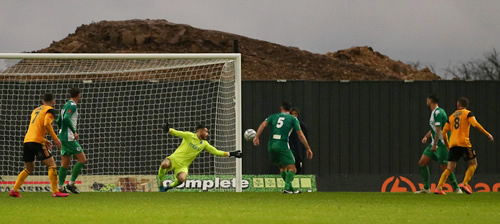 • More photos | League Table
| Full Match Video (YouTube)
---
Tuesday 8 December
Chester 5 Hereford 3
National League North
Attendance: 403 Half Time: 1-2
Booked: Lacey, Johnston.

Chester: Gray, K.Roberts, Morgan, Weeks, Livesey, Grand, Johnston (Lacey 84), Glendon, Elliott, Goodwin (Dudley 74), Bauress (Waring 84). Subs not used: Hughes, G.Roberts.
Hereford: White, Hodgkiss, Grimes, Coke (Camwell 46), Owen-Evans, Finn, Digie, John-Lewis, McQuilkin (Klukowski 84), Lloyd, D.Jones. Subs not used: Hall, Nabi, Whittingham.
Referee: R.Holmes.



"It's been a long nine months," said Cleggy, the announcer at the Deva Stadium, relieved at last to have actual fans to address over the sound system. Just over half City's season ticket holders had braved the various obstacles to attending the first home match they have been allowed to attend since the Cheshire Senior Cup Quarter Final against Tranmere on Tuesday 3rd March. As well as the pandemic which has since intervened, the elements were hostile to human flourishing too this evening.

Swirling rain and wind played across the pitch as the Blues took on the Bulls – all in yellow – as home supporters stood and sat – socially-distanced – around three sides of the ground. Both teams seemed keen to move the ball about quickly but Hereford were the more direct leading to Finn having a couple of wayward efforts on goal as the visitors attacked the clock end. Former Cestrian Ryan Lloyd returned for Hereford, his usual tidy and compact style fitting in well with the Bulls' metronomic passing. Blues meanwhile strove to breakthrough as both Goodwin and Elliott won headers and chased through balls but found it difficult to find much space with the ball.

Hereford took the lead on the counter attack as John-Lewis raced on to a long ball and City's defence hesitated, perhaps expecting a linesman's flag. The burly striker took it on and fired the ball in towards the far post where Owen-Evans scooped it in to the net. Worse was to follow when a looping cross from the left was headed out only as far as Owen-Evans and he fired home his second goal of the night. "It's not taken long to get back to normal", moaned one regular on the Harry Mac as the Deva – even with a small crowd fell silent for a while.

Chester were restricted in their attempts on goal to a free kick by Bauress from the edge of the box which curled past the wall into keeper White's midriff. Weeks also had a couple of speculative efforts – one an audacious long range lobbed effort which held up in the wind to save White's blushes and another one over the bar. But on the stroke of half time Weeks got the recipe just right as he shot sublimely from distance and scorched City back into the game. It followed a tenacious run from Johnston down the right which won his side a corner. From the kick Elliott's flicked header caused confusion in the Bulls' defence and the ball came out to Weeks who scored with aplomb.

The visitors made a change at the break as Camwell replaced Coke who had been cautioned in the first half. A sweeping Blues move down the right led to Goodwin meeting the cross to head goalwards. White fumbled at the foot of the post and Elliott followed up to equalise. Three minutes later City were incredibly ahead as Weeks' corner from the left caught the wind and was helped into his own net by White.

With only ten minutes of the second half gone it seemed that this would not be an end to the scoring. Hereford surged forward urgently for an equaliser. Manager Gowling stood tall in the near deserted West stand. John-Lewis turned and crashed a shot against the top of the bar. Camwell volleyed venomously from the edge of the box but Gray flew through the air to save spectacularly – with a synchronised Grand air-bound behind him too. Then Johnston marauded down the right and exchanged a pass with Bauress before smashing his first goal in City colours into the roof of the net. He celebrated exuberantly, whipping his shirt off and swishing it above his head as he skidded on his knees towards the main stand.

Still Hereford played their part in what was developing into a thriller. Tall full-back Dan Jones found space down the left to launch repeated waves of attacks. Finn went down in the box on minimal contact with Grand but the referee was not deceived. However Mr Holmes did not see John-Lewis's push on Kevin Roberts which forced him to concede a corner on City's right. Gray came to punch the corner kick but never reached it and Digie headed in to make it 4-3. Shortly after Finn finished a crisp move by firing a left-footed effort from the edge of the area but again Gray rose magnificently to tip it over the bar.

As the game came to boiling point Chester forced five corners in succession as they penned the Bulls into their own box. Following this a free kick on the right was won and from Glendon's delivery Livesey scored at the far post to seal the win. After so long a football famine this was a rich feast indeed.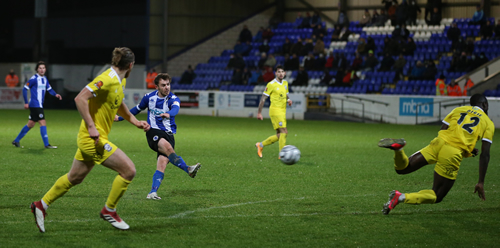 • More photos | League Table | Match Highlights (YouTube)
---
Saturday 5 December
York City 2 Chester 1
National League North
Attendance: 0 Half Time: 1-0
Booked: K.Roberts, Lacey.

York City: Jameson, Dyson (Kennedy 77), Tinkler, Brown, Newton, Barrow, Wright, Woods (McLaughlin 66), Redshaw (Potts 69), Bunn, Cassidy. Subs not used: Flatters, Guilfoyle.
Chester: Gray, Morgan, Grand, Lacey (Dudley 75), Livesey, K.Roberts, Johnston (Hughes 75), Glendon, Elliott, Weeks, Goodwin (Waring 75). Subs not used: Bauress, G.Roberts.
Referee: E.Duckworth.



Chester made two changes to the side that defeated Alfreton in midweek. In came Paddy Lacey and Kevin Roberts, with Brad Bauress dropping to the bench and Joel Taylor left out of the squad.

The Minstermen were first to strike as Harry Bunn headed against the Chester bar in the opening ten minutes. Jack Redshaw tested Louis Gray in the Chester goal with a stinging shot as the Blues shot-stopper saved well.

At the other end Chester had a great chance of their own to break the deadlock as Declan Weeks sent George Glendon through but he saw his effort saved by the legs of Peter Jameson in the York goal for a Chester corner. The resulting flag-kick fell for Paddy Lacey whose effort skidded just wide of goal.

It was the home side that opened the scoring on 31 minutes. Gray did well to palm a fierce Jake Cassidy effort for a corner. The resulting kick found the unmarked Scott Barrow on the edge of the box and his shot deflected home off Bunn into the net.

Chester responded immediately as Will Goodwin set up Danny Elliott who turned and forced a great save from Jameson. Chester continued to push and Weeks saw another effort miss the goal by inches.

Five minutes into the second period Bunn almost doubled his tally but could't quite connect with his volley after bringing down Redshaw's cross. Just before the hour mark Chester deservedly levelled the score, as danger-man Weeks drove into the box and fired low past Jameson.

Weeks was in the action again seeing another deflected effort go wide as Chester sought out a winner. It was the home side however that struck next as Akil Wright met a right wing corner to head home, the ball somehow evading both Gray and defender Jamie Morgan guarding the post.

Morgan came close at the other end seeing an effort held by Jameson and with the game in the final minutes substitute George Waring met Glendon's superb cross but sent his header agonisingly wide. And in stoppage time substitute Matty Hughes sent Elliott through but the forward couldn't keep the ball down and blazed over.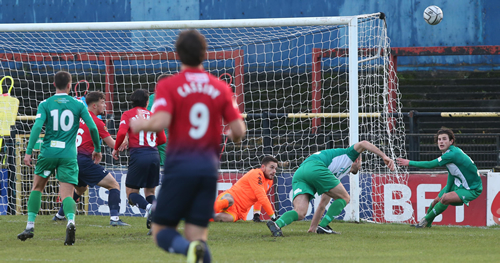 • More photos | League Table
| Match Highlights (YouTube)
---
Tuesday 1 December
Chester 3 Alfreton Town 0
National League North
Attendance: 0 Half Time: 1-0
Booked: -.

Chester: Gray, Morgan, Taylor, Weeks, Livesey, Grand, Johnston (Dudley 87), Glendon, Elliott, Goodwin (Lacey 79), Bauress (Waring 86). Subs not used: K.Roberts, G.Roberts.
Alfreton Town: Willis, Clackstone, Fox, Walker, Lees, Branson, Smith, Bradley, Day (Clarke 23), Johnson (Reeves 67), Atkinson. Subs not used: Lund, Unwin-Marris, Williams.
Referee: Michael Crusham.



It was the visitors who started the game on the front foot with Jake Day just failing to meet a Bobby Johnson cross and Nicky Walker shooting inches wide following a poor clearance from Blues 'keeper Louis Gray.

Alfreton forced a couple of corners that saw Joel Taylor clearing a Walker cross over the Blues crossbar, the resulting corner was cleared to safety.

It was therefore somewhat against the run of play when Chester took the lead on 20 minutes as Danny Elliott's shot was blocked by the arm of Josh Clackstone and referee Michael Crusham pointed to the penalty spot. Elliott stepped up to send George Willis the wrong way to open the scoring.

Alfreton saw plenty of the ball in the opening half, forcing several corners in the process and only a trimely tackle prevented Danny Clarke just outside the penalty area. At the other end Elliott, who had a successful loan spell with the opposition last season, turned and fired over the bar from 18 yards.

As the half drew to a close, Gray saved well to deny Johnson's low free kick and at the other end Danny Livesey saw a goalbound header from Brad Bauress' cross tipped away at full stretch by Willis.

Chester had two great chances to double the lead in the opening five minutes of the second hald as Will Goodwin screwed a shot wide before John Johnston was denied by another smart Willis save, pushing the ball out for a flag kick.

Alfreton responded and Dan Bradley struck the crossbar after the Blues defence had failed to clear from a Clackstone long throw-in. Minutes later the post ame to Chester's rescue as Connor Branson saw his shot bounce back off the woodwork with Gray beaten.

Chester relieved the pressure with a second goal on 62 minutes. Johnston and Elliott exchanged passes before setting up Jamie Morgan who slotted home past Willis into the bottom corner.

Simon Grand, Livesey, Bauress and Johnston all went close to adding a third fror Chester before substitute Anthony Dudley, who'd only been on the pitch for a matter of seconds, collected Elliott's through ball to despatch past Willis and seal all three points.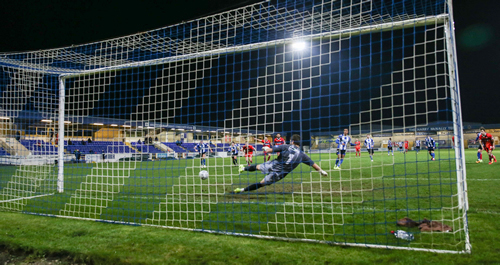 • More photos | League Table
| Match Highlights (YouTube)
---

LATEST NEWS

TWO NEW SIGNINGS
Chester have added a defender and a midfielder to their squad today.
more »
LAST MATCH

LATE GOAL SINKS BLUES
A long-range goal three minutes from time by Luke Haines sees The Bulls take all three points from Deva Stadium.
more »
CLUB HISTORY

Everything you need to know about the club's history, honours, records and kits. Complete list of fixtures from 1885 and much more.
more »
SUPPORTERS

EXILES BLOG
The Exiles have set up a blog to provide away match information and articles for Blues fans living away from Chester. You can read it here
Exiles » | CFU »