---
Saturday 22 February
Chester 2 Brackley Town 3
National League North
Attendance: 1,918 Half Time: 0-1
Booked: -.

Chester: Griffiths, Grand, Jones, Taylor (Waters 35), K.Roberts, Glendon, Burton (Livesey 78) , Jackson, Johnston, Dudley, Asante (Ngwatala 42). Subs not used: G.Roberts, Stopforth.
Brackley Town: Lewis, Myles, Franklin, Byrne, Walker (Audel 61), Dean, Lowe, Murombedzi, Ndlovu, Holman (Armson 79), Baker (Langmead 90). Subs not used: Daire, Maye.
Referee: David McNamara
.



After the exciting finish on Tuesday night Chester found themselves on the wrong end of a five-goal thriller this time. Thriller is probably not the right word to describe this encounter with Brackley as the first half in particular was dire entertainment. Anthony Johnson described it as turgid as two teams with similar 4-4-2 formations cancelled each other out. Arguably Brackley were the better disciplined and more hard-working of the two sides – closing Chester down at every opportunity and smothering any attempts to get forward.

Once again a swirling wind made conditions difficult and play was scrappy with misdirected passes finding touch at regular intervals. For the visitors Lee Ndlovu proved a real handful, holding the ball up and occupying defenders by shielding the ball effectively. Shepherd Murumbedzi and Shane Byrne seemed to have the upper hand in a competitive midfield. Jackson and Johnston were pinned back and unable to find space to run at their full backs and despite the best efforts of the drummers and choir on the Harry Mac it made for a dour spectacle.

Dudley did skip free on the left on one occasion but Asante couldn't quite meet his clever early cross. Otherwise City floundered.

The Saints took the lead from a right wing corner as Byrne and Baker worked the ball past Roberts and Taylor. Byrne shot at the near post which Griffiths stopped but couldn't hold and Holman lifted it over the prone keeper for Ndlovu to force the ball over the line despite the close attentions of Jones. Immediately after this Taylor limped off to be replaced by Waters and was shortly followed by Asante who also seemed not to be moving freely. His substitute was Ngwatala. City still struggled to make headway and it took until almost half time for them to muster a shot – Burton's wayward effort from distance didn't trouble the keeper.

Shortly after half time however Kevin Roberts surged forward and unleashed a much better effort which narrowly went wide. Johnston volleyed Jackson's cross that flew past the opposite post.Then Jackson found room to run and shoot too – his effort also just failing to find the top corner. A much improved attitude from the Blues saw them equalise as Glendon's left wing corner to the far post was nodded back by Grand and Jones pounced to stab it home.

The restart was held up for a few minutes as Walker received treatment and was eventually stretchered off. His replacement Thierry Audel restored Brackley's lead a few minutes later as he glanced home a left wing corner setting the Blues back again.

With Hughes and Waring injured and Elliott still out on loan Chester's attacking options on the bench were limited. In an effort to provide more of a threat, Livesey was thrown on instead of Burton. The veteran had an almost immediate impact as he met Griffiths' delivery from a free kick and nodded over a stranded Lewis for another equaliser with just five minutes remaining.

City had done well to claw themselves back into contention but then as the match entered its final minute disaster struck. Waters did well to get in front of Lowe and shepherd the ball out towards a goal kick but inexplicably Griffiths came to meet them and Lowe succeeded in prodding the ball between the two of them from the acutest of angles into an unguarded net. The Brackley forward celebrated aggressively in front of the Harry Mac prompting one punter to offer to take him on as a warm-up act before Tyson Fury's bout later in the evening. Fortunately the stewards restrained him.

There was still time for Livesey to loop another header over Lewis but, unfortunately for Chester, just over the bar too. Griffiths even went up for a last ditch corner seeking to make amends but to no avail. So some of the euphoria of Tuesday was undone, City gifted play-off rivals Brackley the points and dropped down to fourth in the table. The scramble for the top seven intensifies.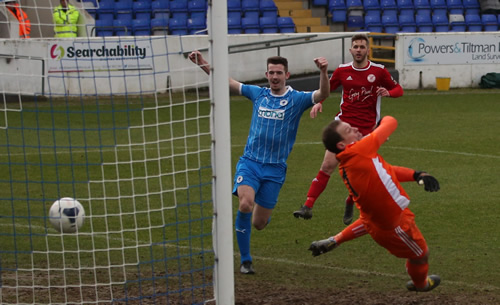 Picture © Rick Matthews
Rate Chester's performance
---
Tuesday 18 February
Chester 3 King's Lynn Town 2
National League North
Attendance: 1,736 Half Time: 1-1
Booked: Jones.

Chester: Griffiths, Grand, Jones, K.Roberts, Taylor (Waters 70), Burton, Glendon, Jackson, Johnston (Stopforth 90), Asante, Hughes (Dudley 65). Subs not used: Ngwatala, G.Roberts.
King's Lynn Town: Street, Jones, Barrows, Jarvis, Smith, McCauley, Kelly (Fox 66), Richards, Gash, Marriott, Henderson (Southwell 78). Subs not used: Carey, Payne, Hawkins.
Referee: Aaron Bannister
.


Chester snatched a dramatic late win against the league leaders King's Lynn to boost their play-off hopes. Team selection was going to be interesting tonight and bosses Morley and Johnson stuck with the same line up that had beaten Blyth ten days ago. The visitors had had an even longer lay off of seventeen days due to postponements but still sat top of the pile and with games in hand.

After an entertaining score draw in October, fans came anticipating a good game of football and were not disappointed in the slightest. Chester lost the toss again and kicked towards the Harry Mac but started much the brighter. Surging forward with elan down either wing Jackson and Johnston made inroads but the final ball into the box was wayward. Taylor also found space on the left and his first time cross had Street grasping for the ball as it whipped tantalisingly into the danger area.

Against the run of play the Linnets took the lead when a sweeping move led to Marriot stealing space down the left and he squared the ball for full back Barrows to stroke home. Taylor complained bitterly to the linesman that the goal was offside but the officials were unmoved. Chester retaliated within five minutes as Taylor put the ball back into the area following a right wing corner and it took a deflection off defender McCauley just inside the near post, despite Street's desperate dive.

Griffiths did well to save Richard's glancing header at the near post from a corner as Kings Lynn played a game of patient build up from the back and showed confidence and technical ability. Lookalikes Kelly and Henderson – both bald of pate and full of beard – got through a great deal of work in midfield. Despite this Chester continued to dominate. Burton in particular caught the eye with his breaking up of play and his sound distribution. James Jones also seemed to be growing in stature and influence as his run in the team has extended.

After the break City continued to attack – Kevin Roberts and Jackson developed a good understanding down the right and from the latter's cross Hughes did not quite get enough purchase with his header to test the keeper. McCauley was booked for bringing down Jackson and then Johnston's shot from the edge of the box was grabbed at the second attempt by Street with Asante bearing down.

But then City were undone by another clinically taken Linnets goal. Following a mesmerising series of passes across the back four the visitors got the ball forward to Gash who worked it across to the indefatigable Henderson. He then worked it across the pitch to Jones who exchanged passes before setting up a shot from the edge of the box just inside Griffiths' right hand post. Things then threatened to get worse as Marriot found himself through on goal only for Jones to trip him before he got into the box. The presence of other Chester defenders in the chasing posse probably helped Jones get the benefit of the doubt and a yellow rather than a red card. The resultant free kick was blocked and then blazed over.

Dudley had come on as sub for Hughes and his speed of anticipation brought City an equaliser out of the blue. Griffiths' long kick was nodded on by Asante and Dudley was already racing through and exquisitely flicking it over the onrushing Street before the Linnets had seen the danger. They could only look on in horror as the ball looped into the net.

Henderson picked up an injury and was replaced and Linnets lost a bit of momentum. Blues had their tails up now and when Asante was harshly penalised when threatening to go through on goal Antony Johnson saw red for protesting too vociferously and was sent to the stand by referee Bannister. Waters and Gash clashed over a throw in and then another controversial decision by the linesman raised temperatures further as the game threatened to boil over.

Glendon's influence grew as the game wore on and after good work by him and Asante, Kevin Roberts ended up in the box as the game went into injury time. Roberts beat his man and then thumped his shot over the bar and it look like City's chance of a winner had gone. But in the dying embers of added time Johnston cut across from the left and fired a low shot which Street parried. Defender Grand had gambled by dashing forward earlier in the move and was there to drive the rebound into the net for the winner – much to the delight of the home faithful. It was the first time Chester had been ahead all match and there were just seconds to go.

It was a great way to celebrate Chester's five hundredth game since reforming ten years ago and kept the dream of promotion through the play-offs alive. The Kings Lynn bus departed for the five hour trip back home under a clear and starlit sky. The constellation Orion the Hunter gleamed above them. The Linnets are well placed ahead of the pack but the Blues are still in the hunt after this result.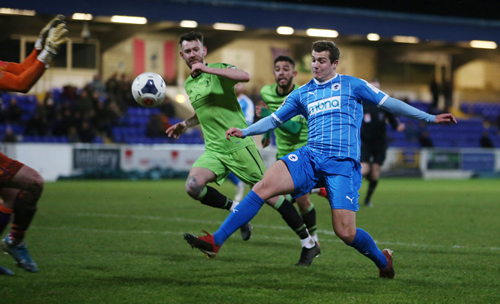 Picture © Rick Matthews
Rate Chester's performance
---
Saturday 8 February
Chester 2 Blyth Spartans 1
National League North
Attendance: 1,751 Half Time: 1-0
Booked: Jones.

Chester: Griffiths, Grand, Jones, Taylor, K Roberts, Burton, Glendon, Johnston, Jackson (Waters 90), Hughes (Dudley 75), Asante. Subs not used: G Roberts, Stopforth, Ngwatala.
Blyth Spartans: Hemming, Devitt, Blaney, Hunter (Evans 57), Sanders, Thackray (Harmison 82), Scott, Hawkins, Langstaff, Waddington, Dale (Sweet 57). Subs not used: McKeown, Wrightson.
Referee: Richard Holmes
.

After two defeats on the road Chester needed to get back to winning ways against Blyth Spartans, who have struggled this season. But – as was proved by difficult matches against Telford and Curzon Ashton recently – teams that come to defend and scrap for their survival can be difficult to break down.

So there was much relief all round when City took an early lead as they attacked the Harry Mac End and Storm Ciara began to make itself felt around the ground. Starting on the front foot they forced a few early corners. Hemming, in the Spartans' goal, palmed Taylor's in-swinger from the right out for one from the other side. Next, as Glendon curled his kick in from the left, Hemming attempted the same in reverse. This time, though he only found Asante, lurking in space at the far post. The burly Blues striker brought it down and then drilled an unstoppable shot through a thicket of legs and made the net ripple.

All players struggled in the swirling wind but Chester continued in the ascendancy. Spartans fought hard to deny Blues much time on the ball. Johnston and Jackson swapped wings to vary it a bit and try to make inroads but clear chances were few and far between. Glendon got to the by-line following a pass from Johnston but couldn't capitalise. Hughes cut in from the left to fire in a shot which Hemmings tipped away and Asante held off two defenders before seeing his powerful shot blocked by a third.

Blyth, for all their tenacity, did not create much in the way of chances and their spoiling tactics began to annoy the home crowd. Only Waddington found his way into the referee's notebook for a late challenge on Grand. After the break, however, Blyth stepped up the search for an equaliser. Now it was their turn to force a flurry of corners which had the Blues beginning to panic.

As Glendon broke to relieve the pressure he was felled by a mistimed challenge. Blaney, the culprit saw his debut on loan from Doncaster Rovers curtailed prematurely as he was shown the red card. This took a bit of wind out of the Spartans' sails – if not their supporters – Blyth Spirits everyone - who maintained their barrage of vociferous support.

Blues pressed for a second goal to ease the nerves and with twenty minutes remaining they delivered it – once again from a corner. Taylor's cross was met majestically by James Jones who headed home emphatically. That should have been that but the ten men of Blyth fought back and with ten minutes remaining halved the deficit. Langstaff found some room on the right and his cross caused confusion in the six yard box. Griffiths saved instinctively from Sweet and then Kevin Roberts blocked another effort before Ollie Scott scored. Griffiths was injured in the process and received attention at length afterwards.

It meant a nervous few minutes for the home supporters but, in truth, Blyth did not come close to notching another. Dudley had the best chance to increase the lead for Chester but his header was well kept out by Hemming. City held on for the win and maintained fourth place in the table as they begin to approach the significant end of the season.

Colin Mansley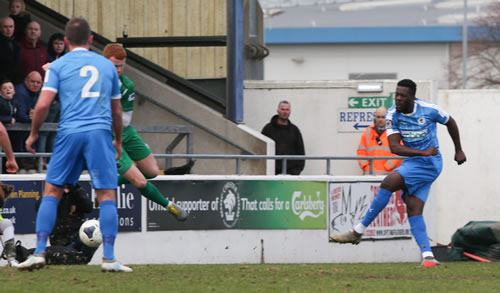 Picture © Rick Matthews
Rate Chester's performance
---
Saturday 1 February
York City 4 Chester 2
National League North
Attendance: 3,543 (677 Chester) Half Time: 3-1
Booked: Morgan, Dudley.
Sent-off: Morgan.

York City: Jameson, Griffiths, Ferguson, Newton, McNulty, Tait, Moke, McLaughlin, Burrow, Green (Bond 85), Willoughby (Maguire 73). Subs not used: Langstaff, Kempster, King.
Chester: Griffiths, Grand, Livesey, Taylor, Morgan, Glendon, Ngwatala (Jones 52), Burton (Stopforth 67), Asante, Johnston (Dudley 67), Jackson. Subs not used: G.Roberts, K.Roberts.
Referee: Scott Tallis
.

For the first time this season Chester suffered back to back defeat's as they lost 4-2 at promotion rivals York City, the Minstermen completing the double over the Blues in the process.

Following the midweek defeat at Gateshead managers Bernard Morley and Anthony Johnson made several changes to the starting X1 with Gary Roberts, Kevin Roberts, Anthony Dudley and Gary Stopforth starting on the bench. Taking their place were Jamie Morgan, Scott Burton, Elton Ngwatala and George Glendon.

Nearly 700 Blues fans made their last trip to Bootham Crescent, the hosts move to a new ground shortly. It was the home side who started on the front foot with two efforts in the opening minutes that saw Willoughby clear the bar on both occasions.

The home pressure told though and York opened the scoring on nine minutes with former Blue Sean Newton heading home from close range following a corner. Within six minutes Chester had drawn level, Ngwatala won a loose ball and fed it to Akwasi Asante, the Blues striker in turn set up Jamie Morgan who shot low and hard past Peter Jameson in the York goal.

The home side restored their lead midway through the half as the Blues defence again failed to clear a corner allowing Kieran Green to head past Russell Griffiths.

Chances for Chester were few and far between with Danny Livesey wasting the best one heading wide from a Glendon corner ten minutes before the break. Five minutes from half-time York added a third as Willoughby met a Green cross to score past Griffiths from close range.

Chester pulled a goal back on 54 minutes as Glendon met Joel Taylor's cross but before the Blues could attempt to push for an equaliser York re-established their two-goal lead as Newton went on a mazy run before shooting at goal. Griffiths partially cleared his effort but the ball fell to Newton who crossed for Willoughby to head home.

Jamie Morgan was given a second yellow card and hence his second red card of the season as Chester finished the last 20 minutes with ten men.

With Boston United picking up three points Chester dropped to fourth place. Next up is a must win home game against struggling Blyth Spartans on Saturday.
Rate Chester's performance
---