29 July 2010

RED ARROWS DEVA FLYPAST

The world famous Red Arrows are joining in with Chester FC's relaunch celebrations by providing a flypast over the Deva Stadium prior to the friendly match against Marine on Saturday 7 August, and are at present due to fly over the Stadium at 14.18hrs on the day.
Chester FC Media Officer, Jeff Banks, was delighted with the news, "It's a major coup for Chester FC that the Red Arrows, one of the most well known air display teams in the world, are going to give us their seal of approval for the reformation of our historic club, by a one off flypast across the skies above the Deva Stadium"
"To my knowledge, I don't think this has been done on a matchday in football before, so it's a first, not just for Chester FC, but also for football, and I know the fans will have this unique memory for many many years to come when the Red Arrows fly over the Deva Stadium."
"It's great that in our first season as Chester FC that we can attract the likes of the Red Arrows to give us something that will put smiles on all faces, and especially for the children who will remember this for years to come, and it will certainly be one of those moments where fans can say "I was there the day the Red Arrows gave Chester FC a flypast of their own."
"At present, we're due to see the Red Arrows perform their flypast at 2.18pm, and the display team are well known for their excellent timing, and this will give all fans an opportunity to see the flypast before going in to watch the match."
The Red Arrows flypast is subject to RAF serviceability requirements and also weather conditions, and times may vary based on the above.
---
28 July 2010

WILDE DOUBLE SECURES WIN

Chester's pre-season continued with another victory last night as they came from behind to beat a Tranmere Rovers X1 2-1 at Deva Stadium. Two headed goals from striker Michael Wilde after the break extended the winning run to three games in front of a crowd of over 1,900. Max Power had earlier given Rovers the lead seven minutes before the break.

Next up for Chester on Sunday afternoon is Premiership side Wigan Athletic (kick-off 13:00hrs). Latics manager Roberto Martinez needs no introduction to the Deva faithful, neither does his coach Graham Barrow one of the most popular players (and manager!) the club has had.

• Pre-season fixtures


---
TRANMERE PRESENTATION

| | |
| --- | --- |
| | A commemorative match frame presented was by Peter Johnson (left) from Tranmere Rovers in recognition of the pre-season friendly match and Chester FC's new beginning. Chester FC Chairman Chis Pilsbury is shown receiving it on behalf of the club during the half-time break in last night's match. |
---
26 July 2010

CHESTER RETURN IN STYLE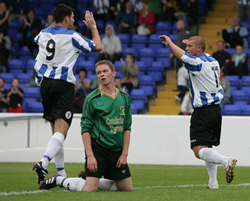 Goals from Iain Howard, trialist Mark Peers and Stuart Jones ensured that Chester's return to Deva Stadium had a happy ending as the Blues ran out comfortable 3-0 winners over Aberystwyth Town.

A crowd of 1,132 witnessed the homecoming and all will have been delighted with what they saw as Chester created numerous chances against their Welsh Premier League opponents and could well have won by a bigger margin.

Another bumper crowd is expected on Tuesday night as the pre-season continues with a match against a Tranmere Rovers X1.

Rovers manager Les Parry told the Daily Post: "This is an important game for us because we have players who need minutes on the field. It's an important game for the fans as well. Chester have always been our nearest rivals. When they said they were trying to form a phoenix club we were only too pleased to play a game against them."


"So I hope there is a decent crowd, well-behaved, and we can help get some money into the new club."

• Match pictures | Match highlights


---
23 July 2010

THE HOMECOMING


Chester FC entertain Welsh Premier League side Aberystwyth Town at Deva Stadium tomorrow in the first home match since their rebirth in the summer. Thanks to the efforts of volunteers over recent weeks the ground is in great shape and a good crowd is expected for the match.

Admission for the match is £7.00 (adults), £5.00 (OAP's and student's with NUS cards), and £3.00 (under 18's). The Blues Bar will be open from 12:00hrs tomorrow.

Manager Neil Young saw his side notch their first win under his leadership last night with a comfortable 4-0 victory at West Cheshire League Division One side Heswall. Michael Wilde scored the clubs first ever goal and added the fourth after the break. Greg Stones and Rob Hopley were also on the scoresheet in the opening period.
---
MARINE FRIENDLY

Another pre-season match has been announced with Marine making the trip to Deva Stadium on Saturday 7 August, kick-off 15:00hrs.

• Pre-season matches
---
22 July 2010

WARRINGTON ALL TICKET

Chester's opening league natch at Warrington Town will be all-ticket. Chester have been allocated 1,500 tickets for the game which will take place at Cantilever Park on Tuesday 24 August, kick-off 19:45hrs.
---
21 July 2010

NEW SIGNINGS


Manager Neil Young has continued his team building with another impressive new signing, 28-year-old midfielder Andy Burgess. Burgess played 7+1 games in the Football Conference for Luton Town last season and had a 14+3 game spell at Mansfield Town scoring two goals in his stay at Field Mill.
Burgess is a former England C international and prior to his position at Luton was captain of Rushden & Diamonds where the Bedford born player started his career as a trainee in 1999.
Also signing in for Chester is 20-year-old Northwich Victoria right-back Michael Aspin. He is a former trainee at Blackburn Rovers and Preston North End.

• Transfer activity
---
20 July 2010

MATCH OFF

Tonight's friendly at Heswall has been postponed due to the adverse weather in the area. The game will now take place on Thursday night, kick-off 19:00hrs.

---
19 July 2010

EXILES AGM - CHANGE OF VENUE

Thursday's Exiles Annual General Meeting will now take place at the Jugged Hare, 172 Vauxhall Bridge Road, London, SW1V 1DX, starting at 7.30pm (area booked from 7pm) – and not the Rugby Tavern as previously advertised. The pub is a ten minute walk from Victoria Station or just a couple of minutes from Pimlico – both on the Victoria Line.

---
18 July 2010

FRIENDLY ARRANGED FOR TUESDAY

Following the postponement of the match at Airbus UK, Chester have arranged to play another friendly at Heswall on Tuesday. The game at Gayton Park will kick-off at 19:00hrs with admission prices set at adults £3.00, concessions £1.00.

Chester manager Neil Young said: "It's great that Heswall have helped us out here, knowing that we need to get the team match fit before the season kicks-off next month, so I'd like to thank them for helping arrange the game at short notice."

---
14 July 2010

AWAY START FOR CHESTER

Chester will start the new season with an away fixture on Tuesday 24 August at Warrington Town. An odd number of teams in the division means the Blues will sit out the opening Saturday fixtures. The first game at Deva Stadium will take place on Monday 30 August against Prescot Cables.

• 2010/11 Fixtures

---
AIRBUS MATCH POSTPONED

Next Tuesday night's friendly at Airbus UK has now been postponed following advice from the North Wales Police. Chester were due to receive 50% of the gate money from the match.

---
12 July 2010

RHYL MATCH POSTPONED

Following a meeting between Rhyl FC and the North Wales Police the scheduled friendly at Rhyl on Saturday has been postponed on police advice.

North Wales Police Chief superintendent Andy Williams told the Chester Chronicle: "The events at Colwyn Bay were unacceptable. Police resources from across North Wales were called in to deal with groups of people causing violence both before and during the game."
"I deliberately do not refer to these individuals as 'football fans' and I recognise that the majority of Chester FC followers are law abiding people who simply want to watch a game."
"However, we are not willing to tolerate a repeat of despicable behaviour by a minority of mindless thugs intent on causing harm to people and property."
---
OPENING DEFEAT FOR CHESTER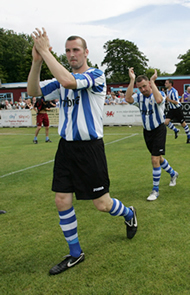 Two goals after the break brought defeat for Chester at Colwyn Bay in their first match since their formation. The Blues, backed by around 1,300 supporters at Llanelian Road, just shaded the the first half, hitting the post and seeing a penalty appeal turned down.

But after the break the home side made several changes and took control as the Blues lost their shape. Former striker Ben Jones headed home the first for the Seagulls, with Chester players complaining the ball had gone well over the touchline during the build up and a few minutes later Joe O'Sullivan had time to turn in the box and fire past Wilkinson in the Chester goal.

After the defeat manager Neil Young said: "For the first 35 minutes I thought we were very good. We kept the ball well, moved it about well and switched the play as much as we could."
"I thought we lost our way a bit in the last 10 minutes of the first half and in the second half we never really got a foothold in the game as their midfield began to dominate."
"We started to tire a little bit, but I didn't think there was much in the game. We should have a two penalties and for their first goal the ball has gone five yards out of play. Goals change games and they got a lift from that, and I thought for the rest of the game, apart from a 10-minute spell, they were the better side."
"We've got 20 lads who haven't really played together before and there's a lot of expectation on their shoulders. There's been a lot of expectation and hype, but now this game is out of the way we can get down to the hard work."


---
CLUB APOLOGISES FOR CROWD TROUBLE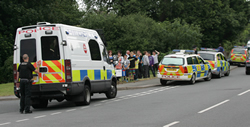 Saturday's match was mared by crown trouble that broke out towards the end of the game that saw fighting between around 20 people and police/security staff. One person was arrested at the incident, two men were arrested in the town earlier in the day following more disorder.

A statement on the official club website states: "Chester Football Club are appalled by the behaviour of a small percentage of people who travelled to Colwyn Bay today. This behaviour will not be tolerated and anyone who is found guilty of an offence will be banned."
"As both volunteers and the board work tirelessly rebuilding our football club, the actions of these people only does damage and makes the task in hand more difficult."
"We thank our friends at Colwyn Bay for their hospitality and apologise for the inappropriate behaviour of the handful of people involved in the incident. These people are not true Chester fans, they should be ashamed of themselves and those found guilty will receive the appropriate ban."

North Wales Police superintendent Rob Kirman commented: "A small number of Chester fans had got quite drunk before the start of the match. There was a slight disorder in the town centre and two Chester fans were arrested. At the ground we had another small disorder resulting in one further Chester fan being arrested for a public order offence."
"I have to tell you that the vast majority of the Chester supporters, and there were hundreds of them, were entirely well behaved and a credit to their club, along with all of the Colwyn Bay fans and the club itself."
"It was simply a number of young men who has been drinking excessively who are to blame for these incidents."
Chris Pilsbury, Chester FC chairman, said: "I think it is really sad that this had happened, The fact that the Chester fans were booing at those responsible for the trouble says it all."
"As far as I am concerned the troublemakers are not Chester fans and I would just like to say to tell them to stay away from any further Chester matches."
"The trouble has soured what should have been a really good carnival event. It's our first match back since what happened last year and now 15 or so people have drunk too much alcohol and acted irresponsibly. I thought everybody was coming to Colwyn Bay for a good day out and I think 99.9 per cent of people did have a good day out."
---
9 July 2010

DEFENDER HORAN JOINS SQUAD

George Horan has become the latest player to sign for Chester FC. The defender, who lives locall in Upton, was at Droylsden in the Blue Square North last season and has previously played for Connah's Quay Nomads and Rhyl, where he captained the side. He is expected to go straight into the side that make their first ever appearance at Colwyn Bay tomorrow afternoon.
---
8 July 2010

NEW STRIKER SIGNS

Manager Neil Young has signed former TNS, Fleetwood Town and FC Halifax Town striker Michael Wilde. Wilde, 27, had been the target of other clubs high up the league ladder. Young said: "He's good lad, quick and strong with a proven track record of scoring goals at a higher level."
---
7 July 2010

NEW DAWN APPROACHES


Chester fans, both old and new, will be turning up in their droves this Saturday as the new football club compete in their first ever match, a friendly at Colwyn Bay,

Manager Neil Young makes his first return to Llanelian Road since leaving the north wales side at the end of the season after leading them to promotion from the Unibond First Division North via the play-off's.

In the short time since his appointment as first team manager at Deva stadium, Young has assembled a squad of 17 players as he attempts to repeat his success of last year and lead Chester out of the same division at the first opportunity.

Saturday's match takes place four months to the date after Chester City FC were wound-up in the High Court in London on 10 March for non payment of tax.

So much has been achieved since then in such a short space of time. What was just a distant dream back in March at a packed CFU meeting in the Guildhall, will, on Saturday, become reality thanks to thousands of unpaid man hour's by a dedicated team of volunteers keen to see their club, a community club, up and running in the hands of its supporters.

Saturday's historic match, which was arranged as part of the deal that saw Young join Chester, will kick-off at 15:00hrs. Admission prices are: adults £6.00, senior/concession's £4.00, children under 14 £1.00 (though free if accompanied by an adult)

.
---
1 July 2010

CHESTER KIT LAUNCHED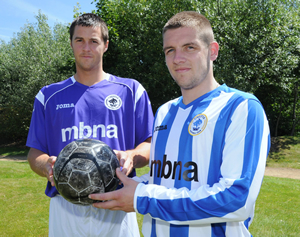 Chester FC have launched their new kit for the coming season. The home shirt is a traditional blue and white striped one with black shorts and hooped socks. The away shirt will be purple with white shorts.

The new shirt sponsor is MBNA. MBNA is part of Bank of America and is the largest credit card lender in Europe. Bank of America's European Card Services headquarters, based in Chester, is the city's largest employer, with more than 4,000 Associates.

The kit is manufacturer by Joma and will be supplied by leading national sportswear supplier Live4Soccer who will be suppliers of the technical kit, training and travel wear for Chester FC for the next two seasons.

Chester FC chief executive Steve Ashton said: "We are sure that both our players and fans will enjoy wearing the Joma kits and branded merchandise. Joma supply kits to Spanish and Scottish Premiership clubs, Championship clubs and also world cup finalists Honduras."
"We would like to thank Live4Soccer and their Chester representative Michael Jeske for their assistance. Live4Soccer are making a significant commitment to Chester FC in an historic season through the provision of kit to the first team squad."
"The partnership with Live4Soccer has been established to provide excellent branded merchandise for Chester Football Club and also an online sales platform that will supplement club shop sales."
Michael Jeske from Live4Soccer said "It is an exciting time for Chester FC and their supporters and Live4Soccer are delighted to be involved with such a prestigious club. The Joma official merchandise collection we are supplying provides a large range of high quality products for supporters and will help Chester FC develop a new brand identity. We wish the club every success for the forthcoming season and look forward to our new partnership."

The full range of merchandise will be available online through the official website by the end of July. Replica shirts, polo tops and training tops will be available in the club shop from Thursday 8th July between 10.00-14.00 and 16.00-19.00hrs.
The shirts, costing £34.99 for adults and £24.99 for children. Adults buying both the home and away shirts in the same size will pay £65.00.


---