31 July 2019

RON HUGHES 1930-2019
Former Chester defender Ron Hughes has died at the age of 89. He was the club's second highest league appearance holder with 399, only seven behind his contemporary Ray Gill. A regular in the team throughout the 1950s he mainly appeared at right back but also featured at right half, outside right and even had a short, but successful, run as centre forward in the mid-1950s.

• Obituary
---
30 July 2019

PRE-SEASON ENDS WITH DEFEAT

Chester's last pre-season match ended in a 4-1 defeat by FC United of Manchester at Broadhurst Park on Tuesday night. A full strength Blues side were second best throughout and saw forward Akwasi Asante limp off after just 15 minutes through injury, he looks doubtful now for the opening game of the season at Boston United on Saturday. The Blues found themselves 3-0 down in the opening half-hour before Jamie Morgan pulled a goal back on the stroke of half-time. Despite a number of changes at the interval a fourth FCUM goal on 62 minutes sealed the defeat.

Joint manager Bernard Morley said following the defeat: "They (FCUM) were streets ahead in every department. It pains me to say that but I have to be honest because if I'm not honest people who have watched the game tonight and who had their own observations will say I'm pretending and I'm kidding and disguising what we are. We're honest, we've said that. What I see I say and that was as bad as I have ever seen, worse than the 8-1 defeat at Blyth, that's how bad that was tonight in terms of identifying what we are. As managers we fielded a side that didn't look like they cared."
"I wish I had the answers as to why that was. Shock, maybe? Coming here with an ego and thinking we're playing FC United who are a league below. There's no excuses for the pitch it was nice, loads of grass on it and it was wet, every players dream. They wanted to get on the ball more than us, their movement was better than us, their rotation was better than us. They split from the back better than us, they played through the thirds better than us and they looked fitter than us."
Chester: Griffiths (T.Roberts 46), K.Roberts, Taylor (Waters 46), Burton, Livesey, Jones, Morgan (Dudley 46), Stopforth (G.Roberts 46), Asante (Waring 15), Hughes (Elliott 46), Mahon (Jackson 46). Subs not used: Macready, Thomson.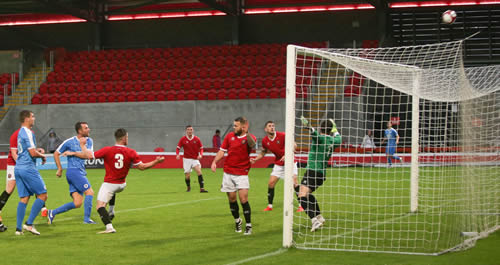 ---
28 July 2019

CHESTER WIN AT TRAFFORD

Chester's pre-season continued with a 3-1 victory at Northern Premier League Division One West side Trafford on Saturday. First half goals from Brad Jackson and Simon Grand set the Blues on their way. Ten minutes into the second period Simon Baird pulled a goal back for the hosts before substitute Dougie Nyaupembe headed into his own net following a Matty Waters corner to seal the victory.

Chester complete their pre-season build-up with a match at FC United of Manchester on Tuesday night, kick-off 19.45hrs, before the new league season gets underway on Saturday with a trip to Lincolnshire to face Boston United, kick-off 15.00hrs.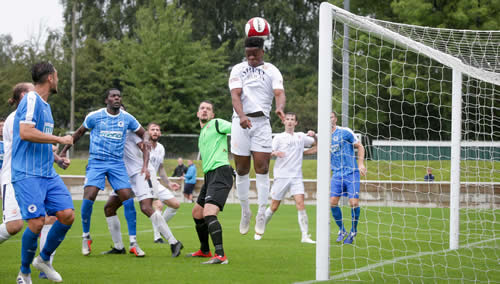 ---
24 July 2019

BLUES WIN SHIELD

Chester won the Supporters Direct Shield with a 4-1 victory at 1874 Northwich last night. Chester had trailed to an 18th minute goal from Harry Cain before drawing level on the stroke of half-time through an Anthony Dudley penalty. Further goals in the second period from Dudley, Simon Grand and Danny Elliott secured the silverware.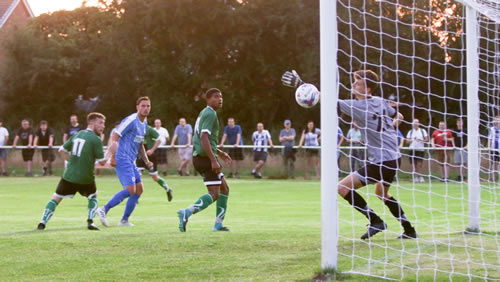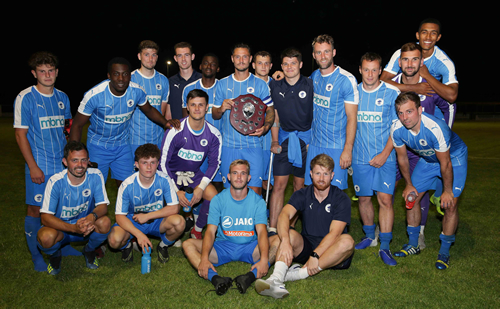 ---
22 July 2019

BLUES BEATEN AT COLNE

Chester were beaten 2-1 at Northern Premier League Division One West side Colne FC at Holt House in their latest pre-season friendly. The home side took the lead in the first half though Sefton Gonzalez and doubled their advantage through Tony Donaldson after the break. The Blues reduced the arrears in the final minute through an Anthony Dudley penalty.

Joint manager Anthony Johnson told the Chester Chronicle: "The performance itself was OK, it was very pre-season friendly-ish. The stuff we'd been working on without the ball in terms of pressing is always more difficult when you're playing against a team that you're going to have more possession than."
"It became about us with the ball and some of the passes and phases of play that we had were poor. Perhaps at times we should have adapted to the pitch and the situations but we're trying to drill in a certain way of playing. There were one or two things we came away with questions to, but I always feel a game like that stands us in better stead than if we'd have come away and won 3-0 or 4-0. There are one or two things that we need to go away and work on. It gave us food for thought."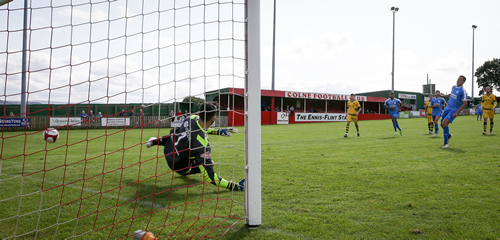 ---
20 July 2019

HUGHES BACK ON THE SCORESHEET

Matty Hughes returned to goalscoring ways last night as he netted for a youthful Blues side that beat North West Counties League Division One South side Cheadle Town 2-1 in a pre-season friendly. The other Chester goal was scored by an unnamed trialist.
---
17 July 2019

BOLTON CANCEL FRIENDLY

Bolton Wanderers have cancelled their friendly at Chester scheduled for this coming Friday night, after the players refused to turn out over ongoing pay issues at the club. Chester have issued the following statement tonight:

"Chester Football Club can confirm that Friday's planned pre-season friendly at the Deva Stadium against Bolton Wanderers has now unfortunately been called off."
"We would now encourage Chester FC supporters to attend the games this Friday and Saturday away at Cheadle Town (19.30) and Colne (15.00) respectively."
"We apologise for any inconvenience caused, and wish the players, supporters and staff at Bolton Wanderers the best of luck as they search for a resolution in a difficult time for their great football club."
---
GRIFFITHS SIGNS

Chester have completed the signing of former Everton goalkeeper Russell Griffiths on a one year contract after the player had impressed on his pre-season trial.
---
CARLISLE STALEMATE

Chester drew their latest pre-season friendly with League Two side Carlisle United 0-0 in front of a home crowd of 598. The Cumbrians finished the game with ten men after Hallam Hope had been sent off just before the break for apparently aiming a punch at Kevin Roberts. The Blues gave a first start of the summer for Roberts and created several chances to open the scoring in the second period through Danny Elliott and Danny Livesey, while the only real effort for the visitors came in the last minute as Keighran Kerr forced a fine save from substitute goalkeeper Theo Roberts.

Chester: Griffiths (T.Roberts 46), K.Roberts, Waters, Stopforth (Thomson 83), Livesey, Grand, Morgan (Jackson 46), G.Roberts (Burton 46), Waring (Dudley 65), Elliott (Marsh-Hughes 78), Mahon (Murray 65).
---
12 July 2019

STRIKER ELLIOTT SIGNS

Chester have completed the signing of 23-year-old Port Vale forward Danny Elliott on a one-year deal. The player, also known as Trialist B, has impressed during pre-season.
---
10 July 2019

COMFORTABLE WIN FOR BLUES

A hat-trick from trialist Rhys Oates helped Chester to a comfortable 9-1 victory at Newquay AFC on Monday night. Trialist Chester-born goalkeeper Russell Griffiths saved a third minute penalty for the Blues following a foul by James Jones before George Waring opened the scoring in the 11th minute.

Oates then added his first two goals before Anthony Dudley got on the scoresheet to make it 4-0 on 24 minutes. The hosts pulled a goal back before half-time. Further goals after the break from Oates, Lloyd Marsh-Hughes, Iwan Murray, Simon Grand and a last minute penalty from Gary Roberts completed the scoring.

Chester starting X1: Griffiths, Morgan, Livesey, Jones, Grand, Mahon, Stopforth, Roberts, Dudley, Oates, Waring. Subs: Marsh-Hughes, Murray, Thomson.
Chester are next in action on Friday night with a home game against National League South side Dulwich Halmlet, kick-off 19.45hrs.
---
7 July 2019

ADDITIONAL FRIENDLY MATCHES

Chester have added two more home matches to their pre-season list. They will now play Bolton Wanderers on Friday 19 July, kick-off 19.45hrs, they will also entertain a newly formed fan-owned club CPD Bangor 1876 on Thursday 25 July, kick-off 19.00hrs.


•
Pre-season friendlies
---
PRE-SEASON UNDERWAY

A crowd of 1,277 saw Chester kick-off their pre-season with a heavy 7-1 defeat by Wigan Athletic on Saturday. Both Kevin Roberts and Akwasi Asante missed the game with minor injuries. The only Blues goal was scored just before half time by an impressive Trialist B (Danny Elliott).

Chester starting X1: T.Roberts, Morgan, Taylor, Jones, Livesey, Grand, G.Roberts, Burton, Oates (Trialist), Trialist B, Trialist C. Subs: Griffiths, Waring, Waters, Jackson, Trialist E, Trialist D, Stopforth, Mahon, Dudley, Thomson, Macready, Murray, Marsh-Hughes.

Chester now head down to Cornwall for a few days training and will be in action again on Tuesday night with a match at Newquay AFC, kick-off 19.30hrs.
---
3 July 2019

FIXTURES RELEASED

The fixtures for the new season have been released today and Chester will begin their campaign with a trip to Boston United on Saturday 3 August, it is The Pilgrims last season at their York Street ground, followed by a home game against Altrincham the following Tuesday.


•
Fixture list
---
1 July 2019

PRE-SEASON PRICES

Admission prices for all the home pre-season friendly matches are as follows:
Adults £8.00, Concessions £5.00, Aged 5-17 £1.00, Under 5's Free.

• Pre-season friendlies
---
NEW DEAL FOR ROBERTS

Gary Roberts has signed a new one year deal at Chester. The Chester born 32-year-old midfielder was given a training programme for the early summer by managers Anthony Johnson and Bernard Morley and once he'd satisfied them of his commitment a deal was signed.

Johnson said: "We asked him to commit to this training schedule and he has done it and totally got on board with him and he looks great. Last summer he didn't come back in the best shape but this summer he is one of a few players who has come back lighter and he looks ready to fly, he's the fittest I've seen him."