31 May 2007

MORE PRE-SEASON MATCHES ANNOUNCED

Chester have announced that Scottish League Division Two champions Greenock Morton will visit Deva Stadium on Monday 23 July (19:45) for a pre-season fixture, two days before the Blues will send a side to play at neighbours Vauxhall Motors.

• Pre-season matches
---
28 May 2007

OFFER REJECTED

Tranmere Rovers have rejected a bid from Chester for former winger Kevin Ellsion describing the offer as 'unsatisfactory'. City chairman Steve Vaughan said: "We were all disappointed that Tranmere rejected our bid to bring Kevin Ellison back to Chester because we knew what he could have given us. But Bobby knows of another attacking left-sided midfielder who can do a job for us and he has identified a couple of players who he would like to sign. We now plan to speak to the players that Bobby has identified and try to strike a deal for his targets."

---
24 May 2007

BRIAN WOODALL 1948-2007

Former Chester player Brian Woodall died recently at the age of 58 our condolences go out to his family and friends.

• Obituary
---
SEAGULLS VISIT CHESTER

Chester have arranged a pre-season friendly against Brighton & Hove Albion on Saturday 4 August at Deva Stadium. Kick-off 15:00hrs. Before then on Saturday 28 July, City will send a side to play Droylsden who have just been promoted to the Conference.

• Pre-season matches
---
23 May 2007

CITY ENQUIRE FOR ELLISON AGAIN

The club have made another approach for former player Kevin Ellison. Ellison, now at Tranmere, has a year to run on his current contract and ha been the target of bids from the club on more than one occasion since leaving Deva Stadium in 2005 for Hull City. City chairman Steve Vaughan said: "Bobby Williamson has identified Kevin as a player who would improve our squad, so I have made an approach to Tranmere." The Blues have also enquired about Rovers' goalkeeper John Achterberg.

---
AWAY TERRACE

It's been reported that the club have applied to the City Council for permission to make the away supporters' terrace area to an all-seated area. This is expected to reduce the capacity of the ground to just over 5,000.
---
NEW HOME SHIRT

The Blues have revealed their new home kit for next season which retains the stripes but in a much wider form and the blue has also changed from Royal blue to a lighter shade.
---
21 May 2007

ON THE BORDERLINE UPDATES

| | |
| --- | --- |
| | Club historian Chas Sumner has produced update sheets for the first team fixtures, player who's-who details and reserves fixtures for last season. You can download these from here. |
---
18 May 2007

PRE-SEASON FRIENDLY

The club have lined up their first pre-season friendly as Scottish League Division Two side Raith Rovers are to visit Deva Stadium on Saturday 14 July, kick-off 15:00hrs.

• Pre-season matches

---
17 May 2007

THREE PLAYERS RELEASED

Following news yesterday that Drewe Broughton had been paid-off it's been announced that defender Dave Artell (pictured) won't be offered a new contract and midfielder Alex Meechan has been released.

Artell, who signed for City in the summer of 2005, was a solid performer last season that was recognised by the support who awarded him runner-up in the Player of the Season, he also picked up the ISA Player of the Season award for his efforts. Meechan signed for City from Forest Green Rovers in January and made 2+6 appearances for the first team.

Artell told The Chronicle: "Things will probably work out for the better but it's sad to be leaving and I'd like to thank the fans. They were brilliant to me and if I do ever return I hope they'd applaud me because I gave my all for Chester. They have been great to me really."


---
15 May 2007

WILIAMSON PLANS FOR CITY FUTURE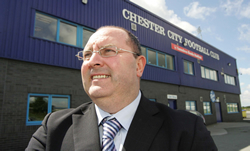 Manager Bobby Williamson has begun his plans for rebuilding his City side for next season. The new boss has been busy contacting several players he'd be interested in bringing in but isn't expected to make mass changes that have happened at the Deva every summer for several years.
He said: "I won't be bringing in 16 new players like happened at Chester before last season, but I'll see what the budget is. I won't be putting too much pressure on the board for money to spend. There are players available who could add to what we've got and complement to what we've got, but I can't see me signing 16 players."
In previous roles Williamson has utilised his clubs youth teams to the full which will be good news to Simon Davies and his young squad, several of whom have made it through to the first team ranks towards the end of the last campaign.
"I've been very pro-youth at every club I have been at because I feel it is so important to develop what a club has and see them come through. I feel Chester is a club that has ambition and drive to take it further forward." said Williamson.
The manager will be meeting with the players soon and informing them who does, and who doesn't, feature in his plane for next season. City's pre-season campaign, including a possible tour, are expected to be announced soon.


---
12 May 2007

ASSISTANT APPOINTED

Manager Bobby Williamson has appointed Malcolm Thomson, a current member of the Rangers coachng staff, to be his new assistant at Deva Stadium.

---
11 May 2007

BOBBY WILLIAMSON NAMED NEW MANAGER


The club have announced that Bobby Williamson has been appointed the new manager after today's interviews. Williamson has signed a two year deal.

The 45-year-old Scottish born manager has a playing career that has taken him from Clydebank to Rangers, West Bromwich Albion, Rotherham United and Kilmarnock. During his time at Millmoor, Williamson played in the Rotherham side that took to the field in the last match at Sealand Road.

He took over the managerial reigns at Kilmarnock in 1997 and moved five years later to hold a similar post at Hibernian. In April 2004 he moved to manage at Plymouth Argyle and was dismissed in September 2005. He has since worked with the Scottish national 'B' team.

Williamson told the Daily Post: "I am delighted that S.V. has given me the oppurtunity to manage Chester City. Like myself the club is ambitiuos and hopefully we can maximise these ambitions together. I have had good reports about the current Chester squad and have worked with Sean Hessey before at Kilmarnock. I would like to meet the players as soon as possible and lay down my plans for the future. The players will have one of the toughest pre-seasons they can imagine as peak fitness at the begining of the season is vital."


•
Last match at Sealand Road
---
8 May 2007

FIVE SHORTLISTED


The club have received 22 written applications for the vacant manager's position. A short list of five has been drawn up and these are to be interviewed by chairman Steve Vaughan on Friday and an announcement is expected to be made at the weekend.

Vaughan stressed the importance of making the right decision and said: "I have been happy with the interest shown in the Chester job. People keep telling me how small Chester is, but the applications I've received speak volumes about how big we can be. I feel that this appointment has got to be the right one. I've been holding back and giving people a chance to apply, but this will be a big appointment.

We have had an horrendous time since we returned to the Football League, finishing 22nd the first season, 15th last season, and we've just seen the club fall short by finishing 18th. The appointment of a new manager will be made, but I'll be making sure that the successful applicant knows all about our level of football and can produce some silverware for this club. There have been plenty of applicants, but now we have to make sure that we appoint the right person."

The list of potential candidates has not been revealed but one name on it is youth team manager Simon Davies who took charge of training last week and first team affairs at Lincoln City on Saturday.

---
7 May 2007

CURTAIN COMES DOWN ON DISAPPOINTING SEASON


City's season came to an end on Saturday with a 2-0 defeat at Lincoln City, a result that sees the Blues finish the season in 18th position in League Two. For the Imps their victory was enough to seal a two-leg play-off semi-final against Bristol Rovers. Two second half defensive errors cost City dear at Sincil Bank though things could have been so different.

Chris Holroyd missed a glorious opportunity to give City the lead from the penalty spot in the opening period but his weak shot was easily saved by Alan Marriott in the home goal. After the interval a slip from Dave Artell led to the opening goal on 64 minutes through Mark Stallard.

Ex-Imp Simon Yeo came off the bench and looked to have forced an equaliser only to have his effort ruled out for offside. The points were wrapped up in the last minute with Jamie Forrester netting from the spot after a handball in the City area.
Caretaker manager Simon Davies said after the defeat: "I enjoyed the experience of being in charge, but two mistakes gave Lincoln two goals. I thought it was a bit harsh on us, things didn't go our way. On another day we could have won by two goals. Lincoln did not cause us any real problems except from set-pieces, the goals came from our own errors. We made some wrong decisions, but there was nothing we could do about the penalty. The ball fizzed across the box and the lad could not get out of the way."
• Final League Two table | First team stats
---
4 May 2007

DAVIES ENJOYING HIS NEW ROLE


City wrap up their season at Sincil Bank tomorrow as caretaker manager Simon Davies (pictured) takes charge of the side for the first time and will be planning to put a dent in Lincoln City's play-off hopes. Davies will be able to recall ex-Lincoln player Kevin Sandwith after suspension but looks likely to will be without the services of Laurence Wilson who faces a hernia operation.

The Imps need a point to guarantee a place in the play-off's and will have a near full strength squad to choose from, only striker Leon Mettam looks set to miss out through injury. They have dropped out of an automatic spot after failing to win in their last seven games.

Davies, who took over the youth team following the resignation of Jim Hackett at the beginning of March, is enjoying his new role and would relish the opportunity to make the position his on a permanent basis. He said; "I'd be lying if I said I wasn't interested in the Chester City manager's job. I'm ambitious the same as any professional footballer and I'm definitely showing an interest in the position. I want to go higher and improve myself in football and, like the club, reach as high as I can."

"I'm really enjoying my role as caretaker manager of the first team and I suppose our performance at Lincoln this weekend will provide an indication of how good my chances are of getting the job. I think coaching the first team is similar to my role with the youth team in many ways. The Lincoln match should be a very interesting game because they are one of the better teams in the league and their league position proves that. They have done very well and have been playing good football. It would be nice to go there and win, but more importantly go there and play the right way."


A big crowd is expected tomorrow for the match that kick's-off at 15:00 and will be refereed by Kevin Friend from Leicestershire.

• League Two table
---
ALLEN FORCED TO QUIT

Graham Allen has been forced to retire from professional football after suffering from a hip problem. Allen signed for City last June from Rushden & Diamonds but only made 2+1 appearances for the Blues.

On Allen's retirement chairman Steve Vaughan said: "Graham was a model professional, but his hip injury has meant he has had to quit the game, and obviously we wish him well in whatever direction his career takes him in the future. He will always be welcome back at the Deva Stadium."


---
2 May 2007

PAUL BAKER CONTINUE'S SPONSORSHIP


UK Sameday Ltd. are to sponsor Chester City football club for a third successive season. The Flintshire-based company are owned by lifelong City fan Paul Baker who, until recently, was also on the board of directors at the football club. The company will once again sponsor the home and away shirts as well as it is hoped a number of other initiatives.


Chairman Steve Vaughan said: "I would like to thank Paul Baker and his company for their continued support of the club, it gives Chester City and Sameday continuity as well as being a valued partnership."
---
1 May 2007

CANDIDATES LINE UP

The CV's have been arriving at Deva Stadium since the announcement of Mark Wright and Graham Barrow's departure yesterday.

City chairman Steve Vaughan has proclaimed he'll wait until next week before drawing up a short list of prospective managers for interview.

Vaughan said: "As expected we have already received a fair number of applications from managers and some of their agents. Some of the people who have shown interest are extremely experienced at this level. But I will wait for a week or so before drawing up a short list of candidates who we will invite to come in for an interview."
---
RESERVES DEFEAT

The reserves wrapped up their disappointing Pontins Holiday League campaign with a 3-0 defeat at Manchester City.

• Final Pontins League table | Reserve Appearances and stats

---

LATEST NEWS

TWO NEW SIGNINGS
Chester have added a defender and a midfielder to their squad today.
more »
LAST MATCH

LATE GOAL SINKS BLUES
A long-range goal three minutes from time by Luke Haines sees The Bulls take all three points from Deva Stadium.
more »
CLUB HISTORY

Everything you need to know about the club's history, honours, records and kits. Complete list of fixtures from 1885 and much more.
more »
SUPPORTERS

EXILES BLOG
The Exiles have set up a blog to provide away match information and articles for Blues fans living away from Chester. You can read it here
Exiles » | ISA »