30 November 2004
CITY HOPING FOR TROPHY GLORY


City look to put Saturday's disappointing defeat against Oxford United behind them tonight as they entertain rivals Wrexham in the northern quarter-final of the LDV Vans Trophy. Paul Carden returns to the squad following his one match ban but Michael Branch and Cortez Belle are both sidelined through injury and suspension for the match that will be played in front of a 5,000+ all-ticket crowd.
Wrexham have several players currently sidelined and will be without Hector Sam, a target for Ian Rush, if the club fail in their appeal after he received a red card on Saturday.
The last time the two sides met was back in December 1997 when the Robins won 2-0 at Deva Stadium in the FA Cup second round. Only one City player remains from that day, Wayne Brown. You have to go back to 1987 for the last time City beat their rivals. On that occasion goals from Graham Barrow, Derek Fazackerley and Stuart Rimmer gave the Blues a 3-1 extra-time win at the Racecourse in the northern LDV semi-final.
---
28 November 2004

BLUES OUT-BATTLED


Manager Ian Rush was not a happy man following Saturday's lacklustre 3-1 home defeat by Oxford United. The manager, who failed to bring in a loan striker for the game, watched as his side were beaten by a team who had lost on nine of their last ten outings. "They out-battled us and it was disappointing to see. I thought only four players did well and some of the more senior players should maybe look at their own performances." bemoaned manager Rush.
Coupled with the defeat came another six bookings, and with it another FA fine, that takes the yellow card total so far this season to a staggering 50, plus two red cards. City currently have the worst disciplinary record in League Two by a long chalk. Suspensions loom next week now for three more players, Stewart Drummond, Phil Bolland and Ben Davies who all picked up their fifth bookings on Saturday. Cortez Belle is still suspended for three more games.
The one crumb of comfort to take from this disappointing performance was the outstanding full debut of midfielder Robbie Booth. Booth, who has made two LDV appearances to date, kept running for 90 minutes creating chances and was unlucky to see two cross-shots miss agonisingly miss the far post on both occasion.

On Booth Rush said: "I thought he was different class. He was the one bright spot about the game and he has come out with flying colours. He was leading by example."
---
YOUTH TEAM DEFEAT

The youth team were knocked out of a second cup in a week on Saturday. Following the midweek defeat at Blackpool in the FA Youth Cup, the boys lost at home 4-2 to Tranmere Rovers in the second round of the Youth Alliance Cup.
---
27 November 2004

LOAN DEAL OFF

It's reported that the loan deal bringing Andrew Keogh to Chester City appears to have fallen through after the forward picked up an ankle injury whilst playing for Leeds United reserves on Thursday. This now leaves City with just one recognised forward, Kevin Rapley, for today's game against Oxford United.
---
26 November 2004

CITY SIGN LOAN STRIKER


City entertain 21st placed Oxford United tomorrow for a League Two game at Deva Stadium, kick-off 15:00hrs.

Manager Ian Rush has managed to secure the services of Leeds United's 18-year-old player Andrew Keogh on loan to cover for the striker shortage that has seen the forward line reduced in recent weeks from five players to just one, Kevin Rapley. Keogh, who had loan spell at Scunthorpe United last season, is expected to go straight into the side tomorrow.
Opponents Oxford are on a disastrous run that has seen them lose nine out of their last ten games to slump to 21st in League Two. Their only victory in that period has come over Chelteham Town and captain Steve Basham describes the match for the U's on Saturday at the Deva as a "massive game". Oxford have dispensed with the services of manager Graham Rix during the slump with coach Darren Patterson currently in charge of the side.
The teams last met at in the second round of the FA Cup in December 2000 in what was arguably one of the most exciting games ever at the Deva Stadium. City, in the Conference at the time, came back from 0-2 to beat United 3-2 with a goals from Paul Beesley and a brace from Steve Whitehall to set-up a money spinning third round tie at Blackburn Rovers.
Tomorrow is the first game of three in a crucial week for City. On Tuesday they entertain Wrexham in the northern-section quarter-final, followed by an FA Cup second round tie at Conference high-flyers Halifax Town on Saturday.
•
The last time we met
---
JOE CORRIGAN

Joe Corrigan has taken up a goalkeeping coach role at Premiership side West Bromwich Albion.
---
25 November 2004

SHREWSBURY TICKETS

The club start selling tickets today (10:00-16:00hrs) for the all-ticket home league game against Shrewsbury Town on 11 December. Normal match day prices apply and there is no limit on the number of tickets bought per person. Season Ticket holders do not need to apply for a separate ticket.
---
24 November 2004

RESERVES LOSE

The reserves lost 3-1 at home to Bury this afternoon. On loan Rob Ursell scored City's goal before having to leave the field as a precuation after picking up a knock. The other Dons player on trial, Micky Woolner, played for the full 90 minutes, at right-back in the first half and centre back in the second. Both players have now returned south.


• Reserve team fixtures | Reserve league table

---
WREXHAM TICKETS

Wrexham have now sold out their full allocation of 1,200 terrace and 500 seats
tickets for next weeks LDV Vans Trophy game. City still have around 800 tickets left for sale that are available on Friday and Saturday.
---
23 November 2004

YOUTH TEAM KNOCKED OUT

The youth team lost 4-0 tonight in the second round of the FA Youth Cup at Blackpool. Goals from Matty Kay, Matthew Ogden and two from Sean Paterson was enough to give a third round tie at Newcastle United for the Seasiders.
Chester City: Ryan Brookfield, Adam Wade, Nathan Humphries (Mark Cadwallader 46), Karl Carney, Dave McCoy, James Scales, James Salkeld, Wayne Morgan, Shaun Whalley, Paul Rutherford, Mattie Humphreys (Kenny Rollinson 46). Subs not used: Dave Kellett, Stephen Brown, Warren Adams.
The boys are next in action on Saturday morning when they entertain Tranmere Rovers in the second round of the Youth Alliance Cup. The game will kick-off at 11:00hrs at Clifton Drive (off Sealand Road).

• Youth team fixtures | Youth league table
---
NEW APPOINTMENT

Chester have appointed David Bell as their new Technical Co-ordinator. Bell, a former Bury player, holds a UEFA 'A' coaching badge and has previously held coaching posts at both Cardiff City and Bristol Rovers.

According to manager Ian Rush Bell will "provide the link between the youngest players associated with the club through to the youth set-up. He will also play a role in assessing the coaching systems at all levels and ensuring there is a smooth progression through the ranks."
---
22 November 2004
LENGTHY BAN FOR BELLE


Striker Cortez Belle has received a four match ban following his second straight red card of the season after fouling Pedj Bojic at Northampton Town on Friday night. The striker will now sit out the matches against Oxford United, Wrexham, Halifax Town and Bristol Rovers. With Michael Branch still weeks away from full fitness, manager Ian Rush must now step-up his search for a loan striker(s) to play alongside Kevin Rapley.

Belle was dismissed minutes after Kevin Ellison had equalised for City with a terrific 30-yard free-kick at Northampton Town last night, to the delight of the 300+ noisy Blues fans, after Kevin Rapley had been fouled outside the box.


The Cobblers had taken an earlier lead on six minutes through Martin Smith. The Blues also had another five players booked on the night which could well bring an FA fine. Paul Carden's yellow card was his fifth of the season and he also looks set to miss the next game against Oxford through a one match suspension.
---
21 November 2004

DONS TRAIN WITH CITY


Two players from Ryman League Division One side AFC Wimbledon, Micky Woolner and Rob Ursell, will join Chester this week for training.

"If Chester want to sign them, then I'll have to discuss the situation with the chairman," said AFC manager Dave Anderson. "I wouldn't stand in anyone's way of making it as a professional. I want players to progress and further their careers. But pro clubs can't just take who they want for nothing and it will take some money to prise them away."

---
19 November 2004
TICKETS ON GENERAL SALE

Tickets for the forthcoming LDV Vans Trophy game against Wrexham go on general sale today. Tickets are limited to 1 per person and are available from the club office between 10:00-15:00hrs. On Monday 22nd remaining tickets will go on general sale, between 10:00-16:00hrs with no limitation on numbers per person.
---
CITY IN ACTION
City travel to play Northampton Town tonight. The game was moved to avoid a clash with the local rugby side, also at home tomorrow. The Cobblers lie a point ahead of City in 13th spot. Their record this season at Sixfields reads Won 4, Drawn 3, Lost 1
and they beat League One side Barnsley last week in the FA Cup. City have no new injury problems, though Michael Branch is still sidelined with an achilles injury.
---
CLARE JOINS BOSTON


Good luck to Daryl Clare who has signed what's believed to be a 2½ year contract for the Pilgrims today.

He's expected to go straight into the squad for their game against Mansfield Town tomorrow. Interestingly it's reported that City have stipulated, as part of the transfer agreement, that the striker must not play against Chester in a competitive match for the remainder of the season.


Clare's signed for City in October 2002 for £95,000, his record at Chester since was second to none with an incredible 49 goals in 61+7 matches. His 30 goals for City last season earned him the Golden Boot award.
After completing his transfer Clare reflected on his time at Chester.
"Last Saturday's FA Cup match at Stafford was very emotional for me because I knew it was my last for Chester City. But I left Chester on good terms and I thoroughly enjoyed the last two years I spent at Chester. I'd like to think I gave the club good service and I'll never forget the support and best wished I received from Chester supporters when my children were poorly.
I don't want there to be any bad feelings and I hope I receive a good reception when I next return to Chester.
The move back to Boston was the best option for me and my family. Steve Evans, the Boston manager was always loyal to me and I've chosen the opportunity to return.
I'd like to thank Stephen Vaughan for giving me the opportunity to speak to Steve Evans, and I'd like to wish everyone at the club best wishes for the rest of the season."
---
17 November 2004
CLARE SET FOR BOSTON RETURN?

Striker Daryl Clare could be on his way back to Boston United. The official Pilgrims website has stated that the striker is holding talks with United and an outcome, either way, will not be known before mid-day tomorrow. Boston state that have agreed a five-figure fee, based on games with Steve Vaughan. Clare will meet with Boston again tomorrow in a bid to settle personal terms.
---
MATHIAS LEAVES THE DEVA

Chester's Director of Football Ray Mathias has left the club today. Mathias answered the chairman's call on the eve of the season and stepped in as caretaker manager when Mark Wright quit in August. He was appointed Director of Football when Ian Rush took over a month later. It's unclear whether a successor to the post will be appointed.
---
16 November 2004

FA YOUTH CUP DATE


Following last weeks 3-1 home win over Whitley Bay in the FA Youth Cup, City have been handed a tough second round fixture with an away tie at Blackpool.

The attendance at the Deva of 441, boosted by the production of Wrexham ticket vouchers, was the fifth highest of the round.


The second round tie will take place on Tuesday 23 November at Bloomfield Road, kick-off 19:00hrs. If you want to go along and support the boys, admission prices are £4.00 adults and £2.00 concessions. The Seasiders youth side are managed by ex-Chester player Colin Greenall and defeated Tranmere Rovers 2-1 in the first round.
---
YOUTH TEAM BEAT RIVALS

Goals from Danny Ventre and Paul Rutherford gave the youth team a 2-1 home win over Wrexham on Saturday morning to lift the young Blues to third spot in the Football League Youth Alliance North Central Conference. The City line up was: Dave Kellett, Adam Wade, Karl Carney, Matty Cook, Danny Ventre, Paul Rutherford, James Salkeld, James Scales, Dave McCoy (Wayne Morgan), Kieran Dean (Mark Cadwallader), Mike Walsh.


• Youth league fixtures | Youth league table
---
14 November 2004

FA CUP DRAW

Following Saturday's 2-0 win at Stafford Rangers, City have drawn Nationwide Conference side Halifax Town away in the second round of the FA Cup. The tie will be played at The Shay on Saturday 4 December. Halifax defeated Cambridge United 3-1 in round one. The second round prize money is £24,000.
• Chester v Halifax Top 10 matches | Classic 1969 FA Cup encounter
---
WREXHAM TICKETS


Tickets go on sale later this week for the forthcoming LDV Vans Trophy area quarter-final tie with Wrexham.

Season Ticket holders using Voucher B and those who have a voucher issued at the recent youth cup match can pick up their tickets (1 per person) on Thursday between 10.00-19:00hrs.

On Friday tickets will go on general sale (also 1 per person) between 10.00-15.00hrs.

On Monday 22nd remaining tickets will go on general sale, between 10:00-16:00hrs with no limitation on numbers per person.
---
CLARE THINKS OVER MOVE OFFER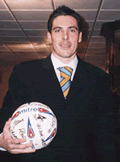 According to Carlisle United manager Phil Simpson, City striker Daryl Clare is thinking over a move to the Cumbrian side this weekend.

Simpson said: "We are the only club to have made an offer for the player that has been accepted by Chester. I haven't made him an offer yet but we had a good chat with Daryl and he wants the weekend to think it over. He has scored goals that have got Conference teams promoted in the past, but when it comes to League football they have tended to move him on. I hope to speak to him again next week."


City chairman Steve Vaughan is keen on the player remaining at the Deva and is insisting that matters are settled soon. "This situation has festered on for too long, and in the interests of all parties involved, it has to be resolved quickly. Carlisle have acted honorably with their proposals, and I would like to commend them for that. If Daryl Clare wants to move back to his Lincolnshire roots, then we won't stand in his way if a fair offer comes in from Boston United. However, we would like the player to stay with us rather than sign for either Carlisle or Boston, but one thing's for sure, we will have a definitive solution to this situation in the near future." said Vaughan.
---
11 November 2004

CARLISLE GIVEN PERMISSION FOR CLARE TALKS

Chester City have this afternoon given Carlisle United manager Paul Simpson permission to hold talks with Daryl Clare regarding a possible transfer to the Conference side. The official Carlisle United website states that Chester have "formally accepted the offer" made by the Cumbrians for the 26-year-old striker and that Simpson hopes to open talks tonight. Clare's contract at Chester runs out at the end of the season and the striker is yet to put pen to paper on a new one.
---
PRIORITY VOUCHERS TONIGHT

Priority vouchers for the forthcoming LDV Vans Trophy game with Wrexham will be given out at tonight's FA Youth Cup first round game against Whitley Bay. The match at Deva Stadium tonight will kick off at 19:00hrs.
---
10 November 2004

WANTED: DARYL CLARE


Chester have received an improved bid from Conference side Carlisle United for City striker Daryl Clare described as "acceptable" by chairman Steve Vaughan.
Clare, last season's Conference top scorer, is out of contract at the end of the season and will then become a free agent. Manager Ian Rush is keen, obviously, on holding on to Clare.

Rush said; "I want to hold onto Daryl Clare and we'll do everything we can to keep him. I'm hoping to have a chat with him today and I know our chairman wants to talk to him."

As well as Carlisle, Boston United are also pursuing their interest in their former striker. Meanwhile the club are expected to start talks with the player immediately in an effort to tie him to a new contract.
---
9 November 2004

CITY KNOCKED OUT


Chester lost 3-0 at Altrincham tonight in the quarter-final of the Cheshire Senior Cup. Goalkeeper Wayne Brown played his first game since injuring his calf prior to the Rushden & Diamonds game but it's unclear if he'll be back to full fitness for Saturday's FA Cup trip to Stafford Rangers.

Tonight's team consisted mainly of reserves and fell behind to an early goal at Moss Lane. The Blues spurned an opportunity to equalise after the break and were punished soon after as the home side ran in two more goals to seal victory.
---
CHESHIRE CUP ACTION

Chester send a team to Altrincham tonight for a Cheshire Cup quarter final game. Goalkeeper Wayne Brown could return to the side after injury. Kick-off at Moss Lane is 19:45hrs. Chester haven't won this tournament since 1932.


The full quarter final draw is:
Stalybride Celtic v Vauxhall Motors
Tranmere Rovers v Crewe Alexandra
Chester City v Altrincham
Alsager Town v Hyde United
---
RUSH HITS BACK AT CRITICS

City manager Ian Rush has hit back at those branding his side a long-ball team. The latest to do this was Leyton Orient Martin Ling who commented: "We were told before the game that Chester were a long-ball team and they didn't disappoint us."

But Rush told the Daily Post: "I am getting fed up with some managers who just carp about our style of play and also comment publicly on some of our players. Martin Ling was the third manager to get on to this hobby horse, with his ridiculous observations at the weekend. There is a code of conduct that has been drawn up by John Barnwell and the League Manager's Association, whereby managers should be circumspect when making public comments regarding other clubs."
---
6 November 2004
CITY DRAW RIVALS


Chester have been drawn at home to Wrexham in the area quarter-final of the LDV Vans Trophy. The game, which will be all-ticket, will take place on Tuesday 30 November.

The two sides have met in the competition before in 1986/7 when Chester won 3-1 at the Racecourse with goals from Graham Barrow, Derek Fazackerley and Stuart Rimmer, to set up the northern final against Mansfield Town.
The last time the sides met in a competitive match was in December 1997 when Wrexham won 2-0 in the second round of the FA Cup at Deva Stadium.

The other northern ties are:
Hereford United v Blackpool, Oldham Athletic v Hartlepool United, Macclesfield Town v Tranmere Rovers

The southern area ties are:
Swindon Town v Bristol City, Northampton Town v Southend United, Bristol Rovers v Wycombe Wanderers, Leyton Orient v Walsall
---
CORTEZ RESCUES POINT FOR CITY

A goal seven minutes from time by Cortez Belle brought City a share of the points against second-placed Leyton Orient. The visitors had taken the lead, against the run of play, though Lee Steele, on 38 minutes and looked to be heading for three points before Belle headed home a corner from ex-O's player Andy Harris. The point lifts City two places to 15th in League Two.

A disappointed Ian Rush told the local press after the game: "I am fed up with my team performing for only 45 minutes; for four or five games now they have done that. When they do play like they did in the second half, they are more like the Chester we know. To succeed and get in to the top half of the table we have got to play for 90 minutes."
---
5 November 2004

STAMP/WATSON LOANED OUT

Striker Darryn Stamp, who has been struggling to regain a place in the first team this season, had joined fellow League Two side Kidderminster Harriers on a one month loan and is expected to turn out against Boston United tomorrow. Harriers caretaker boss Shaun Cunnington said: "Darryn did very well in the Conference last season and I'm sure he is more than capable of doing just as well in League Two. He has the ability to grab a goal or two himself but will also create chances for others around him."


Meanwhile midfielder Andy Watson has joined Conference side Forest Green Rovers on a one month loan.
---
STRIKER DECISION FOR RUSH


City entertain second placed Leyton Orient at Deva Stadium tomorrow (15:00hrs) in what should be a cracking game. Striker Cortez Belle
is available again after suspension but it remains to be seen whether manager Ian Rush will recall the youngster, or start with the more experienced Daryl Clare and Michael Branch, who formed an effective striking partnership in the second half on Tuesday night against Rochdale.

With Wayne Brown is still recovering from injury, Chris Mackenzie looks set to continue on goal.


Visitors Leyton Orient have surprised many with their impressive start to the season. They have a good away record with four wins at Cheltenham Town, Kidderminster Harriers, Notts County and Lincoln City under their belt, as well as two draws from eight games and a tough game can be expected. Tottenham Hotspur striker Lee Barnard has signed a one-month loan deal with the O's and is expected to play tomorrow.


City fans will want to forget the last time the sides met at the Deva at Christmas in 1999. The O's ran out 5-1 winners in a crucial Third Division bottom of the league clash against a City side managed then by Terry Smith... the rest, of course, is history.
---
DRAW TOMORROW

The draw for the area quarter-finals in the LDV Vans Trophy will take place on the SKY Soccer AM programme tomorrow morning.
---
4 November 2004

STAFFORD RANGERS TICKET DETAILS

The football club have amended their ticket selling arrangements for the forthcoming FA Cup Tie at Stafford Rangers. Tickets will now go on sale immediately after Saturday's home game with Leyton Orient. There will be two queues at the ticket office, one for season ticket holders the other for non-season ticket holders.
Season ticket holders must produce Voucher A, it's strictly one ticket per A Voucher. Non-season ticket may purchase one ticket per person. All sales are by cash only.
Prices are £14.00 for adults (stand, no concessions – not many seats are available) and £12.00 (terrace, £7.00 concessions).
The club will also accept postal applications but will not be responsible for any tickets that do not arrive in time.
Any remaining tickets go on general sale on Monday between 10:00hrs – 16:00hrs.
---
AWARD FOR RUSH

Congratulations to manager Ian Rush who has been named the Coca Cola League Two Manager of the Month for October. The club last received the award in February 2004, Mark Wright picking up the champagne on that occasion.


Rush said: "The manager of the month award is mainly down to the players at the club and their form during the last two months."
---
3 November 2004
BLUES IN LAST EIGHT


City's 1-0 win over Rochdale last night took them to the last eight of the northern section of the LDV Vans Trophy. Other teams in Saturday morning's draw are: Blackpool (holders), Hartlepool United, Hereford United, Macclesfield Town, Oldham Athletic, Tranmere Rovers and Wrexham. The draw for the area quarter-finals will take place on the SKY Soccer AM, with the games scheduled to take place in the week commencing Monday 29 November.
As in the first round manager Ian Rush rang the changes and gave a full debut to Colin Doyle in goal and Andy Watson, while youngster Robbie Booth had an impressive second game in the tournament. Only three players of the starting X1 at Yeovil made the starting line-up in this match. The only goal of the game came in the second half as Sean Hessey notched his first for the club since his summer signing, shooting home from six yards after Michael Branch had headed on a Booth corner.
---
NEW CONTRACT FOR RUSH

Following his decision to stay at Chester, manager Ian Rush has been given an improved contract that will keep him at Deva Stadium for an extra 12 month's until 2007.
Rush has spoken more of his decision to stay and hasn't ruled out the possibility of taking on a number two role with the Welsh national side.


He said: "I simply made a decision that the job had come too early for me. Two years gaining experience at a club job would leave me better off in the long run. But if the new Wales manager, whoever he is, wants a number two, I could possibly consider combining the two positions at Chester and with Wales. Wales has to be a long-term plan, from under-17 right through to the seniors and with more club experience I would be better equipped, it would one day be a dream come true for me, but not at the moment."
---
2 November 2004
RUSH PLEDGES HIS FUTURE AT CITY


Manager Ian Rush is to remain at Deva Stadium. Rush, who has been heavily linked with the Welsh international job over the weekend held talks with club officials yesterday after he was given permission to speak the the Football Association of Wales at the end of last week.
Speaking in his column in the Liverpool Echo today, Rush said he was "flattered to be linked with the Welsh job" and found himself in a very difficult position with recent developments coming out of the blue.
Rush went on to say: "I made sure I didn't rush my decision and having a great relationship with my chairman helped me make the commitment to stay. My main focus remains helping Chester move towards the play-off places and I intend to be the manager at the Deva Stadium for a long time to come."
•Full story
---
BLUES LOOK TO BOUNCE BACK

City entertain Rochdale tonight at Deva Stadium, kick-off 19:45hrs, in a second round LDV Vans Trophy match. The Blues will be without the suspended Cortez Belle for the tie, Daryl Clare is expected to take his place in the starting line-up.
Manager Ian Rush may well decide to rest some first team regulars and play squad players for this game as he did in the first round which saw City pull off a shock win at Sheffield Wednesday. Rochdale progressed to this stage after a 4-1 win over Scarborough.


Admission prices for the game have been dropped to £10.00 for adults and £5.00 for juniors. Additionally the Chester Chronicle are offering a two-for-one offer on the night. Just cut out the coupon which appeared in Friday's Chronicle and present it at the West Stand turnstiles before kick-off at 19.45hrs and each pair will only have to pay once.
---
1 November 2004

ANNOUNCEMENT DELAYED

Chairman Steve Vaughan and chief executive Dave Burford have held talks today with manager Ian Rush, and a statement will be made regarding the outcome of these talks at a 12:00hrs news conference on Wednesday.

Club secretary Tony Allan confirmed: "Ian has been meeting with Stephen Vaughan and David Burford, our chief executive, today and there will be a press conference at midday on Wednesday with regards to Ian's future at the club.

Gerard Houllier, Dean Saunders, John Toshack, Dick Advocaat and former Japan coach Philippe Troussier are believed to be the other names on the FAW's six-man short-list.
---
RUSH STATEMENT TODAY

Chairman Steve Vaughan stated on SKY Sports after Saturday's game at Yeovil, that an announcement would be made by the club today regarding the position of manager Ian Rush in relation to the Wales job.
---
AWAY DRAW FOR CHESTER

Chester have drawn Stafford Rangers away in the first round of the FA Cup. The tie will take place at Marston Road on Saturday 13 November. This tie is ALL-TICKET. The ground capacity is 3,200 and City are hoping to receive around 900 tickets for the game (800 terrace, 100 seats). Details will be announced shortly.


The Conference North side booked their place in the first round draw today with a 2-1 home win over Gateshead.

The first round prize money is £16,000.

---
DEFEAT FOR CITY

Chester suffered only their first defeat in ten games when they were well beaten 4-1 at Yeovil Town on Saturday. The last time City conceded four in the League was back in April 2001 when they lost 0-4 at Kettering Town.

Daryl Clare scored City's consolation goal at Huish Park in a game that saw three penalties, of which two were rather dubious (including ours) and five City players booked.

Both Cortez Belle and Kevin Ellison picked up their sixth bookings of the season while Michael Branch's fourth leaves him one away from a suspension.

The Blues have slipped to 17th following this defeat and face second placed Leyton Orient at home in their next league game on Saturday at Deva Stadium (15:00hrs).

Before then though City have a chance to get this defeat out of their system, as they entertain Rochdale tomorrow night in the second round of the LDV Vans Trophy (19:45hrs).
Cortez Belle is suspended for this game.
---