30 November 1999
DARLINGTON
The away league match at Darlington has been rearranged for Wednesday 15 December.
---
29 November 1999
FA YOUTH CUP
Tomorrow night Chester City play at Leyton Orient in the third round of the FA Youth Cup. The match has a 7pm kick off. Here's a rare chance for southern based supporters to see the City youth team in action. Why not come along and support the City 'stars of the future'. The Chester Exiles be meeting in their usual venue the Birbeck Tavern, 45 Langthorne Road, which is round the back of Leyton tube and about 15 minutes walk from the ground. With the early kick-off in mind, we shall be meeting after the game has finished.
---
26 November 1999
FA CUP MATCH SAGA — A DECISION HAS BEEN MADE
The FA Cup Third Round game will now take place on Sunday 12 December at the Deva Stadium with a 1pm kick-off. Tomorrow's match programme will act as a priority voucher (the normal 1000 print run has been extended). Season ticket holders will receive priority privilege for a cup ticket as well. So in effect you have to pay an extra £2 on top of the normal ticket price!


Seat prices have been increased to £14.00 with NO concessions (except season ticket holders). Terrace tickets are (I think) £10.00
---
ISA SHARE ISSUE
The ISA have now received a response from the club regarding their questions concerning the share issue. ISA chairman Les Smith has today written to all applicants to inform them of this. The ISA's solicitors are now drawing up a response and all members will eventually receive further communication from which they can decide whether to purchase or not.
---
CITY TO APPEAL
The club are to appeal to the Department of Employment on their decision not to grant a work permit to Angus Eve. Eve's proposed two-year deal at City now looks to be off.
---
CUTLER SIGNED BY VILLA
Former City goalkeeper has signed for Aston Villa after a one month trial at Villa Park. Meanwhile, former City manager Graham Barrow has been appointed assistant manager to Gary Brazil at Notts County.
---
CLUB FINED
The Football Club have been fined £250 by the Football Association for making an illegal approach to Warrington Town for the signing of Paul Berry. "I wanted to appeal against an illegal approach claim, but if we'd have done that, Paul wouldn't have been able to play until a decision was made", said manager Terry Smith.
---
23 November 1999
TEAM NEWS
Defender Goran Milosavijevic is extremely doubtful for tonight's match with Southend United. His leg is currently strapped up. Details of the FA Cup game with Manchester City should be released after meetings later in the week. As yet the date, kick-off time and ticket details are not available.
---
22 November 1999
ISA MEMBERS MEETING TONIGHT
Guest Speakers: Brian Croft and Graham Bowker, Football in the Community Officers. Usual venue the Royal Mail Club, Station Road. Starts at 19.30 prompt.
---
FA CUP DRAW
City have been drawn at home to Manchester City in the third round of the FA Cup. The game is scheduled for Saturday 11 December. Ticket details will appear here as soon as they are released by the club.
---
19 November 1999
FA CUP TEAM NEWS
Both Shaun Reid and Nick Richardson have been added to tomorrow's squad. Stalybridge are expecting a crowd of around 4,000 for the tie. Admission prices are £6.00 for adults with £3 concessions. The draw for the third round takes place at 17.45 on ITV on Sunday.
---
ISA GRAND DRAW
ISA Sponsored Game Chester City v Halifax Town 18 December 1999

The ISA are sponsoring the forthcoming home game with Halifax Town and there are FIVE first prizes of a pair of sponsors tickets up for grabs. All you have to do is buy a raffle ticket for £1 and enter the ISA draw. Package includes match tickets, four course meal, choose man of the match, free program etc etc. These tickets are usually over £170 per pair.
Raffle tickets have been distributed to all ISA members and are also available from the club shop. Please help your club by selling and buying as many tickets as possible. Should you require more please contact committee member Mark Howell or email the ISA here. You can also write to the ISA postal address below.
The draw will be made during half-time of the Swansea match on 27 November.
---
17 November 1999
CHESHIRE SENIOR CUP
City's full first team squad lost 2-1 to Macclesfield Town reserves in last night's Cheshire Senior Cup second round match at Moss Rose. Chris Blackburn scoring Chester's last minute goal.
---
FA CUP
Saturday's game a Stalybridge is NOT all ticket. For more details, travel etc check the Stalybridge website above. Chester City ISA members Alan and Katie Morgan of the Surrey Arms, Victoria Street, Glossop, have kindly invited City fans for beer and sandwiches prior to the game. 10 minutes from Stalybridge. Head to centre of Glossop (in Sheffield direction), turn right (I think) at main traffic lights and go up hill (Buxton direction) – all are welcomed.
---
FANS FORUM
According to the Evening Leader only 15 people turned up for the Fans Forum at the Deva on Wednesday night! If you were one of the few and would like to send a report please do. The Forum, which was planned sometime ago, clashed with the live England v Scotland game on television.
---
16 November 1999
FA YOUTH CUP
Chester have been drawn away at Leyton Orient in the third round of the FA Youth Cup. The match is on Tuesday 30 November with a 7pm kick off. Here's a rare chance for Exiles supporters to see the City youth team in action down south. Why not come along and support the City 'stars of the future'. We shall be meeting in our usual venue the Birbeck Tavern, 45 Langthorne Road, which is round the back of Leyton tube and about 15 minutes walk from the ground. With the early kick-off in mind, we shall be meeting after the game has finished.
---
15 November 1999
RATCLIFFE GETS SHREWSBURY JOB
Former City manager Kevin Ratcliffe has been appointed the manager of Shrewsbury Town, initially, he has accepted the post until the end of the season. The Shrews have issued the following press release:
"Whilst Kevin Ratcliffe has most impressive credentials at the highest level which include 498 appearances for Everton and 59 Welsh Caps, he also has experience at managing within the Third Division and thus understands the financial constraints.
The club received over 40 applications for the post of Manager which was not advertised, among them some very high profile and capable managers.
Roland Wycherley, Chairman, would like to express his thanks to each of them for taking the trouble to apply. He goes on to say "I have decided to act swiftly to end further speculation. Kevin Ratcliffe has impressed me greatly at our recent meetings and I believe that he needs as much time as possible to improve upon our current position and to plan for future success". Kevin Ratcliffe has expressed his delight upon being appointed and sees the challenge as "the perfect platform for continuing his career in football management".
---
RICHARDSON INJURY
It appears that midfielder Nick Richardson is not as badly injured as first though following Saturday's game. The midfielder may be back in action in a week.
---
11 November 1999
YOUTH TEAM THROUGH
Well done to City's youth team beat Doncaster Rovers 2-1 to reach the third round of the FA Youth Cup.
---
10 November 1999
YOUNGSTERS IN ACTION
City's Youth team entertain Doncaster Rovers at the Deva tonight in the second round of the FA Youth Cup. The match kicks-off at 19.00.
---
MOSS INJURY
Full back Darren Moss has had a leg x-rayed after injuring himself in last night's cup game with Whyteleafe. Moss missed the second half and there are fears that he may have a hairline fracture following a clash with Gani Ahmet. Meanwhile Terry Smith has confirmed that two Premiership clubs are watching Moss and Matt Doughty, though no offers have yet been made for either of City's promising full-backs.
---
9 November 1999
CROSBY SETTLEMENT
Chester City FC have been ordered to pay former player Andy Crosby £3,800 by a PFA hearing in Manchester. Crosby, now with Brighton, was owed the money from unpaid wages last season. Meanwhile former manager Kevin Ratcliffe is expected to be in contention for the vacant manager's job at Shrewsbury Town following the sacking of Jake King yesterday. Since leaving the club in August, Ratcliffe has been scouting for QPR and been doing some radio commentaries.
---
8 November 1999
WINGROVE STARTS PROCEEDINGS
Former club chief executive Bill Wingrove has instructed his solicitors to start proceedings against the club for unfair dismissal/breach of contract. Wingrove left the club in early August. Former player Andy Crosby is also demanding £10,000 in unpaid wages.
---
DAVIDSON JOINS BARNET
Former club captain Ross Davidson made his debut for Barnet in their 1-0 win over Darlington on Saturday.
---
CUP NEWS
Chester have no injury worries for tomorrow's cup replay against Whyteleafe (ko 19.45). Whyteleafe are travelling up on the train and staying over afterwards. Leafe boss Lee Richardson is relishing the tie: "We're not coming to make up the numbers. We should have won in the first game and Steve Lunn's penalty miss was a very expensive one; it's probably cost us about £8,000.But we don't want to dwell on that and we know what tomorrow night's all about and we're relishing playing at Chester's ground. It's a good playing surface completely different to what ours was like on Saturday."

Radio Merseyside reports that on-loan player Nicky Spooner is unable to play in tomorrow's game as he was not registered in time.
---
5 November 1999
TEAM NEWS
Neil Fisher is expected to carry on in the sweeper role for tomorrow's home game with Plymouth Argyle. He was man of the match playing in that position in Tuesday's 1-0 win at Shrewsbury Town. Steve Finney will make his home debut partnering Luke Beckett up front and Nicky Spooner is also a possible starter. Terry Smith was hoping to get clearance from the FA before tomorrow's noon deadline after sorting things out stateside. Jon Cross also makes a welcomed return to the squad. He scored twice for the reserves in their 4-0 win over Chesterfield in midweek, but he may have to settle for a place on the bench. Matt Woods is out for two weeks and Martyn Lancaster is still unfilt.
The Pilgrims come to the Deva on the back of a seven match unbeaten run and are expected to name an unchanged team.
Following the match City season ticket holders are invited to stay behind and have their photographs taken with their favourite players. This initiative comes on the back of the successful open day held at the Deva last Sunday afternoon.
---
SHIELD DRAW
The draw for the first round of the Autowindscreens Shield is made on 20 November.
---
FANZINE ON SALE
Issue 27 of the Chester City fanzine Hello Albert is on sale at tomorrow's game priced £1.
---
4 November 1999
STRIKER ON TRIAL
An un-named Dutch striker is reportedly currently having trials at Chester. He was at Whyteleafe last Saturday to see City's cup game. Meanwhile Terry Smith is still confident of bringing Nicky Spooner to Chester on loan. Spooner, currently enjoying a mid-season break from his American club Charleston, has been training at the Deva and the club are hoping for international clearance for the player to play on Saturday. The news on Angus Eve should be settled soon as well as the Department of the Environment are expected to make a decision in the next few days regarding work permits.
---
OPPONENTS NEWS
City's opponents in next weeks FA Cup replay Whyteleafe lost at home to Braintree Town 2-1 on Tuesday night. Meanwhile our possible second round hosts Merthyr or Stalybridge drew 2-2 on the same night and replay at Stalybridge this Saturday.
---
2 November 1999
NEW LOOK MATCH PROGRAMME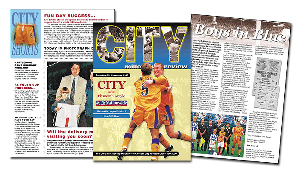 City fans will be delighted to know that a new look matchday programme debuts on Saturday for the League game with Plymouth Argyle, and rather smart it looks too. The full colour 32-pager (with just 10 pages of adverts) will cost £2.00 and should be great value for that. Regular articles include: Team Talk - Terry Smith's page, Visitor's Section, Three Points – news from third division, Stats Page, Previous home match report, Next Up - match previews, and much more.
---
LAST GAME FOR LOAN DUO
Both Manuel 'Junior' Agogo and Michael Blackwood play their last games for Chester City tonight. Both have been recalled by their clubs Aston Villa and Sheffield Wednesday respectively following a second month on loan at the Deva. City travel to Shrewsbury tonight, a ground where they have never won, no better time to break that duck then as three points will be vital as the Blues try to lift themselves from the foot of the table.Radio Merseyside reports that Junior Agogo is soon to join third division rivals Lincoln City.
---
1 November 1999
REPLAY DATE
City's first round FA Cup replay will take place on Tuesday 9 November kick-off time 19.45. The winners will be away to either Merthyr Tydfil or Stalybridge Celtic in Round Two on the weekend of 20 November. Whyteleafe website.
---
CUTLER LEAVES CLUB
After turning down a new contract goalkeeper Neil Cutler has left the club. He has since followed the recent Deva trend and gone on trial to Aston Villa.
---
YOUTH TEAM SUCCESS
City's youth team won 3-1 at Halifax Town last week in the first round of the FA Youth Cup. Goals from John O'Brien, Lee Sefton and Chris Blackburn set up a second round tie at home to Doncaster Rovers.
---
NOVEMBER ISA MEETING
The next ISA meeting has been brought forward seven days (to avoid double booking) and will now take place on Monday 22 November. Guest Speakers: Brian Croft and Graham Bowker, Football in the Community Officers.