---
Saturday 30 October 2004
Yeovil Town 4 Chester City 1
League Two
Attendance: 5,741 Half Time 1-0
Booked: Belle, Harris, Branch, MacKenzie, Ellison.


Yeovil Town: Weale, Rose, Miles (Guyett), Fontaine, Terry, Caceres (Lindegaard), Way, Johnson, Williams, Jevons, Stolcers (Gall). Subs not used: Collis, Tarachulski.
Chester City: MacKenzie, Edmondson (Harris), Bolland, Hope, Hessey, Drummond, Carden, Davies, Ellison, Belle (Rapley), Branch (Clare). Subs not used: Doyle, Vaughan.
Referee: R.Beeby.

I have to be brutally honest and admit I can't remember when I last saw City play as badly away from home – certainly not last season or so far in 2004/5.

On the eve of Halloween, the contingent of 300 Chester fans must have felt like it was like watching a horror movie unfold before their eyes as an impressive Yeovil side ran the Blues ragged all afternoon.

Both City and Yeovil made their intentions obvious inside the first ten minutes. Yeovil were stroking the ball around the midfield, while as soon as Chester got the ball they were thwacking it upfield towards Cortez Belle.

The Glovers won the first corner of the afternoon, with striker Phil Jevons having his first attempt on Chris MacKenzie's goal as a result. But his header went wide. Soon after MacKenzie had to made his first stop of the game when Darren Way wasted an easy chance and hit straight at the Chester 'keeper.

By now City were making the rest of their game plan clear – to make their physical presence felt against the smaller Yeovil side. Belle was no exception and soon found himself getting a deserved talking to by referee Richard Beeby. By that stage he'd already kicked the ball away after a free-kick was given and clattered into one of the Yeovil players in an off-the-ball incident.

The Blues won a corner soon after and when the ball came out to Kevin Ellison he seemed to snatch at it and his shot went wide. The City drummers urged their team on, but were soon quietened when the ball came across the Chester box to a totally unmarked Adrian Caceres. It looked inevitable that a goal would be scored right in front of the away terrace, but he headed the ball against the crossbar.

But a Yeovil goal did come just two minutes later when Gavin Williams ran into the box to be challenged by Darren Edmondson. Right on cue, Williams took an impressive swallow dive and the Blues' fans, well-placed to have seen the incident, were amazed when the ref awarded a penalty. Jevons struck the ball softly, but accurately, into the right-hand corner as MacKenzie dived the other way.

Yeovil were now on fire and Jevons soon found himself with an opportunity to score a second. He was about five yards out with only MacKenzie to beat – but shot wide despite a near open net. Just a few minutes later, and the travelling fans had a smile bought to their faces when Way made a total 'airshot' inside the Chester box.

It would have been a good opportunity for the Blues to pounce, as Yeovil's confidence juddered slightly and half-time edged nearer. Ian Rush changed the City formation – replacing Edmondson with Andy Harris and switching from 4-4-2 to 3-5-2. Soon after Michael Branch did have a shot on target, but Yeovil 'keeper Chris Weale parried the ball out and Ellison wasted the rebound by firing his shot way above the bar.

The second half followed a familiar pattern. Stuart Drummond seemed particularly out-of-place with the 3-5-2 formation, but no-one in a yellow shirt could really hold their head high with their performance.

Jevons soon found himself free in the area, but had a poor shot. Then MacKenzie was called on to make the save of the afternoon when he made a reflex dive to stop a powerful Yeovil shot after yet another excellent passing combination by the Glovers.

By now, the Yeovil fans were booing every move that Belle made, as well as yelling 'hoof' everytime the Blues thwacked the ball forward instead of passing the ball to feet. It happened quite a lot, I'm sorry to report.


Caceres then made it 2-0 with a bizarre shot that rebounded down off the underside of the crossbar and out of the goal. For a few seconds, it went quiet when everyone assumed the ball hadn't crossed the line. But the linesman thought different and the goal was given.

There seemed no way back for the Blues and when I saw Daryl Clare and Kevin Rapley coming on, I hoped they'd be combining with Branch to give us some attacking flair. But Branch was taken off, along with Belle.

Within a few minutes, Clare was doing what he's good at – winning free kicks. Ellison took the opportunity to have a thunderous free kick and the resultant rebound could have gone anywhere – but didn't quite find a Chester foot.

But it was soon game over when Yeovil were awarded another penalty. This time two Chester defenders seemed to get in each other's way in the box, then MacKenzie was pulled up for fouling Caceres. Jevons took a more powerful penalty strike and it was 3-0.

Guess what happened a few minutes later? There was yet another penalty. This time it was given after Ellison made a half-hearted dive in the box. He didn't appeal for a penalty and looked as surprised as anyone when it was given.

Clare stepped forward and scored a consolation goal. Ben Davies scrapped with Weale to get the ball out of the net and back to the centre circle. But it was too little, too late. Chester had run out of ideas and the rout was complete when Jevons scored his hat-trick with a 90th minute header.

So Rush's 10-match unbeaten run comes to an inglorious end. Let's just hope this game acts as a wake-up call. But City fans who completed a 400+ mile round trip to support their team can't be blamed for failing to find any crumb of consolation.
• Latest League 2 table.
---
Tuesday 26 October 2004
Chester City 3 Kidderminster Harriers 0
League Two
Attendance: 2,968 Half Time 1-0
Booked: Belle, Edmondson, Davies.


Chester City: MacKenzie, Edmondson, Bolland, Hope, Hessey (Vaughan 73), Drummond (Rapley 78), Carden, Davies, Ellison, Belle (Clare 60), Branch. Subs not used: Harris, Doyle.
Kidderminster Harriers: Darby, Jenkins, Burton, Sall, Advice-Desruisseaux (McHale 53), Keates, Christiansen, Keene (Foster 60), Cooper, Hatswell, Langmead (Diop 60). Subs not used: Lewis, McMahon.
Referee: M.Cowburn (Lancashire).

It was a case of friends reunited as Chester and Kidderminster met for a first ever league clash. Club captain Wayne Hatswell was well received as he led out the Harriers and Ian Foster was back to sit on the bench. Ben Davies for Chester lined up against former colleagues.

City made swift inroads as Branch shot just past the post as he met Ellison's cross. Ten minutes later Branch was clean through on goal after good work by Belle and Davies but put his shot narrowly over the bar and into the throng of visiting supporters. Chester weren't having it all their own way, however, often giving the ball away and Harriers won a succession of free kicks in threatening areas. They only forced one shot on goal, though, when Keene's overhead kick was cleared by Bolland.

The deadlock was broken on twenty seven minutes and thirty five seconds to be precise, when Branch, surprisingly free of attention, glanced a header from Davies' right wing corner into the net. The pattern of play continued to stutter as the over officious referee punctuated the game with a succession of unnecessary free kicks. He incurred the ire of the home support when he booked Belle and Davies for petty infringements.

The game turned definitely in City's favour when Belle's header over the top set Branch through. Hatswell turned and lunged for the ball but his scything tackle only succeeded in felling Branch. It appeared Mr Cowburn was merely going to book Hatswell but, to most people's surprise, the colour of the card he showed him was red. The stand rose to offer sympathetic applause to Hatswell, still a popular figure here. When Ellison's venomous shot from the resulting free kick found the corner of the Kidderminster net, the game was as good as over.

Belle was withdrawn, in case he attracted a second yellow card and Daryl Clare replaced him. He was soon homing in on goal in his customary predatory mode and did well to hold off a defender and get a shot in. Danby in the Harriers' goal parried the ball to the edge of the area where Davies returned it and managed to thread it through a ruck of players to score against his former club.

City took full toll of their numerical advantage and ran Kidderminster ragged. Clare might have added a couple more goals if he was up to full match fitness. Drummond blazed a shot narrowly over. Clare and Branch began to combine with some delicious forward play. Man of the match award went to Davies which must have been sweet for him – he enjoyed the congratulations of both current and former team mates at the final whistle. There were also solid performances from Belle, Ellison and Edmonson and the rest of the team in general. Ian Rush and his team have engendered a good spirit and this is producing rewards now as City moved into mid table with this win.




• Latest League 2 table.
---
Saturday 23 October 2004
Chester City 2 Grimsby Town 1
League Two
Attendance: 3,233 Half Time 2-1
Booked: Belle, Hope.
Chester City: MacKenzie, Edmondson, Bolland, Hope, Hessey, Drummond, Carden, Davies (Harris 86), Ellison, Belle (Rapley 90), Branch (Clare 82). Subs not used: Vaughan, Doyle.
Grimsby Town: Williams, McDermott, Whittle, Forbes, Gordon, Parkinson, Fleming (Coldicott 79), Pinault, Sestanovich, Cramb (Reddy 77), Daly. Subs not used: Bull, Jones, Marcelle.
Referee: Michael Ryan (Limerick).

City stretched their unbeaten run to nine matches under Ian Rush as two Michael Branch goals in a three minute spell just before half-time gave the Blues the edge over Grimsby Town. Those two strikes lit-up a first half strewn with fouls and offside flags as both sides battled on a pitch that held up well considering the amount of rain it had absorbed in the previous 24 hours.
Manager Ian Rush named an unchanged side from the one that won at Rushden last week, with the addition of on-loan goalkeeper Colin Doyle taking his place on the bench. The Mariners included Stockport County's on-loan striker John Daly in their starting line-up.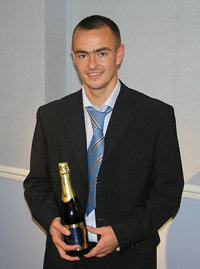 The game got off to a scrappy start though City almost took the led on six minutes as Ben Davies's curling left-footer cannoned off the bar to safety following approach work by Branch. Cortez Belle unnecessarily found himself in the book on 12 minutes for dissent following a foul on Justin Whittle. Whittle had found himself in the referee's notebook only minutes before for a challenge on Branch.
Branch was causing a nuisance down the left channel and almost set up Belle after cutting in along the by-line only to see his effort scrambled away. At the other end MacKenzie could only stand and watch as a Dean Gordon 25-yarder screamed past the right hand post. Minutes later Kevin Ellison appeared to save his own shot as he tried to hook the ball in following a right wing cross.
Frustratingly Belle and Branch were being continually pulled up for offside during the first period but City finally opened their account on 39 minutes as the Blues counter-attacked. The ball was played forward to Belle who held the ball up before laying an inch perfect pass for Branch to run on to, he set himself up before firing past 'keeper Anthony Williams from just inside the box.
Three minutes later Branch added a second, robbing Terrell Forbes of the ball outside the box, advancing, and chipping the onrushing Williams with aplomb in front of the traveling Town fans.
The game suddenly swung to the other end. Richard Hope, having a fine home debut, MacKenzine smartly saved from a low curling shot by Thomas Pinault before being beaten with the game in added-on time. Phil Bolland failed to clear a right wing cross, the ball bouncing out off his knees to Daly. He shot straight at goal, Bolland, trying to make up for his error, could only stick out a leg and deflect the shot over MacKenzie.
Encouraged by their goal the Mariners came out after the break determined to get back on level terms. They forced a corner after 30 seconds that MacKenzie dealt with. The visitors began to exert pressure though Branch broke down the left and shot over and no-one could get on the end of a teasing Ellison corner as City countered.
On the hour mark though Daly should really have leveled. Unmarked and in plenty of room, the on-loan striker shot over the bar from six yards out, City's defence failing to clear a teasing right wing cross. Shortly after, Hope came to City's rescue again with a well timed tackle inside the box following a Pinault corner. Daly, once again in space, shot wide when well placed.
With a little under ten minutes remaining Daryl Clare replaced man-of-the-match Branch and Andy Harris replaced Ben Davies. Harris almost caught Williams out with a speculative shot from the best part of 40 yards that sailed just wide before referee Ryan signaled the end of the game.
---
Saturday 16 October 2004
Rushden & Diamonds 0 Chester City 1
League Two
Attendance: 2,735 Half Time 0-0
Booked: Carden.


Rushden & Diamonds:
Turley, Connelly, Allen (Gier 45), Gulliver, Burgess, Bell, Dempster, Gray, Dove (Mulligan 61), Hay, Broughton. Subs not used: Worgan, Sambrook, Braniff.
Chester City:
MacKenzie, Edmondson, Bolland, Hope, Hessey, Drummond, Carden, Davies, Ellison, Branch (Rapley 73), Belle. Subs not used: McIntyre, Vaughan, Clare, Harris
.

Referee:
P.Melin (Surrey).
Ian Rush's blue diamonds were in top carat form as they cruised past their opponents in an early season 'six pointer' at the smart Nene Park ground.
City stamped their authority against Rushden and Diamonds almost from the off – belying the nerves of Blues supporters, who'd had their confidence knocked when Wayne Brown was injured in the warm-up.
Chris MacKenzie ably stepped in for Brownie, alongside two other changes from last week's goalless draw at Cheltenham – Richard Hope replacing Danny Collins, now at Sunderland, and Michael Branch starting instead of Kevin Rapley.
Both Chester and Rushden were on the attack at various stages in the first 10 minutes, with Diamonds' 'keeper Billy Turley making the first of a series of good saves as Kevin Ellison struck a trademark thunderbolt effort from the edge of the box. Turley, who rightly went on to be named Rushden man-of-the-match, made another stop a few minutes later – this time from Michael Branch.
Rushden's best first half chance came with a close-range header which went wide after MacKenzie misjudged a right-wing cross. It was about his only mistake of the game – apart from the small matter of having an uncanny knack of mimicking Brownie's haphazard kicking clearances.
As the game settled down, I was relieved to see both teams trying to play football – rather than the 'kick and rush' style of the game we'd seen at Cheltenham. It's a style better suited to the likes of Ben Davies and captain Paul Carden, who both put in solid midfield performances.
City also had the advantage of being cheered on by the hard-core faithful of 300-400 fans who have been regularly backing their team on this season's away endeavours. It was certainly fortunate that Rushden had a handy bar to help oil the fans' sore throats at half-time.
It was Rushden who had the first chance to score in the second half when former Tranmere Rovers player Alex Hay headed wide following a cross from David Bell – their best outfield player on the day.
But it was another Bell – Chester's Cortez Belle – who really chimed his presence with a top-class second half performance. He was at the centre of almost every Chester attack – either in the box or making handy crosses – as well as taking his mammoth throw-ins and defending at all Diamonds' set pieces.
As we got well into second half, Rushden were increasingly on the back foot – Belle had shot straight at Turley, Branch had hit the bar and Turley had to block an Ellison strike. Branch then seemed a certainty to score when a Ellison pass left him with just Turley to beat – but the Diamonds' keeper saved at close range as Branch tried to slot it home.
At the other end, MacKenzie made a cracking one handed save from Andy Burgess's 25-yard volley. He confidently made sure he was first to every cross in the second half – making it obvious that he's a very capable replacement for Brown.
The Blues' doubters made their feelings known to Rush when he introduced Kevin Rapley at the expense of Branch on the 73rd minute. The away following had just been chanting for last season's hero Daryl Clare to come off the bench.
But the boo-boys were soon hushed when lively Rapley won a corner in front of the away end. Ellison's corner was met by an unmarked Stewart Drummond whose copybook header deservedly put City 1-0 up with just 14 jangly minutes to go.
It was almost game over just a few minutes later when Ellison found himself clear, but he couldn't make his shot count. Then Carden had a shot pushed onto the bar by Turley. It was the most exciting spell I've seen by the Blues in the League this season.
The only blackpoint of the day came when Carden got himself booked for a nasty challenge in the middle of the park. But that was soon forgotten a few minutes later when the final whistle went and the Blues celebrated their first ever win at Nene Park.
Mention must also go to Howard Jolley – the Chester fan who left Northamptonshire with perhaps the biggest grin of the day after he beat all-comers to win the Exiles' cheese skittles competition – which this time took place at the Locomotive pub in Wellingborough. He may get chance to defend his crown when we visit Northampton in a month's time. Let's hope City are still undefeated under Ian Rush when we next return to cheese skittles country.

Sue Choularton | more pictures
---
Friday 8 October 2004
Cheltenham Town 0 Chester City 0
League Two
Attendance: 3,670 Half Time 0-0
Booked: Belle.


Cheltenham Town:
Higgs, Gill, Duff, Brough, Victory, Devaney, Finnigan, Melligan, McCann (Guinan 77), Vincent (Wilson 84). Subs not used: Brown, Bird, Caines.
Chester City:
Brown, Edmondson, Bolland, Collins, Hessey, Drummond, Davies, Carden, Ellison, Rapley (Branch 62), Belle
. Subs not used: Clare, Harris, Hope, Mackenzie
.

Referee:
G.Beale (Staffordshire).

City stretched their unbeaten run to seven games but will probably consider this as two points dropped on a night that saw several chances go begging in a game played mostly in the air. Kevin Ellison returned to the team at Kevin McIntyre's expense following his suspension to an otherwise unchanged side that drew with Swansea City last week.
Cheltenham's experiment of Friday night football, with the England v Wales international the following day, pulled in their second highest crowd of the season, a healthy 3,670, including around 300 City fans.
With only two minutes on the clock City had a great chance to to open the scoring but striker Kevin Rapley's effort from inside the box was cleared by Shaun Higgs in the home goal after he was let in by a defensive mistake.
Wayne Brown was nearly caught out by a long Higgs clearance that bounced off the immaculate Whaddon Road turf and almost over the on-rushing 'keeper's head, Brown catching just in time.
Cortez Belle's long throw-in's were to prove a nuisance all through the game but the striker came close to scoring midway through the half, rising above the home defence only to see his goal-bound header cleared from the line by McCann. Once again Belle was in the thick of the action shooting over when well placed as City continued to pressure with a series of corners. The Blues weren't having it all their own way but Brown in the City goal dealt comfortably with the Robins front line, though Vinent shot wide when well placed in a first-half that was littered with free-kick's.
It was the home side who came nearest to opening the scoring as the half drew to a close. Devaney, slipped through on the right, whipped in a superb cross, it flashed across Brown and the incoming Phil Bolland only for Spencer to glance the ball wide with a diving header from three yards out in front of the City fans, a goal seemed certain.
The Robins, kicking towards their own fans, started the brighter following the break. Devaney and Melligan both shot wide before Ian Rush introduced Michael Branch at the expense of Rapley.
With the ball booming from end to end, Belle headed wide when well placed and seconds later Brown had to be alert to save low down from the dangerous Devaney.
With the game entering added time City almost snatched the winner. A great piece of interplay by Ben Davies and Belle set Branch free inside the box. From a narrow angle he cleverly shot under the diving Higgs but his effort, that seemed to take a deflection off his legs was cleared from a yard out by Gill.
Manager Rush was happy with the point that extended City's unbeaten run but, with results elsewhere going against them, saw the Blues slip to 22nd in League Two.
"I was happy with our point but we might have won the game. I was happy that we kept a clean sheet and we can't be disappointed about that. I knew that Cheltenham would be a hard side to beat and that whoever scored the first goal would win the game. I wasn't too disappointed we didn't take our chances because we've got players who are coming back from injury. I'm not disappointed, I'm happy about the way the players battled – I couldn't ask for anything more from them."
---
Saturday 2 October 2004
Chester City 1 Swansea City 1
League Two
Attendance: 3,803 Half Time 1-0
Booked: Carden.


Chester City:
Brown, Edmondson, Hessey, Bolland, Collins, Drummond, McIntyre, Carden (Harris 88), Davies, Rapley, Belle (Branch 65). Subs not used: Mackenzie, Hope, Stamp.
Swansea City:
Gueret, Ricketts, Monk (
Britton 62)
, Tate, Austin, Forbes (
Maylett 45)
, O'Leary, Martinez, Robinson, Connor (
Nugent 90)
, Trundle. Subs not used: Fitzgerald, Murphy.
Referee:
D.Gallagher (Banbury).

It's a mark of just how much City have progressed over the last month that a draw against third placed Swansea City is looked on as two points dropped as opposed to one gained. The Blues extended their unbeaten run to six games but could have wrapped up all three points after a blistering first half performance.
With Kevin Ellison suspended for the day Kevin McIntyre resumed League action after his eye infection. Manager Ian Rush elected to drop Darryn Stamp to the bench and play the returning Cortez Belle up front with Kevin Rapley.
City took the game to their visitors from the off and forced a couple of corners in the early stages, Both Ben Davies' flag-kick's being dealt with by Gueret in the Swans goal. With Belle's long throw-ins causing all sorts of panic in the Swans defence it wasn't long before the break through came.
Kevin Rapley picking up Drummond's flick-on and slotting the ball home from a narrow angle, with Davies appearing to add the final touch on the goal-line.
The Blues though they'd doubled their lead minutes later but Drummond's effort was ruled out by Premiership referee Dermot Gallagher for offside. Despite pressure from the home side chances were few and far between, Kevin Rapley shooting wide from the best of them, and Phil Bolland just edging a shot wide following another Belle throw.
As an attacking force Swansea were rarely seen, a couple of late corners and a shot from Adrian Forbes was the closest the visitors came in the first half.
Swansea manager Kenny Jackett rang the changes at half-time introducing Brad Maylett for Forbes and it was his handled cross in the penalty area on 53 minutes by McIntyre that presented Lee Trundle with the chance of leveling things from the spot-kick, which he duly did. The danger signs were already there for City with Trundle forcing a save out of Wayne Brown minutes earlier.
The visitors began to looked more dangerous as the game progressed as City looked to switch things with Michael Branch replaced Belle. Trundle shot over the bar before Branch missed a great chance from six yards to put City ahead, shooting just wide with nine minutes remaining.
So City must be content with a point, more sharpness in front of goal and they would have had all three.

• Latest League 2 table.
---