29 September 2000
CITY FANS PAY A HIGH PRICE
Hednesford Town have increased the admission price for Chester fans tomorrow from £7.50 to £11.00. This outrageous hike is, say Hednesford, because the club have had to bring in extra stewards and police for the expected large away following – and City fans will be paying for it. Home fans will be paying the usual £7.50 to stand. The £11.00 is a blanket price with first-come first-served for the 300 seats on offer.
---
27 September 2000
CITY HIT TOP FIVE
Last night's 4-0 thumping of Nuneaton Borough has lifted Chester into fifth spot in the Conference. Two goals from striker Mark Beesley helped City to the three points and earned praise from manager Graham Barrow: "No-one at this club is going to knock Mark Beesley for not scoring goals," added Barrow. "I still think he could be the Conference's top scorer because he doesn't hide, he doesn't let missed chances get to him and that's the sign of a good striker. "He's stuck at it and that's what has pleased me more than anything." said the boss.
Assistant manager Paul Beesley has been in contact with Sheffield United with a view to signing loan striker Andy Evans for another month. Evans scored in both of his last two appearances for the Blues.
Speaking in the Evening Leader the 24-year-old Welsh striker said today: "I enjoyed the goal last night. If I'd have taken one more touch I might have lost out but I made my mind up to hit it. And I could have a hat-trick. Now I've got two in two after coming off the bench, I think it shows that I've settled in. I didn't realise how tough this league would be. It's very physical and there's hardly any time on the ball. I admit I've taken time to settle in but I'm more than happy to stay because I think the team is getting better all the time."
---
26 September 2000
BLUES LOOKING FOR HOME WIN
City are back in League action at the Deva Stadium tonight when they take on Nuneaton Borough, kick-off 19:45hrs. Defender Paul Beesley is available again following his one match suspension on Saturday, though Carl Ruffer is still suffering with a virus and Nick Richardson has picked up an injury. The Blues will be looking to build on Saturday's away victory at Kingstonian and consolidate themselves in the chasing pack towards the top of the table.
---
25 September 2000
CITY FINED OVER POSTPONEMENT
Chester have been fined £1,000 by the Conference following the late postponement of last weeks match with Hayes. City have 14 days in which to appeal. The game was postponed because Chester failed to provide enough stewards for it after a mass walk-out following the resignation of chief safety officer Eddie Riley. Chester had claimed at the time that the match had to be called off due to the fuel crisis.
Conference secretary John Moules said: The management committee board decided that because of the lateness of the call-off and the circumstances surrounding it a fine of £1,000 will be levied."
Terry Smith met with the remaining stewards last week who have agreed to return to work following certain assurances from Terry Smith.
---
ISA MEMBERS MEETING TONIGHT
The next meeting of the Association takes place tonight at the Royal Mail Club, Station Road. Starting at 19.30, the guest speaker will be Nick Harrison – sports and football correspondent with the Evening Leader.
---
22 September 2000
DEBUT FOR WHITEHALL
Steve Whitehall makes his much awaited debut for City tomorrow at Kingstonian. Manager Graham Barrow has also been forced to make changes with City having collected injuries at Crewe; and their squad is now at full stretch. Following his red card at Yeovil Paul Beesley is suspended while Carl Ruffer has a virus so it looks like a start for either Nick Richardson or Neil Fisher. Craig Gaunt picked up a hamstring injury on Wednesday and is unlikely to be risked while Dean Greygoose stands by as regular keeper Wayne Brown is expected to become a father any time now.
---
CITY AWAIT DECISION
The club are expected to learn today the decision of the Football Conference regarding punishment, if any, resulting in the late postponement of last Saturday's home game with Hayes. The Conference met yesterday in London and the match postponement was on the agenda.
---
21 September 2000
DEVA CAPACITY REDUCED
Chester City have had the capacity of the Deva Stadium reduced from 5,800 to just 3,000 for Tuesday's game with Nuneaton Borough. The decision has been made by Cheshire County Council following safety meetings with the police.
This is a short term measure as Martin Smith, manager of the county council's civil protection unit, said today: "The ground is safe but until we have had a chance to assess the ability of a new safety officer we will be reducing the capacity to 3,000."
If the council are happy with the way things go at the next two games (Nuneaton and Kettering) and new stewards complete their training on time then it is hoped the capacity will revert back to 5,800 for the visit of Leigh RMI on 21 October.
Meanwhile City have appointed Tony Griffiths as their new safety officer, he will take charge of his first match on Tuesday.
---
DEFEAT FOR CITY
Despite taking an early lead through Matt Woods, City lost 2-1 at Crewe Alexandra last night in the first round of the Cheshire FA Umbro Senior Cup. The winning goal came in extra time. Loan signing Steve Whitehall wasn't eligible to play. As if losing to a combination of Crewe Reserves and youth players wasn't bad enough, Mark Beesley (thigh), Darren Moss (ankle) and Graig Gaunt (hamstring) are all reported to have picked up injuries, and are doubtful for Saturday.
---
20 September 2000
CUP DATE
Chester will be at home to Hednesford Town on either Tuesday 10 October or Wednesday 11th in the second round of the Nationwide Variety Club Trophy. Hednesford overcame Telford United 1-0 in last night's preliminary round.
---
18 September 2000
POLICE CHECK CLAIMS
Radio Merseyside news has today stated that Cheshire police are investigating an alleged assault on former chief safety officer Eddie Riley. This is in connection with an incident before the home match with Northwich at the Deva last Tuesday in which chairman Terry Smith is at one point alleged to have had his hands around Riley's neck!The remainder of the Chester stewards are meeting tomorrow night.
---
16 September 2000
GAME OFF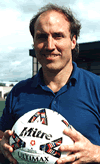 Today's home game with Hayes is off. There seems to be confusion as to whether this is because of the fuel crisis or something to do with the stewards – perhaps a combination of the two!
On Tuesday night chief safety officer Eddie Riley resigned following an incident with chairman Terry Smith (left) and 30 of the 40 stewards were considering taking action in support of the officer. Just two days later Terry Smith claimed that they had had problems with Mr Riley and were going to replace him anyway.
The club chairman and secretary declared on Thursday that there would be no problem staging the Hayes match as stewards had been drafted in from Crewe and Wrexham for the occasion.
Frustratingly ours appears to be the only game in the lower League's to be called off. What action the Conference League takes against Chester now remains to be seen, they meet on Thursday and could dish out a fine of up to £5,000 and/or deduct three points.
A spokesman for the Nationwide Conference League said: "The match was been called off for safety reasons over which we have no jurisdiction. We are wholly disappointed"
---
15 September 2000
WHITEHALL AGREES DEAL?
According to local paper reports this morning, striker Steve Whitehall has agreed a one month loan deal with Chester, there may be an option to sign him on after that. Andy Porter is also having talks with Graham Barrow today with a view of a move. We weren't looking for another midfielder, but guys like Andy don't become available very often. It's over our budget, but we decided to shoot first and ask questions later" said Terry Smith.
---
BAN FOR BEESLEY
Paul Beesley will miss the Kingstonian match as a result of his red card at Yeovil last Saturday. Following another booking on Tuesday he may be in line for a further suspension through an accumulation of points.
---
14 September 2000
MATCH GOES AHEAD
Saturday's match with Hayes at the Deva is definitely on after Chester temporarily acquired the services of the Crewe Alex safety officer Cliff Simpson to fill the gap left by Eddie Riley's departure. Stewards from Wrexham and Crewe Alex will also be filling in.
Hayes' coach company has guaranteed that they will get to the Deva, despite the fuel crisis, and some of City's players along with manager Graham Barrow may be taking the train to work and staying over on Friday night.
"It's a situation we're going to have to look at because players like Craig Gaunt and Paul Beesley, who live in Nottingham and Sheffield will use all their fuel just driving back and to to the ground. But there's ways of getting in and my two kids both came up on the train to watch Tuesday's game. So I'm sure the players can manage to get in." said Barrow.
---
COME AND GET ME!

Andy Porter (left), who starred for City on loan towards the end of last season has been transfer listed by Wigan Athletic. Porter, who lives in Holmes Chapel has been linked with Cheltenham and Carlisle (of course!) but wants to stay in the area and is prepared to take a drop in wages to join City.
He said: "It didn't work out at Wigan and now I'm looking for a new club and Chester would suit me fine. Staying and playing locally is lot more important in life than the money. I live in Holmes Chapel and Chester's not too far away and I would like to come back to play for them. I really did enjoy my time there in what were difficult circumstances and I still think about that last game of the season."
I think we'd all like to see him back as well.
---
EXILES MEETING
A reminder to members of the Chester City Exiles that if they wish to join the post-match meeting with Graham Barrow at Kingstonian to get your forms in by Tuesday night.
---
ISA QUIZ NIGHT
There will be a general knowledge quiz night on Monday 2 October at the Cross Keys, Lower Bridge Street. Please be there at 19.30 for a 20.00 start. The cost is £1 per team with a maximum of five people per team.
---
13 September 2000
OFFICER RESIGNS
The Deva Stadium Safety Officer Eddie Riley has resigned from the club following an incident before last night's match with Northwich Victoria, and it is rumoured that up to 30 of the 40 regular stewards may take action as a result of the incident with club chairman Terry Smith. Smith has played down the incident and possible stewards boycott by saying that Saturday's match with Hayes will definitely go ahead. Smith said: "There have been a lot of issues and we've had an ongoing problem with the safety officer and Michael Fair has been working on getting a new safety officer for a week – and we've already got one lined up." Eddie Riley has stated: "There was an incident between myself and the chairman last night and I suppose you can say that it was the final straw that broke the camel's back. I resigned last November because of personal reasons but came back to do the Man City game and I've been here ever since."
---
STRIKER TO SIGN?
City look set to sign striker Steve Whitehall before Saturday's match with Hayes. Whitehall, 34, who was born in Bromborough, has an impressive scoring record. He's notched 103 goals in 301 League appearances in a ten year career with Rochdale, Mansfield Town and Oldham Athletic.
---
12 September 2000
CITY LOOKING FOR HOME WIN
Chester take on neighbours Northwich Victoria at the Deva tonight hoping to put Saturday's indifferent performance at Yeovil behind them. Manager Graham Barrow will be looking for a lot more effort from certain players after questioning their commitment following that 2-1 defeat. Darren Moss is fit again and may feature, as possibly could Neil Fisher who came on for 27 minutes on Saturday and added some much needed creativity to the midfield. Chester will be hoping for another good crowd for the Vics' first visit to the Deva.
---
8 September 2000
ISA COMPETITION
The ISA are currently running a competition in the Chronicle for Two tickets for Home Matches a question will be asked every week and the winner will get the Two tickets.The competition this week is to name Chester City's record goalscorer, the answer should be sent to Chester City ISA, PO Box 308 Chester CH1 5ZF to reach us not later than Thursday. The winner get's a pair of tickets for the home game against Hayes.
---
7 September 2000
RUFFER OUT FOR SATURDAY
Carl Ruffer will miss Saturday's match at Yeovil after injuring an ankle in a reserve friendly against Crewe yesterday afternoon. Darren Moss came through the game well though and may feature at Huish Park. City won the game 2-1 with goals from Paul Berry and a trialist Jamie Cassidy, former Blues captain Chris Lightfoot was in the Alex team. Meanwhile the team will be travelling down to Somerset on Friday night after training and staying at a hotel short distance off the M5.
---
ON THE BORDERLINE – UPDATE PAGES
'On The Borderline' the official history of Chester City FC was published on November 1st 1997. If you would like to update the stats pages of your copy just download the Acrobat files here, produced by Chas Sumner, and print them off.
---
6 September 2000
AWAY WIN FOR CITY
City manager Graham Barrow made changes last night bringing in David Kerr and Darren Wright to the team which lost so disappointingly at home to Southport on Saturday. A goal in each half brought City victory at Morecambe and will boost confidence for Saturday's match at high-flying Yeovil Town. Chris Blackburn scored his first League goal for Chester heading home Carden's cross and Matt Woods sealed the victory with a thumping header following a Matt Doughty free kick on 67 minutes.
---
DEVA DEPARTURES
Two people have left the Deva staff this week. Rob Ashcroft has stood down as the programme sub-editor while Pam Coe, who had been working in the commercial department, has resigned from the club.
---
1 September 2000
CITY UNCHANGED?
Graham Barrow is expected to name an unchanged side for tomorrow's clash with Southport. Darren Wright, who missed the Boston game with a knee injury is the only doubt.
Barrow was disappointed following Wednesday's 0-0 draw at Boston and accused some of the players of not listening to orders. "We knew what to expect from Boston and we told the players but I think the instructions have fallen on deaf ears. The players know that they can do better and nobody's satisfied with the performance or getting just a point from an away game. That's the positive that I've got to come away with and if we get a win on Saturday against Southport then the point we've got at Boston could mean a lot more."
SPINK OUT
City forward Dean Spink will be out of action for another six months. Spink, signed from Wrexham in the summer, sustained a bad knee injury in the pre-season friendly against Bristol City. Spink had surgery last week to repair anterior and cruciate knee ligaments.
RUFFER SUSPENDED
Carl Ruffer will miss next Tuesday's Conference match at Morecambe through suspension following his red card against Doncaster Rovers.
CUP DRAWS
City have been given a bye in the first round of the Nationwide Trophy. They will be at home to either Hednesford Town or Telford United in the second round to be provisionally played on 10 October. Chester will travel to Crewe in the first round of the Cheshire Senior Cup, date to be arranged.