30 September 2003
CHAIRMAN DISMISSES WRIGHT RUMOURS
Chairman Steve Vaughan has been quick to quash any rumours of Mark Wright being approached to the recently vacated manager's post at Tranmere Rovers. It was inevitable that Wright, who lives on the Wirral, would have his named linked with the vacancy following the sacking of Ray Mathias, along with the likes of Jan Molby but Vaughan dismissed such speculation: "Mark told me there had not been an official approach from Tranmere Rovers and no one had spoken to him about the job. Mark Wright is the manager of Chester City Football Club and I'm going to do all I can to keep him at the club. We are aware that Mark's prowess is bound to attract suitors from other clubs, but as far as we're concerned he is our manager, and hopefully will grow with our ambitious plans."
---
26 September 2003
BLUES LOOK TO EXTEND RUN

City head into tomorrow's home clash with Telford United (kick-off 15:00hrs) full of confidence and looking for their seventh straight victory. The last time City embarked on such a sequence like this was back in Alan Oakes' time when they won eight games on the run but this was spread over two seasons (1977/78 and 1978/79). You have to go all the way back to 1946/47 to find the last time that Chester won more than six consecutive games within the same season. Between September and November 1946 Frank Brown's team won eight Third Division North games. when the Blues defeated: Wrexham, Hull City, Southport, Gateshead, Hartlepools United, Crewe Alexandra, Stockport County and Oldham Athletic. However, there is still a long way to go before they reach the all time Chester record. In 1925/26 the Chester team that won the Cheshire County League won 13 games on the run including victories over long forgotten teams like Manchester North End and Eccles United.

It remains to be seen whether goalkeeper Wayne Brown returns tomorrow from the illness that forced him to miss the midweek victory over Northwich Victoria, though he has returned to training in the last couple of days. All eyes will also be on the bench for the anticipated return from injury of Daryl Clare (pictured). We may have to wait another week for that though. Visitors Telford United who have undergone a transformation, with several new signings over the summer, are expected to have ex-City striker Michael Blackwood in their starting line up.

The Blues have won all five of their home games this season though will be wary of the Shropshire side who seemed destined for a point at leaders Hereford United in midweek before conceding a last minute goal. The Bucks will give fitness tests to defenders Scott Green, Trevor Challis, Scott Eustace and Neil Haworth before the game, and have John Grant missing through suspension.
---
EXILES PREDICTION COMPETITION 2003/04
There's only a few days left before the deadline for this season's competition. Forms are available to download in Acrobat format here. There is a guaranteed first prize of £100 with runners-up cash prizes also.

Please note that the competition is open to anyone, Exiles member or not, and money remaining after paying out the prizes will be put back into the football club through sponsorship – so please support us to support the club.

The closing date for receipt of entries is 30 September. You may send as many entries as you like and cost of each entry is just £1.00. Weekly competition updates appear on this website.
---
CITY IN BID FOR DERELICT FESTIVAL DOME!
The football club are one of a number of groups bidding to buy the derelict Liverpool Garden Festival dome. The club have sent specialists to inspect the huge structure and have consulted the original building engineers with a view to dismantling it bolt by bolt, transporting it to Chester, and rebuilding the structure on currently derelict land adjacent to Deva Stadium. As well as providing first class facilities for the football club, the building would also be available for local community use. The structure, described by director Dave Burford as "the biggest meccano set you have ever seen" would be used a multi-purpose sports facility. Several other parties are interested in the structure, including it's believed the Southport Flower Festival. Burford added: "If it is not done at the right price we will have to leave it and turn our attention to building something ourselves on the land."
---
25 September 2003
BUSINESS AS USUAL
Striker Daryl Clare was back in business last night. He scored in City's 4-0 reserve victory against Ossett Town. And he admitted he'll have a fight on his hands to get his place back in the current City side. Clare told the Evening Leader: "I think Darryn Stamp and I would be a good partnership, but let's not forget the lads that have been playing have been performing and results have been good. I've been in the game long enough to know that no one walks straight back into a side after being out for six weeks and having had an operation. Obviously I'm hungry to get back in the side but I wouldn't be overly disappointed if I didn't walk straight back into the team." Also on the scoresheet for City last night were Kevin Rapley, Shaun Carey and Michael Twiss.
---

EXILES 20th ANNIVERSARY MERCHANDISE
To celebrate the 20th anniversary of the Chester City Exiles we are producing a range of commemorative merchandise. The first item is a high quality 'Fruit of the Loom' short-sleeved polo shirt available in all sizes and a choice of four colours: Navy, Royal, Light Grey and White.
The shirts bear an embroidered (14,000 stitches) full colour club crest with the legend 'Chester City Exiles 1983-2003' underneath. They are ideal for both Exiles members and Chester supporters in general.
•More details and order information
---
24 September 2003
RUN OUT FOR CLARE
Striker Daryl Clare will play for the reserves in their Lancashire League Division One match tonight against Ossett Town at Flint Town United (kick-off 19:30hrs). Clare, who was top scorer with City last season, underwent knee surgery during the close season and could make the bench for Saturday's home game against Telford United, failing that at Dagenham & Redbridge a week later. Scott Guyett, who has made the subs bench for the last two games, is also expected to play tonight.
---
SMITH OFFERED DEAL
It's reported in the Evening Leader that City chairman Steve Vaughan has made an offer to Terry Smith over his claim of an alleged unpaid debt. Mr Vaughan said: "My legal team has offered Terry Smith a deal to settle the debt. If he doesn't take it then I will continue to take the appropriate action to secure the future of this football club. We have met the FA and the Conference over this and we will go down the route we are being forced down if he turns this deal down. It is up to them now. If they want to do a deal and walk away, so be it. But if they feel like holding a gun to our heads, they will get nothing."
---
JUNIORS ON SONG
All the blues age groups produced some quality performances this week and started with the under 9s who played their sixth game and returned from Upton JFC with a credible 3-0 win making it six wins from six (just like the first team!). On a very small pitch not helping the Blues style of play Timmy Newman produced some trademark wing play for Ben Philips to slot home his first goal. Ben's second goal soon followed from a great through ball from Jonathen Aplas and Danny Williams capped his man of the match performance with a 12 yard blaster.
The under 10s entertained Blacon Youth and came away 2-1 winners in a very physical game. Dean Clarke was instrumental in most things Connor Evans and Jaques Humphries getting the all important goals. In defence Alex Williamson needed to be at his best and proves to be a great signing .
The under 11s were not shot-shy away at Blacon and knocked in nine with none in reply, Ross Sumner again on the scoresheet with three followed by Matty Pierce (2) Harrison Ryle (2) James Pierce (1) and an own goal.
The under 13s went goal crazy at home against Waverton and with the visitors winning the previous week 10-0 a good game looked on the cards. The Blues started very quickley and 2-0 up after 15 mins thanks to James Owen and then ran riot winning 13-0 with further goals from Tom Poynton (3) Chris Newman (2) Mike Gawthorpe (2) Dominic Auty (2) and Chris Bailey (1).
The under 14s went two goals better and scored 15 without reply, Mark Brennan getting six with further goals from Canice O'Mahony (4) Les McCoy (2) Dave McCully (1) Kennedy Tattler Ashes (1) and Shaun Turner (1).
The under 15s played away at Chester Nomads and returned with a 1-1 draw as they get used to life in the under 16s league, David Hogan getting the Blues goal.
The under 16s had no trouble in despatching Helsby winning 9-0 with goals from Gary Johnson (3) Bill Whippe (3) Thomas Hancock (2) and Shaun Shannon (1).
Three of the junior teams players were called up to Iain Jenkins youth team last week and faced Darlington College in the F.A Youth Cup at the Deva stadium Alex Owen (under 14), keeper Reece Robbins (under 16s) and Kyle Jones under 16s well done to them.
Mark Newman
CCFC juniors co ordinator
---
BLUES REMAIN SECOND
City's four goal demolition of Northwich Victoria last night briefly took them to the top of the table, that was until Hereford United's last minute winner against Telford United saw them regain top spot. Danny Collins gave the Blues a 1-0 half-time lead and further goals from Paul Carden, Ian Foster and Kevin Rapley gave City their first win over their Chershire rivals since 1930. Manager Mark Wright was forced into a change bringing in Ian McCaldon for Wayne Brown who was suffering from the flu bug that has been doing the rounds at the Deva.
---
23 September 2003
SAME AGAIN CITY?
Mark Wright looks set to keep an unchanged team for tonight's visit of neighbours Northwich Victoria (kick-off 19:45). The Blues will be looking to extend their run of wins to six games against a side who have won on their two previous visits to Deva Stadium. "We have had a settled side of late but I don't want players getting complacent. The one thing we musn't do is be over-confident tonight. We have to show Northwich respect."

After impressing as a substitute on Saturday, former City midfielder Chris Blackburn may be in the opposition line-up. Manager Steve Davis said: "He did well when he came on and he could be in the starting line-up."
---
22 September 2003
BLUES JOIN BULLS AT THE TOP

Chester's 2-1 victory at Farnborough on Saturday took them to level points with Hereford United after the Bulls had crashed 4-1 at Burton Albion on Friday night. Once again Darryn Stamp (pictured) proved City's match winner with two more goals to take his total to six from six games, an inspired signing.

" The acquisition of Darryn Stamp has been a massive plus for this club. He has settled in well, and his abilities give us a number of extra options that weren't previously available to us." said manager Mark Wright. His first goal came from a header just after the half hour and his second came on 60 minutes following a great left wing cross from Ian Foster. The Blues weren't at their best by any means against a Farnborough side who battled throughout and made life difficult at times but the three points are the most important result. Carl Ruffer replaced Wayne Hatswell (who wasn't on the bench either after reporting sick on Friday) otherwise it was an unchanged team from last Saturday.

The win gave City their fifth on the run and they will be looking to extend that on Tuesday night when they entertain Northwich Victoria at Deva Stadium, looking for their first win over their Cheshire neighbours since 1930! Scott Guyett made the bench at Cherrywood Road and may start against the Vics for his first first-team game of the season.
---
21 September 2003
SMITH SELLS ON ALLEGED DEBT
It's reported in the Non-League Paper that Gerald Smith has sold on the alleged £300,000 loan debt he claims he's owed by the football club to an American debt recovery firm American Assets Agency Inc. Ex-director Gerald Smith said "Stephen Vaughan owes IAA £270,000 plus costs and £400,000 plus charges to Terry." According to the Smith's the £400,000 is the sale price agreed and they claim they've only received £20,000 of that.

A defiant Vaughan vowed: "There's no way Chester will close. I am 100 per cent committed to the future of Chester City and whatever it takes I am determined to honour that commitment. I am consulting my lawyers about how to handle this situation. One option is to sue Terry Smith, but there are other options open to me."

City fans are backing their chairman and board of directors all the way in their fight to stave of this latest Smith claim and the Supporters Trust will be starting a collection to aid legal fees at Tuesday night's game against Northwich Victoria.
---
19 September 2003
A MESSAGE TO ALL ENGLAND FANS FROM THE FA
Dear Football Supporter

You will be aware of The FA's decision not to make tickets available to England fans for next month's European Championship qualifier in Turkey. Given the unfortunate recent history between our countries, we have taken this difficult decision to ensure that this important match passes off as smoothly and as safely as possible for everyone concerned.
The FA, supported by the Government, the Police and UEFA, urges anyone thinking of travelling to Istanbul and who might be considering purchasing black market tickets NOT to do so. The Turkish authorities are not expecting our supporters to be present and there will be no segregation in the Sukru Saracoglu stadium in Istanbul for England supporters.
The England team has worked extremely hard to secure pole position in Group 7 and, throughout this qualifying campaign, the vast majority of England fans have provided the team with fantastic support. We are extremely grateful for this. However, due to a number of unsavoury incidents involving some England supporters home and away, UEFA have made it very clear that any further trouble could lead to the team's expulsion from the tournament.
We realise that our policy will prevent some fans from pursuing their hobby. We also realise that our stance penalises innocent fans. However, we are doing all we can to protect the wider interests of the game. The England team is as important to the millions of fans who watch matches on TV as it is to the thousands who watch the team live.
Please do not put our country in a position where our players' and coaches' efforts are undermined by problems off the pitch. Please ensure we do not have to face the shame and indignity of expulsion from a major tournament. On behalf of The FA and all of the England players and coaches, please respect our request for England fans not travel to Istanbul.
Thank you for your support and co-operation.
Paul Barber
Director of Marketing & Communications
---
17 September 2003
YOUNGSTERS KNOCKED OUT
City's youth team have been knocked out of the FA Youth Cup 2-1 at home by Darlington College. The Blues took the lead through Ian Lathom but conceded just before the break and were beaten with a clinical strike 14 minutes from the end. The opposition from the Northern U-19 Alliance League were full time players who train all day. Meanwhile, two of City's youngsters have been selected for the Welsh U19 squad who play in a tournament in Belarus next month. Defender Matthew Cook is included in the party who will travel, while John Davis has been put on standby. The tournament is between the host country, Greece, Portugal and Wales.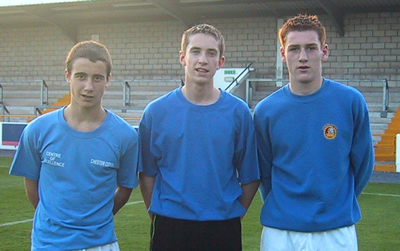 Pictured: Reece Robins (under16s), Alex Owen (under 14s) and Kyle Jones (under 16s) who were recently called up to the youth team and played against Darlington College.
---
15 September 2003
BURFORD "WE'LL FIGHT THIS TOGETHER"
Club General Manager Dave Burford has issued a rallying call to fans to get behind the club and help fight off Terry Smith's latest threat to close down the club. News of the threat, which emerged on Sunday is still hitting home with some but the City board have wasted no time in preparing their legal defence of the claim. Unlike the Smith's, the club quite rightly won't be entering into a war of words in the press, they're more professional than that. One thing the club can certainly be assured of though is that all supporters back their efforts to block this latest move by the ex-chairman Smith.

Burford said: "If there has ever been such a time for supporters to get behind the club, then it is now. United, all of us at Chester City Football Club will fight this all the way and we will do that as a body, as a unit, with the support of the chairman, the board, staff, players and the supporters. We would ask fans to keep the faith and get behind the club, Terry Smith seems absolutely hell bent on seeing this club destroyed and we at Chester City FC are not prepared to let that happen. Support associations are putting their heads together to offer help in any way they can and are willing to do whatever they can to help.We are consulting with our legal team and other specialist advisors as to what the plan of action will be. There is resolute support for Stephen Vaughan and the club and that is reassuring. Knowing that we have fans support is a great boost. We are taking every bit of advice to formulate a strategy for going forward."
---
JOINT SUPPORTERS STATEMENT
The Chester City Supporters Trust, The Independent Supporters Association, The Official Supporters Club and The Chester City Exiles note with dismay the recent judgement against CCFC, in the action by the former chairman Terry Smith.
Smith's departure from our club was welcomed, and Stephen Vaughan's record in re-establishing a sense of pride and purpose to CCFC speaks for itself.
From a position where relegation from the Nationwide Conference looked certain we are now serious contenders for a place back in the Football League.
The stadium has been refurbished, debts cleared, and we now have a platform for a secure future.
We will all remember those dark days when even the most loyal supporters felt it necessary to boycott matches in a last-ditch effort to save our club.
Under Stephen Vaughan, the club has gone from strength to strength. The way in which the supporters have been welcomed, informed and involved, speaks volumes for the open manner in which Mr Vaughan has conducted his affairs since his arriavel at the Deva Stadium.
When compared to the way that supporters were treated under the Smith regime, it is clear where our loyalties lie.
The supporter groups of CCFC offer our total support to Stephen Vaughan and his management team, we will work as one team to fight for our club, together we will prevail.
Richard Lynes [Chester City Supporters Trust]
---
FA YOUTH CUP
City's youth team are in action on Wednesday night when they entertain Darlington College in the second qualifying round of the FA Youth Cup. The game at Deva Stadium will kick-off at 19:00hrs.
---
14 September 2003
CLUB THREATENED WITH CLOSURE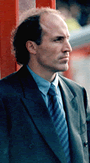 The latest issue of the Non-League Paper carries a disturbing story claiming that former chairman Terry Smith looks set to issue a winding up order unless the club pay him £300,000 he claims he's owed following a judgment upheld at Chester County Court last Monday 8 September.
City chairman Steve Vaughan told reporter Tony Flood: "I have already paid of around £1 million of debts left when Smith sold the club to me two years ago – and now he is trying to get another £300,000 for an alleged loan from him to the club of £270,000 (plus interest and costs). Yet we knew nothing about it until after the original judgment was passed in October 2001. That was because the club's registered office was changed to Smith's home address in Chester and so the correspondence went to him instead of us. His father Gerald, who was a director of the club, told the court that the money was owed to his son, and the original judgment was passed without us able to dispute it."
The football club has come on leaps and bounds in the two years since Smith's departure, the team and ground are being transformed under the current chairman Steve Vaughan and this news has come as a bolt out of the blue.
City's general manager David Burford told the paper: "The club almost went under during Smith's two years in charge which brought protests, demonstrations and boycotts from fans. Now he is causing a massive millstone to be placed around Chester's neck which could sink the club. City don't have £300,000. On Monday we tried to have the court judgment overturned, but the judge felt it would be an abuse of the process of the court to overturn something that happened two years ago. The reason for the delay was because we did not think Terry Smith would enforce the judgment, but he did so in June of this year."
Terry Smith is currently in the USA coaching the Avery Vikings gridiron team in North Carolina.
---
JUNIORS NEWS
As the new season started all the junior teams got of to a flyer as the under 9s got the ball rolling with a 5-1 at home to Westminster Park, in a game dominated by missed chances the Blues were soon in front with Adam Howell knocking in two, soon followed by Owen Smith with two more and a fifth from Ben Ritherford. Timmy Newman hit the bar and the post but failed to get on the score sheet as the Park keeper kept the score down.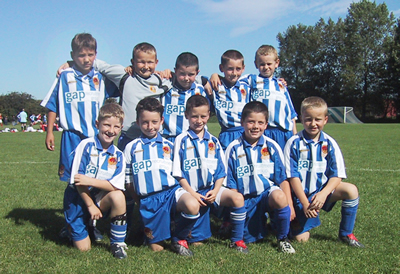 The Under 9 side before they beat Westminster Park

The under 10s traveled away to Upton and scored seven without reply with a good all round performance with a strong defensive display from Alex Williamson.

In the under 11 age group the blues went goal crazy winning 17-1 as they soon acclimatised themselves to 11-a-side football against local rivals Newton Athletic. Scorers for the blues were Mark Thomas, Ross Sumner, Sean Williams, James Pierce, Matty Pierce, Jamie Finley, James Huxley and Harrison Ryle.

The under 12s also played Newton away and ran out 7-0 winners with Alex Magee, Dale Grey, Steve Carr and Jack Rae on target.

The under 13s who won the double last year entertained the runners up from last year and produced a great second half display winning 7-3. Chris Newman was given too much space on the left and on three occasions the Pulford keeper could only parry his shot into the path of second half sub James Dixon who bagged his hat-trick, other goals came from Mark Davies, James Owen and Lewis Humphreys who bagged two which capped a good performance from him.

The under 14s entertained Tattenhall and soon got there noses in front through Les McCoy with Mark Brennan adding a second before the half. In the second half Brownrigg in the Tattenhall goal produced a string of fine saves to deny the blues but with further goals from Steve Harding and a Les McCoy hat-trick Chester were never in danger and ended the game 5-1 winners.

Mark Newman
---
CITY MOVE SECOND
The Blues gave one of their best all-round performances of the season on Saturday defeating Halifax Town 2-0 at Deva Stadium. Goals from Wayne Hatswell and Darryn Stamp brought the three points and lifted City above Shrewsbury Town into second place, three points behind leaders Hereford United.
---
12 September 2003
HEREFORD MATCH
It was announced at the end of today's game that the home Conference match against Hereford United on Saturday 18 October will NOT now be all-ticket.
---
LDV VANS TROPHY DRAW
Chester will play Doncaster Rovers at the Deva Stadium in the first round of this season's LDV Vans Trophy. The game will take place in the week commencing 13 October. The full draw is:
Northern Section
Southern Section
Notts County v Barnsley
Mansfield Town v Stockport County
Sheffield Wednesday v Grimsby Town
Wrexham v Morecambe
Scunthorpe v Shrewsbury Town
Oldham Athletic v Hartlepool United
Lincoln City v Telford United
Halifax Town v York City
Darlington v Hull City
Carlisle United v Rochdale
Chesterfield v Macclesfield Town
Blackpool v Tranmere Rovers
Scarborough v Port Vale
Chester City v Doncaster Rovers
Yeovil Town v Bournemouth
Wycombe Wanderers v Cambridge United
Hereford United v Exeter City
Cheltenham Town v Colchester United
Dagenham & Redbridge v Leyton Orient
Boston United v Swindon Town
Queens Park Rangers v Kidderminster Harriers
Southend United v Bristol Rovers
Barnet v Brentford
Oxford United v Rushden & Diamonds
Stevenage Borough v Luton Town
Peterborough United v Torquay United
Brighton & Hove Albion v Forest Green Rovers
Plymouth Argyle v Bristol City
---
11 September 2003
SAME AGAIN FOR CITY?

With no fresh injury or suspension worries manager Mark Wright looks set to name the same side tomorrow that won 2-1 against Margate last weekend. The Blues will be happy to set foot back at the Deva following two long away trips to Kent in a week and looking to continue the form that has seem them score six goals in the last two matches. Up front tomorrow Darryn Stamp and Jon Brady will be looking to carry the attack after forming a good partnership in the last couple of games. Manager Mark Wright has recalled Dave Cameron (pictured), currently on loan at Halifax Town, to prevent the City striker playing against his own side tomorrow.

Defender Scott Guyett is still sidelined though should be available for selection again very soon after starting his recovery with a reserve game last week, while striker Daryl Clare could be back in the side before the end of the month. "Daryl is back with us and he is desperate to get back to playing games for us. Daryl is now strong and fit again and he has come on leaps and bounds since his surgery. He has told me he doesn't feel any problems and he was back running with us in training today. We'll see exactly where he's up to, but I'm sure he's now on the mend and we're hoping he'll be back in action for us between two and two and a half weeks." Mark Wright told the Evening Leader.
---
LDV VANS TROPHY

The draw takes place tomorrow morning at 09:50 live on the Sky Sports 1 show Soccer AM, for the first round of this season's LDV Vans Trophy.

City have been re-instated into the northern half of the draw this season and will face one of the following sides in the week commencing 13 October: Barnsley, Blackpool, Carlisle United, Chesterfield, Darlington, Doncaster Rovers, Grimsby Town, Halifax Town, Hartlepool United, Hull City, Lincoln City, Macclesfield Town, Mansfield Town, Morecambe, Notts County, Oldham Athletic, Port Vale, Rochdale, Scarborough, Scunthorpe United, Sheffield Wednesday, Shrewsbury Town, Stockport County, Telford United, Tranmere Rovers, Wrexham, York City.

Clubs awarded byes: Bury, Huddersfield Town.
---
9 September 2003
BEESLEY OUT ON LOAN
Striker Mark Beasley signed last night for Southport, initially on a one month loan which can be negotiated further at the end of this period. Bees, who was top scorer with Chester in 2000/01 and 2001/02, is available for the Sandgrounders fixture with Runcorn tonight and has been named in the squad for the match. Beesley follows in the footsteps of Dave Cameron, Steve Brodie and Jimmy Kelly who are also currently loaned out.
---
8 September 2003
CITY GO THIRD

Darryn Stamp's third goal in four games helped City move third in the Conference. They finished Saturday second but slipped down after Shrewsbury Town's 3-1 win over Tamworth today took them above the Blues on goals scored, with goal difference being equal. Also on the scoresheet against Margate was Jon Brady. Winger Brady had an excellent game, he crossed for the opening goal and was on hand close-in to notch the second following a though ball from substitute Michael Twiss.

Meanwhile the players traveled by coach to Dover and not plane after all. Mark Wright revealed: "We've got some players who are superstitious, and four players who wouldn't get on the plane. We all really appreciate our chairman offering us the chance to fly down to Dover. He wants us to be fresh for matches. And from my point of view, instead of going back home for six or seven hours on a bus I would have been back home to see my children on Saturday night. I would have loved to have flown, but if I can't get four people on a plane, I can't get them on. I think the chairman is disappointed we didn't fly, and rightly so. He wants to spoil them. But I don't want to spoil them, I want to keep them rugged and doing the right things. If we achieve success at the end of the season then great, but I don't want to give too much to the players too soon. Don't forget that Margate flew up to Chester last year and got beat 5-0 – the trip might have affected us too, but we arrived by bus after spending a night at a hotel, and we got a result, so I'm happy."
---
EXILES ANNUAL GENERAL MEETING

A reminder that the Annual General Meeting of the Exiles will take place this Monday 15 September at the Knight's Templar pub, Chancery Lane, London WC2. (nearest tube stations are Temple or Chancery Lane) starting at 19:30hrs. We have booked a 'quiet' area of the pub (from 18:00) for the formal part of the evening but we will then continue with a social evening afterwards, food will be available and we shall also be selling our new polo shirts on the night as well.

If you live in or within travelling distance of London, we would like you to make an effort to get to this AGM. This will be an enjoyable evening and you will not be put under any pressure to join the Committee but if you are interested – let us know!
---
JUNIORS SUCCESS
Chester City juniors have started off with a number of friendly games and continued with wins as the under 9s played a team from Conway and ran out worthy winners 5-0. Notable performances from Jonathan Aplas, Macauley Newell and Taylor Meehan with the pick of the goals from Ryan Renshaw, Adam Howell and Timmy Newman. In goal is Jordan Parkinson who has only had a handful of saves to make in his five games but looks an excellent prospect for the future.

The under 11s in their first season at 11-a-side football produced a great all round performance against the under 12s of Westminster Park winning 3-0 and the under 14s played host to Blacon from the Clywd League and in a great end to end game edged it 5-4 with Canice O'Mahoney upended in the final minutes earning the Blues a deserved penalty, which was coolly converted by the man of the match Steven Harding. This win comes on the back of the Blues midweek success against Upton JFC from the Ellesmere Port League which they won 5-0.
---
7 September 2003
CHESHIRE SENIOR CUP
City will play Congleton Town away in the first round of the Cheshir Senior Cup. The Bears booked their place with a 4-1 win over Winsford United last week. The match is set to take place at the Booth Street ground on Tuesday 16 September, kick-off 19:45hrs. Note that this is also the date for a replay should Congleton and Leek Town draw this Saturday in the FA Cup.
---
KELLY OUT ON LOAN
Midfeilder Jimmy Kelly has joined Scarborough on loan and played for The Seadogs in their 2-0 win over Gravesend & Northfleet yesterday. "Our midfield needs strengthening at present with several injuries and Scott Kerr's 3 match suspension. We'll take a look at Jimmy and if he fits in here we'll consider a permanent deal." said manager Russell Slade.
---
GILL RETURNS
On-loan forward Robert Gill has returned to Doncaster Rovers after his one month spell at the Deva. The striker played 3+1 games for the Blues during that time. He's reported to have gone back to Belle Vue with a with a lower back/sciatica problem.
---
3 September 2003
YOUTH TEAM WIN
A goal from Matty Cook helped City's youth team beat Halifax Town 1-0 this afternoon at Deva Stadium in the FA Youth Cup first qualifying round. Iain Jenkins' side will now be at home to Darlington College in the second qualifying round at Deva Stadium on Wednesday 17 September kick-off 19:00hrs. Admission on the night will be £3.00 adults, £1.00 concessions.
---
FLYING HIGH
Chairman Steve Vaughan has confirmed that the club players and officials will fly down to Dover on Saturday for the game against Margate. The club have hired a 29-seater plane to convey the side to and from Liverpool airport to Kent. The squad will take off from Liverpool's John Lennon Airport on Saturday morning and return from Dover Airport straight after the game. Ironically Margate used the same form of transport when visiting the Deva last November as the main line from Euston was out of action.
---
CITY JUNIORS
The Chester City under 9 squad (pictured) started the season with three freindly games against Castrol, Overpool and Cuddington. In the first game they came away with a credible 1-1 draw against a very good Castrol team which included school of excellance players from Tranmere Rovers, Wrexham and Crewe Alexandra. Against Overpool they ran out 2-0 winners and all the players chipped in with goals against Cuddington winning 10-1 and 10-0 in the second game.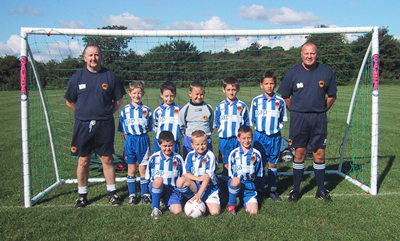 ---
2 September 2003
FANS FORUM
There will be a fans forum at Deva Stadium tonight at 19:00hrs, all are invited to attend. Chairman Steve Vaughan, Mark Wright and other directors will be attending to answer questions. If anyone going can do a report/summary for the site please send it to forum@chester-city.co.uk
---
BRODIE OUT ON LOAN
Steve Brodie has joined Forest Green Rovers today for a one month loan period.
---
1 September 2003
THREE POINTS FOR 'LETHARGIC' BLUES
Although not fully satisfied with Saturday's performance at Gravesend & Northfleet, manager Mark Wright revealed that some of the side had been playing despite suffering from a sickness bug that affected several players. Wright said: "Five or six of our players shouldn't have started Saturday's match because they were suffering from a really nasty bug. They wanted to play, but they were feeling lethargic, they weren't on their game, they weren't winning second ball in midfield, and our centre halves were feeling bad. They were all under the weather. There are no excuses, and we'll take the win, but there were reasons for why we didn't play well."
Hopefully things will clear up before the end of the week when the side have to make their third long distance journey on the trot. Following successive trips to Exeter and Gravesend, the Blues face a Margate side still playing their home games in exile at Dover Athletic's Crabble Ground.
Saturday's win lifted the Blues to third spot behind leaders Hereford United and Aldershot Town. Skipper Andy Harris made a substitutes appearance at Gravesend following his hand injury and there was also an appearance, from the bench, of defender Carl Ruffer who would appear to have settled the dispute that saw him walk out before last Tuesday night's game.
---
MANAGER OF THE MONTH
Congratulations to Graham Turner, the former Chester player and now Hereford United manager who picked up the Nationwide Conference Manager of the Month award for August. Conference leaders Hereford United are still unbeaten this season after five wins and a draw from their opening six matches.
---
SUGDEN FOR MORECAMBE
It looks like former City striker Ryan Sugden is poised to leave Burton Albion for Morecambe after joining the midlands club in the summer. The BBC website reports that the two clubs have agreed a five-figure fee for the former Oldham Athletic man, who spent just a month at Eton Park. "A fee has been agreed between the clubs and we expect the deal to be finalised in the next few days," Burton manager Nigel Clough told the Derby Evening Telegraph. "It's nothing to do with our situation but Ryan's own circumstances. He wants to leave for personal reasons and there's no point in us keeping him if he doesn't want to stay."