---
Saturday 23 September
Chester 2 Maidenhead United 0

Football Conference National
Attendance: 1,839 Half Time: 1-0
Booked: James.

Chester: Halls, Rowe-Turner, McCombe, Astles, Mahon (Joyce 80), James, Dawson, Shaw (Turnbull 80), Akintunde (Bell 88), Hannah. Subs not used: Davies, Sheron.
Maidenhead United: Pentney, Clerima, Steer (Kilman 78), Odametey (Smith 60), Massey, Inman, Comley, Hyde (Barratt 60), Pritchard, Clifton, Upward. Subs not used: Peters, Goodman.
Referee: Matthew Donohue.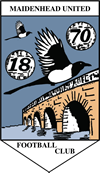 Marcus Bignot, newly appointed on Wednesday, arrived at Chester as a man with a plan. Immediately after this heartening and long awaited home victory, the new City manager gathered his squad in a huddle before the Harry Mac. The fans were still applauding and cheering the first home win since last December but Bignot was not one to miss the opportunity to re-inforce the message he had got the players to carry out on the pitch.
Although they had only had one training session together with their new boss the Blues played as a coherent unit from the off. Bignot had promised that they would be organised and they certainly were – moving the ball about quickly and with purpose, pressing the opposition and confident in the roles to which they'd been assigned. It also helped that City took an early lead. Akintunde showed tricky feet on the right before crossing into the box. A frisson of anticipation passed around the ground as the ball fell to Astles' feet and he hammered the ball towards the goal. Despite keeper Pentney being in the way there was nothing he could do to prevent it ripping in to the roof of the net.

The match continued to ebb and flow. The Magpies were flying high in fourth place in their inaugural season in the National League Premier and they moved the ball around well. But the Blues did not sit back. Dawson made himself available when Lynch gathered the ball to give City forward momentum. James hugged the right touchline to give them an outlet and Rowe-Turner went marauding down the left. Blues looked certain to double their lead when Akintunde out-muscled Inman and squared the ball for Hannah. But the City no.10 shot agonisingly wide as he came under pressure from Massey.

Magpies captain Massey was also on hand to clear a James' shot off the line following another raid down the left by Rowe-Turner. Then keeper Pentney denied Astles from close range and the visitors survived to half time without conceding further. James high-fived Bignot's assistant Ross Thorpe as he came off for the break – clearly things were going according to plan.

After the break the Blues continued to press for that all important second goal. Shaw missed his kick when well placed after Hannah's through ball found him on the edge of the six yard box. Then Mahon was denied by a defensive block after more good attacking play by the excellent Akintunde and James – who continued to hug the right touchline. It began to seem as though City were not going to break through again when Pentney saved Dawson's goal-bound effort at full stretch. But from the resultant throw in, James' header was handled by Inman and Chester were awarded a penalty. Hannah sent the Magpies keeper the wrong way and Blues at last had the cushion of a two goal lead. Astles might have added another but just failed to connect with Dawson's corner and headed wide. At the other end Clifton had Maidenhead's best chance but headed straight at Lynch.

So Marcus Bignot made the ideal start to his managerial reign at Chester, securing City's first home win of the season and indeed calendar year. The organisation and motivation he had instilled was evident all over the pitch. The way he gathered the troops around him after the game indicated that he has no intention of resting on any laurels but wanted his players to learn from this experience and move on. Blues fans had forgotten what it was like to leave the ground with a smile on their faces – an emotion they would love to get used to again.

Colin Mansley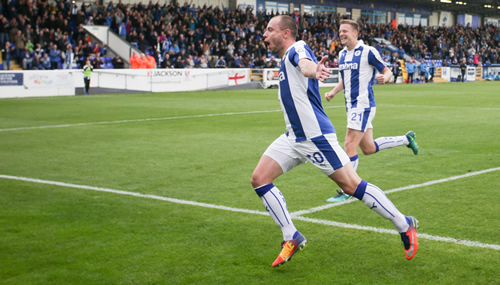 Picture © Rick Matthews (Chester Leader)

• Latest table
Rate Chester's performance
---
Saturday 16 September
Dover Athletic 4 Chester 0

Football Conference National
Attendance: 1,102 (65 Chester) Half Time: 1-0
Booked: Joyce, McCombe.

Dover Athletic: Walker, Passley, Ilesanmi (Deen-Conteh 85), Gallifuoco, Parry, Essam, Brundle, Pinnock, Bird (Sho-Silva 57), Nortey, Daniel (Richards 79). Subs not used: Allen, Deen-Conteh, Lewington.
Chester: Lynch, Rowe-Turner, Halls, McCombe, Astles, James, Dawson, Joyce (Waters 71), Mahon (Akintunde 63), Hannah, White (Bell 61). Subs not used: Mitchell, Sheron.
Referee: Daniel Middleton.

Once again Chester were left to rue poor defending as they collapsed in the second half to a heavy defeat at The Crabble. Caretaker manager Tom Shaw recalled Alex Lynch in goal for Conor Mitchell, there were also starts for Ryan Astles, Lucas Dawson and Harry White.
The home side started brightly with both Andy Halls and John McCombe blocking efforts from Kadell Daniel in the opening minutes. Chester began to get into the game with Halls making a surging run that saw his effort finish in the side netting and Kingsley James saw a free kick saved by Mitch Walker in the Whites goal.

Dover took the lead on 22 minutes as Giancarlo Gallifuoco was allowed a free header from Mitch Brundle's corner to score with ease.
James went on a weaving run into the Dover area but his pull-back ball eluded the yellow shirts in the box and a great chance went begging. On the stroke of half-time Wade Joyce missed another opportunity failing to find the target from a good position.
Chester started the second period brightly, White set up Hannah who was fouled just outside the penalty area. Hannah took the free-kick but hoisted it just over the bar.
White saw a flick header skim just past the post before Pinnock added a second goal for Dover on 62 minutes, turning James inside out before unleashing a 25-yard shot into the bottom corner giving Lynch no chance.
Seven minutes later Nortei Nortey made it 3-0 volleying home from 12 yards after Lathaniel Rowe-Turner had been beaten to the ball on the right wing. Lynch made a great save to deny Daniel's, but with eight minutes remaining he was unable to prevent Brundle sliding in the fourth goal after initially saving from Tobi Sho-Silva, the loose ball not being cleared by the Blues rearguard.

• Latest table
Rate Chester's performance
---
Tuesday 12 September
Gateshead 3 Chester 2

Football Conference National
Attendance: 567 (65 Chester) Half Time: 1-0
Booked: Dawson, Hannah, Rowe-Turner.

Gateshead: Hanford, Vassell, Byrne, Fyfield, Williams, O'Donnell (Tinkler 78), Hannant (Langstaff 73), Penn, McLaughlin, Johnson (York 85), Peniket. Subs not used: Macleod, Burrow.
Chester: Mitchell, Rowe-Turner, Halls, McCombe, Sheron, Mahon, Turnbull (Dawson 28), James, Joyce (Waters 73), Hannah, Akintunde (White 59). Subs not used: Lynch, Davies.
Referee: Simeon Lucas.

Caretaker manager Tom Shaw made one change from the side that drew with Ebbsfleet as Craig Mahon replaced Nyal Bell, who was unable to play due to the agreement of his loan from Gateshead. Mahon, making his 160th appearance for the club overcame George Horan's previously held record.
In the driving rain Chester had the first opportunity of the match as Lathaniel Rowe-Turner's through ball found Paul Turnbull but the midfielder shot over from 25 yards out.
Ross Hannah saw a volley on target blocked by Neill Byrne and then a header on goal saved as the Blues pressed for the opening period. The home side began to get into the game as Richard Peniket just missed connecting with a far post cross and Conor Mitchell saved well from Peniket.
Chester were forced to replace the injured Turnbull with Lucas Dawson on 28 minutes but continued to press. Hannah headed over and Kingsley james almost set Dawson through on goal before the home side took the lead on the stroke of half-time as Andy Halls headed into his own net under pressure from a corner for ex-Chester player Theo Vassell.

A minute into the second period Chester conceded a second. MIstakes by Mahon and Halls allowed Danny Johnson through on goal, he squared the ball for peniket who scored from six yards out.
Shaw brought on Harry White for James Akintunde as Chester looked to claw their way back into the game andd they were handed a lifeline on 73 minutes as White's right wing cross was pushed out by 'keeper Dan Hanford to Hannah who slotted the loose ball home.
As the game entered stoppage time substitute Matty Waters, on for Wade Joyce, played a smart one-two with White before hammering the ball home for the qqualiser.
But Chester joy turned to heartache moments later as the Heed grabbed a late winner as Mitchell turned the ball into his own net following a corner.

• Latest table
Rate Chester's performance
---
Saturday 9 September
Chester 1 Ebbsfleet United 1

Football Conference National
Attendance: 1,591 Half Time: 0-0
Booked: Halls.

Chester: Mitchell, Halls, Rowe-Turner, James, McCombe, Turnbull, Sheron, Joyce (Dawson 76), Bell, Akintunde, Hannah (Mahon 68). Subs not used: Lynch, Davies, Hellawell.
Ebbsfleet United: Ashmore, Rance, Powell (Drury 71), Kedwell, McQueen, Graham, Payne, Shields (Coulson 65), Mambo (Clark 60), Magri, Bush. Subs not used: Miles, Mills.
Referee: Marc Edwards.

Chester did not find that elusive first home win of 2017 as they drew with newly promoted Ebbsfleet but in a sense it did not matter so much as the Blues rallied well to end the match strongly. It was desperately sad to see Blues boss Jon McCarthy who, as many testified, put heart and soul into his job, sacked on Wednesday. The players, perhaps knowing that there was now nothing more to do to save his job played with that burden lifted from their shoulders.

Tom Shaw, in temporary charge along with Dave Felgate and Callum McIntyre, chose a more adventurous 4-3-3 formation with Hannah, Akintunde and Bell all starting. Astles was still out injured so Halls resumed at centre back with Matthew Sheron, on loan from Fleetwood, making his home debut at right back.

The visitors found plenty of space on the flanks as their wing backs pushed forward but Chester gradually grew in to the game and Turnbull had a chance when the ball fell to him at the edge of the area but he pulled his effort wide. McQueen had 'Fleet's only effort of note on target as he shot from distance straight at Mitchell.

Powell broke the deadlock for the visitors after the break when he was allowed to run with the ball and shot from distance in to the top corner. It was a setback for the Blues who were competing well but the introduction of first Mahon and then Dawson gave them added impetus and they drove forward for an equaliser.

Bell went close with a couple of headers, both on target but blocked by Ashmore's huge frame. Halls and McCombe, lingering upfield following a corner combined to set the former up for a rasping shot which Ashmore again parried. But it was the two substitutes who set up a deserved equaliser for City as Mahon latched on to Dawson's delightful ball over the top and laid it off for Akintunde to stroke it into the far corner.

In the final ten minutes Chester pressed forward as they scented a second. Dawson shot narrowly over and then Bell went extremely close with a fierce shot across goal, missing by a whisker. In the end they had to settle for a draw but the mood was a lot more upbeat after this improved performance from the Blues.


•
Latest table
Rate Chester's performance
---
Tuesday 5 September
Solihull Moors 2 Chester 0

Football Conference National
Attendance: 651 (261 Chester) Half Time: 1-0
Booked: Sheron, Halls, Bell.

Solihull Moors: Vaughan, K.Green, Carter, Kettle, Murombedzi, Liburd, Afolayan (Dunkley 84), Carline, Daly, Campbell (P.Green 67), Westbrooke. Subs not used: Thomas, Cleary, Kelleher.
Chester:
Lynch, Halls, Sheron, McCombe (Shaw 71), Rowe-Turner, Chapell (Hannah 46), Dawson (Mahon 56), James, Turnbull, Joyce, Bell. Subs not used: Akintunde, Davies.
Referee: Thomas Bramall.



Chester went into this match with a desperate need for a good performance and ideally a win against the League's basement side. In the event, it was a dismal showing against a team down to 10-men for the last 20 minutes and it was no surprise manager Jon McCarthy was dismissed the following morning.
The monsoon-like downpour about 90 minutes from kick-off could actually have been a sign of what was to happen as Chester's showing throughout much of the game was almost as dismal as that shocking spell of weather.
But when kick-off approached the skies had cleared and there was no chance of this fixture being cancelled for a second time. McCarthy gave a debut to 19-year-old defender Nathan Sheron, a loan signing from Fleetwood Town. Midfielder Paul Turnbull was also back in action after a family bereavement saw him miss the Torquay game.
Both sides failed to make much impression until the 16th minute when Solihull, who were also without a home win so far this season, went ahead with a good strike from Oladapo Afolayan.
Chester did fight back, but were pulled up for offside on a number of occasions. By the time half time came, the Blues had not had a shot on target and it looked like they'd have to make a Aldershot-style comeback.
Manager McCarthy was back out of the dressing room much earlier than the Chester players and cast a lonely figure under the near full moon at Damson Parkway before the team ran out for the second half.
Chester undoubtedly improved when Craig Mahon came on for Lucas Dawson on the 56th minute. They also came close to scoring when a Turnbull free-kick just missed the target.
It suddenly seemed there might be all to play for when Solihull's Zain Westbrooke was dismissed for a wild challenge on Wade Joyce on the 74th minute. But it was hard to tell they were only playing with 10 men, and Chester failed to take advantage of the sending-off.
In fact, just three minutes after the red card, Solihull went 2-0 ahead with another goal from Afolayan. He'd found himself in plenty of space after Chester made a poor attempt at a clearance.
There were only 13 minutes of normal play left at this stage and it looked like Chester would never find the net in that length of time. Meanwhile many of the 261 travelling fans were making their feelings known towards McCarthy, and it was not a happy atmosphere amongst the away supporters when the full-time whistle did go.
Rate Chester's performance
---
Saturday 2 September
Torquay United 1 Chester 1

Football Conference National
Attendance: 1,455 (155 Chester) Half Time: 1-0
Booked: McCombe.

Torquay United: Dorel, McGinty, Young, Keating, Anderson, Gray, Reid, Haworth (Pittman 80), Higgins, Dowling, Cole. Subs not used: Fallon, Klukowski, Osborn, Mitchell.
Chester:
Lynch, Halls, Astles, McCombe (Chapell 76), Rowe-Turner, Mahon (Shaw 59), Dawson, Joyce, James, Akintunde (Hannah 76), Bell. Subs not used: Davies, Waters.
Referee: Sam Purkiss.

Chester needed the finishing prowess of Ross Hannah to escape from the English Riviera with a valuable point after this National League basement clash at Plainmoor.
Both sides were without key players, but it was Torquay's loan signing, 18-year-old George Dowling, who made the first impression on the match. He seized on a Chester clearance, finding himself in plenty of space to put the Gulls ahead with a great strike inside just 12 minutes.
Chester, kicking towards their 151 travelling fans in the first half, were unlucky not to get an equaliser in front of their faithful followers. The best chance fell to John McCombe, whose header hit the post and somehow spinned out of the goal instead of into the net.
The Blues fans had their heads in their hands again when a good move saw Craig Mahon pass to Kingsley James in the box. He tried to find the goal by almost passing the ball into the net, but it just went wide and the chance went begging. James had another opportunity soon after when a Torquay clearance hit his back and the ball landed well for him to have another strike - but he hit the crossbar.
The match's main talking point came in the second half when the Chester fans saw McCombe clearly take the full force of a Torquay boot in his face. The captain went down clutching his head, but play continued and Torquay put the ball in the back of the net. There was a huge outcry from both Chester fans and players, who were relieved to see referee Sam Purkiss taking his time to talk to his assistant about the incident. As McCombe's bloodied shirt was being changed, the goal was rightly chalked off, although there was no booking for the offender.
Towards the end of the game, Ryan Astles was clearly struggling with a leg injury, and James Akintunde was looking tired. It was time for a 76th minute double substitution for the Blues, when Jordan Chapell and Hannah came on to replace Akintunde and Mahon. Astles manfully carried on to help keep the Chester defence rock steady as the end of the game approached.
Meanwhile Hannah looked a threat to the Torquay defence as soon as he ran onto the field, and it was no surprise when he scored the equalising goal after a well-placed header from Assistant Manager Tom Shaw. He doesn't need many chances to find the net and Chester will must hope he remains fit for the rest of the season.
Rate Chester's performance
---