30 April 2003
NEW CONTRACTS FOR KEY PLAYERS
City chairman Steve Vaughan has revealed that new contracts have been agreed with two key City players, Phil Bolland and Paul Carden. "Hopefully the new deals will be completed in the next few days. Both players have had outstanding seasons and they thoroughly deserve the new contracts. We have also spoken to Danny Collins and offered him an extension to his existing contract, which still has a year to run." Vaughan told the Daily Post.
---
MATCH VIEWING IN LONDON

For those Exiled City fans who can't get to the game on Thursday night at Doncaster, or are perhaps in London on business, the Exiles have arranged viewing of the match at our now-usual venue the Famous Three Kings (F3K) on the North End Road in west Kensington (next door to West Kensington tube station on the District Line). We have booked the Mezze level area to view the match. Coverage on SKY Sports starts 30 minutes before kick-off at 19:30hrs. The area is also booked should Monday's second-leg also be screened live. All are welcome but please note that the pub has a strict over-18's only policy.
---
RATCLIFFE RESIGNS
A 3-2 home defeat to Carlisle United last night condemned Shrewsbury Town to the Nationwide Conference next season. Manager Kevin Ratcliffe, a former City boss, today resigned as a result. The other relegation place will be taken by either Swansea City or Exeter City.
---
28 April 2003
MATCH ON SKY
City's play-off game against Doncaster Rovers on Thursday will be shown live on SKY Sports with a kick-off of 20:00hrs.
---
DILLEMA FOR WRIGHT

City will go into this week's play-off games with Doncaster Rovers on the back of their best performance for a while following Saturday's 1-1 draw at Yeovil Town. A Kevin McIntyre header five minutes from time gave City a deserved draw at Huish Park after the Blues had fallen behind to an early goal. Morecambe will play Dagenham & Redbridge in the other play-off semi-final.

Manager mark Wright was understandably pleased with the performance though admitted he now faced a dilemma: "I rest some people, then some people come in and do well, so who do I play in the play-off's? It's a good problem to have – we've had to rest Scott Guyett and Danny Collins who are both carrying knocks, and it's more important when we play Doncaster rather than anything else.

We rested a lot of key players like Danny Collins, Carl Ruffer, Scott Guyett, Daryl Clare, Kevin Mcintyre, Ryan Sugden and Mark Beesley. I left them all out of my starting line-up, and at the end of the day, when you rest Shaun Carey, who was unbelievable when he came in last week, we were looking at our game against Doncaster in he play-off's rather that at our match at Yeovil."

At the other end of the table, commiserations to Nuneaton Borough and Southport who were relegated along with Kettering Town and will be replaced in the Nationwide Conference next season by Accrington Stanley, Aldershot Town and Tamworth, congratulations to them all.

• Final Conference table
---
26 April 2003
PLAY-OFF TICKETS
The football club have announced ticket arrangements for the play-off matches against Doncaster Rovers. Tickets will go on sale at Deva Stadium from Tuesday morning at 08:00 to 13:00hrs for Season Ticket holders only (you MUST take your Season Ticket book with you).

They will then go on general sale from 13:00 to 20:00hrs. The ticket office is open from 08:00-20:00hrs on Wednesday and on the morning of the match from 10:00-13:00hrs on Thursday. Tickets for both ties can be bought at the same time. There are 1200 terrace tickets and 300 seats at Doncaster, Stand £11.00, £7.00 concession, £6.00 children. Terrace £9.00, £6.00 concession £3.00 children. Normal Conference prices apply to the home leg on Monday.
---
TOUGH TASK FOR CITY
City travelled down to the west country today ahead of tomorrow's final League match of the season at champions Yeovil Town. Yeovil are unbeaten at Huish Park this season and in recent weeks have thrashed two of the other play-off side,s Doncaster Rovers and Dagenham & Redbridge, on their travels. Manager Mark Wright is expected to name a strong line-up for the game that is being screened live on SKY TV with a kick-off time of 17:35hrs. By the end of the game of course, City will be aware of who they will be facing in Thursday's play-offs. Both Carl Ruffer and Danny Collins are expected to be fit following injury.
---
SENIGALLIA MATCH IS POSTPONED

Three days after running a full page colour advert for it in the official home match programme, the football club have decided to postpone the forthcoming friendly game against Italian side Vigor Genitalia on 8 June. This would have been the club's first-ever game on mainland Europe.
The friendly, against a team from one of Chester's twin towns, was organised as a joint venture between the City Council, the Football Club, and the Chester City Supporters Trust and has taken many months of planning, and, has already seen City fans book time off work, book air travel and accommodation etc etc.
Richard Lynes, the Supporters Trust representative on the board at the Club put out the following statement tonight:
"I have today been informed by the club that after discussion and reflection it has been decided to postpone the friendly with Senigallia until a date in July (yet to be confirmed).
The Club intend to make the trip to Senigallia a major and integral part of their pre-season build up to what we all hope will be our first season back in the Football League.
The club and the Supporters Trust are aware that this will cause disappointment, inconvenience and some expense to those Supporters who have already made plans based on the originally confirmed dates. We sincerely apologise for this.
The Club will be making a press statement in the next few days. I do hope that this postponement will not prevent as many Blues fans as possible from making the trip to support our club in Europe."
Richard Lynes

Chester general manager, Dave Burford said: "Having considered all the facts the club believe it would be to the greater good of everyone at the club if we included the match in Italy as part of our pre-season build-up.The club have already advised Chester City Trust of the decision, and I'm sure most people would welcome the move of rescheduling the fixture which was originally planned just four weeks after this season finishes. It is important for our supporters to understand that we haven't cancelled the match, we're just putting the date back to a more suitable time."
---
22 April 2003
BACK TO WINNING WAYS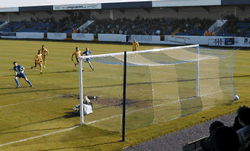 Two second half goals against Stevenage Borough were enough to give City three points and bring to an end a week of patchy performances as the Blues played some neat football at times (when they kept it on the ground) to move into fourth place in the Conference.

Midfielder Shaun Carey was made captain for the day and responded by turning in a good, busy display getting forward throughout the game. After a first-half of few chances, City took the lead on 72 minutes after being awarded a penalty following a foul on Ryan Sugden and doubled that lead six minutes later when Jon Brady netted his first goal for the club from close range following some smart work by Clare.
The Blues visit champions Yeovil Town on Saturday (kick-off 17:35hrs) before embarking on the play-off semi-final games the following Thursday night. The opponents will not be known until the weekend, as it currently stands it would be Doncaster Rovers.
"We fired them up and gave them a good talking to prior to the game and the players responded in a way that I'm extremely proud of. Each and every one of the players played well and it was extremely pleasing. I am really proud of the players. We've had to chop and change in previous games because of suspensions and injuries, but today we bounced back extremely well." – Mark Wright told the Daily Post after Monday's victory.
---
CARL FIELDOR-SHAW
It's very sad to report the death last Thursday of City's matchday host Carl Fieldor-Shaw. Carl was a familiar face at Deva Stadium meeting and entertaining match-day sponsors, leading the match ball sponsors onto the pitch and was always on hand to show visitors around the stadium. As a mark of respect, a one minute silence was held prior to the Stevenage Borough game.

Barry Hipkiss, chairman of the official supporters club, paid tribute to the man he has known for many years. He said; "Carl was a lifelong fan who did a considerable amount of work for the club. Our deepest sympathy goes to his family, there is a sad feeling around the club at the moment. I have known Carl for a long time and he never stopped coming to games. he will be sadly missed."
---
YEOVIL TICKETS
Note that the terrace tickets bought for Saturday's match at Yeovil Town now have to be exchanged on the day. Go to the turnstile designated to your ticket, and you will be met and shown round to turnstile 13 where your ticket will transferred (at no cost) for seated accommodation in the stand, this area is entered through turnstile 12. The entire away end of 1754 spaces has been given over to the home club. A special 64 page Souvenir programme will be produced for the game priced £3.50.
---
ISA AWARDS
Scott Guyett and Paul Carden share this year's ISA player of the Year award. Danny Collins won the Young Player of the Year trophy and the best goal voted for was Paul Carden's fine solo effort at home against Southport. The Official and Away Player of the Year awards will be made prior to the forthcoming play-off game.
---
20 April 2003
CHAIRMAN HITS BACK AT CRITICS

Chairman Steve Vaughan has criticised the small section of the home crowd who barracked the players after last Saturday's 2-2 draw with Woking. Taking a page in Tuesday night's match programme he said:
"We are possibly on the brink of a small piece of history, as we embark on the Nationwide Conference play-off competition, and we need everybody to get behind Mark Wright and the players in a positive fashion. Sure, it was a bad day at the office against Woking, we all have them, but the team through in spite of all those who continue to take every opportunity to put them down.
The individuals that I refer to know who they are. My message is simple, if you don't come to the Deva Stadium to support this club and get behind the team, then don't come at all. There is no place for you here.
To the great many of you that do genuinely support the club, thankyou for helping us to get this far. With what we have achieved, a huge challenge and opportunity now lies before us, and whist there are no guarantees in football, the reward could be a place back where this club belongs, in the Football League. We all have a part determining just when that will be."
---
19 April 2003
CITY ON THE BIG SCREEN
For any Chester fans living in the London area who can't make next Saturday's end of season match at Yeovil Town, the Exiles have arranged for it to be shown on the big screen at our now regular venue the Famous Three Kings (F3K) pub in west London. The venue on the North End Road is right next door to West Kensington tube station. We'll be meeting there from 17:00hrs onwards.
---
PLAY-OFF FINAL

Play-off final ticket details have been announced for the match on 10 May, kick-off 14:30hrs. Prices for the game to be played at Stoke City's Britannia Stadium are: Adults £20, children U17 and oap's £10. Tickets will be available from participating clubs from 5 May.

There is also a hospitality package being advertised for £70 that includes: match ticket, reserved parking, matchday magazine, team sheets, four course meal, guest speaker, half-time refreshments, Pay Bar facilities and more... (call 07904 272440 for more information).
---
18 April 2003
TRIO SUSPENDED
City have three players suspended for Saturday's trip to Nuneaton Borough. Wayne Hatswell, Carl Ruffer and Mark Quayle all miss the trip to Warwickshire as the Blues look for their 12th away victory of the season. The visitors could have up to four ex-City players in their ranks, Michael Brown Steve Brodie, Stuart Whittaker and Mark Clifford. Clifford's only appearance for City was in the home televised game against Barnet, while Brodie, who only made three Conference starts wit the Blues will be presented with the Conference Player of the Month award prior to tomorrow's game.

Monday's game will go ahead despite the massive fire in Bumpers Lane this week. The fire that broke out in a scrap yard, just 100 yards from the Deva Stadium, was one of the biggest in Chester's history sending huge clouds of black smoke over the south of the City as upwards of 13,000 rubber tyres caught alight. Parts of Bumpers Lane are still closed today but the road is expected to be open for Monday.
---
17 April 2003
CONFERENCE MEMBERSHIP EXPANSION REJECTED
The plan by the nationwide Conference to expand next season to 24 teams, restricting relegation this season to just one team has been rejected by the Football Association who, today, made the following announcement.

The FA's Sanctions and Registrations committee (formerly League Sanctions Committee) met this week on the 14th April and rejected the Nationwide Conference's request to expand their membership from 22 clubs to 24 clubs for season 2003/04.
The Nationwide Conference''s request was referred to The FA's Sanctions and Registrations committee who sought the views of the 3 Feeder Leagues – The Ryman Isthmian League, The Dr Martens Southern League and UniBond Northern Premier League.
Following written submissions to The Football Association from the three Feeder Leagues, the Nationwide Conference's request was this week debated at the FA Sanctions and Registrations committee, and the decision of the committee was to reject the Nationwide Conference's request to expand their membership for season 2003/04.
---
16 April 2003
WRIGHT LOOKING TO THE PLAY-OFF'S

City manager Mark Wright has a better idea of the side he has in mind that will contend the play-off's towards he end of the month following last night's defeat. Wright was forced to make five changes yesterday for the side that suffered a shock home defeat to struggling Farnborough Town. Carl Ruffer, Danny Collins, Jimmy Kelly and Mark Beesley all missed the defeat through injury allowing the City boss to bring in other squad players for the night, although they failed to impress the manager.
Wright told the Evening Leader: "I thought we played some okay football, but without purpose, and it just goes to show that those people waiting in the wings and waiting to get into the side and compete, have done themselves no favours. Daryl Clare is not firing at the moment – he's still tentative with his knee, but we've got to try and get him match-fit and get him through some games, otherwise I'll be leaving him out. All season it's been Paul Carden and Jimmy Kelly in midfield, but we left them out last night and at times it showed. I brought back Chris Blackburn from his injury and we need to get him some games so that he's ready for the play-offs. And for all the ability that Michael Twiss has he doesn't do it, and Jon Brady hasn't done it, and Ryan Sugden didn't do it. Our centre forwards, who are pretty mobile and very good, didn't create enough against Farnborough, and that's disappointing.
The Blues travel to play another relegation threatened side on Saturday, Nuneaton Borough. Borough currently lie in 19th position, one place above the drop zone (providing three go down!).
---
15 April 2003
CITY LOOK TO GO SECOND
The Blues face Farnborough Town tonight at Deva Stadium (kick-off 19.45hrs) looking to improve on Saturday's disappointing display which brought a 2-2 draw with Woking. City will look to take advantage of their game in hand and go three points clear into second place as Doncaster Rovers, Morecambe, and Dagenham & Redbridge all jockey with City for the end of season play-off positions. The Blues can be assured of another tough game from a side struggling at the wrong end of the table, twelve months ago we were in the same position as our visitors and the battling qualities we showed then, we can expect tonight.

A last gasp penalty from Dave Cameron gave City victory at Cherrywood Road when the two sides met just over two weeks ago. Joff Vansittart had given the home side the lead before Ben Davies was on land for the equaliser a short time later.
Mark Beesley, who hobbled off after 20 minutes on Saturday, appears to be the only fresh injury doubt for manager Mark Wright, though Wayne Hatswell misses the game through suspension.
Manager Mark Wright told the Daily POst: "We have a big squad here and it is a good squad. There are a certain number of them who are champing at the bit and I want to see competition for places. Lee Woodyatt and Ryan Sugden are as keen as mustard to get into the action, so that gives me options. Also Ian Joy, who is with us until the end of the season, is anxious to show what he can do."
Exiles living in the Surrey/Hampshire area can hear match summaries on BBC Southern Counties radio (around 104.6FM – Canvey Island v Aldershot Town is the main match!)
---
12 April 2003
CITY SECURE PLAY-OFF SPOT

Two goals in the final four minutes rescued City from what seemed a certain defeat against Woking and brought a point that guarantees them a spot in the end of season play-off's. A remarkable achievement given our recent history. Carl Ruffer (left) and Michael Twiss netted for the Blues, with Woking's Martin Williams missing the chance to put The Cardinals 3-1 up from the penalty spot in between those strikes in an extraordinary final five minutes. Amos Foyewa, on loan from Bournemouth for the visitors, ran City ragged at times, scoring twice and setting up the penalty but the Blues managed to scramble a point, and, could put themselves three points clear in second spot with a home win over Farnborough Town on Tuesday night.
Manager Mark Wright praised his opposite number, and ex-playing partner after the match: "I have a great deal of sympathy for Glen Cockerill. I though they played extremely well today and frankly we got a point we scarcely deserved. We achieved our goal of a play-off placing and that is extremely satisfying but for most of the time today we weren't at the races".
Congratulations to Yeovil Town, this seasons Nationwide Conference champions, they celebrated in style with a 4-0 victory at promotion chasing Doncaster Rovers tonight.
---
SUPPORTERS CLUB END OF SEASON AWARDS
Chester Official Supporters Club postal voting slips for their player of the season should reach Barrie Hipkiss at 2 Cop Cottage, off Sealand Road, Chester, by Saturday, April 19.
---
ISA END OF SEASON AWARDS
If you haven't done so already, you only have two days left to get your votes in this this season's ISA awards, the voting is currently to close to call:
Note: Only currently paid-up ISA members are eligible to vote.
a) Player of the Season
b) Young Player of the Season*
c) Goal of the Season
voting can be carried out by:-
Telephone: (01244) 383475
email: Les Smith
Post: Chester City ISA, PO Box 308, Chester CH1 5ZF
In person: on a piece of paper to one of the committee members.

Presentations will be made at the last home game against Stevenage Borough 21 April.
*Usually the young player award goes to someone in their late teens who has broken into the first team squad. This hasn't happened this year so rather than omit the award we have decided to change it this season to "Under 23 Player". For guidance, the "youngish" contenders are – Lee Woodyatt (19), Chris Blackburn (20), Ben Davies (21), Mark Beesley (21), Danny Collins (22), and Ryan Sugden (22).
---
11 April 2003
COME AND JOIN THE PLAYERS AND CLUB OFFICIALS IN ITALY!
Supporters Trust members interested in following City on a very rare excursion into Europe on 8 June when they play Italian Serie D team Vigor Senigallia, can pick up a booking form in the Club Shop or from any member of the Trust Board at tomorrow's game. The forms should be returned to the Trust no later than Monday, 21 April. Trust membership forms will also be available for those not already members, join now!, annual membership is only £5.00.

Match tickets available for TRUST MEMBERS plus free entry to the following events:

• Civic Reception by Senigallia Town Council on 6 June
• Beach soccer competition on 7 June
• Party night hosted by Vigor Senigallia on 8 June


This is a general response to those completing the enquiry form on the websites re: the Senigallia trip. Please do not yet book hotel rooms as we have negotiated block discounts. We thank you for your interest and will contact you shortly with more details.

For more information contact members of the Trust Board: Richard Lynes, Graham Ross, Bill Brookes, Lee Walton, Campbell Smith, Andy Smith, Bob Gilogly and Pauline Meakins (Chester City Exiles)
---
YEOVIL MATCH ON SKY
With people no doubt having already bought tickets, and Barry's coach booked, SKY TV have announced on their website that the game at Yeovil Town will now be televised live with a 17:35hrs kick-off. For those Exiles in the London area who now can't make the match (and the only train back to get in before 00.30 leaves 20 minutes after the game!), we're hoping to book the Famous Three Kings pub again in London to view it.
---
HATSWELL OUT

Defender Wayne Hatswell has been given a two match ban following remarks he made to Wirral referee Steve Brand at the time of the dismissal in the home gave with Northwich Victoria in the new year. He will be unavailable for next week's games against Farnborough Town and Nuneaton Borough. Following last Saturday's red cards, Mark Quayle will be suspended for three matches from 19 April (subject to appeal), while Carl Ruffer will receive a one match ban from the same date.
Meanwhile City have no fresh injury worries ahead of tomorrow's home game against Woking (15:00hrs). The Blues will go second should they gain a point from the match as Doncaster Rovers entertain Yeovil Town later at 17:35 in a televised game.
Chairman Steve Vaughan has called upon fans to turn out in force to cheer the team to a play-off spot: "I want to see our players and supporters turn up and enjoy themselves tomorrow against Woking. There's no real pressure on us because we're looking to win three points from our remaining five matches. But I'd love to see a big crowd turn out for the Woking match and watch the players win a play-off place with a win against Woking. I'd like to think we can attract crowds of about 3,000 for our matches tomorrow, and on Tuesday at home to Farnborough Town. We're definitely in line for a return to the Football League and I'd love to see our supporters getting behind the team in our remaining games. It's been a long haul, but I'm sure we're due another home win tomorrow." he told the Evening Leader.
Exiles living in the Surrey/Hampshire area can hear full radio commentary on BBC Southern Counties radio (around 104.6FM)
---
JUNIORS SUCCESS
As Chester City's promotion drive continues to gain momentum, it is heartening to see that the clubs youngsters are also doing well. The reserves and under 19 side are both enjoying useful campaigns as are the under 8s, 9s, 11s, 12s, 13s, 14s and 16s run by Mark Newman and his hard working staff.
Although most of these young boys are local the club still attracts players from further afield. Youth team manager Iain Jenkins comments "It is very important to the club that we have a well run youth policy as this is the future for all clubs and it would be tremendous to see some of these youngsters pulling on a first team shirt in the years to come. Mark is anxious to see the infrastructure improve all the time, from quality of the coaching staff through to the players involved."
"It has been hard work but worth it and we also have THREE age groups in the Duke of Westminster cup finals this year at the Deva stadium" says Mark who continues "All our home games are held at Clifton Drive which has been an excellent facility and our thanks go out to Chester College who spend a lot of time and effort in maintaining the pitches". Although the club is not running a 'centre of excellence' the youth policy is nonetheless of huge importance and is supported throughout the organisation. Open trials are held on Thursday evenings and anyone requiring further information should contact Mark Newman on 07734 961699.
---
10 April 2003
YEOVIL MATCH ALL-TICKET
As expected City's last league match of the season at Yeovil Town will be all-ticket. Yeovil have only issued Chester will terrace tickets for the fixture to be played on Saturday 26 April in front of an expected sell-out crowd.

Tickets for the match will cost £9.00 for adults, and £5.00 for oap's and juniors, and can be purchased by season ticket holders only tomorrow between 10.00hrs and 16:00hrs, when season ticket books must be shown. Tickets will then go on general sale after Chester's match against Woking on Saturday, then they will be sold on Monday between 10.00hrs and 16:00hrs, and on Tuesday between 10.00hrs and 16:00hrs, and after the Farnborough Town match in the evening. Yeovil have only issued terrace tickets at Huish Park to City fans. Those with difficulty in standing should contact CCFC as Yeovil say they will try and accommodate those fans in the Yeovil seated area.
---
8 April 2003

CITY IN EUROPE (THE ITALIAN JOB)

Following a lot of hard work and planning, the Chester City Supporters Trust, in conjunction with Chester City Council and Chester City FC, have arranged a friendly match for the first team with the Serie D Italian team Vigor Senigallia on Sunday 8th June in Senigallia, northern Italy. Senigallia is one of Chester's twin towns.
All Trust members will be able to buy tickets for the match as well as join in a programme of free events being organised for players, officials and fans including a civic reception by the Senigallia Town Council, a party night hosted by Vigor Senigallia, a beach soccer competition between both sets of supporters and a 'Fans Forum abroad' opportunity to meet the players and officials.
This is a wonderful opportunity to join the players and club officials in a well deserved end of season (hopefully celebratory) break. Senigallia is a beach resort town on the Adriatic (east coast). Supporters can either just travel over the week-end of the events or make the weekend part of a longer Italian holiday. Hotel accommodation at discount rates have been secured by the Trust.
Trust members interested in joining in this trip can pick up a booking form in the club shop from Saturday onwards or from any member of the Trust Board. Trust membership forms will also be available for those not already members. The forms should be returned to the Trust no later than Monday, 21 April.
•Vigor Senigallia Website
---
7 April 2003
BEESLEY EDGES CITY NEARER TO PLAY-OFF'S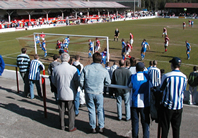 City remain in third place following their eleventh away victory of the season in the sunshine at Gravesend & Northfleet on Saturday. Mark Beesley scored the only goal of the game four minutes after the break slotting home after being set up by fellow striker Mark Quayle. The game ended in drama though with City being reduced to nine men after Mark Quayle was given a straight red card for an alleged stamping offence, and Carl Ruffer received his marching orders for a second bookable offence. Despite their numerical disadvantage, City's defence held firm, though they had Ben Davies to thank for a goal line blockage to preserve the lead.
On the sending's off manager Mark Wright said: "Their centre half is willing to put in writing that the referee had a nightmare. The referee said he sent Quayle off for stamping but Burton said 'No way – he fell over me.' Carl Ruffer was a bit silly. When you've been booked you can't go in for challenges like that. Carl knows my feelings. I've got no excuses for him."
"It's guaranteed that we'll appeal against Mark Quayle's sending off. The referee will have to have a look at it and, at the end of the day when he sees it and he sees that our boy has done nothing wrong, and that it's backed up by their defender, he'll see he's made a mockery. There is no way Mark Quayle stamped anyone, and there is no way there was any intent. There was nothing in it." Wright added.
According to soccerbase.com, Kettle has refereed nine matches this season, issuing 38 yellow and 7 red cards.
Next Saturday the Blues look to record their first ever win over Woking at the sixth attempt. The Cards currently lie 19th in the Conference and were the first side to beat City on their travels this season back in October. It remains to be seen whether Daryl Clare and Scott Guyett, who both missed Saturday's win, return to the side.
---
ISA END OF SEASON AWARDS
The time has come to select your favourite:
a) Player of the Season
b) Young Player of the Season*
c) Goal of the Season
voting can be carried out by:-
Telephone: (01244) 383475
email: Les Smith
Post: Chester City ISA, PO Box 308, Chester CH1 5ZF
In person: on a piece of paper to one of the committee members.
Presentations will be made at the last home game against Stevenage Borough 21 April.
*Usually the young player award goes to someone in their late teens who has broken into the first team squad. This hasn't happened this year so rather than omit the award we have decided to change it this season to "Under 23 Player". For guidance, the "youngish" contenders are – Lee Woodyatt (19), Chris Blackburn (20), Ben Davies (21), Mark Beesley (21), Danny Collins (22), and Ryan Sugden (22).
Note: Only currently paid-up ISA members are eligible to vote.
CLOSING DATE APRIL 14
---
4 April 2003
CITY LOOK FOR PLAY-OFF PLACE
The Blues make their first ever trip to Gravesend & Northfleet tomorrow looking for their fourth win on the trot and the three points that could guarantee them an end-of-season play-off spot if other results go their way. Daryl Clare is fit again though manager Mark Wright may choose to leave him on the bench as he has a full squad to choose from. The two sides drew 1-1 on a Sunday afternoon earlier in the season at Deva Stadium when Ryan Sugden was on target for the Blues.


" We need to win the bits and pieces during tomorrow's game, and be stronger than them because they are a big side. If we win the midfield battle we'll give them a game, but we'll be expecting Gravesend to be fighting for their lives, working hard, and trying to make difficult for us." said manager Wright ahead of tomorrow's game.
---
1 April 2003
WRIGHT ASSURES FANS

City manager Mark Wright has assured fans that top striker Daryl Clare was left out of Saturday's game at Farnborough Town as a precautionary measure after he'd picked up a knock on the knee during the previous weeks home win over Southport. There is a slight possibility that the striker will return to the starting line-up when the Blues travel to Gravesend & Northfleet on Saturday.

Wright said: "I can understand our fans are concerned about Daryl Clare being left out, but I thought Mark Beesley came in and did a good job for us at Farnborough. We're all hoping he can recover from his injury, and I'd like to see him return to action this weekend. I can't really comment any further until I speak to the medical people at the club who will know more. Wright added: "Daryl Clare is just as important to us as are other strikers. Mark Quayle came in and did a good job on Saturday, Dave Cameron came on and scored our winner, Michael Twiss also played as a substitute, and people should remember we travelled without Ryan Sugden. We're missing Daryl Clare just as much as we would any other striker at the club."
---
SUPPORTERS COACH
Any Chester fans wanting to secure a seat on the Official Supporters Club coach to Gravesend and Northfleet on Saturday, should contact Barrie Hipkiss between 18:00-20:00hrs tonight on (01244) 379011.
---
PLAY-OFF DATES
The end of season pay-off dates have been confirmed and are as follows:

Thursday May 1 (19:45hrs, 20:00hrs kick-off for TV game) Team 5 v Team 2; Team 4 v Team 3.
Bank Holiday Monday May 5 (15:30hrs kick-off) Team 2 v Team 5; Team 3 v Team 4.
Final – Saturday May 10 (Britannia Stadium, Stoke City, 14:30hrs kick-off).

It's being reported that Doncaster Rovers would play their second leg game away from home irrespective of where they finish as a home Bank Holiday fixture would clash with a race meeting.