28 October 2003
CITY FACE GRAVESEND
Gravesend & Northfleet will be Chester's opponents in the first round of the FA Cup. The Fleet won their replay tonight against Exeter City in dramatic fashion, 6-5 on penalties after the two sides has drawn 3-3 after extra time. The game chosen for live TV screening by the BBC is Accrington Stanley v Huddersfield Town.
---
BLUES TO RENEW BID
It's reported in the Evening Leader that City have renewed their interest in Morecambe midfielder Adriano Rigoglioso. The player was sent off in the opening minutes of Saturday's cup game against Shrewsbury Town, his second dismissal of the season. Rigoglioso started his career as a trainee at Liverpool before moving to Marine in 1998. To date he has made 95+34 appearances for Morecambe scoring 20 goals.

City chairman Stephen Vaughan told the press: "Mark Wright has been keen to sign the player for quite a while and, as the lad is out of contract at the end of the season, now may be an opportune time to make a renewed bid. I intend to talk to Jim Harvey (Morecambe manager) and see if they are prepared to discuss the matter further. Morecambe were knocked out of the FA Cup last Saturday, so possibly they may now be prepared to move Adriano on and look for new faces themselves. It could well be that we may offer a player exchange. We will just have to see how the talks progress. But the bottom line is that we would like to sign the player, and we see him improving our squad."

Meanwhile forward Dave Cameron has joined UniBond Premier League side Droylsden on loan following a loan spell at Halifax Town.
---
CITY JUNIORS
With no league games the blues played host to Bangor City Academy at under 9, 10,11, and 13s.
In a truly great game the youngest blues were pipped at the end 1-0 with some great all round performances. Jordan Parkinson earned MOM in goal and for the first time this season had plenty to do with the quality of the opposition. Jonathen Aplas again gave a classy display at centre back and rarely missed a tackle. With chances few and far between both sides worked hard in midfield none more so than Timmy Newman and Danny Jones for the blues and with Taylor Sheehan and Adam Howell up front the home team were always in the game. The visitors scored late in the second period after some neat play but chester responded with a great in swinging corner only to be denied by the keeper. Ben Philips and Macauley Newell came on and played their part and the home team will count themselves rather unlucky not to force a draw .
The under 10s came unstuck beaten 3-1 but will take heart from a solid performance against a quality academy side, but with some tired legs from the previous days 4-4 draw will show better in the return game away.
The under 11s played a mixed age group and found themselves 4-1 down at the break but showed great resolve in the second period eventually loosing 5-2. Having learned a lot from the game the boys now know what is expected at the higher level and will get better.
The under 13s kept the flag flying with a deserved 5-1 victory over their Welsh visitors as Tom Poynton ran away with MOM. With two key players missing in midfield Tom gave up his striker role and dropped into centre mid and produced a great display which was capped off with a 25 yard thunder bolt which drew rapturous applause from both sets of supporters. This set the pace for city as the blues again produced a great team performance against a quality team and look to be good value when playing against this type of opposition.
---
25 October 2003
FA CUP DRAW
City have been drawn at home to either Exeter City or Gravesend & Northfleet in the first round of the FA Cup. The match will take place in the weekend of 8/9 November. The two sides drew 0-0 at St James Park today and will replay back at Gravesend on Tuesday night.
---
JUNIORS SPONSORSHIP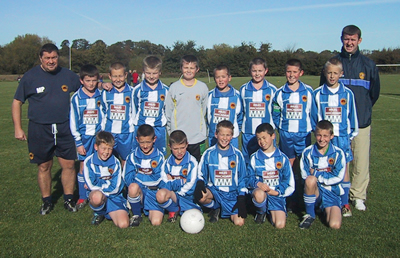 ---
24 October 2003
CITY HIT THE CUP TRAIL
The Blues turn their attentions away from the Conference and to the FA Cup tomorrow as they travel to UniBond Premier League side Blyth Spartans in the fourth qualifying round. Manager Mark Wrgiht will be without bith Paul Carden and Kevin McIntyre who are both suspended tomorrow but Jon Brady and Andy Harris look set to deputise, there may also be a recall for Shaun Carey who has impressed in training recently.

The winners of the the will receive a healthy £10,000 in prize money and will join the first round proper draw that takes place after the game live on BBC1 at 17.05hrs, Blyth/City are ball number 52.

Manager Mark Wright said: "We face a real handful against Blyth, they're not the biggest of sides, but as everybody knows, cup ties like this can be very tough. The FA Cup always provides amazing stories and I'm sure it's going to be a real battle with Blyth. I had someone watch them last weekend at Burscough. I know they have a big striker called Woodhouse and they throw and whip balls into thim from wide positions. The former Aston Villa player Graham Fenton, also plays for them, and they have a big lad at the back, but the rest of their players are 5ft 9in or 5ft 10in tall."

There will be no segregation at the Croft Park tomorrow for City's first-ever visit and admission fees will be the same as for Blyth's League games – £6 for adults and £3 for concessions, with a £1 transfer to the stand which has a 300 capacity. Should a replay be necessary it will take place at Deva Stadium on Tuesday night at 19:45hrs.
---
22 October 2003
NATIONAL GAME X1
Central defender Danny Collins has been selected for the National Game X1 squad who play Belgium at the new all-seater Reynolds Arena, Darlington, on 4 November. Admission to the game that kick's-off at 19:45 is completely free.

The squad in full is: Matt Baker (Hereford United), James Bittner (Exeter City), Greg Oates (Margate), Ismail Yakubu (Barnet), Jon Boardman (Woking) Danny Collins (Chester City), Michael Rose (Hereford United), Gary Thompson (Morecambe), Sam Ricketts (Telford United), Jon Challinor (Aldershot Town), Chris Piper (Dagenham & Redbridge), Anthony Elding (Stevenage Borough), Luke Rodgers (Shrewsbury Town), Roscoe D'Sane (Aldershot Town), Aaron McLean (Aldershot Town), David Perkins (Morecambe).
---
20 October 2003
BLUES SPOT OF BOTHER

City had to be content with a point from Saturday's clash with leaders Hereford United but missed a glorious chance to leapfrog The Bulls to claim top spot. In a game of few chances the visitors may just have had the better share of them but found 'keeper Ian McCaldon, picked ahead of Wayne Brown, in great form for City making a series of saves including a great one following a quickly taken free kick by Williams.

Manager Mark Wright said: "Ian McCaldon justified why I put him in there. He made a great save in the first half, and he was alive when a quick free kick was taken – he had it covered." said manager Mark Wright. But City will rue missing the best chance of the game, a penalty miss three minutes from time that may have wrapped up the points. Ben Davies was brought down in the area by Tamika Mkandawire and the assistant referee immediately signaled a penalty, after what seemed an age, Ian Foster stepped up and although is spot kick was hit with power it was too close to United keeper Baker who saved.

There was more disappointment in injury time when Jamie Heard (pictured) was sent off after receiving his second yellow card of the game following a two-footed challenge. His first booking had been for kicking the ball at the referee after being pulled up for a foul.
---
ISA MEMBERS MEETING
The next members meeting of the ISA will take place on Monday 27 October at Deva Stadium starting at 19:30hrs. The guest speaker will be announced if I get the information.
---
17 October 2003
SETTLEMENT DEAL AGREED WITH SMITHS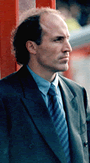 Great news for City fans as it's announced that Terry Smith has agreed a settlement deal with the club and the infamous Smith era at the club is finally over. The deal is signed and sealed though details, hardly surprising, will remain confidential as part of the agreement. The club have issued the following statement:
"We have agreed and completed a settlement with regards to the previous legal proceedings against the club by Terry Smith. This agreement secures the future of Chester City Football Club. Both parties have worked hard to settle their differences and did so in the best interests of Chester city, Chester City FC, and all its fans. Obviously we are delighted this has been concluded and we can go on from here and focus on football and getting back into the Football League."
Chairman Steve Vaughan was obviously delighted matters had finally been setled and the Smith's threat to wind-up the club had gone. He said: "To have got this settlement at all is a massive massive achievement. A vat amount of work has gone into meetings and consultations with legal advisers, accountants, and financial experts. Everything we have done, they have been there, right along with the FA and the Conference. They have worked hard with us and have been there every step of the way. Now we hope people will be able to focus their attentions to giving a lift to the team on Saturday in what is the biggest home game of the season. This is a major milestone. There were a number of options open to us and we have considered everything but this has been reached in the best interest of the club."
---
CITY LOOKING FOR TOP SPOT
Chester will be expecting their highest crowd of the season tomorrow, it could well top the 5,000 mark, as Conference leaders Hereford United visit Deva Stadium. Both side have made great starts to the season, the Bulls, managed by ex-Chester defender Graham Turner have the best attack in the division, City have the best defence. The Blues have won six and drawn one of their home matches this season and will be hoping to repeat that kind of form to bring victory that would take them a point clear at the top. Indications are that Michael Twiss has recovered from a head injury sustained on Tuesday night and manager Mark Wright has a full squad to choose from. Changes will be made from that midweek side with strikers Darryn Stamp and Daryl Clare expected to start.

Needless to say with a big crowd expected the message is to get to the ground in plenty of time, those with an interest in the rugby World Cup will be able to watch the England v South Africa match from 12:00 in the social club.
---
BRODIE RETURNS
Steve Brodie has been recalled by Chester from his two month loan period at Forest Green Rovers. Brodie scored three goals in seven appearances for the Gloucestershire side.
---
16 October 2003
HATSWELL LEAVES FOR HARRIERS
Defender Wayne Hatswell has joined third division Kidderminster Harriers for a fee believed to be in the region of 15,000. The defender has signed a two year deal at Aggborough. Hatswell, who followed manager Mark Wright from Oxford United made 42+2 appearances for City scoring three goals. City were offered a higher fee from Shrewsbury Town but preferred not to see to one of their main Conference rivals. Hatswell, who has not played for City since 13 September when he scored in the 2-0 win over Halifax Town, is expected to go straight into the Kidderminster squad for Saturday's trip to Swansea City. We all wish him well for his future career.
---
15 October 2003
KELLY JOINS SEADOGS
Good luck to midfielder Jimmy Kelly who has signed for Scarborough until the end of the season after a successful two-month loan period with the club. Kelly scored in last night's 2-1 LDV victory over second division Port Vale. During his time at the Deva, Kelly made 30+4 appearances for City scoring one goal, a penalty against Dagenham & Redbridge in that 5-2 win. Manager Mark Wright said: "Jimmy Kelly has joined Scarborough. I told him that if he came back to us he'd only be sitting on the sidelines – I've got a lot of time for Jimmy Kelly. I think he's done a lot of good work for us, he gets about, and he's a 100 percenter, but we've got to look to the future as well. To let Jimmy Kelly go and reduce our wage bill is something we've got to look at because we know we don't need to be carrying too many players."

Another player who could be on his way shortly is defender Wayne Hatswell who last been linked with a move to third division Kidderminster Harriers for a reported £15,000 transfer.
---
14 October 2003
CITY IN TROPHY ACTION
City are in action tonight when they entertain Doncaster Rovers in the first round of the LDV Vans Trophy. Tonightís tie will be played to a conclusion and may even see the use of the 'Silver Goal' to decide the tie. The rule, explained on the Football League website states that:
"Under the new format, which came into operation for the first time in last seasonís UEFA Champions League and UEFA Cup Finals, in matches where extra-time is needed to separate the two teams, a side leading at the end of the first 15-minute period will be declared the winner. Where scores remain tied at the end of the first period, a second 15-minute period of extra time will be played in full. If scores remain tied the match will be decided on penalties."

Manager Mark Wright is expected to include several players tonight who have been on the fringe of thie first team this season, the likes of Shaun Carey and Kevin Rapley. The game at Deva Stadium tonight will kick-off at 19:45hrs. The LDV Vans website name the officials for tonight's game as: Referee: Andrè Marriner (West Midlands), Assistant Referees: Mark Astley (Greater Manchester), Mo Matadar (Lancashire).
One player that may feature is City old boy Alex Smith (left). Smith played in the reserves a couple of weeks ago and has been training at Chester. Wright told the Evening Leader:

"I'm hoping to sign Alex in time to pla in the LDV Vans Trophy match, Iíve spoken ot Alex Smith and Iím hopeful something can be sorted out so he can play. We want him in and he's agreed to come in, now we've just got to sort out a few fine details and then that's that. Alex got bought from Chester to join Part Vale, then he went to Reading and he was playing in the first division last season. He's an exceptional player. He's a left wing-back, a left midfielder, he can play as one of three in the centre, and he's a very talented and experienced player, and I think we're very lucky to have a chance of getting him. We're excited about the prospect of bringing him in."
---
NEW KIT FOR JUNIORS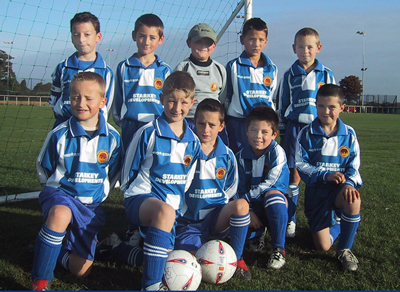 The Chester City U9 team are pictured in their smart new kit sponsored by Starkey Developments of Chester. For the latest reports and results from City's sides click here.
---
13 October 3003
FA CUP DRAW

City have to make the long trip to the north east to play Blyth Spartans in the fourth qualifying round of this season's FA Cup after the draw was made this morning. The tie will take place at Croft Park on Saturday 25 October.

The sides last met in 2000/01 at Deva Stadium in the fifth round of the FA Trophy when goals from Jimmy Haarhoff, Mark Beesley, Paul Beesley and Steve Whitehall gave City a 4-2 victory. Spartans currently lie 14th in the UniBond Premier League with one win in seven home league games so far this season, they defeated Halesowen Town 2-1 on Saturday to reach this stage.

• Official club website | Unofficial

The full draw is:
Newcastle Town/Ossett Albion v Stalybridge Celtic
Dunston Federation Brewery v Chorley/Lancaster City
Ashton Unitrd v Grantham Town
Blyth Spratans v Chester City
Bromsgrove Rovers v Warrington Town/Whitby Town
Burton Albion v Buxton
Morecambe v Shrewsbury Town
Telford United v Tamworth
Scarborough v Hinckley United
Farsley Celtic v Gainsborough Trinity
Accrington Stanley v Leigh RMI
Northwich Victoria v Halifax Town
Nuneaton Borough/Runcorn FC Halton v Bradford Park Avenue/Vauxhall Motors
Shildon v Eastwood Town/Stocksbridge Park Steels
Leyton v Histon/Newmarket Town
Eastbourne Borough v Stevenage Borough
Basingstoke Town/Bracknell T v Barnet
Thame United v Farnborough Town
Grays Athletic v Margate
Folkestone Invica/Welling United v Weston-super-Mare/Chesham United
Hayes/Boreham Wood v Kettering Town
Forest Green Rovers v Aldershot Town
Bromley/Thurrock v Dagenham & Redbridge
Newport IOW/Harrow Borough v Hereford United
Maidstone United/Bishop's Stortford v Gloucester City
Salisbury City v Lymington & New Milton
Cambridge City v Ford United
Mangotsfield Utd v Canvey Island
Hornchurch v Paulton Rovers
East Thurrock United/AFC Sudbury v Woking
Cirencester Town v Crawley Town
Exeter City v Gravesend & Northfleet
---
12 October 3003
HOME FORM CONTINUES
City's first ever win over Woking on Saturday kept up their impressive home form at Deva Stadium. The Blues have won six and drawn one of their seven matches and Saturday's goal conceded was only the second there this season. Michael Twiss, making only his second start of the season, was without doubt the danger man in an entertaining match with his surging runs causing all sorts of problems for the visitors, particularly in the first half. Twiss himself was unlucky not to get on the scoresheet forcing a fine save in the first minute! Ben Davies opened the scoring on 17 minutes with a beauty from 25 yards and Twiss added the second twelve minutes after the break. The were some anxious moments towards the end after The Cards had reduced the arrears on 75 minutes but City hung on for three more valuable points to take them to just one point behind leaders Hereford United who play on Monday.

Paul Carden and Kevin McIntyre both picked up yellow cards on Saturday and will both be suspended for the FA Cup match in a fortnight.
---
10 October 3003
FORMER PLAYER DIES
The club was sorry to hear of the recent death of Norman Bullock who made 187 league appearances and scored 41 goals for the club between 1952 and 1960. A predominantly left footed player Norman was an extremely versatile performer who played in a number of different positions from left back through to centre forward although most of his games were in the forward line. Everyone at Chester would like to pass on their condolences to his family and friends.

• Norman Bullock 1932-2003
---
CHANCE TO CLOSE THE GAP
With three bogey's laid to rest so far this season, the first home win over Forest Green Rovers, a first victory over Northwich since the 1930s and, on Wednesday, the first point at Burton Albion, the Blues aim to do another tomorrow – a first-ever victory over Woking! City have drawn two and lost in the three Conference visits from the Surrey side to Deva Stadium, and tasted defeat in all three at Kingfield. The Cards visit Chester tomorrow in tenth place with one win on their travels this term, 1-0 at Leigh RMI. They will include on-loan signing Geoff Pitcher from Brighton & Hove Albion, but will be without top striker Amos Foyewa, who begins a three-match ban. Foyewa, who was on loan from Bournemouth at the time, ran rings round City when the sides drew 2-2 at Deva Stadium last April.

For City, goalkeeper Ian McCaldon will be on standby to deputise should Wayne Brown not recover from a back injury he sustained last Saturday, while there are slight injury doubts over Ian Foster and Ben Davies. City will be looking to close the gap at the top to one point with a win tomorrow as leaders Hereford United are not in action, The Bulls entertain Dagenham & Redbridge on Monday night in a game covered live on SKY.
---
9 October 2003
DISPUTED PENALTY ROBS CITY

The Blues were seconds away from a first victory at Burton Albion last night. Darryn Stamp (left) had given City the lead a quarter of an hour from the end of the game but the strker was then adjudged to have hauled down Glenn Kirkwood in the box deep into injury time to concede that last-gasp spot kick, duly despatchd by Aaron Webster. City created numerous chances to have had the game sewn up by the, Jamie Heard, who replaced Jon Brady in the starting line-up, was unlucky to see a fine curling shot hit the post and substitute Daryl Clare also saw an effort well saved as City took the game to their opponents in the second half. Earlier Kevin McIntyre grazed the crossbar with a free-kick and Ian Foster missed a couple of good chances.

Manager Mark Wright praised his defence for shutting down the home side last night but made it clear he though they defended far too deep at the death: "I thought we defended brilliantly all night and I thought we played ever so well as a team. We deserved the three points, but that ball was 15 or 20 yards in their half and yet we end up five yards inside our own box with every single player in their fighting for the ball – you can't do things like that and it cost us. We were all gutted because with 93 minutes gone we expected to win the game." he said.
---
SKY TV IN THE SOCIAL CLUB
The club have had SKY TV installed in both the social club and executive lounges at Deva Stadium. Those wishing to watch the Turkey v England game (kick-off 18:00hrs) after the Woking match on Saturday can do so by getting a ticket in the social club prior to the Chester match, this will guarantee access for afterwards.
---
FA CUP DRAW
The draw takes place on Monday at 11am for the fourth qualifying round of this years FA Cup, the stage where City enter the competition. The game is scheduled to take place on Saturday 25 October.
---
8 October 2003
BULLS PULL CLEAR

After last night's round of Conference matches, City go into tonight's game at Burton Albion still in second spot but five points behind leaders Hereford United. The Bulls' 5-1 win at Northwich Victoria last night not only extended their points gap at the top but also their goal difference which now stands at +21, seven more than the Blues.

Third placed Barnet failed to overtake City as they lost by the odd goal in five at home to Exeter City who moved sixth. Aldershot Town's 3-1 win at Gravesend & Northfleet lifted them to sixth spot, one point behind the Blues.

Meanwhile some City Exiles saw on-loan Steve Brodie have another great game for Forest Green Rovers, scoring a neat goal in first half injury time and having a cross-shot sliced in for an own goal as Rovers won 3-1 at struggling Farnborough Town. The City midfielder, popular with the Rovers fans as well!, played for 75 minutes before going off with a slight groin strain.

It remains to be seen whether City manager Mark Wright will be tempted to start with a fully fit again Daryl Clare at 15th placed Burton Albion tonight as the Blues look for their first-ever win at Eaton Park. The game is being screened live on SKY Sports and kick's off at 19:45hrs.
---
EXILES SKY SCREENING
Any Exiles living or working in the London area can view tonight's SKY game at Burton Albion at our regular venue the Famous Three Kings (F3K) which is situated right next door to West Kensington tube station (District Line). Once again we have the mezze level area booked from 19.00 for the 19:45hrs kick-off. All are welcome.
---
5 October 2003
STALEMATE AGAIN
For the second successive Saturday City were forced to settle for 0-0 draw after failing to break down a Dagenham side plagued by injury. Danny Collins put in another man of the match performance at the back especially in the final 15 minutes when City were put under a lot of pressure. The Blues created few chances to win the game, Darryn Stamp having the best of them in the first half being tackled by on-loan Dean Beckwith after he'd rounded the keeper and seemed certain to score.

Steve Brodie's recall didn't happen, instead the midfielder was busy scoring a last minute equaliser for Forest Green Rovers at Gravesend. The Blues unbeaten run now extends to eight games but Hereford United's win at Woking lifts them two points clear at the top. Barnet's run of fine form continues, the traditional Manager of the Month award jinx failed to materialise at Underhill as the Bees defeated Morecambe 2-1 to join City on 27 points.

City are in action next on Wednesday night when they travel to Burton Albion for a SKY televised Conference game that kick's-off at 19:45.
---
3 October 2003
BRODIE RECALLED
It's reported that midfielder Steve Brodie has been recalled from his loan period at Forest Green Rovers in time for tomorrow's game at Dagenham & Redbridge. Manager Mark Wright will be waiting on a fitness test on Kevin McIntyre before naming the side tomorrow. Brodie has been recalled as youngster Jamie Heard is the latest victim of a flu bug that has been going around the squad for a few weeks now.

Striker Daryl Clare, who started last week on the bench, is likely to find himself there again tomorrow as the front line of Darryn Stamp and Ian Foster look set to carry on the good work that has helped lift City to joint top spot in the Conference. Opponents Dagenham have a few injury worries prior to the clash. Danny Hill and Lee Matthews are out whilst Tim Cole is suspended. Experienced goalkeeper Tony Roberts and midfielder Tarkan Mustafa are also doubtful.

The Daggers currently lie in 14th position having won just one of their last five games, however, they will be difficult opponents and City know they will have to play at their best if they're to come away with their first ever victory at Victoria Road.
---
2 October 2003
TRANMERE SPECULATION

There's much speculation about this morning as to the future of manager Mark Wright. Wright was at Tranmere Rovers on Tuesday night and is believed to have had talks regarding the vacant managerial position there following Ray Mathias' dismissal on Saturday. Chairman Steve Vaughan has given Wright permission to speak to both Tranmere Rovers and managerless Stockport County.

Vaughan has also offered a new three year contract in an effort to keep Wright, but, quite rightly, will want a quick decision in an effort not to unsettle the squad. He told Neil Turner in the Liverpool Daily Post: "I don't want to lose Mark, but I have invested a lot of money on Chester City Football Club and as such, with all the speculation that's around at the moment, I have had to make plans to protect my investment if he decides to go. If somebody is unsettled, it would be unfair to stand in their way, so that's why Mark received my blessing to talk to both clubs, if he wanted to."
---
1 October 2003
WRIGHT MISSES OUT
Barnet manager Martin Allen has been named Conference manager of the month for September. Allen has guided the Bees to third spot with four wins and a draw during the month. City, of course have the same record, but with away wins at Margate and promotion contenders Stevenage Borough and Shrewsbury Town will have caught the eye.