29 April 2009

CITY DROP MAY FORCE LOWE'S DEPARTURE


Leading scorer Ryan Lowe could well play his last match for City on Saturday. In his second spell with the Blues, City were always going to have a problem holding on to the player if they dropped to non-league.

Talisman Lowe has netted 18 goals this season and has a respectable record, during his two Deva spells, of 35 goals in 84+5 appearances. he looks certain to remain in League Two next season

Lowe said: "I don't think I'm ready to go to the Conference just yet. I was playing League One last season and I don't think I'm ready to drop down two leagues in the space of 12 months.
We've still got a game to play against Darlington. I'll give it 100%, as all the lads will, and try and give Chester a good send off. Then I'll sit down and discuss my future."

"We've more or less lost our League status and it's a very tough one to take. No-one likes to be relegated and no-one likes to lose games, but we've obviously not been good enough throughout the season and we've paid the consequence for it."


---
27 April 2009

WRIGHT TO CARRY ON AT CITY?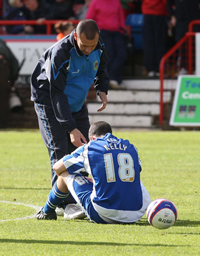 Blues manager Mark Wright has indicated that if wanted he would stay with City after they were relegated to non-league on Saturday. Despite a battling 2-2 draw at Aldershot the point was not enough to stop the drop to non-league for the second time in nine years. Mathematically they are still now down but a 20-0 victory over Darlington on Saturday to make up the goal difference on Grimsby Town seems rather unlikely!

Manager Wright told the Chester Chronicle: "It is a very sad day for the club and I feel for the chairman Stephen Vaughan, the supporters and the players. But if you end up with the points we've got you don't deserve to stay in the League."
"It's been a long, hard struggle but when you've only got 13 professionals, with kids on £45 and £90 a week, then it's very hard to compete."
"We've got out of the Conference before and while it's going to be difficult, it's not impossible to do it again. So if we can get the right ilk of players and if the chairman wants me to stay around, I will stay and put a team out that will compete in the Conference."

City were given the best possible start against the Shots taking the lead in the opening minute through Ryan Lowe who netted the rebound after seeing a penalty saved following a foul on youngster Lloyd Ellams.

Kirk Hudson leveled for the home side on 14 minutes and scored a spectacular volley to put City 2-1 down ten minutes after the break. Ellams restored parity for City just after the hour mark and though the Blues pushed for a winner, and had a golden chance for it in the closing minutes, it was not to be.


•
League table
---
24 April 2009

WIN OR BUST FOR CITY


Chester go into their final away game at Aldershot Town tomorrow knowing that anything less than a victory would condemn them back into non-league five years after being promoted as Conference champions.
Three points for the Blues tomorrow would take the relegation drama to the very last game of the season, regardless of what the other relegation threatened sides Bournemouth and Grimsby Town do when they play each other tomorrow.
Manager Mark Wright must wait on the fitness of several players befiore naming his side. Kevin Ellison is the main doubt with Paul Linwood, Shaun Kelly and Richie Partridge all carrying injuries.
Manager Mark Wright said: "I've got to make sure that every single player I put out on the field wants to play and work hard for this football club and get us out of this mire."
"I'll be asking whether the players are up for the challenge and I'll be looking each and every one of them in the eye to see whether they are up for the challenge."
"We need to get inside the players' heads and make sure they battle. If we can do that then we give ourselves a fighting chance. Some players may feel that we're going down and maybe they're looking towards next season because they've been tapped up by another club."
"I wouldn't be surprised if some of my players have already been tapped up by now, but that's life and it goes on everywhere, but I've got to make sure that every single one of my players gives a good performance."
"I'm going to have a chat with all the players before tomorrow's match because I feel it's very important that they all understand what is required. They all under-performed against Bournemouth last weekend and they didn't listen to what I asked them to do."
The Shots lie in 15th place and will be looking to end their first season in the Football League on a high after failing to win in their last eight matches, they have only lost at home on four occasions this season though. The Hampshire side will be without Lewis Chalmers through suspension while Dave Winfield, Anthony Charles and Dean Howell all picked up injuries during their 3-0 defeat at Wycombe Wanderers last Saturday.
The two sides last met at Deva Stadium in November with the visitors winning by a single goal. Success for Chester at Aldershot has been hard to come by in the past. The last victory there came in September 1984 as goals from Peter Sayer and Owen Brown gave the Blues a 2-1 victory.

---
23 April 2009

MOZIKA SUSPENDED


Midfielder Damien Mozika has been suspended by the football club for what is reported as "serious breaches of club discipline." The French midfielder, who signed from AS Nancy in the summer, has scored twice in 24+1 appearances for the Blues this season but a hamstring injury has meant he has only played four times this year, the last time during the 3-1 defeat at Barnet in early March.

Club owner Stephen Vaughan said: "The player has been involved in some unacceptable behaviour during the past fortnight, which are without doubt serious breaches of club discipline, and we have been left with no alternative, but to reach this decision."


"To add to the problem, the player refused to play in last weekend's match against Bournemouth, despite being declared fit by both our club doctor and the club's physiotherapist. Apparently, two clubs have shown interest in signing the player, and I wonder if this interest has been part of the motivation behind Mozika's unacceptable behaviour. We shall be retaining the player's registration, and having further discussions with his agent."


---
20 April 2009

POOR CITY DISAPPOINT AGAIN

City put in another poor home display in Saturday when losing to relegation rivals Bournemouth 2-0 at Deva Stadium. In a must win game the Blues found themselves goal down in just three minutes with a 35-yard free-kick from Brett Pitman sailing over the small City wall and past keeper James Spencer at the far post. City were second best all afternoon against a bigger and more physical side who sealed the win through Anton Robinson ten minutes from time.

The scenario now is quite simple, City must win their last two matches beginning at Aldershot Town on Saturday and at home to Darlington a week later. If they do then they must hope that either Bournemouth or Grimsby Town pick up just a point from their last two matches. Ironically the two sides meet at the weekend so a draw, thus leaving both sides something to play for on the last day, would suit City.

Back-to-back wins are hard to come by for City. The last time the Blues achieved successive victories was in early October 2007!

Blues manager Mark Wright admitted his side were second best. He said: "We're aware that our Football League status is now hanging by a thread, but things have been hard for us. Everybody else has been able to strengthen their squads while ours has remained the same."
"I think my boys have done tremendously well, but when we face a big, organised side like Bournemouth, we didn't have enough to trouble them. I thought Bournemouth deserved their win and we have to wish them all the best."
"They're down, very down and feel sorry for themselves. But they've got to forget about that because they're still in it if we can get a win at Aldershot."
---
17 April 2009

IT'S TIME TO DELIVER

The Blues entertain Bournemouth tomorrow in their most important game since their return to the League five years ago. City currently sit next to bottom of the league a point behind both Grimsby Town and tomorrow's visitors. A victory for the Blues would leave them two points clear of their relegation rivals from Dorset with just two matches remaining. A draw or defeat would make escaping relegation extremely difficult especially as the Blues have a far inferior goal difference to those teams hoping not to join Luton Town in the Blue Square Premier League next August.

Despite a recent upturn in form Chester have still failed to win a home match in 2009. Manager Mark Wright must wait to see if Kevin Ellison has recovered from injury picked up at Accrington Stanley on Monday. Wright said: "I'm hoping that Kevin Ellison can recover from the injury he picked up because he played so well before he went down. When he went off I feel we missed him."

Damien Mozika remains a doubt again as he continues to recover from a hamstring injury.

The supporters will play an important part in tomorrow's clash. Wright added: "I feel it is vitally important we get a lot of supporters into the ground so that our players can respond to that situation. The team seem to be more settled away from home rather that when we play at home which is a shame. I think we've got to start giving our supporters something to shout about."

"I want to see Chester City staying in the Football League because it took a lot of hard work to get the club there. The next three games are massive for the club."

The Cherries have a doubt over defender Ryan Garry though Steve Fletcher looks set to play despite picking up a facial injury in Monday's home defeat by Brentford. They have lost four of their last five matches that has seen them slip back into the relegation mix.

---
16 April 2009

NEW KIT DEAL ANNOUNCED

The club have signed a three deal with kit manufacturer Vandanel starting next season. It's reported that replica shirts are expected to be on sale in July.

---
14 April 2009

AWAY WIN GIVES CITY HOPE

Chester secured their second away win on the spin as Ryan Lowe's first half penalty was just enough to bring three precious points back from Accrington Stanley. The Blues completed the double over the Lancashire side. A win for Grimsby Town at Notts County means the Blues remain second from bottom but they've gained three vital points over Bournemouth. A win against the Cherries at Deva Stadium on Saturday will lift City two points above the Dorset side who have also to play Grimsby in the final run-in.

Manager Mark Wright said after the victory: "At this stage of the season it's not how we perform, it's about getting the points. To get points on the board now will help us and will hopefully put pressure on those teams in and around us. The players did exactly the same as they had done in our four previous games up until Saturday's 2-0 home defeat against Macclesfield."

"The Macclesfield defeat has been a thorn in my side because I thought we should have competed and got something from it. But because we had won a game at Notts County we overplayed and did things that we don't want to see at this stage of the season."


---
11 April 2009

WRIGHT'S FRUSTRATION AT HOME DEFEAT


After the heroics at Meadow Lane seven days before City turned in a disappointing effort as they were beaten 2-0 at home by Macclesfield Town to leave them deep in relegation trouble. Fortunately for the Blue,s their closest rivals for the drop Grimsby Town also suffered a home defeat to leave the table as it was.

"We just didn't turn up first half. They didn't press anywhere near as much as they have done in the last four games and they didn't win the second balls.
I looked very, very closely at making changes, but it would have been cruel on the boys who did very well last week until our keeper John Danby went off. It would have been unfair but my gut instinct is now telling me I didn't do it right. We've missed a big, big chance to make things easier for the football club."

The Silkmen took an early lead through John Rooney and doubled their advantage after 29 minutes through Gareth Evans. City rallied late in the second half with Shaun Kelly coming off the bench to lead the line. Both Ryan Lowe and Paul Rutherford saw late efforts saved, but it was all too little too late after such a poor first half performance.

---
10 April 2009

LOAN KEEPER SIGNED

The Blues have signed goalkeeper Jamie Spencer on loan from Rochdale.
He is the third choice 'keeper at Spotland and goes straight into the side that face Macclesfield Town at Deva Stadium on Saturday. He began his career as a trainee at Stockport County where he made 107+1 appearances before moving to Rochdale in June 2007. He has made 22+0 appearances for the Lancashire side.

---
9 April 2009

GOALKEEPER SEARCH CONTINUES


After being given permission from the Football League to recruit an emergency loan goalkeeper on a renewable seven-day contract, City are still trying to fill the post. John Danby (left) is ruled out for the rest of the season after tearing ligaments in his right shoulder late on in Saturday's win at Notts County.

Although manager Mark Wright has an idea of who he wants to bring in the club have so far drawn a blank. Wright said: "There's loads of keepers out there, it's more a matter of whether they want to come to us because we're in a relegation battle. So we need to find someone who not only wants to come here, but who is good enough as well."

the Blues are in action twice over the weekend. On Saturday Cheshire neighbours Macclesfield Town visit Deva Stadium (15:00hrs) then the Blues follow this with a trip to Accrington Stanley on Monday (13:00hrs).

Laurence Wilson is a doubt after picking up an injury at Meadow Lane, though Shaun Kelly
, who made the bench after returning from injury last week could feature.


---
7 April 2009

DUO CHARGED BY THE FA

David Mannix and Jay Harris have both been charged by the Football Association for breaching betting rules.

They, along with three other players, Robert Williams and Peter Cavanagh from Accrington Stanley and Andrew Mangan who was at Bury, have been charged with betting on a victory for Bury in Accrington's last game of last season. Both Mannix and Harris were playing for Stanley at the time.

A statement on the FA website states that: "All five are alleged to have placed bets on Bury to win this match. Mannix is alleged to have placed stakes to the value of approximately £4,000; Mangan £3,500; Harris £2,000; Williams £1,000; and Cavanagh on a £5 accumulator. Harris, has also been charged on betting on a game involving his new club and another two League Two fixtures."


FA rules prohibit participants from betting on the result or progress of any match or competition in which the participant is participating or has any direct or indirect influence. All five have until 23 April to respond to the charges.

• FA statement
---
6 April 2009

KEEPER DILEMMA FOR BLUES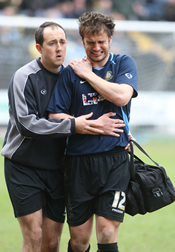 Chester secured their first victory since Boxing Day on Saturday as goals from David Mannix and Ryan Lowe helped City to a 2-1 win at Notts County to close the gap on promotion rivals Grimsby Town to one point.

The victory came at a price though as goalkeeper John Danby had to be helped off the pitch with a shoulder/ collar bone injury three minutes from time resulting in a nervy final period in which Ryan Lowe took the gloves, and despite being beaten by Mike Edwards, held out to earn his side the three points.

The extent of the injury is as yet unknown but the shot stopper looks likely to miss the remainder of the season. With the club currently under a transfer embargo it's unclear whether an emergency replacement can be brought in. Defender Laurence Wilson also picked up an injury and was replaced by James owen after just 16 minutes.

City had taken the lead on 14 minutes as Mannix was presented with a far post free header from a corner and doubled their lead five minutes after the break as Paul Rutherford took advantage of some hesitancy in the home defence to set up Lowe who made no mistake from close range.

Lowe told the Evening Leader: "After John Danby went down injured I thought it might be best to take the responsibility rather than have one of our younger players go in goal."
"I'm an older and a more experienced player and I thought if I used my head I could perhaps waste a bit of time. I put my hand up to go in goal when Simon Davies was in charge a couple of months ago, but I found it a bit nerve-racking. I thought we did really well and the lads defended brilliantly."
"I don't know my angles and I'm no goalkeeper, but the gaffer gave me stick for not keeping hold of the shot before they scored. But I did tip one shot round my post. I just hope I don't have to go in goal again. I thought I made a great save before they scored and I've had a go at the lads for not being quick enough to the second ball. At the end of the day I'm not a goalkeeper, but I knew they were trying to pepper us. It was just a bit of a bonus to finish the game with all three points."

With rivals Bournemouth winning again and Grimsby Town picking up a point at Shrewsbury Town the Blues know that victories over both Macclesfield Town and Accrington Stanley over the Easter period are a must if they are to give themselves any chance of escaping the drop.

---
YOUTH DEFEAT

The youth team were beaten 3-1 by bottom of the table side Accrington Stanley on Saturday. Conal Rawlinson scored the City goal in the disappointing defeat, their fourth in a row.

• Youth fixtures | Table
---
ACCRINGTON CHANGE

The away game at Accrington Stanley on Easter Monday will now kick-off at 13:00hrs. The decision has been made at the request of the local police who are expecting a large crowd
.

---
3 April 2009

BLUES SEEK ELUSIVE WIN


City travel to 17th placed Notts County tomorrow
still looking for that elusive first win of 2009. Earlier in the season goals from Ryan Lowe and Kevin Roberts broughta 2-0 home victory over the Magpies in mid-December.

Whether injured duo Damien Mozika and Shaun Kelly are fit to return remains to be seen. Mozika has made only four appearances in 2009 the last coming at Barnet where he lasted just 56 minutes before his hamstring injury flared up again. Kelly, in his first season as a pro, missed the whole of March with a knee injury that has seen him attend Lilleshall for intensive specialist treatment.

County have won one of their last seven matches, though they have picked up four points from the last six. Manager Ian McParland's expecting a tough game from City tomorrow and will not be underestimating the Blues. He told their official website: "Chester will be battling and scrapping for the points and having looked at their squad that have some good players sprinkling around. Lowe, Ellison and Partridge can all do something different to win a football match and it will be really tough against them."

McParland looks set to be without Adam Tann who is recovering from flu while Stephen Hunt and Russell Hould are certain to be out. Matt Hamshaw, Jamie Clapham and Michael Johnson look set to play following injury.

---