---
Monday 30 August 2004
Boston United 3 Chester City 1
League Two
Attendance: 2,698 Half Time 2-0
Booked: Ellison, Vaughan, Branch, Belle, Davies.
Boston United: Abbey, Beevers, Ellender, Greaves, McCann, Holland, Bennett, Gascoigne (Thompson 69), Thomas (Carruthers 82), Lee, Abbey (Pitt 56). Subs not used: Bastock, Rusk.
Chester City: Brown, Bolland, Collins, Hessey, Vaughan, Ellison (Drummond 66), Davies, Navarro, McIntyre, Branch, Belle. Subs not used: MacKenzie, Carden, Rapley, Edmondson.
Referee: G.Lewis (Cambridgeshire).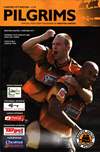 Ian Rush took charge of his first game as manager and with it made a couple of changes from Saturday's starting line-up that lost so badly to Darlington. In came Ben Davies for Stewart Drummond in midfield while Cortez Belle replaced Kevin Rapley up front alongside Michael Branch. Hosts Boston United fielded Paul Gascoigne for his home debut after signing as a coach in the summer.
Unlike on Saturday, Rush took to the dug-out at York Street, and, only three minutes into management found his side a goal down. Jason Lee knocked down Beevers' cross for the unmarked Danny Thomas to fire home past Wayne Brown from close range.
Not the start City had wanted and it was another ten minutes before they had their first chance on goal with on-loan Alan Navarro shooting wide from 25 yards.
Minutes later Gascoigne should have doubled the Pilgrims lead when he headed wide from close range when he met Thomas' corner.
Davies and Kevin Ellison both had efforts on goal, Ellison in fact saw a shot deflected onto a post, and Branch had a long range effort caught by Abbey before Boston scored a second on the stroke of half-time as Zema Abbey, on loan from Norwich City, headed home following build-up work from Thomas and Lee.
Gascoigne was booked for a foul on Davies and was fortunate to stay on the pitch after another tackle on McIntyre minutes later.
A half-time downpour caused a few problems after the break. Manager Rush gave Davis a man marking role on Gascoigne for the second period. Davies went close but the United forward line of Abbey, Thomas and Lee were threatening everytime they went forward.
Boston added a third goal in controversial circumstances on 70 minutes. Danny Collins was adjudged to have fouled substitute Courtney Pitt, referee Lewis pointed to the spot. Pitt took the spot-kick himself but saw his effort saved well by Wayne Brown, however Lewis ordered a retake that Pitt dispatched. Steve Vaughan and Michael Branch found themselves in the referee's book for protesting.
Six minutes from time City themselves were awarded a penalty as Ellender was adjudged to have handled a McIntyre cross. Branch coolly slotted the consolation penalty into the bottom left corner in front of the traveling City fans. Branch saw a volley pushed wide by Abbey injury time but, as on Saturday, City ended the game well beaten.
---
Saturday 28 August 2004
Chester City 0 Darlington 3
League Two
Attendance: 2,392 Half Time 0-2
Booked: Ellison, Branch.
Chester City: Brown, Vaughan, McIntyre, Hessey, Bolland, Collins, Navarro (Carden 66), Drummond (Davies 55), Ellison, Rapley (Belle 56), Branch. Subs not used: MacKenzie, Edmondson.
Darlington: S.Russell, Valentine, Liddle (Fleming 70), Hutchinson, Kendrick, Wainwright (Hughes 50), Close, Keltie (Thomas 60), Clark, C.Russell, Clarke. Subs not used: Convery, Maddison.
Referee: R.Booth (Nottinghamshire).

It's now three home games and three defeats for City who are finding life back in the Football League a little tougher than they expected, to emphasise the fact they have yet to muster a goal at the Deva this season. On a day when former player and goalscoring legend Ian Rush was announced as the new first team manager, the Blues turned in an inept display for over an hour all too reminiscent of the bad old days under former chairman Terry Smith.
Once again midfielders Paul Carden and Ben Davies, stalwarts of last seasons promotion campaign, started on the bench, Ray Mathias opting instead for Stewart Drummond and on-loan Alan Navarro. Michael Branch recovered from a midweek knock to take his place in attack.
The game started in quite a scrappy fashion with City having the first effort on goal as Kevin Ellison saw his cross cut-out by Russell in the Darlo goal following a free-kick on the left.
The Quakers should have taken the lead minutes later as Craig Russell missed a golden chance following a Ryan Vallentine cross. It wasn't long before the visitors opened the scoring though. Valentine's free-kick following a Ellison foul found its way through to Ian Clarke in acres of space down the left. He shot for goal, Wayne Brown did well to get a save in but could only parry the ball across goal, Danny Collins racing back managed to get a foot to the ball but only diverted it straight to Neil Wainwright eight yards out who had all the time in the world to pick his spot.
Eight minutes the Blues found themselves two goals down. City failed to deal with an inswinging left-wing Wainwright corner with the ball falling to Joseph Kendrick who smashed it into the roof of the net from ten yards, plenty of accusing fingers pointing in the City defence.
Despite the lions share of possession City failed to really test Russell in the Darlo goal, one chance fell to Kevin Rapley who could only head into the 'keeper's arms from close range following a Branch cross as the half ended with the Blues two goals down.
Ten minutes into the second period Mathias made a double substitution bringing on Cortez Belle and Ben Davies for Rapley and the ineffective Drummond. The change almost brought instant dividends with Davies, linking up with Branch and Stephen Vaughan shot just wide. But minutes after this glimmer of hope Matthew Clarke headed home unmarked from a right wing corner with Wayne Brown rooted to the spot to give Darlo a 3-0 lead.
Paul Carden was eventually introduced at the expense of Navarro to the cheers of the home crowd. For once City started to play the ball around on the ground with Carden and Davies buzzing around in midfield, bringing other players into the game, creating chances for Belle and Branch. Danny Collins headed over from a McIntyre corner when he should have found the target as City pressed for a consolation goal.
Michael Branch, who worked tirelessly all afternoon, responded with a snap-shot that was saved by Russell. City forced a series of corners and from one of these Belle went close to scoring his first goal for the club after a getting in a point blank header that Russell managed to push over the bar for a great save.
Ben Davies saw his free-kick hit the side netting as Chester finished with a flourish. It was all too late though, the damage had been done in the first hour as Darlington took their chances presented to them by poor defending and ran out comfortable winners.
Ray Mathias said after the latest defeat: "We're letting in some ridiculous goals. Our concentration goes at the wrong times. When the first goal went in a few heads went down. We weren't mean enough at the back and we weren't ruthless enough enough up front. I think we played too many long balls and although Michael Branch looked strong and wiling to work, he wasn't given the right distribution. At half-time we told the defenders they had to get things right. By and large we did that in the second half and there were enough positives in the second half to give us hope when we go to York Street on Monday for our game against Boston."
---
Tuesday 24 August 2004
Sunderland 3 Chester City 0
Carling Cup Round 1
Attendance: 11,450 Half Time 1-0
Booked: None.
Sunderland: Myhre (Poom 61), Arca (Lawrence 76), Breen, Stephen Caldwell, Lynch, Whitehead, Robinson, Thornton, Oster, Stewart (Elliott 72), Kyle. Subs not used: Collins, Brown.
Chester City: Brown, Vaughan, Collins, Hessey, Bolland, McIntyre, Drummond, Navarro, Ellison, Branch (Davies 64), Belle (Carden 90). Subs not used: MacKenzie, Edmondson, Hope.
Referee: G Salisbury (Lancashire).

It's not very often you get to see Chester run out into a 49,000 capacity stadium to the strains of Prokofiev, but I'm afraid the impressive surroundings of Sunderland's Stadium of Light didn't inspire the Blues to any sort of shock cup result.
Most of the 400 or so City fans would actually have settled for a single goal to give them some cheer on a night when Chester shots on target were, once again, noticeably absent.
Manager Ray Mathias opted for essentially the same team which ground out a draw against Bury, with the exception of Cortez "Tezza" Belle playing up front in place of the injured Kevin Rapley. Just a few months ago when Belle was playing at Merthyr Tydfil, he must only have dreamt of playing at such a venue.
To be honest, the gulf in quality between Belle and Sunderland's big striking targetman, Kevin Kyle, was clearly evident. But most of the other Blues players also failed to come anywhere near their Championship counterparts.
Sunderland set their stall out almost from the off when midfielder Sean Thornton forced Wayne Brown into a save in the first minute. Brown had to make another stop just a few minutes later, this time from Dean Whitehead.
For much of the next 20 minutes it was a case of Chester soaking up the pressure from pacey Sunderland, who had made just two changes following their weekend Championship defeat at Plymouth Argyle.
Chester's main chance of the entire match came halfway through the first half when Alan Navarro, probably City's man-of-the-match, won the ball near the Chester area. He laid on a perfect diagonal pass to Michael Branch. He then found himself in a one-on-one with Black Cats 'keeper Thomas Myhre, but his shot was blocked by the Norwegian.
The only real Chester sparks from that point came from Stuart Drummond, who beat a couple of Sunderland players, before failing to lay off a decent pass as he approached the box, and then Branch, who also rode a number of challenges before earning a corner.
But Myrhe had no problem making the catch from the corner and Sunderland were racing forward yet again. Brown had to run out of his goal, leaving captain Phil Bolland and Danny Collins guarding the net. They made a good job of clearing the ball out of the area.
Stephen Vaughan Junior was in the right place to stop a shot on the line, and a Black Cats goal was looking increasingly inevitable. The Blues' fans didn't stop cheering on their team, despite the drums being banned from the ground, but were briefly silenced on the 40th minute when Sean Hessey headed a John Oster free kick into the back of the Chester net.
The Blues are making a worrying habit of faltering in the second half, and we had no reason to believe today would be any different. Within just ten minutes of the re-start, the Mackems made it 2-0 when a corner was headed home by an unmarked Kyle. Chester's inability to cope with set pieces is also making fans extremely jittery already this season.
Sunderland responded by scoring from another set piece on the 68th minute when a free kick broke through the Chester wall. Brown could only knock it away, and it fell to another unmarked Black Cats' player. Stephen Caldwell had no trouble finding the net.
Branch had been replaced by Ben Davies on the 64th minute and it was obvious there was no coming back for Chester. Davies made a reasonable impression, with an energetic performance up and down the park, including a great block tackle.
Another Chester substitute came on the 90th minute when Paul Carden was introduced as a replacement for struggling Belle. For a few minutes we had Davies and Kevin Ellison playing up front. But by then I was just happy the scoreline had been kept down to 3-0 and was relieved when referee Graham Salisbury blew for time.
There were many similarities with our last League Cup encounter with Sunderland in September 1998. We also got beaten 3-0, we faced some of the most officious stewarding imaginable and we impressed the Mackems with our passionate support for our club.
Back in 1998, the Chester fixture then registered the lowest attendance (20,618) at the Stadium of Light so far that season. Last night, despite a £10 admission fee and £5 for concessions, the attendance was actually the stadium's lowest ever – a miserable 11,450.
The Mackems are supposed to love their football and we mostly had a warm welcome from any Sunderlander we met – including the driver who spotted my Chester scarf as I approached the city and offered to escort me all the way to the ground. But their fans failed to turn out in any force for this fixture and probably sat at home watching the Olympics instead. I didn't see any evidence of gold medal performances from Chester and wonder if I should have done the same. Improvements will have to be made when the club's attention turns back to the vital League fixtures over the holiday weekend.
---
Saturday 21 August 2004
Bury 1 Chester City 1
League Two
Attendance: 2,870 Half Time 0-1
Booked: Drummond, Ellison, Belle.
Bury: Garner, Scott, Challino, Woodthorpe, Unsworth (Whaley 68), Flitcroft, Mattis, Barry-Murphy, Kennedy, Nugent, Porter (Dunfield 90). Subs not used: Newby, Duxbury, Smith.
Chester City: Brown, Vaughan, Collins, Hessey, Bolland, McIntyre, Drummond, Navarro (Carden 85), Ellison, Branch, Rapley (Belle 72). Subs not used: MacKenzie, Davies, Edmondson.
Referee: K.Woolmer (Northamptonshire).

Chester emerged from Gigg Lane with a point they just about deserved. City had to scrap hard to stay in the contest, especially after Bury had equalised Branch's first half goal. The home side established a grip on the game which looked set to bring them victory but, by defending doggedly, City survived.

Hessey, making his first appearance for Chester impressed more and more as the game wore on and helped shore up a creaking defence. In midfield, Navarro made his debut on loan from Tranmere and added bite and strength to City's centre.

The Shakers were the more fleet of foot and quicker of thought too as they moved the ball around purposefully, trying to get behind City's flanks. It was Chester's defence that looked shaky and Bury might have had two or three goals in the first half. Best chance of all fell to Dwayne Mattis who headed Challinor's cross just over the bar when everyone expected him to score. Wayne Brown plucked a Challinor header from just below the bar and then did well to tip over a rasping effort from Flitcroft.

City scored first though when Rapley seized on an underhit back pass from Challinor and squared the ball along the six yard line for Branch to clip it in the net despite the close attention of his marker. The celebrations were long and ecstatic, it's been a frustrating start to City's season.

Bury scored the equaliser they had been threatening on the hour. Porter nipped in to beat Brown to a right wing cross and tap home at the near post. City then had to weather quite a storm as Bury, with Flitcroft in commanding form, established a stranglehold on midfield. Chester could barely string a couple of passes together and Branch was visibly frustrated at the long balls over the top or at being caught offside with monotonous regularity. But then, with only a couple of minutes to go a misplaced header from Scott sent Branch clean through. He looked certain to score when City old boy Woodthorpe clipped his heels just on the edge of the penalty area. Woodthorpe received his second red card of the season but the resultant free kick was smothered in the wall and cleared.

Both sides had players booked as the game became scrappy – City's Drummond for a pathetic dive in the penalty area, Cortez Belle by an over enthusiastic challenge on the keeper. They also lost new boy Navarro in the last few minutes with what looked like a hamstring strain.

City's adjustment to life back in the League continues with this hard earned point. They slipped to the foot of the table but it still felt like progress is slowly being made.
Colin Mansley | Pics: Sue Choularton
---
Saturday 14 August 2004
Chester City 0 Mansfield Town 3
League Two
Attendance: 2,648 Half Time 0-0
Booked: Branch.
Chester City: Brown, Vaughan, McIntyre, Bolland, Collins, Drummond, Ellison, Carden (Davies 78), Harris (Clare 70), Rapley, Branch. Subs not used: Mackenzie, Hessey, Edmondson.
Mansfield Town: Pilkington, McNiven, Buxton, MacKenzie, O'Neill (Tate 66), Curtis, Baptiste, Larkin, Artell, Asamoah, Murray. Subs not used: Day, White, Cordon, Dimech.
Referee: A.Penn.

You know the old football cliche: "It was a game of two halves"? Well, that was the perfect description for this encounter between two clubs desperate to make their mark on League Two.
Chester had by far the better first half – soaking up some Mansfield pressure in the opening minutes – before the Blues turned the screw and began to threaten the Stags' goal.
It was a relief to have Kevin McIntyre back in the line-up and he set up both Michael Branch and Kevin Rapley in the game's early stages. Stewart Drummond and Kevin Ellison also had opportunities to score. It was good to see Ellison prepared to shoot from about 25 yards out – forcing a good save from Mansfield 'keeper Kevin Pilkington.
Chester's midfield was playing with some confidence in the first half. Drummond went on a jinking run, before shooting wide. Paul Carden, the eventual Chester man-of-the-match, put on a similar burst, but also failed to find the target.
The Stags' most threatening first half player was Derek Asamoah. Wayne Brown parried one of his shots and saw another whip just past his post. But they were the only real chances Mansfield, playing in a distinctive orange and white away strip, had in the first period.
Chester had perhaps their best chance of scoring when a frenetic game of 'football pinball' in the Mansfield box resulted in an indirect free kick inside the area. Every Mansfield player lined up in front of goal and the ball was tapped to Drummond. But his shot went straight into the wall and out for a corner.
Chester's final opportunity of the half came from that corner, taken by McIntyre. The ball fell to Rapley, but he rather snatched at his shot and the ball went wide.
It had been a relatively encouraging first half performance by the Blues – so no one was prepared for the Mansfield smash-and-grab raid that started within two minutes of the re-start.
City simply didn't seem to come out of their starting blocks, and the defence failed to do anything to stop Mansfield winning the ball before an unmarked Asamoah had no trouble finding the net past Brown.
The Chester fans must have been hoping the team would respond as they did against Notts County – after all, they'd prove they could hold their own against the Stags earlier on in the game. There was a glimmer of hope within a few minutes when Ellison thumped the ball for home – but a Mansfield defender blocked his shot.
Tricky Asamoah was soon threatening again and after slipping through the City defence he found himself on a one-on-one with Brown. This time he didn't take his chance and Brown managed to hold his shot.
Brown was called into action to make several more saves. This was a very different Chester defence from the one we saw just a few months ago and before long Mansfield were celebrating their second goal.
Stephen Vaughan let a Mansfield player pass him and his well-timed cross found Jake Buxton running into the area to snatch a perfect opportunity to score. It was very disappointing that on two occasions City's defence had been beaten by advancing players with the ball at the same time as letting unmarked players slip into dangerous positions.
Daryl Clare, reportedly nursing a hernia problem, was introduced on the 70th minute. He had an almost instant impact when he beat Buxton only for his shot to find the side netting. Ellison also had another half chance to score – but he headed the ball way over the bar.
Soon after it was game over when Mansfield's Colin Larkin found himself some space in midfield. He ran from the centre spot and curled a fantastic effort into the top left hand corner. His goal was reminiscent of Michael Twiss's strike at Woking. I was lucky enough to see them both. This one must also be contender for goal-of-the-season.
City caretaker manager Ray Mathias responded by replacing Carden with Ben Davies. But Chester fans made it more than clear that they were not pleased with that decision and soon after Carden was named Chester man-of-the-match.
A number of other City fans took their displeasure out on Stephen Vaughan Jnr, who certainly didn't have a good game. But it was a disappointing performance from most of the Chester team. They produced such a dire display that Blues fans were streaming out after Mansfield's second goal.
Match sponsors, the Official Away Travel Supporters Club, invited the parents of stalwart fans Richard Prince and Julie Deacon along to the game. According to Cleggy, it was their first ever football match – I wonder if they'll visit again?
---
Saturday 14 August 2004
Port Vale 2 Chester City 1
Youth Alliance North Central Conference
Chester City: Ryan Brookfield, Danny Ventre, Andy McCoy, Matty Cook (Peter Owens), Darren Jones, Shaun Whalley, James Scales, Paul Rutherford, Gavin Lynch, Robby Booth, Adam Wade.

Restrictions in place as to the number of 18 year olds allowed to play in Youth Alliance matches meant that Chester City could only manage to put together a squad of 14 players for this match, and the withdrawal of two players on the morning of the match through injuries saw Chester City make the journey to Port Vale with 12 fit players.

Chester survived an opening 10 minute onslaught from a strong Port Vale team and appeared to have weathered the storm before a mistake from Robby Booth (attempting to dribble on the edge of his own area), gave possession to Port Vale who scored the opening goal, in the 20th minute. The next 20 minutes saw the young Chester City play some decent football without really threatening the Port Vale goal. Five minutes before half time a penalty was awarded to Port Vale following a trip on a Port Vale player by the unfortunate Booth. The penalty was well saved by keeper Ryan Brookfield, however the ball rebounded straight to the penalty taker who stroked it into the net. To make matters worse for Chester City, captain Matty Cook had to be replaced by Peter Owens in the 42nd minute through injury, which left Chester City with no further substitutes.

The second half started with Chester City moving Shaun Whalley up front from right midfield and Whalley immediately began causing problems to Port Vale with his pace, and Chester City begun looking more dangerous, however, in keeping with the day, Darren Jones was injured in a challenge and had to leave the field, leaving Chester City with 10 men, however, even though Port Vale dominated the first 30 minutes of the half, Chester City's defence held them at bay, with keeper Brookfield making some good saves, and as the game wore on Chester City, driven on by Paul Rutherford in midfield began to get behind the Port Vale defence and cause problems, eventually on one of his many runs Whalley was brought down in the area for a penalty to Chester City that was calmly put away by Gavin Lynch. The final 10 minutes saw Chester City apply continuous pressure and once again Whalley got past the Port Vale back line only to be brought down just outside the area by the last Port Vale defender, who was sent off. Unfortunately the free kick was blasted over, however, in the last seconds Whalley again went past a Port Vale defender who made a great effort to trip Whalley up, only just failing to connect and give Chester City a second penalty.

Despite losing the match, the young Chester City side gave a good account of themselves against a bigger stronger Port Vale team, and provided coaches Jim Hackett and Billy Gerrard with much encouragement for the season ahead. Shaun Whalley and Paul Rutherford in particular caught the eye, with solid performances also from Adam Wade, Danny Ventre and Darren Jones.
---
Tuesday 10 August 2004
Chester City 0 Wycombe Wanderers 2
League Two
Attendance: 2,881 Half Time 0-1
Booked: Bolland, Drummond.
Chester City: Brown, Bolland, Collins, Edmondson (Carden 55), Vaughan, Drummond, Harris, Davies (Rapley 55), Ellison, Clare, Branch. Subs not used: MacKenzie, Hope, Belle.
Wycombe Wanderers: Talia, Silk, Johnson, Nethercott, Williamson, Uhlenbeek (Senda 63), Ryan, Burnel, Easton, Tyson, Stonebridge. Subs not used: Williams, Ahmed, Martin, Marshall.
Referee: E.Ildergon (Tyne & Wear).

This was neither the result or the performance City fans had been hoping for as, after a break of four years, league football returned to Deva Stadium. Pitch conditions were terrible as continual rain all day and a downpour half an hour before kick-off turned the pitch into a lake.
Robbed once again through suspension of Kevin McIntyre, caretaker manager Ray Mathias chose the same starting X1 as that which forced a draw on Saturday.
City were forced on the back foot from the start as Ian Stonebridge, a summer signing from Plymouth Argyle, was set free by Nathan Tyson but his long range shot was comfortably saved by Wayne Brown. Brown was in the action again soon having to rush out and clear a wayward Bolland back-pass that held up in surface water.
It was ten minutes before the home side threatened as Daryl Clare shot over from inside the box.
The Chairboys took the lead on 22 minutes. An inswinging corner by Clint Easton saw Wayne Brown flap at, and miss, the ball entirely leaving Mike Williamson the easiest of tasks to head home at the far post from six yards out.
The Blues were finding it increasingly difficult to create anything from midfield for Clare and Michael Branch up front. Tyson and Stonehouse were proving lively up front, with Bolland being booked for fouling the former. It was the visitors who were having the better of the game and Stonehouse could have added to the goal tally before the half-time break on at least two occasions.
Mathias made a double substitution on 55 minutes, as on Saturday introducing Paul Carden and Kevin Rapley at the expense of Darren Edmondson and Ben Davies. Carden was in the action immediately though nothing came of his far post corner.
Stewart Drummond found himself in the referee's notebook before the visitors secured the three points through Danny Senda on 83 minutes, heading home a Stonehouse cross after good work down the left.
caretaker manager Mathias said following the defeat: "I was very disappointed with our performance against Wycombe because I thought we stopped playing after the first 10 or 15 minutes. Our passing on the night was absolutely awful. If we can't pass the ball we're not going to play and all credit to Wycombe who did exceptionally well."
---
Saturday 7 August 2004
Notts County 1 Chester City 1
League Two
Attendance: 6,423 Half Time 0-0
Booked. Davies, Ellison, Harris.

Notts County: Mildenhall, Richardson, Whitlow, Baudet, Ullathorne, Pipe, Bolland, Edwards, Gill, Gordon, Hurst (Harrad 80). Subs not used: Scully, Williams, Wilson, McFaul.
Chester City: Brown, Collins, Bolland, Edmondson, Ellison, Vaughan, Drummond, Harris, Davies (Carden 71), Branch (Rapley 71), Clare. Subs not used: MacKenzie, Hope, Belle.
Referee: F.Graham (Essex).



The boys are back in town and the proof came at 4.40pm on Saturday when a rebound from a missed Daryl Clare penalty was slotted home in front of 1,200 jubilant City fans at a sweltering Meadow Lane.
That equalising goal earned Chester their first point in the Football League since the dark days of the Terry Smith era and left them sitting 11th in League Two.
It's true that League positions mean nothing at this stage, but after four gruelling seasons in the Conference, I could gaze all night at the Teletext table which shows Chester sitting in the top half of the old Division Three.
The match that marked City's return to League status was actually not an advert for League Two football. There were no more than a handful of shots on target and both sides seemed content to 'hoof' the ball out of defence, rather than play through midfield.
There may have been 6,432 people watching the game in fairly impressive surroundings, but both teams looked liked they'd be equally at home in front of 847 spectators at the home of Forest Green Rovers. I still know which I'd prefer though.
Chester, fielding six players from the Conference promotion team and wearing their new yellow away strip, only really threatened via corners in the first half. But County keeper Steve Mildenhall had the measure of every City corner and cross.
It didn't take Clare long to discover he won't get as much time on the ball as he did at Conference level and he was largely kept quiet throughout the first half. New signings Michael Branch and Stuart Drummond also failed to make any real attacking impression.
Notts County came very close to scoring half way through the first period but Stephen Vaughan, new City signing and son of the chairman, was perfectly placed on the line to clear a goal-bound header.
The Magpies stepped up a gear in the second half, despite the balmy temperature, and striker Gavin Gordon made a number of threatening runs. His determination paid off when he earned County a penalty on the 66th minute.
Wayne Brown, sporting a new sky-blue shirt, seemed to flap at a cross with several County players around him. He was adjudged to have fouled Gordon and the referee awarded a penalty.
Frenchman Julien Baudet struck a sweet penalty into the bottom right-hand corner and at 1-0 to Notts it seemed unlikely that City would make a comeback in the final 25 minutes.
But spurred on by acting manager Ray Mathias, who introduced Paul Carden and Kevin Rapley on the 71st minute, Chester didn't give up. Kevin Ellison looks to be an accomplished corner taker and his corners were one of City's main threats.
A real opening came on the 85th minute when a cross into the County box was left by Mildenhall. Notts defender Mike Whitlow then clearly handled the ball in the box and another penalty was awarded.
Clare took the penalty after a brief sideshow which saw Robert Ullathorne being booked for replacing the ball on the spot. The 'keeper made a good save, only for the ball to rebound to Rapley. His shot hit the 'keeper again, but the ball still looked goalbound and Clare made sure by slotting it home.
Rapley made a claim for the goal, but Clare trumped him by pulling his shorts down in another of his bizarre celebrations. The Blues' faithful didn't really care who was responsible for the goal. We'd waited more than four years for a Chester ball to hit the back of a League net - the scorer's name was almost incidental.
There may have been nine minutes left to play, including four minutes of injury time, but both teams seemed happy to settle for a point at that stage and the pace slowed down until the referee called for 'time'.
So it was a fairly encouraging start to the on-field season. However, there are plenty of off-the-field questions hanging in the air. But I can't remember when we last had a straight forward season at Chester, and I don't expect this one will be any different.

Sue Choularton