---
Tuesday 28 December 2004
Rochdale 2 Chester City 2
League Two
Attendance: 3,724 Half Time 0-1
Booked: Branch, Belle, Harris.

Rochdale: Gilks, Evans, Griffiths, Heald, Goodall, Clarke, Jones, Cooksey, Bertos, Holt, Atieno. Subs not used: Edwards, McGivern, Warner, Gallimore, Burgess.
Chester City: MacKenzie, Hillier, Bolland, Bayliss, Hessey (Harris 57), Drummond, M.Brown (Davies 65), Carden, Ellison, Belle (Whalley 82), Branch. Subs not used: Vaughan, Rapley.
Referee: A.Leake (Leicestershire).
A late equaliser from Michael Branch rescued a point for City just as it had looked like their excellent first half performance was not going to bring any festive joy.
City, buoyed no doubt from the point against league leaders Scunthorpe United on Sunday, were quick off the mark producing the first shot with loan player Michael Brown shooting high and wide following good work by Paul Carden.
A large noisy travelling support had only just settled in their seats when the yellows took the lead on six minutes. Once again Kevin Ellison was on hand to drill the ball home at the back post after good approach work from Branch had set up the opportunity. The home side appealed in vain that Cortez Belle was in an offside position.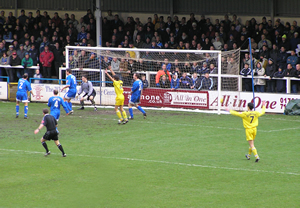 The home side responded swiftly with dangerman Grant Holt at the heart of their attacks. Chris MacKenzie, deputising for the injured Wayne Brown, was well placed to save a long range Atieno effort as the rain swept down on Spotland.
City enjoyed plenty of possession but carved few chances as the half continued. Ellison was inches wide of doubling the lead seven minutes before the break. A foul just outside the box on the right signalled a trade mark effort from Ellison, however the strikers effort curled round the wall and inches wide of Gilkes' left hand post.
The home side came out after the break in determined fashion and should have restored parity on 53 minutes when Atieno inexplicably headed over unchallenged from six yards when he found himself in acres of space from a pinpoint far post Clarke cross. Manager Ian Rush replaced Shaun Hessey with Andy Harris soon later but six minutes later Rochdale were level.
Cooksey picked the ball up on half-way and brushed aside a couple of challenges before unleashing a low shot, MacKezie saved low down at full stretch but could only palm the ball into the path of the lively Bertos who made no mistake from close range.
Five minutes later and The Dale were ahead. Bertos this time proved to be the provider as he set up Atieno. The striker cut in from the right before scoring left-footed past MacKenzie from eight yards.
Ben Davies was introduced at the expense of Brown as City looked to get back into the match. In truth it was the home side who looked more likely to add to their tally as Phil Bolland, who had a solid game throughout, was on hand to clear one attack from his own line.
Cortez Belle, who had been booked earlier for dissent, was substituted for his own good before he got himself into any more trouble with referee Leake.
With six minutes remaining Branch produced a touch of class to draw the sides level. The Blues swflty broke from a Rochdale attack, Ellison sent a perfect through ball for Branch who outpaced the last defender before clipping the ball over the advancing Gilkes.

There was just time for the home side to miss a golden opportunity at the death as Atieno again shot over at the bar post when a last-gasp winner seemed certain.
---
Sunday 26 December 2004
Chester City 1 Scunthorpe United 1
League Two
Attendance: 3,216 Half Time 1-1
Booked: Bayliss, Ellison, Bolland.

Chester City: Brown (MacKenzie 60), Hillier, Hessey, Bolland, Bayliss, Drummond, Ellison, Carden, Branch, Belle, Davies (M.Brown 78). Subs not used: Vaughan, Rapley, Whalley.
Scunthorpe United: Musselwhite, Crosby, Byrne (Stanton 45), Hayes, Torpey, Baraclough, Ridley, Beagrie, Taylor, Butler, Sparrow. Subs not used: Jackson, Barwick, Parton, Evans.
Referee: A.Woolmer (Northampton).

As we approach 2005, I'm beginning to wonder if it really could be a Happy New Year for Blues fans after City put on an encouraging Boxing Day display to earn themselves a valuable point against League Two leaders, Scunthorpe.
This was a marked improvement on the performance at Southend – itself a better show than the fiery home encounter with Shrewsbury and the depressing 4-1 defeat at Bristol Rovers. City really fought for their point and even showed signs they could have taken all three.
It was Scunthorpe who had the best start, following an impeccably observed minute's silence in memory of former Chester manager, Harry McNally. There were barely two minutes on the clock when Scunthorpe's Cleveland Taylor ran dangerously towards the box from the right wing.
Wayne Brown hesitated before running out to him. But he didn't move soon enough and Taylor was easily able to lay on a perfect cross for unmarked Steve Torpey. The Iron's £175,000 striker had no problem finding the net from a couple of yards out, with Brownie left stranded and no defenders challenging him.
But City barely had another defensive lapse all game and midfielders Paul Carden and man-of-the-match Stewart Drummond made some confident challenges and passes throughout the afternoon. It was as if the team had made a New Year resolution to confine the 'hoofball' to the bin.
Chester continued to pressurise the Scunthorpe half and within 15 minutes, got their reward. Carden passed the ball to Drummond, who made an excellent cross which Kevin Ellison had no trouble side-footing home under Scunthorpe 'keeper Paul Musselwhite.
City were now on the up and kept the momentum going with a couple of corners soon after, but both were cleared by Iron defenders. Former City player Andy Crosby gave a solid performance all afternoon in the Scunthorpe back-line.
The Humbersiders' best chance to score again came when their leading scorer Paul Hayes broke free, with only Brown to beat. But as the Chester 'keeper bore down on him, he snatched at his shot and it went right past the post. Scunthorpe had another chance as the first half drew to a close when they won a dubious free-kick. But justice was done when the shot sailed well over the bar.
The second half carried on in much the same vein. Carden had the chance of a scrappy shot inside the first few minutes and Michael Branch, who looked off the pace most of the game, was unlucky to be caught offside not long afterwards.
A controversial moment came when there was a break in the play and Scunthorpe's Torpey decided to jump up and fall down as if he'd been pushed by a City defender. He even pleaded to the nearby linesman. The officials were having none of it, but failed to book him for blatantly feigning a foul.
By this stage the Blues fans were singing towards the away terrace: "Any old iron, any old iron, any, any, any old iron?". The Scunthorpe supporters must be as amazed to hear that as we are whenever opposition fans chant: "You're Welsh and you know you are".
Chester's new long-throwing weapon emerged in this game as loan player Ian Hillier replaced Cortez Belle as chief chucker. He made some long throws into the danger area, but none quite resulted in any real scoring opportunities.
With half an hour still to go, Chris MacKenzie came on in goal for Brown. He must have caught a knock at some stage and limped his way off the park. MacKenzie put in a solid substitute performance, apart from a couple of kicks which went straight into touch.
City continued to push ahead and looked most likely to pick up the three points when Ellison jinked his way into the Scunthorpe area. He went down in the box when challenged by a Scunny defender. I've seen many a penalty given in similar circumstances, but not today and 'Super Kev' ended up being booked for protesting. He had another half chance to score with a 20-yard strike as Chester carried on pushing forward. But his shot went over the bar.
Ian Rush made another substitution on the 78th minute when Michael Brown, on loan from Preston North End, came on in place on Ben Davies, who'd had another 'so-so' game. Brown looked lively and made a couple of strong runs into the box.
It still seemed likely City might score in the dying minutes. Carden was fouled with two minutes to go, resulting in a booking for Scunthorpe's Matthew Sparrow. But the free-kick, taken by Ellison, was well away from the target.
Even when the linesman signalled there were just two extra minutes to play, the Blues supporters still felt there was chance to score. But it wasn't to be and as most City fans seemed to have anticipated a defeat before the game, it was a reasonable Christmas bonus to walk away with a point.
If Chester carry on playing like this, then we can be certain of mid-table obscurity by the end of January 2005 – and let's be honest, the League Two comfort zone was all we would have wished for when we made our New Year wishes this time last year.

Sue Choularton
---
Friday 17 December 2004
Southend United 1 Chester City 0
League Two
Attendance: 4,837 Half Time 0-0
Booked: Harris, Carden.

Southend United: Griemink, Hunt, Prior, Barrett, Wilson, Pettefer, Bentley, Maher, Gower (Bramble 66), Gray, Eastwood (Dudfield 71). Subs not used: Nicolau, Edwards, Jupp.
Chester City: Brown, Harris, Bolland, Bayliss, Hillier, Drummond, Carden, Davies (Vaughan 75), Hessey, Belle, Branch (Booth 15 (Rapley 84)). Subs not used: MacKenzie, McIntyre.
Referee: P.Prosser (West Yorkshire).

There's many a time I've heard Chester fans coming away from matches grumbling about "defeat being snatched from the jaws of victory". Well, this game was a prime example of defeat being snatched from the jaws of a draw.
As the 100 or so Blues fans trooped out of Roots Hall, the chat this time was about the few plus points we'd seen – the performance of the two Luton loanees, a couple of top-class saves by Wayne Brown, Rob Booth's ability to take opponents on, the continued consistency of captain Paul Carden and a solid display by Phil Bolland. Oh, and there were even moments when City played the ball on the deck.
But I'm afraid they were the only straws of comfort. It really looked like we'd gone out to earn a point and never showed any chance of getting all three. Aiming for a draw is a dangerous game to play as was proved when Southend scored on the 88th minute, leaving City no time to get back into the match.
Southend were on top most of the game and were actually unlucky not to open their account in the first 15 minutes when tricky Mark Gower had a good shot from the left wing. His shot ricocheted off the inside edge of the post and City were lucky the rebound came out to them so the ball could be cleared.
Not long after, Michael Branch – who is rapidly earning the nickname 'sicknote' – left the field to be replaced by Rob Booth. I can only assume Branch was injured, although he didn't seem to have done much at that stage.
It was now down to Booth, in his white boots, and silver-booted Cortez Belle to fulfill City's scoring ambitions. Tez kept drifting out to the wing to win the ball for himself, only to find no one of any stature to cross the ball to. And Chester also had to rely on his defensive skills when he cleared the ball off the line from a dangerous Southend corner.
By the end of the first half, the only Chester shots on target had come from a powder-puff shot by Ben Davies, which was easily held by Southend 'keeper Bart Griemink, and a Belle header, also caught by the tall Dutchman.
Chester did win an indirect free kick from close range, after Griemink held a Southend back-pass. But without suspended Kevin Ellison, they didn't seem to have much idea how to play it, and Belle powered it straight at the Southend wall. A missed opportunity.
Brown had a good half in the Chester goal – making a couple of excellent stops and leaping well to grab the ball at corners. His kicking was a little suspect again – but it was good to see him performing confidently. Southend could easily have made it 1-0 when the ball came to an unmarked Wayne Gray, who was only about 10 yards out, but Brown easily caught his strike.
Come half-time and the chilly travelling fans followed signs to the 'restaurant', only to enter the 'visitors family room' and to find a cheery trio selling hot brews and burgers – with no sign of an a la carte menu. Oh well, we would have happily forgone a three-course meal for a second half Chester goal in front of the away end.
But I'm afraid that wasn't going to be. Booth had a better second half – it is refreshing to see Chester players prepared to take on defenders – and seemed the most likely player to score.
Even Drummond seemed to be playing with some new-found confidence. He made a couple of good runs, but seemed to lose his nerve at the end and tried to pass the ball on instead of shooting himself. Carden, who didn't put a foot wrong for most of the game, also made a good run from midfield, but his strike was parried by a Southend player.
By now Chester were thinking their game plan was going to succeed and an unlikely point seemed to be heading their way. Davies tried to do his bit to waste time with 15 minutes to go by taking what seemed like two minutes to limp off the pitch when he was substituted for Stephen Vaughan.
It was then the turn of another substitute – Tes Bramble, brother of Newcastle United's Titus – to make his mark on the game with a good chance to put Southend in the lead with a close range scoring opportunity. But he shot well over the bar and perhaps even out of the stadium!
Chester's final substitute, Kevin Rapley, replacing Booth, made little impact on the game. And it was actually another substitute – Southend's Lawrie Dudfield – who ended the travelling faithful's hopes of leaving Essex with an unexpected point in the bag.
Dudfield's chance came when Andy Harris fluffed a chance to clear the ball in the danger area on the left-hand side. The ball fell perfectly for the Southend number 11 and he had no problem finding the bottom corner of the net. His partner gave birth to his baby daughter a few days ago and he marked the goal with a 'cradle-rocking' celebration.
There were now only two minutes of normal time left to play and it was game over for Chester. They'd not looked like scoring before now, so it wasn't going happen with Southend defending a lead.
Most of the loyal fans, who'd given up the chance of a festive drink to travel for hours to this match, couldn't even bring themselves to clap the City players off the park. It was a definite improvement on the last two matches – with Luton loan players Ian Hillier and David Bayliss fitting in well and making some decent attempts to pass the ball out of defence, rather than 'hoofing' it away – but I'm afraid the overall performance still wasn't encouraging. We could be in for a very long Christmas.
City remain in 19th position in League Two. Latest table.
---
Saturday 11 December 2004
Chester City 1 Shrewsbury Town 1
League Two
Attendance: 3,219 Half Time 0-0
Booked: Ellison, Rapley, Carden. Sent-off: Ellison.

Chester City: Brown, McIntyre (Davies 58), Harris, Bolland, Hope, Drummond, Ellison, Carden, Branch, Belle (Stamp 67), Booth (Rapley 45). Subs not used: MacKenzie, Vaughan.
Shrewsbury Town: Howie, Moss, Challis (Street 74), Tolley, Tinson, Whitehead, Lowe (Edwards 69), O'Connor, Langmead, Rogers (Burns 45), Ashton. Subs not used: Grant, Hart.
Referee: C.Webster.

This was never going to be a pretty game of football to watch and within minutes both sides had made their intentions clear. Kevin Ellison and ex-City player Darren Moss were at each other's throats like dogs of war almost from the off.
The game had barely started when Moss fouled Ellison to earn City a free kick in the danger area. But Ellison's strike struck one of the red-clad Shrewsbury players and Chester captain Paul Carden failed to make the most of the rebound.
The referee had to have words with Ellison and Moss to try to calm the situation down, but it was like pouring oil on troubled waters. Within yards of the two dugouts, Moss soon scythed Ellison down with a near waist-high tackle, earning himself an instant red card.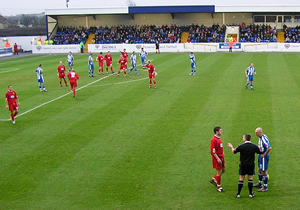 City were now on the up and piled on the pressure in the final third of the field. But it was soon Ellison's turn to see what the referee had in his pocket. First he was yellow-carded for a foul on Ryan Lowe, then when the game was stopped for a free kick there was a scuffle between most of the players – even Shrews 'keeper Scott Howie ran up field for a piece of the action. The result was that Ellison was given a second yellow card and had to reluctantly trudge off the pitch.
But Chester were still on top, winning several corners and threatening free kicks in the latter stages of the first half. Michael Branch had a couple of reasonable chances to notch up the first goal of the game, but his only real success was in winding up the full away terrace – they didn't seem to have much liking for anyone who's ever played for Wolves.
Lively forward Cortez Belle, making his return from suspension, looked most likely to score when a 25-yard thunder strike by Andy Harris, playing right-back for much of the game, was parried by Howie right into the path of Belle. An open goal loomed, although there was a suspicion of offside, but Cortez somehow missed the target from about eight yards out.
Young Robbie Booth had one of his quieter games and when the second half resumed he had been substituted by Kevin Rapley. He too soon earned himself a booking and it was now Shrews' turn to pile on the pressure. They played some excellent football, leaving Chester rather stranded in the middle of the park.
Before long, Wayne Brown was called into action when he saved a dangerous low strike, then tipped another over the crossbar. Chester were looking distinctly wobbly as Shrews earned themselves several corners. On the 62nd minute, City failed to deal with a dangerous cross and Kelvin Langmead had no trouble heading the ball home.
Anyone who saw Tuesday's performance against Bristol Rovers would have assumed City were dead and buried by now. For most of the remaining second half it seemed just like that as Chester seemed to run out of ideas and tactics. Belle seemed to have lost his spark and was replaced by Darryn Stamp – who was given a great reception on his return from a loan spell to Kidderminster.
There was soon more drama when Shrewsbury's Trevor Challis collapsed over the touchline after being involved in an accidental clash of heads. He was receiving medical treatment where he fell – a yard or two outside the field of play – but Shrews' boss Gary Peters wanted the game halted. He ran onto the pitch twice in a desperate attempt to attract the referee's attention. He had to be restrained by the fourth official, and the police soon became involved. Challis was eventually carried off on a stretcher and the game stopped for Peters to replace him with Kevin Street.
The Shrewsbury sub was soon in the action with a shot on target, which was blocked by the Chester defence. Then Brown had to stop another Langmead effort. Ben Davies replaced Kevin McIntyre, but he made little impression on the game. Birthday boy Stuart Drummond rode a couple of challenges, but couldn't make a telling pass into the area. Only Paul Carden and sponsors' man-of-the-match Richard Hope had reasonable games.
But the real drama came in the last three minutes, as fed-up Chester fans were leaving the ground in droves. First Rapley had a good shot stopped by Howie. Then Branch was felled in the area to earn the Blues a penalty, while O'Connor was red-carded for his protest over the decision.
Branch stepped up to take it and his soft-ish shot to the right simply rebounded off Howie. Chester failed to make the rebound count to the Shrews' fans' delight. But the mood changed in an instant when the referee blew up for an infringement and Branch had another chance to take his penalty. He made no mistake the second time to earn an unlikely draw for the Blues.
The Shrewsbury team, management and fans were clearly unhappy with the referee's decision and when the whistle blew seconds later they made their feelings heard. The police were once more called into action around the dugout as tempers frayed.
Just a few hours later all this touchline sniping paled into insignificance with the news that ex-Chester manager and footballing legend Harry McNally had passed away. He'd have loved a game like this and would have made sure his team played with enough passion to claw back a point in unlikely circumstances. This game was hardly a fitting tribute to Harry, but let's hope the team do him proud when they go to Southend on Friday night and in their next home game at the Deva.
City remain in 19th position in League Two. Latest table.
---
Saturday 11 December 2004
Chester City Youth 4 Notts County Youth 2
Youth Alliance North Central Conference
Chester City: Brookfield, Wade (Brown), Carney, Dean, Ventre, Rutherford, Scales, Whalley, Lynch, Walsh, McCoy (Rollinson).
Chester City started this game at a good pace and spent the first ten minutes camped in the Notts Co half, eventually opening the scoring through an own goal put into his own net by a Notts County defender after excellent work by Shaun Whalley down the Chester right side. The lead was doubled by Gavin Lynch who slipped the ball past the Notts Co goalkeeper after controlling the ball in the area and beating his marker. At this point it looked like Chester City were going to win the game comfortably, however, after 30 minutes of domination Chester City began to miss tackles and were slow in closing opponents down, which allowed County to get themselves back into the game through simply passing the ball to their team-mates. Half time arrived with Chester City leading 2-0.
The second half begun where the first had finished and following some individual trickery from a Notts Co player where he managed to work his way past four Chester City players, the ball ended at the feet of a Notts County player who had a simple tap in. A minute later County attacked down the Chester left side again, and again, following an excellent cut back County scored their second and appeared to be the stronger side. To counteract the Notts County dominance, a positional change between Shaun Whalley, Mike Walsh and Paul Rutherford was made, and as soon as Rutherford moved to the right of midfield Chester City began to move forward with more purpose, and it was Rutherford's quality that got the ball into the box and caused a problem for the Notts defence that resulted in a handball and a penalty to City that was dispatched by Gavin Lynch. The lead was increase five minutes later with another cutting move down the right side that ended with Gavin Lynch scoring Chester City's fourth and his third goal with a neat header. The remainder of the game was seen out by Chester City without further problems.
A summary of the game is that although Chester City could and should have been out of sight by half time, the inability to take the amount of chances created, allowed Notts County to get themselves back into a game, and it was only through individual work that Chester City managed to win the game. Some of the Chester City players looked jaded, whilst others appeared to lose their individual battles with their direct opponent.
Pluses from the game were Gavin Lynch's three goals, Shaun Whalleys ability to cause problems in the first half and Paul Rutherford's second half contribution down the right side.
---
Tuesday 7 December 2004
Bristol Rovers 4 Chester City 1
League Two
Attendance: 5,524 Half Time 2-1
Booked: Ellison, Brown.

Bristol Rovers: Miller, Hinton, Edwards, Elliott, Lescott, Campbell (Trollope 45), Hunt, Disley, Savage, Thorpe, Forrester (Agogo 81). Subs not used: Williams, Walker, Burns.
Chester City: Brown, Vaughan, Hope (McIntyre 69), Bolland, Hessey, Drummond, Carden, Davies (Booth 57), Ellison, Branch, Rapley. Subs not used: MacKenzie, Harris, Lynch.
Referee: P.Joslin (Nottinghamshire).

A night at the Memorial Stadium that Chester will want to forget. This was City's first visit to this stadium since Rovers returned from exile in Bath. The arena is a mixture of extremes – swanky new stands and a marquee-covered family enclosure. One hundred and forty-nine City fans stood on the only area of uncovered terracing by one of the corner flags. It was a mild night so we didn't have to worry about being exposed to the elements.
Soon, however, it was Chester's vulnerability that was shown up as Rovers swept forward. Brown had already saved a Forrester free kick comfortably, but when the tricky forward drifted out to the left and was able to cut in with ease, the City keeper couldn't hold on to his shot from the edge of the area. Disley followed up to knock the rebound in and Chester were trailing after only two minutes.

Gradually Chester clawed their way back into the game and began to gain territorial advantage. Branch looked lively and Ellison threatening. But when the ball landed at the latter's feet on the edge of the Rovers' penalty area it was more by luck than judgement. Nevertheless Ellison tucked his shot low into the corner of the net to give City parity.

The home side were stirred into action again and won a succession of free kicks within shooting range outside the area. After one particularly harsh decision Ellison was booked for kicking the ball away. The linesman on the far side, alerted by the baying crowd called the referee over to report the misdemeanour. As City's wall lined up, the referee treated it like an identity parade. Three City players volunteered to come forward as the referee beckoned but then Ellison – tall and shaven headed, hardly blending into the background – was identified as the culprit, booked and the ball was moved forward ten yards. Fortunately for City the free kick was innocuous.

On the stoke of half-time Chester fell behind to a sucker punch. Forrester raced through on the left but his touch was heavy and the ball was going out for a goalkick. Maddeningly, Brown dived at his feet and gave him the opportunity to tangle for a penalty which the referee duly awarded. Forrester made no mistake with the spot kick.

City rallied well after the break and began to threaten a second equaliser. Booth came on for Davies and Drummond moved to central midfield. Bolland headed narrowly over after Branch's flick on and despite a couple of close shaves City couldn't score when they needed to. McIntyre replaced Hope and Hessey moved from the left to the centre of defence.

On seventy minutes it was all up for Chester as Bolland's clumsy challenge resulted in a free kick in the centre of City's half. Brown came to meet the kick at the far post but did not make contact and Thorpe headed into an empty net. Three minutes later a now ebulient Rovers cut City to ribbons down the left and Trollope scored at the far post. Former City hero Junior Agogo came on to set up a showboating move which resulted in another (disallowed) goal. Chester forced a flurry of corners and Drummond headed narrowly wide from one of them but there was to be no consolation goal.

At the end Kevin Rapley came over to remonstrate with a frustrated City fan who had presumably been baiting him. It was left to a dignified Ian Rush to come and pour oil on troubled waters.

Before heading home we drank ales from Bath served in elegant, slender glasses and wondered how City will react to a disappointing evening.
---
Saturday 4 December 2004
Rotherham United Youth 2 Chester City Youth 2
Youth Alliance North Central Conference
Chester City: Ryan Brookfield, Mark Cadwallader (Kenny Rollinson 70), Karl Carney, Mattie Cook (Warren Adam 30), Danny Ventre, Adam Wade, Wayne Morgan, Mike Walsh, Paul Rutherford, Kieran Dean (James Scales 60), Dave McCoy.
A depleted Chester City team travelled to Rotherham having lost Robbie Booth, Ian Lathom, Shaun Whalley and Gavin Lynch to the first team, however, this enabled some of the younger squad players the opportunity to stake their claim for a regular starting place. Warren Adam from the Centre of Excellence Under 16 squad was also drafted in following his impressive display against Blackpool in the recent FA Youth Cup match.
The first half was a pretty dour affair with neither side able to break through the opposing defences. The only point of note was the injury to Mattie Cooke after 30 minutes that resulted in his being replaced by Warren Adam for his Chester City debut at this level. It was Adam who opened the scoring for Chester City in the 47th minute with a 30 yard shot that appeared to bounce over the opposition goalkeeper. For the next 10 minutes Chester City pressed forward looking for a second goal and following one attack, Rotherham picked the ball up and drove at the Chester defence with quick decisive passing that ended with a goal being scored against us.
The game continued with neither side looking able to score, however, a mistake in the 60th minute by a Rotherham defender allowed Adam Wade to take the ball inside the Rotherham area and hit the by-line before squaring the ball to Paul Rutherford who made no mistake from ten yards. Once again Chester appeared to be in control of the game, however, a lack of discipline from James Scales in the 70th minute resulted in his receiving the red card from the referee and from that point it became a rearguard effort that eventually resulted in Rotherham equalizing in the 80th minute. The final ten minutes was one way traffic, and in the end Chester were happy to see the game out as a draw.
The feeling of the management after the game was one of disappointment, as it was a game that Chester could and should have won, however, losing a player at a crucial time, along with a couple of defensive lapses meant that a draw ended up as a decent result. Pluses from the game were the continuing good form of Karl Carney and Paul Rutherford, and the good debut for Warren Adam who didn't look out of place at this higher level of football.
• Youth team fixtures | Youth league table
---
Saturday 4 December 2004
Halifax Town 1 Chester City 3
FA Cup Round 2
Attendance: 4,497 Half Time 0-1
Booked: Carden, Hessey, Vaughan, Harris.


Halifax Town: Dunbavin, Bushell, Ingram (Clarke 86), Midgley, Killeen, Sugden (Ross 57), Quinn, Foster (Blunt 60), Doughty, Howell, Haslam. Subs not used: Meechan, Chin.
Chester City: Brown, Vaughan, Edmondson (Rapley 50), Hope, Hessey, Harris, Carden, McIntyre, Booth (Anaclet 71), Branch (Lynch 90), Ellison. Subs not used: MacKenzie, Whalley.
Referee: E.Ilderton (Tyne & Wear).

Despite missing four regular first-teamers through suspension, City came through this tough test at The Shay, comfortably in the end, to book their place in tomorrow's third round draw at the expense of Halifax Town.
With a 15 minute delay to allow the congested crowd into the stadium, City took to the field with Michael Branch, apparently recovered from injury, leading the line at the expense of Kevin Rapley and a starting place for youngster Robbie Booth. New Southampton loan signing Eddie Anaclet started on the bench.
It was City who were first into the action in the opening minutes with Booth skipping down the right and seeing his cross palmed away to safety by Dunbavin in the home goal.
Former City player Matt Doughty was first to show for the visitors, he beat his man on the wing and saw his cross, intended for ex-Blue Ryan Sugden, headed away from danger for a corner by Richard Hope.
Killeen had the ball in the net for the home side but the linesman's flag was already raised for offside. City's well-drilled quick offside trap was an effective weapon all afternoon catching the home forwards, mainly Sugden, on numerous occasions.
After a few rash challenges from both sides had gone unpunished, Paul Carden found himself in the referee's notebook for a body check on Howell.
Wayne Brown did well to keep out a Quinn effort and, with four minutes remaining in the first half, City broke the deadlock. Kevin Ellison's clever back-heel played in Sean Hessey and his pin-point left-wing cross was headed home across goal by Branch into the top right hand corner.
Halifax responded well straight after the break and almost equalised as Craig Midgeley's ran down the right, lost his marker, before seeing his shot rebounded clear from the right hand post; seconds later City were two-up. The Blues' long clearance sent Branch racing through, he had his heels clipped in the box by Matt Doughty and referee Ilderton pointed to the spot. Branch dusted himself down to send Dunbavin the wrong way from the spot-kick.
Sugden and Hessey found themselves in the notebook, swiftly followed by Stephen Vaughan after a flare-up, before the Shaymen pulled a goal back as Brown failed to hold on to a Midgeley shot and Neil Ross was on hand a yard out to score with ease.
Andy Harris went in the notebook and Booth was substituted by Anaclet and with 16 minutes remaining Kevin Rapley, who had replaced Darren Edmodson following Branch's penalty, restored City's two-goal cushion.
The Blues were awarded a free-kick just outside of the box. Up stepped Kevin Ellison who saw his kick curl around the wall, Dunbavin seemed to have it covered but couldn't hold onto the shot and Rapley just beat the equally-alert Branch to the ball to score City's third in front of the traveling fans.
Richard Hope almost added a fourth minutes later as he headed wide from an Ellison corner.
Halifax's last real threat came as Midgeley headed over from a corner with eight minutes remaining. There were four minutes of added time during which Gavin Lynch replaced two-goal hero Branch to mark his full debut in a City shirt.
---