30 April 2014
BURR TO HOLD TALKS WITH BOARD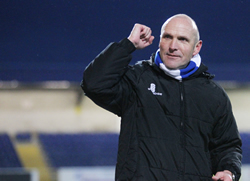 Steve Burr believes that the club should be aiming to go full time next season as Chester prepare to bounce back to the Conference Premier at the first attempt. Burr will hold talks with chairman Tony Durkin and the club board this week to discuss the future now the dust is beginning to settle on Saturday's relegation. Stalybridge Celtic are the only current full time club in the Conference North.

Burr told the Chester Leader of his plans: "I'm hoping that I can sort out one or two things with Tony (Durkin) and Steve (Ashton) in a meeting before I fly out to Barcelona on Friday. The club have a few exciting plans and I would like to help put a few things in place. I have already spoken to an interested party about setting up full time training facilities which would be as good as anything that any club has in the Conference."

"Chester shouldn't stay part-time just because the majority of clubs in Conference North are part-time. I would expect Chester's budget to be less for next season because we have dropped down a level, but I still feel the club should have a full time squad and that would be the way forward."

"I know the club have a different opinion on this, but I'm hoping they will listen and act on my advice."

Burr will reluctantly miss the club's end of season awards night in Saturday due to a holiday break in Spain booked six months ago. Burr added: "I know it will look like I am ducking out of attending, but that couldn't be further from the truth and I would like to make that quite clear to everyone at the club."


---
28 April 2014


LATE TWIST SINKS BLUES
Chester will start next season back in the Conference North after suffering relegation on Saturday. The Blues went down on goal difference after they were held at home 2-2 by Salisbury City at the same time as Hereford United won 2-1 at Aldershot Town. Chester twice took the lead through Danny Carlton and John Rooney but allowed the Whites to draw level on both occasions, with Jamie White's equaliser just three minutes from time sealing Chester's fete coming and coming at almost the same time as Michael Rankine scored Hereford's winner.

In the aftermath of Saturday's draw a disappointed Steve Burr told the Chester Chronicle: "It's very hard to get your thoughts on your game when you've been relegated so it's difficult to make any positive comments because we are all down in the dumps because we haven't pulled it off and managed to keep the team in this division."

"We've just been keeping our heads above water out of the bottom four but, whether you want to call it a bit of bad luck or whatever, the table doesn't lie at the end of the season."

"To go down on 50 points, normally you'd expect that to be enough but that wasn't the case It was quite a dramatic turnaround really. It's very difficult to comprehend what's happened."

Burr was given a contract until the end of this month and is expected to hold talks with the club Board soon and added: "It will go down on my CV as the team has been relegated so they might not want me here. But I do feel that since I have arrived we have had a go at keeping the team up."

• Final league table

---
BLUES LOSE THEIR STRIPES
Chester have revealed their kit for next season which is all blue, with the shirts having white sleaves. The club have been forced to ditch the traditional stripes as kit manufacturers Puma, who the club have a long term deal with, do not produce an off-the-shelf striped kit and the minimum order for a bespoke striped shirt was too many.

A board statement said: "As previously shared with members, the current kit agreement was re-negotiated in January 2013 to reduce contracted volumes following review by the Chester FC Board. On that basis we proceeded with a kit vote earlier in the year."

"We anticipated that a bespoke kit could be supplied at the reduced volume. However, the kit supplier has recently advised that a large minimum order is required for production reasons. The volumes required would significantly exceed previous sales of shirts and represents a major financial liability for the Club."

"Despite extensive negotiation the Board have been left with no alternative but to go for a non bespoke kit for next season."

"Whilst the decision on the new kit has had to be made without direct owner consultation due to production deadlines, we hope the new kit will prove a popular choice. We will be able to order reasonable quantities that will meet demand but not leave us with unsold stock that will jeopardise the finances of the Club."



---
22 April 2014


FINAL MATCH LIVE ON BT SPORT
The final home game of the season against Salisbury City on Saturday will be screened live by BT Sport, kick-off 17.30hrs. This will be the third time the club have featured this season following the home 2-1 victory over FC Halifax Town and the 1-0 victory at Dartford.

The club have announced that all children under the age of 16 will be admitted free with an accompanying adult for Saturday's match in any part of the ground.

---
CARLTON GOAL GIVES BLUES HOPE
A Danny Carlton goal on twelve minutes brought Chester a crucial 1-0 victory at second placed Cambridge United yesterday. Cheered on by over 300 supporters Chester battled well and a series of fine saves by Aaron Chapman ensured a big three points for the Blues on the day that Dartford were relegated.

Victory over Salisbury City in the final game of the season on Saturday, (kick-off 17.30hrs), would guarantee Conference Premier football next season, should Hereford United lose or draw at Aldershot Town then Chester will be safe whatever their own result.

• Latest table after Cambridge game | More pictures

Picture © Rick Matthews (Chester Leader)
---
DERBY STALEMATE FOR CHESTER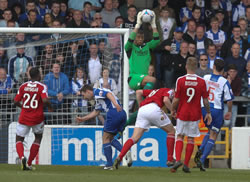 Chester and Wrexham fought out a 0-0 derby match on Saturday in front of a crowd of 4,326 – the highest home attendance of the season so far. Chances in the match were few and far between and Joe Anyinsah may consider himself lucky not to receive a red card for a high foul on Kevin McIntyre after just ten minutes. Chester failed to really test Joslain Mayebi in the Dragons goal with only a couple of John Rooney efforts in the second half forcing him into saves.

Manager Steve Burr said: "It was a typical local derby really and I didn't think there was much in it but we probably created the slightly better chances. I'm pleased that we didn't lose the game and we were trying to win it. I'm disappointed a bit in the way that they went about things but that's up to them."

"I just think they're safe and you just expect them to come and play. Some of things that went on at the end I was quite amazed at really but they've got to look after their own camp."

"The situation we're in we need the points. I could have understood it if they were similar but they're not going any higher, they're not going any lower and they're in this league next season and I just hope we are as well."

• More pictures





---
15 April 2014

RIVALS CLOSE IN ON BLUES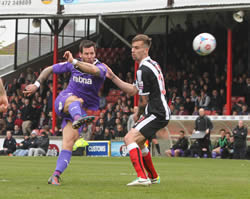 The 2-1 defeat at Grimsby Town on Saturday leaves Chester just a point above the drop zone. With Southport and Aldershot picking up points the Blues remain in 19th place, a point above Aldershot Town and Hereford United and two above Dartford. Oumare Tounkara opened the scoring for the Mariners on 15 minutes. A minute later Craig Hobson had an equaliser ruled out for offside. Aaron Chapman saved a Scott Nielson penalty to keep the scoreline at 1-0 at the break after a lacklustre opening period from the Blues. Substitute Andy Cook made it 2-0 with a close-range finish four minutes from time before James Caton pulled a goal back for Chester in stoppage time.

Manager Steve Burr said after the defeat: "We had a go but I was a bit disappointed with our first half because we gave Grimsby a bit too much respect. I said one or two words at half time and changed one or two things, and I couldn't ask any more effort and commitment from the lads.

"I was obviously bitterly disappointed to lose. We knew it was always going to be a tough game. I thought we improved a lot in the second half and could have maybe got something out of the game. The only positive I can take out of the game is the fact that they had a go in the second half."

Chester must prepare themselves for the visit of local rivals Wrexham on Saturday. The all-ticket match has a 12.00 kick-off. All of the other sides near the foot of the table play 24 hours earlier.

Remaining fixtures for our relegation rivals
Southport: Gateshead (A), FC Halifax Town (H), Welling United (A)
Aldershot Town: Salisbury City (H), Woking (A), Hereford United (H)
Hereford United: Tamworth (A), Alfreton Town (H), Aldershot Town (A)
Dartford: Braintree Town (A), Tamworth (H), Nuneaton Town (A)

• Current table


---
11 April 2014


MIDWEEK RESULTS
With Dartford, Hereford United and Aldershot Town all picking up three points in the week, and Southport picking up a home point also, the fight to avoid relegation is looking like it may even go down to goal difference on the last day of the season. All five teams in contention for two relegation places have four matches left, Chester remain in 19th spot but have the worst goal difference (just) of the five.

Chester have a tough run-in starting with a trip to third placed Grimsby Town tomorrow. The Marriners lost 1-0 at Dartford last night having made ten changes to the side that dew 2-2 at home to Woking on Tuesday. The Blues will be without the suspended Matty Brown while striker Gareth Seddon is a doubt with a broken big toe.

• Latest table

---
10 April 2014


SKIPPER BACK IN TRAINING
George Horan is back in training after recovering from an ankle operation. He last played in the home Cheshire Senior Cup defeat against Macclesfield Town in mid February. Manager Steve Burr will check on the 32-year-old's fitness before deciding whether he'll be able to join the squad for Saturday's tough away match at play-off chasing Grimsby Town.

---
7 April 2014


BAN FOR BROWN
Defender Matty Brown has been given a three match ban following his red card on Saturday, he will miss the matches against Grimsby Town Wrexham and Cambridge United.

---
BLUES HANG ON FOR THREE POINTS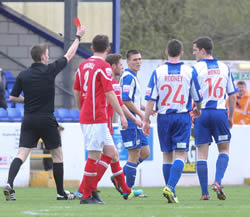 Chester were left desperately hanging on for victory over Hyde on Saturday. The Blues held a 3-0 lead early in the second half with goals from Gareth Seddon, Craig Hobson and a Josh Brizzell own goal but gave away two needless free-kick's on the edge of the box both of which were well converted by Adam Blakeman. In between these defender Matty Brown was given a straight red card for needlessly throwing the ball at an opponent and panic set in from then onwards as Hyde carved out two great chances to grab an equaliser including a missed header from three yards out and a stoppage time effort that was deflected wide.

The Blues could have taken the lead in the first 30 seconds with Seddon missing a one-on-one with the Hyde 'keeper Kettings, but the striker made amends by opening the scoring on 15 minutes with a well executed lob over the 'keeper. The lead was doubled on 23 minutes as Brizzell headed a through ball back over Kettings into his own net.

Hobson extended Chester's lead five minutes after the restart heading home Rooney's right wing cross and all seemed well before the nerve-racking last half hour. Andy Griffin was introduced for his debut on 65 minutes to add some experience to the defence who were looking far from comfortable as bottom-of-the-table Hyde pressed for a third.

But Chester survived the final period, with obligatory five extra minutes stoppage time to take advantage of slips by other teams in the relegation fight to move up to 18th. The team are not in action now until Saturday with a tough trip to third placed Grimsby Town. Fellow strugglers, Southport, Hereford United, Aldershot Town and Dartford are all in midweek action playing their games in hand over the Blues.

• Table after Hyde match


---
2 April 2014


ACADEMY OPEN DAY
The club's youth academy are holding an open day at Deva Stadium this Sunday. This gives everyone the chance to see the academy teams play a full fixture against North West Elite Academy, a school for talented footballers. The matches start with the under 8 and 9 sides as 09.30hrs and will run through the day until the under 16s play the final match at 17.30hrs. Entrance to the occasion is free to all and there will be a raffle on the day to raise funds and a chance to win signed first team items.

---
RACE NIGHT


The club are holding a Race Night tomorrow night in the Blues Bar at 19.30hrs. Tickets are priced at £3.00. the organisers are looking for race event sponsors £100, individual race sponsors £25 and horse sponsors £5.

---
SPONSORED WALK


Before Saturday's home match against hyde the CFU are holding another 5km sponsored walk. The walk starts from the ground at 11.00 and moves up Sealand Road, down Ferry Lane past the river and back to the ground. Registration is from 10.00hrs at the club.

Walking sponsored form | Non walking sponsored form

Last year's walk raised over 35,000 for the club which was split between the Youth Development and a Wheelchair Supporter Viewing project.

---
WREXHAM TICKETS


The club have announced that tickets for the home game against Wrexham on Saturday 19 April (kick-off 12.00) will go on sale following the match against Hyde on Saturday.

Tickets are limited to two per person and a residency proof of ID must be shown at the time of purchase. Season Ticket holders do not need to purchase an extra ticket for the game but just present the relevant voucher from their season ticket book on the day of the match. After Saturday's ticket sales, the club will be open for the purchase of tickets from 10.00 on Monday 7 April until 16.00hrs. Further opening dates will be announced after that when an idea or numbers of remaining tickets are known. No tickets will be sold after Thursday 17th April.

The club have put aside 50 tickets for the forthcoming Wrexham game for CFU Exiles members. If you are a CFU Exile (ie you are a member of CFU and live outside of a Chester or North Wales postcode area), then contact the club about making a postal application for a ticket.

They are allocating those Exiles tickets to members on a first-come-first-served basis. For more details ring the club on 01244 371376. You will need to get your application off ASAP.

---