30 January 2013

BLUES PROGRESS IN CUP
Chester will travel to Tranmere Rovers in the quarter-final of the Cheshire Senior Cup after they defeated Stockport Sports 6-0 in their second round match last night, a victory that included an Iain Howard hat-trick.

The Blues dominated the opening half but only had one Howard goal to show for their efforts but they stepped up a gear following the break scoring twice in the opening five minutes through Howard and Marc Williams. Martin Fearon saved a spot-kick after George Horan had fouled Josh Miller in the penalty area.


Neil Young introduced youngsters Sean Miller and Tom Peers into the action before
Tony Gray and Antoni Sarcevic, following a Peers set-up, added to the score sheet. Peers showed nice skill again as he send Howard through for the winger to complete his second treble of the season, six minutes from time.
---
28 January 2013

COLWYN BAY MATCH
The away league game at Colwyn Bay on Saturday 30 March is now all-ticket and will kick-off at the earlier time of 13:00hrs.

---
25 January 2013

CHESHIRE CUP
The home second round game in the Cheshire Senior Cup against Stockport Sports will now be played on Tuesday 29 January, kick-off 19:45hrs. Admission prices are as follows: adults £7.00, concessions £3.00, under 16s £1.00. Just the main stand will be open for this match.

---
24 January 2013

CURRAN RETURNS TO ROCHDALE
Craig Curran has returned to Rochdale following his extended loan spell. The forward initially came on a one month loan, but so successful was his initial spell, that it was extended thanks to some local businessmen who helped fund the extra four weeks. Curran made 11+2 appearances and scored 7 goals including a hat-trick after coming on a substitute (against Bishop's Stortford), something that no other Chester player has ever achieved.

Manager Neil Young told the Chester Chronicle: "Craig's been tremendous for us. He'll be a loss for us going into the final part of the season when everyone is strengthening. We've lost a big part of our attacking threat. Now it's about how we plug that gap. The current lads here have got to step up to the plate. I am still scouring the loan market to see if there's anyone out there who can fill that role but at the moment it's been to no avail."

"Craig's contacted me to thank everyone at the football club and all the supporters for all their support during his time here. He's had a great time, he loved every minute of it and hopefully he can go on and carry on his League career."
---
22 January 2013

MATCH OFF
The home second round game in the Cheshire Senior Cup against Stockport Sports tomorrow night has been postponed due to a frozen pitch.

---
BLUES FANS ANSWER THE CALL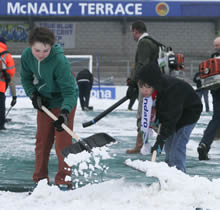 Around 100 volunteers turned up on Saturday morning to help clear snow from the pitch covers and car park to enable Chester to stage the only Conference North match of the day. The covers did their job to reveal the pitch in a great condition once they were lifted before the referee's pitch inspection. Still partially snowbound, the Harry McNally terrace was closed for the day with the home end regulars occupying the south stand for the afternoon.

The volunteers hard work was rewarded hours later as Chester recorded a 4-1 victory over Stalybridge Celtic, to leave them 16 points clear of second placed Guiseley who now have four games in hand.

Just like last week at Hinckley United, the Blues started strongly and once again Nathan Jarman opened the scoring with a sharp shot on 11 minutes. George Horan doubled the advantage as he headed home the second just before the half hour with Marc Williams scoring a third goal two minutes before the break.

Celtic pulled a goal back with a fine free kick from substitute Jack Laird, goalkeeper John Danby collided with a post trying to save the effort and appeared in some discomfort for the rest of the match. With time running out Wes Baynes unleashed an unstoppable 30-yarder in the dying minutes to seal the well earned victory.

After the match manager Neil Young was full of praise for the volunteers who ensured the game went ahead. He told the Chester Leader: "The Chester fans demonstrated unbelievable commitment to get the game on and it just showed what could be done, I'd like to convey a massive thank you to everyone who arrived and ensured that the game could take place. They showed just what could be achieved."
"I reminded the players before the game about the effort that had gone on behind the scenes and that we had to put in our part of the bargain. So the three points were for everybody that had been at the ground since 7am to make sure the game took place. There is no understating how much the players and the management appreciated their work."

• League table after this match | More match pictures | Clearing the pitch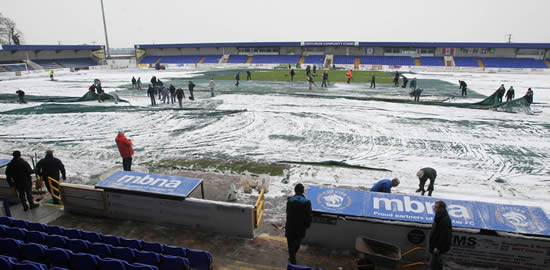 ---
19 January 2013

MATCH ON
Thanks to a remarkable effort from groundsman Steven Ollerenshaw and around 100 volunteers who this morning cleared the pitch covers and surrounding areas of snow, this afternoon's match against Stalybridge Celtic is on. The Harry McNally terrace will be closed today but the South Stand will be open for ticket holders and cash entrance at terrace prices. This is the only match in the Conference North to be played today.

---
18 January 2013

PITCH INSPECTION
/ VOLUNTEERS WANTED

There will be a 10:30 pitch inspection tomorrow ahead of the home league game against Stalybridge Celtic. The club are looking for volunteers to help clear the snow off the covers at 09:00hrs in the morning, the covers will then be removed at 10:00hrs.

---
16 January 2013

CHESHIRE CUP
The Cheshire Senior Cup second round match against Stockport Sports, who play in the North West Counties League Premier Division, will now take place on Wednesday 23 January, kick-off 19:45hrs.

---
15 January 2013

MATCH OFF
Following a pitch inspection at Chester this morning, and with temperatures set to drop below freezing later today, tonight's Cheshire Senior Cup second round match against Stockport Sports has been postponed.

---
14 January 2013

NEW HALIFAX DATE
The away fixture at FC Halifax Town scheduled for the end of the month has been postponed due to the Shaymen's continued FA Trophy campaign. The league game at The Shay will now take place on Tuesday 26 March, kick-off 19:45hrs.

---
SIX OF THE BEST FROM BLUES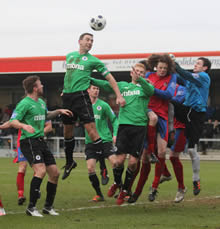 Chester maintained their fine run with a comprehensive 6-0 victory at Hinckley United on Saturday. Nathan Jarman got the Blues off to a flying start heading home after just 70 seconds and further goals from Craig Curran and Antoni Sarcevic extended the lead before the break. Sarcevic scored his second soon after the restart and substitutes Tony Gray and Scott Brown wrapped up the scoring in the final 18 minutes.

Manager Neil Young was full of praise for the team following the game, he told the Chester Chronicle: "It was a thoroughly professional performance from the players. Although people will say it was a game we were always going to win, we still had to go out there and win it."

"The most pleasing thing for me is the lads could have come here and gone through the motions and they didn't. They were at it from the very first minute and that shows they're clued into what we're asking them to do."

"It doesn't matter what Guiseley or anybody else does – if we keep winning, we win the league. We can only worry about ourselves. What will be will be with other teams. Apart from when we play them, there is nothing we can do about other teams. So we'll just carry on concentrating on our own goals. It's as simple as that."

Chester remain 13 points clear of second placed Guiseley who have three games in hand.

• League table after this match | More pictures


---
CFU MEETING
The next City Fans United meeting will take place on Wednesday 30th January in the Blues Bar, starting at 19.30hrs. New members can sign up on the night for the annual fee of just £5.00. It is hoped that Blues manager Neil Young will attend the meeting to take part in a Q&A session.
---
13 January 2013

FORMER PLAYERS ASSOCIATION

Michael Wilde, Greg Stones and Mike Aspin are the first ex-Chester FC players to join the club's revamped Former Players Association.
This follows a change in the organisation's constitution, which now allows ex-players of the new club to become members. Previously, only former Chester City players were eligible.
To reflect the change the FPA has launched a new website. It can be found at the same web address as its predecessor, www.formerchesterplayers.com. The new site gives greater prominence to news stories and has easier navigation. It includes a full list of FPA members, details of social activities and an obituaries section.
The site also features a new logo, designed by Martin Huxley, which links the badges of the two football clubs on a blue background, preserving the memory and tradition of the original club alongside the contemporary style of the supporter-owned team.
FPA chairman Grenville Millington said: "We're delighted to have Wildey, Greg and Michael on board. They all played a big part in keeping football alive in the city. We are looking forward to many more new members joining us, now that the change has gone through."
The Association also has a new Facebook page which is already racking up the 'likes': Chester Former Players Association.

• Former Chester Players website
---
9 January 2013

CHESHIRE SENIOR CUP
Chester entertain Stockport Sports in the second round of the Cheshire Senior Cup on Tuesday night, kick-off 19:45hrs. Admission prices are as follows: adults £7.00, concessions £3.00, under 16s £1.00. Just the main stand will be open for this match.

---
DENSON LEAVES CHESTER
Luke Denson has left Chester to join AFC Fylde. The defender made 5+0 appearances for Chester after signing from Colwyn Bay.
---
CHESTER EXTEND LEAD

Chester moved 13 points clear of second placed Guiseley following a comfortable victory over Oxford City on Wednesday night, the Yorkshire side do have three games in hand. The visitors had endured a long delayed journey following an earlier hold up on the M6 motorway, it meant they reached the ground just before 20:00hrs, with the match kicking off 30 minutes later.

The Blues took the lead through Paul Linwood who notched his first goal of the season in the ninth minute heading home from a Wes Baynes free kick. Chester created several other chances of note but didn't add to their tally until just before the hour mark when Nathan Turner picked out Nathan Jarman with an inch perfect pass for the striker to steer the ball past Ingram in the Oxford goal and into the far corner of the net.

Chester are next in action on Saturday when they travel to play bottom of the table Hinckley United, kick-off 15:00hrs.

• League table after this match | Match pictures


---
7 January 2013

BLUES RUE MISSED CHANCES


Chester's winning streak of twelve matches came to an end on Saturday when a series of missed chances, including one from the penalty spot, as well as a string of good saves from John Lamb in the home goal, denied them victory at Bradford Park Avenue. In the end the Blues had to settle for a 0-0 draw, it was the first time Chester had failed to score in the league for an incredible 62 matches.

The best chance of the game came twelve minutes after the restart when the Blues were awarded a penalty but Matty McGinn saw his effort, low down in the left hand corner, saved at full stretch by the impressive Lamb. The Blues also saw two efforts ruled out for offside in a frustrated second half.

The first half had been a much more even affair with tempers short at times, Craig Curran, McGinn and Antoni Sarcevic all received yellow cards with the referee having to break up three melee's on the heavy Avenue pitch.

Manager Neil Young told the Chester Chronicle: "It was just one of those days and I've got to give great credit to the players. It was a very difficult surface and they worked very hard but just couldn't get over the line. Unfortunately we will go away talking about officials. I think there were six or seven bookings in the game and in my opinion there shouldn't have been one. You've got to take the conditions into consideration. It was a blood-and-thunder football match and lads are going to get stuck in."


With Guiseley winning 5-2 at Bishop's Stortford, Chester's lead at the top has been reduced to 13 points, having played three more games that their rivals from Yorkshire. The Blues are next in action when they entertain Oxford City on Wednesday night, kick-off 19:45hrs. The club shop will be holding a sale beforehand with plenty of bargains to be had by all.

• League table after this match

---
2 January 2013
BOOTH SET TO JOIN BANGOR CITY

| | |
| --- | --- |
| | Robbie Booth is set to join Bangor City. Manager Neil Young has stated: "We've given Robbie permission to speak to Bangor and I expect him to join them. He's been a fabulous player for this club and we wish him all the best." Booth first played for Chester City between 2004/05 before joining Southport. He rejoined Chester from Droylsden in September 2010 and made 56+21 appearances for the club scoring 14 goals in the process. An injury prevented him from making any appearances this season and he joined Vauxhall Motors for a loan period recently. |
---
TURNER LOAN EXTENDED
Midfielder Nathan Turner has had his loan deal from Leeds United extended by another month. After three appearances from the bench, Turner made a first start at Droylsden on New Year's Day and scored Chester's fourth goal.
---
BLUES REMAIN FIFTEEN POINTS CLEAR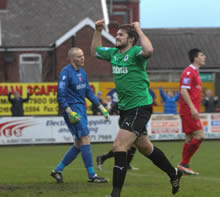 A superb opening period at Droylsden set Chester up for their twelfth successive victory on New Year's Day. Antoni Sarcevic, Craig Curran and Danny Williams all scored in the opening eight minutes. The Bloods pulled a goal back through ex-Chester player James Ellison, before Nathan Turner curled home the fourth goal to give Chester a dominating 4-1 half-time advantage.

An injury to George Horan in the second period saw the captain replaced and Ellison set up a nervy finish as the Blues, like at Brackley last month, conceded two goals in the final minutes as the Droylsden striker completed his hat-trick. But Chester hung on to remain fifteen points clear of second placed Guiseley who completed a festive double over Bradford Park Avenue.

Manager Neil Young said after the match: "Once we took George off the pitch I thought we looked very vulnerable and we weren't working hard enough and that's not like one of my sides so it is something that I will have to deal with." "I had a word with the whole team after the match because if they think we're going to go around in this league and stroll around when we want then they have got another thing coming. I had to give credit where credit was due to the team for their first half performance because I thought they were outstanding."
Chester face seventh placed Bradford Park Avenue on Saturday, kick-off at the Horsfall Stadium is 15:00hrs.
•
League table after this match
---