25 April 1998
Macclesfield Town 3 Chester City 2
Macclesfield Town: Price, Tinson, McDonald, Payne, Ingram, Dodje, Askey (Chambers 74), Wood, Sorvel, Power, Whittaker. Subs not used: Durkan, Howarth.
Chester City: Brown, Dobson, Fisher, Richardson, Whelan, Woods, Wright (Thomas 62), Priest, Murphy, Flitcroft, Rimmer. Subs not used: A.Shelton, Giles.
Referee: J.Kirkby (Sheffield).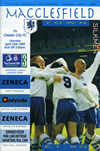 I'd been looking forward to this fixture all season. The return to Moss Rose, our temporary home for two years. What I didn't expect at the beginning of the season, though was that Macclesfield would be looking to clinch promotion to the Second Division. Their achievement has been spectacular and unexpected – if not unique – Hereford United (Ironically the team they replaced) gained promotion on their first season in the League twenty-five years ago.
The Macc Lads were on a roll when Chester arrived for their penultimate match of the season. It meant that feelings of nostalgia were eclipsed by the concerns of the present. Macclesfield were on the verge of promotion and a huge crowd had turned out to see them queuing to get into the ground two solid hours before kick off. A capacity crowd meant that this was nothing likes our experiences when the Moss Rose became our refuge in the wilderness. It was very touching to see Ray Crofts again, standing on the terraces with the City fans, back to the scene of some of so many struggles and bitter-sweet memories.
I was interested to see what changes there had been to the ground since we played there. The Star Lane End is now covered and the lower part of the terracing has been given over to seating to bring it up to the League's minimum requirements. The corner of the ground next to the main stand, which had been occupied by a couple of sheds during our tenancy, was now given over to terracing. The area behind the downhill goal had been terraced properly to replace the shale mound that was there before. "The Bramble" inn still commands another corner of the ground but its name has changed to "The Silkman" reflecting, perhaps the team's smooth progress through the League.
The popular side, that assemblage of cowsheds with the unrivalled outlook on to the Pennine foothills, remained unchanged by the ravages of time. Except for a few more spots of rust and some yellow "no parking" lines on the shallow terrace next to the pitch. From this shaded area, police and stewards shooed us before the game could begin – there was still plenty of room to let in the twenty or thirty or so City fans who were locked out half an hour before kick off. Bureaucratic stupidity at its worst meant that they stayed outside, lurking by the railings like those sad Newcastle United fans, excluded from St James' Park every week.
As we watched the passionate error strewn game unfold, it soon became clear that City's role was to play the part of Bridesmaids to Macclesfield's wedding. Chester began by kicking downhill and asking all the questions (As did their fans, most pertinently to the assembled hordes of glory seekers, "Where were you when you weren't very good?" – or words to that effect). Macclesfield took the lead from their first spell of pressure, Wood heading in from a second successive corner. Most of the rest of the first 45 City dominated without looking particularly dangerous until Dobson's shot smacked against the inside of the post and away to safety on the stroke of half time. Kirkby, for an experienced referee, gave a convincing performance as a "homer," booking Whelan, Fisher, and Priest unnecessarily and letting our opponents foul play go unpunished. One elbowing challenge should have brought an immediate red card but didn't even get a talking-to from the Sheffield official.
The deficit for City doubled soon after half time when Sorvel headed home unchallenged. But Chester were soon back in it when Spencer Whelan shot home form a corner. Unfortunately Spencer undid his good work by making an absolute hash of a clearance and presenting Power with a simple opportunity to score the killer goal. Thomas came on to replace the disappointing Wright, hustled out of a game in which there was little time to dwell on the ball. And Thomas set up a tight finish with a wonderful individual goal, dribbling and the letting fly from outside the box. We all amended our "Goal of the season" awards after that. Even the Macclesfield fans applauded Thomas' skill. They are generous in their appreciation of class when they see it. On the other hand the Macc crowd could have been composed of mostly neutrals any way.
The City support was magnificent, easily out-singing their East Cheshire neighbours. The drummers beat The Great Escape once again and a very passable samba but there was to be no escape for Chester. City couldn't muster an equaliser. It would have made little difference to the atmosphere if they had. Party time began at the final whistle for Macclesfield and who would begrudge them?
---
18 April 1998
Chester City 3 Colchester United 1
Chester City: Brown, Dobson (A.Shelton 79), Fisher, Richardson, Whelan, Woods, Bennett (Giles 45), Priest, Wright, Flitcroft, Rimmer. Sub not used: Moss.
Colchester United: Emberson, Dunn, Betts, Skelton (Forbes 45), Greene, Branston, Wlkins, Buckle (Abrahams 45), Sale (Duguid 69), Lock, Gregory.
Referee: P.Richards (Preston).
Even the match day mascot predicted a win for Colchester before the match. After all they were looking for an automatic promotion place and the wheels had come off City's bandwagon ages ago. Yet it turned out to be a great day for Chester's lads.
Dobson came in at right back, Darren Wright played up front with Rimmer on the left side of midfield in place of Thomas. Andy Shelton was on the bench but not his Dad (Are we going to see a unique playing combination?). With him were Martin Giles and Darren Moss.
Colchester didn't shape at all and Chester began to boss the game more and more as it went on. Player of the season elect Richardson did well but Fisher at left back and Dobson on the right took the eye. The opening goal was a sheer fluke and will be appearing on a Danny Baker video near you soon. Spencer Whelan cleared the ball in the centre circle with one of his special up and unders. As it drifted back down to earth Benno noticed that it was going vaguely near the goal mouth so he stood in front of their keeper and distracted him to such an extent that it went through his hands and into the net. Bennett promptly collapsed in a heap, the referee gave the goal and no one on the ground could quite believe it, least of all Spenner.
Still City came forward. Fisher cut in from the left, their defenders back-pedalled and Fish took the invitation to have a shot, which flew in off the crossbar. Two minutes later Bennett won a tackle in the box to find Rimmer in acres of space on the penalty box and he picked his spot. Three nil and it wasn't even half time!
During the break the youth team who had been over to a tournament in France recently and accounted for themselves magnificently (They beat teams like Auxerre and Karlsruhe and Paris St Germain, before losing narrowly and undeservedly 1-0 to FC Metz) were presented with a trophy and went on a lap of honour round the Deva to rapturous applause. "What a pity the chairman couldn't be here to congratulate them in person" said Cleggy. No one could work out whether he was being sarcastic or not. Mr Guterman was absent indeed.
For the second half Steve Wignall sent his under achievers out five minutes early to shiver in the unseasonably cold wind. He also threw two subs on and Colchester, belatedly threw everything they had at City. The defending now began to look a bit ragged but poor finishing and fortune dictated that the U's only got one goal back.
At the other end Darren Wright ran his socks off and was unlucky not to notch a first goal. Giles, on as sub for Bennett from half time, also went close with a shot which hit the angle of post and bar. Wright was voted man of the match. Shelton came on as Dobson tired and faded (Richardson dropped back to full back). The only blemish was a booking for Fisher on 53 minutes after he'd tripped an opponent.
All in all a very encouraging afternoon for City. Just a shame that results elsewhere meant that Wrexham dropped out of the play off positions. Tee hee.
---
18 April 1998 – Lancashire League Division 2
Manchester City 'B' 3 Chester City 'B' 0
Chester City: Conkie, Roberts, Whitehead, Carson, Warrington, Lancaster, Patterson, A Vile (G Vile 63), Rendell, Kilgannon, Lloyd.
A very young Chester side were defeated 3-0 by Manchester City at their impressive Platt Lane training ground on Saturday.
The Blues, down to the bare bones due to illness and first team duty, more than held their own in the opening 20 minutes.
But a lapse in concentration cost them the match as the Sky Blues stunned them with three goals in four minutes.
On 17 minutes, City took the lead with a clever lob over Chester keeper Matthew Conkie and made it two soon after with a neat passing move.
The third goal came just a minute later and virtually killed Chester off.
However, the Blues regrouped at half time and gave a spirited second half performance but just couldn't find the net despite shots from Danny Carson and veteran substitute Graham Vile.
The final scoreline flattered City and did not reflect the contribution that Chester made to the game, particulary in the second half.
Despite the defeat this was an encouraging display by Chester, who featured Centre of Excellence debutants Paul Roberts and Alex Vile, who acquitted themselves well.
Carl Rendell worked tirelessly up front and Martin Lancaster continued to show his potential as a competent central defender.
And Vile senior, who came on as substitute for his injured son, enjoyed every minute.
The 43-year-old last played for City's A team 26 years ago; but still hinted he could show the youngsters a trick or two.
"I'm in good shape physically and I loved it," he said.
"But I couldn't comment on my performance; you'll have to ask John Kerr or Dave Fogg about that! It wasn't really the way I wanted to come on because I'd have liked to play with Alex. But we were down to the bare bones and I was ther next fittest on the list!"
---
13 April 1998
Darlington 1 Chester City 0


Darlington: Preece, Fickling, Hope, Liddle, Crosby, Atkinson (Barnard 46), Oliver, Brumwell, Durner (Shutt 28 (Ellison 62)), Naylor, Campbell.
Chester City: Brown, Richardson, Fisher, Woods, Whelan, Flitcroft, Priest, Rimmer, Thomas (Giles), Murphy, Wright (Bennett). Sub not used: A Shelton.

Well, we went to Feethams yesterday and in all honesty I didn't think we were actually that bad. In the 1st half, we had a lot of possession and at times crossed the ball into the box quite well. It is pleasing to see Darren Wright being given a run-out in the side. He is quite a clever player and makes some very intelligent runs. It is a shame that some of his peers cannot pass the ball at the right time otherwise I'm sure he would have opened his 1st team account by now.

The 2nd half was much the same as the 1st – us threatening without actually doing anything. Wayne Brown's kicking was awesome and the defence looked solid and composed (hey??!!) without being tested. Nick Richardson again outlining his credentials as player of the season.

Then the goal.. The ball in all honesty should have been cleared, but Darlington's striker did look suspiciously offside (they always do!!) and after a scramble the ball crossed the line. Gary Bennet was introduced after the goal and almost immediately had 2 identical chances which the keeper did well to save. At least he hit the target which is something he hasn't been doing for a while. Stuart Rimmer also had a chance but was again foiled by Preece. It says something about the game that the home keeper received the sponsors man of the match award. Chris Priest again was the subject of some fierce treatment from some of the 80 or so City fans who made the long journey. I don't think Priest will be here at the start of next season.
---
11 April 1998
Chester City 2 Doncaster Rovers 1
Chester City: Brown, Richardson, Fisher, Rimmer, Whelan, Woods, Bennett (Wright 75), Priest, Murphy, Flitcroft, Thomas. Sub not used: A.Shelton, Giles.
Doncaster Rovers: Hoggeth, Debenham (Moncrieffe 45), Hilton (Esdaille 71), Warren, Hawthorne, George, Cunningham, Donnelly, Pell (Edwards 71), Mike, Russell.
Referee: Mr M.Brandwood (Litchfield).

A sad day for Doncaster and their 200 travelling fans as defeat at the Deva finally sent them down to the Vauxhall Conference, something which has looked inevitable for many months.
Wayne Brown replaced the injures Ronnie Sinclair in goal and Nick Richardson moved to right back for the injured (broken toe) Ross Davidson. Disgruntled City fans chanted 'Guterman Out' and 'Where's the money gone?' throughout Saturday's victory.
City made hard work of their victory after being given a dream start on eight minutes. Following a right wing corner, Mark Hawthorne nudged John Murphy and referee John Brandwood pointed to the spot. Dave Flitcroft stepped up and beat Gary Hoggeth with a well struck penalty close to the left hand post.
City's defence were at fault for the equaliser on 19 minutes. Flitcroft sold Spenner short with a bad pass in midfield and Adie Mike stepped in and beat an advancing Wayne Brown smartly to score in the Sealand End.
John Murphy missed a great chance to restore City's lead on he half hour as he blasted wide from six yards out after Gary Bennett missed with a diving header from a similar distance following a good cross by Flitcroft.
The Blues finally regained the lead on 35 minutes thanks to a fine goal from Stuart Rimmer. He turned well and fired in a low shot that beat Hoggeth at the far post.
---
4 April 1998
Exeter City 5 Chester City 0
Exeter City: Bayes, Devlin (Fry 85), Gale, Blake, Clark, Baddeley, Rowbotham (Flack 35), Philips, McConnell (Williams 85), Birch, Richardson.
Chester City: Sinclair, Davidson, Fisher, Richardson, Whelan, Woods (Thomas 59), Bennett, Priest, Murphy, Flitcroft, Rimmer (Wright 72). Sub not used: G.Shelton.
Referee: Mr B.Knight (Orpington).

Another overnight stay for the team – another complete waste of money!
No doubt about it, the Blues looked like a side that lacked any real interest, and its hard to blame them when you consider what's happening off the pitch. It took just six minutes for Exeter to open the scoring. A terrible mix-up between Ronnie Sinclair and Matty Woods let in Darren Rowbotham to intercept a dreadful back pass and lob Sinclair.
Six minutes later The Grecians doubled their lead as Phillips was allowed a clear cross, (despite four yellow shirts looking on from a few yards) and Barry McConnell clinically headed the second. On the stroke of half time Clark made it 3-0 – game over.
Just after the break John Murphy was booked for elbowing, and not long after City brought on Rod Thomas for Woods and the diminutive striker was lucky to stay on the pitch following a flare-up with an Exeter defender, though he got a yellow card.
McConnell headed his second at the far post on 63 minutes and the ball was in the net again two minutes later though Exeter's 'goal' from Flack was ruled out for offside. The striker didn't have to wait long though for his goal as he notched Exeter's fifth with another header.
City's only real chance came from a cross shot by Stuart Rimmer who should really have done better, he was soon replaced by youngster Darren Wright.
To complete a miserable afternoon, John Murphy was shown the red card for a second bookable offence, following another clumsy challenge with the elbow, this time on Baddeley who was stretchered off.
The main talking point came at the end of the game with a confrontation between an irate supporter and Chris Priest at a rare Chester corner in our end.
Supporter: "Oi Priest, I've paid forty quid to watch this"
Priest: "You're a fu**ing idiot then!"
Not the best way to win over friends. At least at the end of the game, captain Gary Bennett had the bottle to come over to the small band of City fans, and tell us in no uncertain terms exactly where he though the problems at this football club lie. Say no more!