28 March 1998
Swansea City 2 Chester City 0

Swansea City: Freestone, Lacey, Coates, O'Leary, Cussack, Bound, Hartfield, Jenkins (Phillips 88), Watkin, Appleby, (O'Gorman 88), Barwood (Casey 73).
Chester City: Sinclair, Davidson, Giles, Richardson, Whelan, Woods, Bennett (Jones 77), Fisher, Murphy, Flitcroft, McDonald (Rimmer 77). Sub not used: G.Shelton.
Referee: Mr D.Crick (Worcester Park)

Another defeat for City, their third on the run, which leaves them now in 14th place seven points from a play-off position. With the sale of Jenkins and Alsford to Dundee United, Martin Giles and Neil Fisher returned to the side. Gary Bennett was team captain.

It was the captain who missed an early chance for Chester after just four minutes. Richardson fed Ross Davidson and his cross was inch perfect for Bennett whose shot flew high over the bar.

The Swans took the lead on 14 minutes as 17-year-old trainee Danny Barwood, on his full league debut, beat the offside trap rounded Ronnie Sinclair and slid the ball home. Rod McDonald then volleyed wide following a through ball from Neil Fisher. Roger Freestone in the Swansea goal didn't have a save to make in the first 45 minutes.

Sloppy defending five minutes from time gifted Swansea their second goal. The City defence froze and Appelby's cross was headed home by ex-Wrexham player Steve

Watkin.
---
28 March 1998
Chester City A 1 Bury B 0
Chester City: Conkie, Moss, Whitehead, Carson, Thompson, Lancaster, Lloyd (Patterson 49), A.Shelton, Rendell, Wright, Williams.

Chester's A side secured all three points against Bury thanks to an injury time goal by midfield dynamo Danny Carson.
City made heavy weather of a drab game which saw Blues keeper Matthew Conkie a mere spectator as Bury only threatened his goal once in the entire 90 minutes. In a game that was, for the most, confined in midfield, the attacking came from the Blues with Randell, Wright, carson and Shelton all having long range shots, none of which tested the shaky Shakers keeper.
City's best effort came from a free kick by Scott Williams after 73 minutes which he curled around the defensive wall only to see it beaten out from just under the bar.
Thie seemed to wake up the Blues and Wright should have done better on 86 minutes but he completelt missed his attempted bicycle kick after stalwart defender Scott Thompson demonstrated his attackling skills down the right.
Then,just as both sides seemed to have settled for a draw, the hard working carson blasted home from six yards after a melee in the box. The win consolidates City's mid table position but they have certainly played better this season for no reward.
---
21 March 1998
Peterborough United 2 Chester City 1
Peterborough United: Tyler, McMenemin, Drury, Payne, Bodley (De Souza 40), Edwards, Farrel, Castle, Carruthers, Quinn, Houghton. Subs not used: Cleaver, Bullimore.
Chester City: Sinclair, Davidson, Jenkins, Richardson, Whelan, Alsford, Bennett (Thomas 68 (Rimmer 81)), McKay, Murphy, Flitcroft, McDonald. Sub not used: Woods.
Referee: Mr K.Lynch (Knaresborough)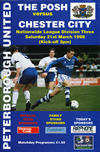 City's poor run of results continued with this defeat at London Road. The Blues have won only one game out of the last eleven games and now find themselves in 11th position, six points adrift of a play-off spot. Ross Davidson returned to the side following suspension, but where was Chris Priest?
Posh took the lead in the seventh minute with Martin Carruthers scoring his 18th goal of the campaign. Keeper Ronnie Sinclair and Julian Alsford collided while both attempting to clear Adam Dury's cross. The ball fell to the ground and Carruthers had the simplest of tasks to score. Rocked by the early goal, City were stirred into action and had plenty of posession without troubling the keeper. The nearest The Blues came to scoring was with an acrobatic overhead kick by Gary Bennett that just cleared the bar. The equaliser came right on half time. Ross Davidson crossed deep from the right and Rod McDonald was on hand at the far post to volley the ball home from an acute angle, and repeat his celebration routine from Cambridge.
Peterborough restored their lead came ten minutes into the second half. David Farrell, was left in acres of space at the far post and his speculative shot took a deflection and lobbed high and over the stranded Ronnie Sinclair and nestled into the far corner.
City brought on Rod Thomas for Gary Bennett and, playing on the right, things looked more promising until he was chopped down and hobbled off to be replaced by Stuart Rimmer.
The rumours in today's papers suggest that City are interested in Port Vale's veteran striker Martin Foyle. Transfer deadline day is this Thursday, it will be interesting to see if anyone comes in for either Iain Jenkins or Chris Priest. Knowing our desperate financial plight at the moment we may have to take any price.
---
14 March 1998
Chester City 0 Notts County 1
Chester City: Sinclair, Jenkins, Fisher, Richardson, Woods, Alsford, Bennett, McKay, Murphy, Flitcroft, Thomas. Subs not used: G.Shelton, Jones, Rimmer.
Notts County: Ward, Hendon, Dyer, Richardson, Hughes, Barraclough, Finnan, Robinson, Farrell (Lormor 85), Jones (Jackson 85), Robson (Strodder 65).
Referee: Mr T.Heilbron

Before the game few held out much hope for City getting anything from this match against the run away leaders of the division. By the end we were choked that Chester hadn't got at least a point.
Forced to field an under strength team because of suspensions (Whelan, Priest, Davidson) and an injury (ahem) to McDonald, City nevertheless began to take the game to the visitors and penned them into their own half for long periods. Richardson and McKay got through a tremendous amount of work closing down the opposition and picking up the pieces in midfield.
City's best chance of the half came when Gary Bennett brilliantly intercepted a back pass, rounded the keeper and looked certain to score. He had, however, been forced to go very wide on the left, almost to the touchline and, desperate to notch his first goal for ages, he shot into the side netting. Alsford also had a half chance from a corner but it fell to his left foot. Richardson had a decent shot from outside the area.
At the other end, in front of the City fans, Notts broke strongly and went desperately close to scoring when Jones prodded the ball across the face of a completely open goal only for it to trickle out for a goal kick. Ronnie also saved with his legs from the same player when clean through. Most of the rest of the time though County's strikers fell foul of City's offside trap.
Just before half time City fans were delighted to welcome a new drummer into their ranks. A snare drummer had joined the usual base variety and they began rousing the Sealand End with a virtuoso performance of which Cosy Powell would have been proud. Soon the choir had joined them in a rendition of The Great Escape theme – definitely the best laugh we have had all season.
City went off to a standing ovation at half time. Great atmosphere.
After the break City kept up the good work but lacked that extra something to put the ball in the back of the net. Murphy went the closest. His downward header from a corner was going in all the way until it hit a defender on the goal line who spawnily scrambled it off shin and knee round the corner.
With the ball not breaking for City where it mattered it did not come as a complete surprise that County rode their luck and scored a late winner. Jones flicked home another of Hughes' (On loan from Oldham) long throw-ins. A few minutes earlier Ronnies' goal had a miraculous escape when an overhead kick hit the angle of post and bar, rebounded onto an airborne Ronnie and somehow span away to safety.
Richardson deservedly took sponsors man of the match; he worked incredibly hard and gave an inspired performance in the middle. Unfortunately City just couldn't fine the telling cross or the subtle one-two to unlock a solid Notts County defence. Thomas faded in the second half, crowded out too quickly by at leas two defenders every time he got the ball. Bennett too seemed tired and a pale shadow of the player he was even at the start of the season.
The result was a real pity because man for man City worked hard and outplayed the best team in our division but couldn't finish them off. Thankfully Chester fans showed their appreciation at the end of the match. It had been a good performance by City and if they had played anything like this at home since Christmas they would be well into the play off positions by now.
Murphy and Bennett were victims of bizarre bookings by referee Heilbron who showed no consistency in allowing County to get away with sly off the ball pushes and shirt pulling all through the match. Thomas was fortunate not to have both legs amputated by a wild slashing tackle from Richardson (Ian not Nick) – but the shortsighted official didn't see anything wrong. So when he pulled up the excellent McKay for a robust but fair sliding tackle – he was not flavour of the month with the Sealand End.

---
7 March 1998
Rochdale 1 Chester City 1
Rochdale: Edwards, Fensome, Barlow, Hill, Leonard, Gouck, Jones, Painetr, Lancashire, Farrell, Stuart. Subs not used; Robson, Russell, Bayliss.
Chester City: Sinclair, Jenkins, Fisher, Richardson, Woods, Alsford, Bennett, McKay, Murphy, Flitcroft, McDonald. Subs not used: G.Shelton, Giles, Rimmer.
Referee: Mr R. D.Furnandiz
A fine headed goal from John Murphy five minutes from time earned City a deserved point from this encounter at Spotland. The game was played on an awful surface that was passed fit following an 11am inspection, the pitch however resembled the infamous Sincil Bank 'beach' of a couple of season ago.
City gave a full debut to 17-year-old Matt McKay who had a confident first game. Rod Thomas missed the game with a hamstring injury but mystery surrounds the non-appearance of Ross Davidson (cricked neck apparently). Rochdale had the better of a scrappy first half as Ronnie Sinclair came to City's rescue with a couple of smart saves from Painter and Gouck.
The home side took the lead in the 68th minute and it was two of City's old boys that did the damage. Julian Alsford made a mess of a headed clearance after a long through ball from Edwards. The ball fell invitingly for Rob Painter whose cross was slotted home from close range by Graham Lancashire. City fought back well with Julian Alsford having a goal-bound header hacked away by Mark Leonard, and Gary Bennett having a shot well saved by Edwards in the Dale goal. John Murphy, had another fine game up front, holding the ball up well. He went just wide with headers on two occasions before Iain Jenkins swung over a free kick from the right and Murphy powered the ball home off the underside of the bar.
In the last minute City had a chance of all three points but Rod McDonald hit the foot of the post from 10 yards.
Warrington born trainee Matt McKay (17) earned rave reviews following his full City debut. "Considering he hasn't played a lot with the lads before, he did very well. He's got stronger as the games gone on and is certainly one for the future" enthused City manager Kevin Ratcliffe after the game.
---
3 March 1998
Chester City 1 Leyton Orient 1
Chester City: Sinclair, Davidson, Jenkins, Richardson, Woods, Alsford, Bennett, Priest, Murphy, Flitcroft, Thomas (Fisher 77). Subs not used: Whelan, Rimmer.
Leyton Orient: Turley, M Joseph, Smith, Hicks, Clark, Naylor, Ling, Warren, Griffiths, Raynor, Inglethorpe. Subs Channing, R Joseph, Harris.
Referee: Mr P Rejer
Weather conditions: Heavy drizzle turning to steady rain at times.
Not surprisingly Ratcliffe made some changes to last Saturday's starting line up. Jenkins was fit again and resumed his place at left back. Thomas was back in the side, Bennett replaced Rimmer and Whelan, after making some glaring mistakes in the last couple of matches was dropped in favour of Matthew Woods
City began brightly with Flitcroft and Thomas finding plenty of space on either wing to get plenty of crosses in. Both Bennett and Murphy went reasonably close with headers. Jenkins drilled a venomous shot in towards goal which was blocked. Richardson was more wayward with his shot but the overall beginning was encouraging
When Orient broke, though they did so in numbers and more as a unit than City. From a corner on their left in the twenty seventh minute they took the lead. Ronnie seemed to be eclipsed by bodies in the six yard box and was nowhere near the ball when defender Smith rose unchallenged to head into an empty net. City's bright start had dissolved into nothing.
After the break City began to press again but found it hard going against another well organised defensive side. As often in the past City's ponderous and sideways passing movements were too predictable. Richardson and Priest got through a lot of good work in midfield but were often outnumbered and crowded out. Flitcroft had a reasonable game running strongly with the ball on several occasions but his movement off the ball was sometimes a little too late. Thomas, again playing deep on the left was closely marked, especially in the second half. Yet it was from this source that City got their deserved equaliser. Thomas and Jenkins combined well on the left to set up a shooting chance for Richardson outside the box. Nick sent his shot skimming across the rain soaked surface and into the near corner with the goalie absolutely flat footed. Great goal.
City weren't able to force a winner and, truthfully, probably didn't merit one, The best chance falling to Murphy who blazed high and wide from ten yards out. Orient far from settling for a point, kept pressing forward.
Ratcliffe, interviewed on Merseyside afterwards said he was very happy with City's performance. And he couldn't believe Iain Jenkins was still playing with us and hadn't been snapped up by a club at a higher level. To most of us City had not shown the strength up front or the guile needed to break down Orient's defence. And Jenkins although voted man of the match by the sponsors (A decision greeted by howls of derision) did not have one of his better matches. I suspect Ratcliffe is desperate for someone to come in and buy Jenkins or maybe Priest and help ease the rather worrying cash flow problem off the pitch.

Colin Mansley