Saturday 24 April 1999
Chester City 2 Halifax Town 2
Chester City: Cutler, Davidson (Reid 63), Cross, Richardson, Crosby, Woods, Flitcroft, Priest, Murphy, Beckett, Fisher (A.Shelton 75). Sub not used: Moss.
Halifax Town: Martin, Thackeray, Bradshaw, Sertori, Brown, Stoneman, Newton, Hulme, Jackson (Paterson 55), Lucas, Butler (Hanson 80). Sub not used: Murphy.
Referee: L.Cable (Woking).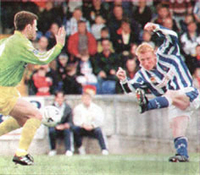 In truth this was a game City could have, and should have, won but the point at least ensures another season of Football League football (takeover permitting of course).
After Neil Fisher and the impressive Luke Beckett had shots on goal, the Blues took the lead on 21 minutes when a quality diagonal pass from Ross Davidson picked out Jon Cross down the left. He centered for the unmarked Priest to give Town keeper Lee Martin no chance. City continued to have the bulk of the possession without troubling the keeper though.
Jackson wasted a great chance for the visitors, shooting high over the bar but they drew level on the stroke of half-time as Chris Newton unleashed a shot from 25 yards which seemed to go under Neil Cutler's outstretched arms.
The second half started slowly with most of the play contained in midfield. Shaun Reid replaced the injured Ross Davidson on 63 minutes and two minutes later City regained the lead. John Murphy beat Sertori in an aerial dual and Beckett picked up the loose ball to fire home with the aid of a deflection. The City striker was then unlucky with a couple of other chances, and Dave Flitcroft too had a shot well saved.
The three points seemed to be City's until a second equaliser with three minutes remaining, Bradshaw shooting home in spectacular fashion from 35 yards past a helpless Cutler.
Ratcliffe added: "They scored with two quality strikes but I've seen him (Cutler) save both types of goal in training. They travelled a long way but I'd have to look at the video to be fair."
Luke Beckett puts City 2-1 up
---
Saturday 17 April 1999
Rochdale 3 Chester City 1
Rochdale: Edwards, Farrell, Bayliss (Barlow 56), Hill, Monington, Lydiate (Painter 60), Carden. Holt, Morris, Peake, Bryson. Subs not used: Barlow, Hicks.
Chester City: Brown, Davidson, Cross, Richardson, Crosby, Woods, Flitcroft, Priest, Murphy, Beckett, Moss (Conroy). Subs not used: Fisher, Reid.
Referee: F.Stretton (Nottingham).
A second half hat-trick from Andy Morris dumped City to their third successive defeat and brought an angry response from manager Kevin Ratcliffe.
The Blues were firmly in control in the first half and took a deserved lead through Luke Beckett on 25 minutes. Beckett played a neat one-two with Chris Priest and then fired a low 25-yarder past keeper Edwards. Manager Ratcliffe brought in youngster Darren Moss and he had an impressive all-round first 45.
After the break Jon Cross had a fierce free kick tipped round the post by Edwards. Dale then made a double substitution and were soon level.
Wayne Brown mad a mess of a punched clearance - more height that length - and striker Morrris hooked the ball back in over his shoulder. On 78 minutes the striker made it two when he headed home Andy Barlow's left wing cross. City's capitulation was complete when Morrris outpaced Andy Crosby, who slipped over in the process, leaving the striker clear to slot the ball home.
"That's garbage, that for me wasn't gooe enough. As a manager and a supporter you cannot be happy with that display in the second half. I wasn't happy with any of their gaosl, we got sloppy after playing some good stuff in the first half, maybe we thought we had a divine right to play it again in the second, but you have got to earn that right." added a frustrated Ratcliffe afterwards.
---
Tuesday 13 April 1999
Chester City 1 Brentford 3
Chester City: Brown, Davidson, Cross; Richardson, Crosby, Woods, Flitcroft, Priest, Murphy, Beckett, Fisher (Conroy 73). Subs not used A Shelton, Moss
Brentford: Woodman, Boxall, Anderson, Hreidarsson, Powell, Quinn, Scott (Folan 73), Bryan, Owusu, Mahon, Evans. Subs not used Oatway, Rowlands.
Referee: P Robinson (Hull).
A desperately low attendance on a pleasant but unseasonably cold night. Only 1,766 and that included about two hundred from Brentford. Where are the stay away fans and why? Is it because City have little left to play for this season as the result at Hartlepool showed or is it because, with still no definite news of a buy out, the club appears to be going no where.
Well whatever – those who stayed away missed a cracking game. I was completely hoarse by the end.
It was a horrendous start for City who found themselves two goals down after four minutes. As we were one of the few games to kick off at 7.30 as opposed to 7.45 - A later start would have suited City as our players were caught absolutely cold at 7.32 and 7.34. The defence was absolutely static as Bees left back Ijah Anderson comleted a one-two into the penalty area and lifted the ball over a flat-footed Brown into the net. The dust had hardly settled when Paul Evans (A recent acquisition from Shrewsbury) spotted Brown on walkabout off his line and drove the ball into the net from forty yards. In both cases City failed to close players down. The Bees by contrast were swarming all round any City player on the ball and gave very little space to play in all evening.
The visitors should have been three nil up when Crosby slipped up and let Owusu clean through – he finished wide of the post, however. But Chester fought their way back into the game and strove for a vital goal back before half time. They didn't have a clear chance though they won several corners and turned up the pressure.
After the interval City played some brilliant football. Priest and Richardson fought really hard in midfield to wrest control from a strong and pacy but not overly skilful Brentford. Davidson had an absolute blinder, overlapping powerfully and never ever shirking a tackle on a night when some fairly hairy ones flew in.
In one flurry of pressure the ball struck a defender's arm and Chester won a harsh but legitimate penalty. Crosby was delayed an age while the referee sorted out a jostling for position between Priest and two Brentford forwards. But the skipper's nerve held and he smashed the ball confidently into the back of the net.
Several near misses followed as City battled for the equaliser their football deserved. Murphy came closest when he met a Cross cross at the far post which shaved the paint off the woodwork.
Murphy was lucky to stay on the field when yellow carded for a wild tackle. Then Evans was booked for an equally reckless challenge which incensed the home crowd. Brown and a Brentford forward were also cautioned for a skirmish on the goal line.
Several times Brentford threatened to finish the game as they broke from defence with speed. They finally achieved this just before the end when Bryan pounced on a Woods error and lashed the ball past a defenceless Brown.
It had been an excellent game played at a furious pace – shame that Brentford were 2-0 up before Chester had mentally left the dressing room.
Time for some trivia:
1. The setting sun caused the llinesman problems in front of the main stand which prompted him to take drastic action – when was the last time you saw a linesman wearing a cap? (It looked like a Brentford one too!).
Ornithological notes:
2. I saw an oyster catcher circling the Deva before the match. Last time I saw it we had just lost to Scunthorpe. Nice bird – bad omen?
3. The first swallow of the season swept up and down under the eaves of the Sealand End.
---
Saturday 10 April 1999
Hartlepool United 2 Chester City 0
Hartlepool United: Hollund, Knowles, Ingram, Barron. Westwood, Hughes, Stokoe, Beardsley, Freestone, Jones, Clark. Subs not used: Wilcox, Stamp, Bull.
Chester City: Brown, Davidson, Cross, Richardson, Crosby, Woods, Flitcroft (Wright 74), Priest, Conroy, Beckett, Fisher (Smeets 54). Sub not used: Lancaster.
Referee: E.Wolstenholme (Blackburn).
After playing so well a few days earlier against Barnet, City hit rock bottom with this disappointing performance against the divisions bottom side Hartlepool.
The Blues had two good chances early on. Chris Priest was guilty of a bad miss following good work by Mike Conroy and then Conroy himself missed a chance after failing to take advantage of Ross Davidson's teasing cross. On 21 minutes Priest went close again with an effort that was cleared off the line by Denny Ingram.
On the half hour it was the turn of the home side to squander a great chance of the opener. Matt Woods' wayward back pass left Wayne Brown in trouble and his sliced clearance fell straight at Chris Freestone 25 yards out, but he volleyed just wide.
Soon Hartlepool took the lead. Jon Cross needlessly conceded a free kick after sliding into Darren Knowles. Ian Clarke's free kick was missed by Brown and Freestone headed home into an empty net. Gary Jones added the second on 51 minutes following Peter Beardsley's through ball.
City were never really in it after that, though they did have two efforts on goal from sub Smeets and Priest again.
---
Monday 5 April 1999
Chester City 3 Barnet 0
Chester City: Brown, Davidson, Cross, Richardson, Crosby, Woods, Flitcroft, Priest, Murphy (Conroy 75), Beckett, Fisher (Smeets 68). Subs not used: Alsford.
Barnet: Harrison, Stockley, Sawyers, Basham (Hackett 45), Heald, Abber, Onwere, Doolan (Searle 78), Charlerey, McGleish, Currie. Sub not used: King.
Referee: Andrew Hall (Sutton Coldfield).
A comfortable win for City which had their faithful fans racking their brains to remember the last time they had a match sewn up by half time. It certainly hasn't happened this season.
Right from the off Davidson and Flitcroft seemed to find loads of room over on the right and began to make inroads into the Barnet defence. The opening goal came from the left however as Fisher floated a cross to the far post. Murphy challenged for the ball which popped up inconclusively. The Bees defenders then stood and admired as Murph planted a follow-up header firmly into the back of the net.
On half an hour, Beckett broke away on the left and found Flitcroft, bearing down on goal like an express train, with his cross. Just as Flicker was about to pull the trigger he had his legs whipped from under him by Sawyers' despairing tackle. The referee applied the letter of the law and sent the defender off (Personally I feel a booking would be more appropriate) and Crosby compounded Barnet's misery by slamming home the penalty.
Flicker, rightly named man of the match, came close to scoring a stunning third when he skipped past a defender and saw his piledriver shot tipped round the post by Lee Harrison.
Now that the Bees had been stung they offered a bit more threat up front. Brown had to have his wits about him to save from Charlery and then from Currie (His blond mop redolent of his famous footballing uncle Tony).
Shortly after half time Beckett killed the game dead with what is becoming a trademark style goal. He was fed the ball by Fisher after Barnet's right back had presented it to him on a plate. Twisting and turning with the ball on the edge of the box he seemed to have taken too long but then he clipped a curling shot just inside the post.
The absolute purists might complain that City didn't go on to fill their boots against ten men but we would all have settled for this score at three o'clock. We would all have settled for a midtable position in November/December too with things looking decidedly dodgy off the pitch.
There can be no more excuses for the mysterious consortia not to buy the club. "Come out, come out, whoever you are!"
---
Saturday 3 April 1999
Swansea City 1 Chester City 1
Swansea City: Freestone, O'Leary, Clode, Cusack, Smith, Bound, Roberts (S.Jones 56), Appleby, Alsop, Watkin (Bird 75), Coates. Subs not used: Lacey.
Chester City: Brown, Davidson, Cross, Richardson, Crosby, Woods, Flitcroft, Priest, Murphy, Beckett (Conroy 90), Fisher. Subs not used: Alsford, Smeets.
Referee: Peter Walton (Long Bucley).
How many Chester City games have you been to where the kick off has been put back five minutes to clear a pile of dog muck off the pitch?

Fortunately it wasn't an unlucky omen for what we were about to receive in this Easter footballing feast.
On came the groundsman with the pooper-scooper and on came Chester as the party-poopers at a ground where they've slipped up more than once in recent years.

And it looked as if The Vetch bogey was about to strike again as most of the Blues boys looked as if they were still on the team coach as the match eventually kicked off four minutes late.

But just as Swansea controlled the first 45 minutes, the Blues bossed it after the break in what was the cliche-classic game of two halves.

And manager Kevin Ratcliffe left The Vetch thinking that his side might have just snatched all three points after their much-improved second half display.

That's a sign of how well City did play after the break. And if they had kicked off the first half as they did the second, then it would have been a three pointer all the way for the Blues.

Instead they were lucky to survive a Swans onslaught from the start when only a world class save from Wayne Brown somehow kept out Julian Alsop's second minute header from a Stuart Roberts cross.

Richie Appleby then clattered the bar from a rebound lifting the volume around the volatile Vetch Field ground.
City were on the rack as the ball as pumped up to Alsop at every given opportunity and it was from Mark Code's long ball out of defence that saw the Swans go ahead on five minutes.

There were question marks about whether Brown had the ball in his hands when the lumbering Alsop challenged him but Brown didn't exactly go in with any conviction and referee Peter Walton waved play on. And Roberts took full advantage as he rammed the ball home from close range.

Roberts would have had a second eight minutes later but he couldn't stay onside as Jon Coates ran through the heart of City's spreadeagled defence.

But they can't be blamed for that because Swansea were at their most dangerous from corners – those taken by City's Jon Cross and Neil Fisher.

Every time City had a corner in their first half – and they had six – Swansea broke away at speed.

But City held on. Ross Davidson made a goal line clearance from Roberts while Steve Watkin wasted a great chance as he dwelt too long on the ball in the box.

Former Wrexham striker Watkin then almost sliced into his own net from Fisher's corner while Roger Freestone's face saved the day as Matthew Bound missed Fisher's left wing cross.

Chris Priest, who had a brilliant game in midfield considering he's had flu all week, tested Freestone with a 25-yarder while Matt Woods also had a half chance from another Fisher assist.

Swansea ended the half on top and Brown redeemed himself as he saved Appleby's effort with his feet while Coates tried to walk the ball in after superbly shaking off the City defence.

That left both managers with plenty to say at half-time and Swansea again started the brighter when Watkin was allowed too much space and time to shoot narrowly wide on 47 minutes.

But the Swans lost their way and City took over especially on the right side where Davidson and Dave Flitcroft were dominant.

Swansea weren't helped by a strange substitution – taking goalscorer and lively youngster Roberts off.
Maybe John Hollins sensed that his side were losing their grip and just 90 seconds after Steve Jones replaced Roberts, Chester equalised.

And the equaliser was made up of three elements. The quality of Cross from Davidson, the intelligent running of the ever-willing workhorse Luke Beckett and goalkeeper Freestone's flat feet.

Whether he was unsighted by John Murphy or just thought the ball was going over, a goalkeeper of his experience should have gobbled it up.

But Beckett's header looped up and over and into the net.

That upset the Swans, who were in typically friendly mood to Ratcliffe and co on the City bench.
The goal sparked a Swansea fight back as they began pumping high up and unders towards Brown, who was reluctant to come and face Alsop again.

But he got superb support from Woods and skipper Andy Crosby and when he did come and was beaten fairly by Alsop, referee Walton decided to award a free kick to Chester this time.

Not that the goal would have stood after a spectacular goal line clearance from Woods.

Brown's handling was superb after that as both sides went in search of a winner in the last 20 minutes.
Fisher should have had a crack at goal from Nick Richardson's set up but Murphy wasted the best chance after Beckett had flicked on a Flitcroft cross.

Murphy fired high over the bar from just six yards while at the other end a great block from Woods prevented Alsop from grabbing what would have been an undeserved winner.

And the cries of 'What a load of rubbish' from the Swansea supporters said it all as City scooped a well deserved point from a ground that has many, many bad memories.