Saturday 29 August 1998
Southend United 0 Chester City 1
Southend United: Margetson, Hails, Stimson (Jones 72), Morley, Newman, Roget, Maher, Beard (Gooding 75), Burns, De Souza, Clarke (Whyte 65).
Chester City: Brown, Davidson, Cross, Richardson, Crosby, Woods, Bennett, Priest, Murphy, Flitcroft (A.Shelton 83), Smith. Subs not used: Thomas, Wright.
Referee: W.M.Jordon (Tring).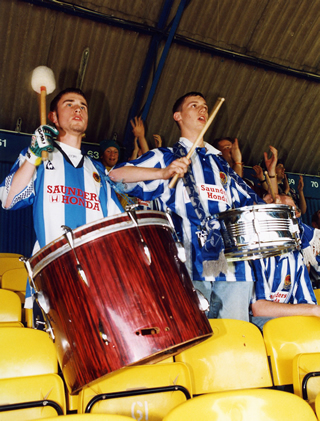 There was no hiding the delight in Gary Bennett when he'd scored his first goal for nine months to give City their first league win if the season. They also have 'keeper Wayne Brown to thank for keeping their first clean sheet too, as City's defence rode their luck to pull off this shock win. Around 100 City fans made the trip to Roots Hall and once again the atmosphere in the away end was given a boost by the two drummers, who hardly stopped all match.
Bennett's winner came fifteen minutes from time. His overhit cross from the right wing was rescued by Alex Smith. He jinked past two defenders before sending in a teasing low cross into the box. Murphy missed his chance but Bennett was on hand at the far post to drill the ball past home 'keeper Margetson. John Murphy was guilty of missing a golden chance to seal the lead (and prevent a heart stopping finale) but he headed tamely at the 'keeper from eight yards out.
The first half was a drab affair with the home side having the only real chances of note. Brown pulled of a couple of flying saves, one notably from Burns, and United went close with two long range efforts that shaved the post. The game was stopped too often though by an over zealous referee who never allowed the game to flow.
After the break City game more into the game and had a lot more of the possession without really creating any clear cut chances; Smith was sent clean through though by Bennett but his shot was smothered by Margetson who came rushing out to narrow the angle.
Southend were guilty of several misses, the most glaring that from eight yards out by Burns who shot wide a minute before Bennett's strike, and once again Wayne Brown made a goal line clearance with his leg as the City goal was peppered, as was the clock above it, that was moved back 10 minutes by one wayward shot!
Striker Bennett said after the game: "It's so long since I last scored that I didn't know what to do. I think I started the move and tried to find Alex Smith with a far post cross. I got too much on it but Alex worked a little bit of magic and I think their keeper palmed it out. There were a few people in the box and I knew I had to hit it hard and it was great to see it go in. It should do my confidence the world of good and scoring goals is all about confidence. But the most important thing was winning. If we'd have lost we'd have been bottom and we didn't want that."
---
Sunday 23 August 1998
Chester City 2 Hull City 2
Chester City: Brown, Davidson, Cross, Richardson, Crosby, Woods, Bennett (Thomas 73), Priest, Murphy, Flitcroft, Smith. Subs not used: A.Shelton, Wright.
Hull City: Wilson, Greaves, Edwards, Hocking, Whitworth, Howei, Peacock, McGinty, Brown (Morley 90), D'Auria (Ellington 87), Mann (Hateley 63).
Referee: Kevin Hill (Royston).
This game will be remembered for one person alone. referee Kevin Hill. The Royston official sent off two players, booked nine, awarded four penalties and managed to annoy both sets of players and fans. "I can't really accept displays like that from referees but I won't be marking him low. I'll be giving him 10 out of 10; and then we won't have him here again. He'll be in the Premiership" – added City manager Kevin Ratcliffe.
City's best play came from the left with Alex Smith again having an outstanding game. Smith was the first to hit the target after just two minutes following fine work by Bennett, the wingers strike being deflected for a corner. City took the lead through a Flitcroft penalty on 32 minutes. Jonathan Cross's free-kick was handled by Hocking and Flicker converted the spot kick. However City let the Tigers back into the game and Brown headed home the equaliser after Wayne Brown had flapped at a corner.
Right on half-time City had a great chance to regain the lead. Bennett headed back a superb Flitcroft cross for Smith to fire in a shot. Greaves handled the ball on the line and was promptly red-carded. However Flitcroft once again stepped up for the penalty but screwed his shot wide.
The Blues did take the lead however on 59 minutes. Once again it was a Flitcroft cross, this time from a corner, that caused problems for the Hull defence and Andy Crosby stepped up to power home a header for his first goal for the club.
Hull player manger Mark Hateley brought himself on was immediately in the action. Wayne Brown failed to hold a shot from the veteran striker and Ross Davidson was forced to haul down Hull's Brown before he could tap home the rebound. Off went Davidson and Wayne redeemed himself with a good save from the resulting penalty kick.
However the equaliser came with two minutes to go and once again it came from the spot. Crosby pushed Hateley in the box after Chester had been caught on the break and the manager lashed home the kick past Brown.
---
18 August 1998 – (Worthington League Cup Round 1, 2nd Leg)
Chester City 2 Port Vale 2
Chester City: Brown, Davidson, Cross, Richardson, Crosby, Woods, Bennett (Thomas, 88), Priest, Murphy, Flitcroft, Smith. Subs not used: Cutler, Wright, A. Shelton, Jones.
Port Vale: Musslewhite, Carragher, Tankard, Bogie, Walsh, Snijders, Ainsworth, Talbot, Beadle (Foyle 31), Naylor, Corden 6 (McGlinchey 70). Subs not used: Pilkington, Koordes, McQuade.
Referee: W Burns (Scarborough).
An emotional night at the Deva last night as City deservedly progressed to the second round of the Worthington Cup. Before the game, Mark Howell, chairman of the ISA gave the players their travelling expenses for the week. It was a gesture of solidarity and appreciation of the way that they continue to perform professionally despite their wages not being paid on time.
In response, the players came on to the pitch to the tune "Simply the best" and came over to applaud the home faithful for their efforts. It was quite touching and something I haven't seen at Chester for many years.
Chester dominated the first half with Vale looking dangerous on the break. Ainsworth in particular looked in top form and Cross was booked for bringing him down. City's movement off the ball was good and competition in midfield seemed to have upped a gear from the last home match against Orient. Smith had another sparkling game on the left, holding the ball up well and using it effectively. But it was Vale who took the lead. Brown came for a rather aimless lob forward, which he had no chance of getting and made it a simple task for Naylor to nip in and glance a header over him into the empty net. Chester pressed hard for an equaliser, the closest thing came when a shot from Flitcroft, screaming towards the top corner was brilliantly tipped round the post by Paul Musselwhite (The dozy referee gave a goal kick). Bennett was looking more like his old mean self and really put the wind up Musselwhite when he bore down upon him and almost took a clearance off his toes.
At half time the ISA took the bucket round to raise money for their fighting fund towards the players' expenses. Incredibly, it seems, Chester fans coughed up to the tune of £1,150 – a brilliant show of support.
City got their equaliser seven minutes in to the second half. A superb goal. Richardson got through down the left and put in a cross to the far post. Smith was there first to send a glancing header low into the net. Still City kept looking for more goals but Vale too were beginning to wake up. Foyle thought he had scored Vale's second when he headed in form the six yard box but was given offside and booked for his protest. Then the visitors scored a valid goal when City failed to clear a corner and Brown's save from Ainsworth's shot fell into the path of Naylor, who tapped it in.
Just for a while City heads seemed to go down, it was a sloppy goal to concede. But then they came driving forward again. Flitcroft flicked a good ball out to Davidson and from the resulting cross City scored again. Smith at the far post was looking second best to meet the cross at the far post but Snijders felt the pressure and headed the ball from an acute angle into the top corner of his own net. You couldn't help feeling sorry for the bloke – very embarrassing for him and in front of his own fans. But it was enough to take City through.
Rod Thomas came on for the last few minutes to replace Bennett but he joined him in the bath earlier than anyone anticipated when he made a reckless tackle on Allen Tankard and was red carded. A Vale fan was so incensed he ran on the pitch and was duly dealt with. It was right in the far corner from me but looked a rather nasty incident all round.
Once again at the end the players came over to thank the home fans for their support at the end of a pulsating match. Who do you fancy in the next round?
---
15 August 1998
Brighton & Hove Albion 2 Chester City 2
Brighton & Hove Albion: Walton, Smith, Tuck, Minton, Johnson (Thomas 32), Allan, Storer, Mayo (Westcott 45), Moralee, Hart (Barker 57), Bennett.
Chester City: Brown, Davidson, Cross, Richardson, Crosby, Woods, Flitcroft, Priest, Murphy, Bennett (Thomas 76), Smith. Subs not used, A.Shelton, Wright.
Referee: A.Butler (Sutton-in-Ashfield).
A case of what might have been. City were in complete control and heading for their first-ever win at Brighton until a couple of defensive errors let in the home side for a share of the points. It's to City's credit that after a week of non-payment/training they should take the game to the Seagulls right from the start taking the lead after only 19 seconds. Chris Priest fed the ball to Dave Flitcroft on the right wing, his first-time cross, following an eight-man City move was headed home in spectacular style by man of the match Alex Smith – his first goal for the club.
Chester were well on top in the opening stages allowing the home side only a couple of half-chances which Brown dealt with comfortably. A diving header from Storer just before the break though almost levelled matters but the Blues reached half-time with a deserved lead.

Gary Bennett had a great chance to increase City's lead after the break but he shot tamely at 'keeper Walton after the ball had rebounded to him ten yards from goal. After 61 minutes Albion defender Tuck needlessly handled Gary Bennett's header from an Alex Smith cross and the referee pointed to the spot. Flitcroft duly converted the kick with power and Chester were two-up and looking comfortable for that first-ever victory at Brighton.
Eight minutes on however, unmarked Albion substitute Barker pulled a goal back with a far post header, and three minutes later the home side were level with a crazy own goal from Matt Woods. Moralee lobbed the ball towards the City box but the back-peddling Woods headed over the advancing Wayne Brown into an empty net.
With 14 minutes left, Rod Thomas replaced Gary Bennett and added an extra dimension to the City attack. Chester almost grabbed a winner in injury time but Crosby's shot agonisingly came off a post in a goalline melee, it just wasn't going to be our day. Though City should have taken all three points, we'd have settled for a draw before the game, and given the off-field traumas at the club the players showed remarkable professionalism throughout.
---
11 August 1998 – (Worthington League Cup Round 1, 1st Leg)
Port Vale 1 Chester City 2
Port Vale: Musselwhite, Carragher (Walsh 71), Tankard, Bogie (Koordes 78), Aspin, Snijders, Ainsworth, Talbot, Beadle (Naylor 71), Foyle, Jansson, Subs not used: McGlinchey, Pilkington.
Chester City: Brown, Davidson, Cross, Richardson, Crosby, Woods, Flitcroft, Priest, Murphy, Beckett (Bennett 47), Smith. Subs not used, A.Shelton, Wright, Cutler, J.Jones.
Referee: E Wolstenholme (Blackburn).
A couple of preliminaries. The first pub I stopped at in Longport had a print of Foregate Street hanging up in the bar – good omen I thought. Then, the Vine, near the ground had Weetwood Eastgate Bitter on – too good to be true. At Vale Park the good news was that they had dropped the price of admission from £15 to £6 (Discount for sitting under the Sealand Road roof?), the bad news – it cost £4 to park the car.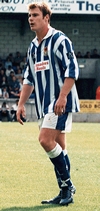 Now sit back City fans and read about a great victory for the Blues – or should we say Clarets? City stepped out in their new away kit at Vale Park – they looked like Heart of Midlothian and certainly played with plenty of heart and passion.
Ratcliffe picked the same eleven that caved in so abjectly last Saturday but the difference in performance was huge.
Vale came forward and seemed to find plenty of space as they did so – it only seemed a matter of time before they took the lead. One shot flashed across the goal and then Foyle just failed to connect with a cross at the far post.
City attacked as well, with Smith once again proving a tricky customer on the left. They forced a few corners and from one on the left they took the lead. Flitcroft (pic left) swung it over to the far post where Beckett, having lost his marker, headed in. Four minutes later it was delerium as Davidson crossed from the right, Carragher made a right hash of his clearance and put the ball into the path of Beckett who turned (like Jesse James of old) and put the ball just inside the post for 2-0.
The home side might have pulled one back just on half time but Ainsworth took the ball off Foyle's head when he looked certain to score.
After the break Beckett limped off after only two minutes. As substitute Bennett was running on, Vale broke down the right, the ball was swept right across the area, Brown came out but was beaten as the ball was knocked back in and Ainsworth finished to make it 1-2.
City held on fairly comfortably to keep this Worthington Cup tie very much alive for the return leg at the Deva. Indeed, it looked as though Benno had made it 3-1 with just six minutes to go, stabbing the ball in at the far post from Smith's cross, but he was given marginally offside.
At least Vale fans had something to cheer – every time Macclesfield scored against Stoke the electronic scoreboard let them know. We were also aware of a superb Halifax victory at the Racecourse. I didn't quite have the confidence to chant with the others "Out with the Wrexham, you're going out with the Wrexham" but who knows, after tonight's result?
---
8 August 1998
Chester City 0 Leyton Orient 2
Chester City: Brown, Davidson, Cross, Richardson, Crosby, Woods, Flitcroft (Bennett 69), Priest, Murphy, Beckett, Smith. Subs not used, A.Shelton, Wright.
Leyton Orient: MacKenzie, Walschaerts, Lockwood, Smith, Hicks, Clark, Ling, Ampadu, Richards (Harris 65), Maskell, Martin (Reinelt 52), Sub not used, Raynor.
Referee: S.Baines (Chesterfield).
It took just forty five minutes for the pre-season optimism at the Deva to evaporate. That was when Orient striker Tony Richards intercepted a wayward pass in the centre circle and started towards goal. Either Woods or Crosby looked certain to get a tackle in but both were outmanouevred and made to look very ponderous. Richards left them in his wake and side footed the ball past Brown from the edge of the area. Maybe City's central defenders were afraid to commit themselves in fear of being shown the red card.
Fifteen minutes earlier this had been the fate of Dean Smith, rather harshly sent off by Steve Baines for a clumsy challenge on Murphy when through on goal.
The first half had been a cagey affair with chances few and far between. City's best opportunity fell to Priest after good work by Smith and Murphy but a last ditch tackle saved the day for the visitors.
In the second half the very least we demanded was an onslaught by the Blues, making use of their extra man and laying seige to the plucky Orient defence. Instead City were pathetic. They were unable to step up the pace or vary their pattern of play at all. Ideas in the last third of the pitch were lacking. Bennett came on to replace the largely ineffective Flitcroft. Thomas's skill and invention on the right were sorely missed.
Incredibly Orient dominated the match and it was they who seemed to have the spare man. Their second goal was a sucker punch as well as a killer blow as far as City's hopes of a good start to the season went. Crosby back headed an innocuous punt back to Brown but left it short and the goalie's hesitation made it simple for Jason Harris to take the ball off his toes and stroke it into the empty net.
Chester mustered a feeble reply, Murphy's twice hit shot was straight at the keeper and Beckett was tackled on the point of shooting. Bennett burst through and had his snatch shot saved on the line. Smith impressed most of all with his use of the ball in an otherwise anonymous midfield. They never looked convincing, all their moves breaking down at the edge of the penalty area. The assistant referee held up the figure four to signify the amount of stoppage time at the end – the bloke behind me said "We need more like four days to score".
No goals, no points and no bookings for City (Which perhaps is just as indicative of their lack of competetive edge on the day). A woefully inept beginning to the season which left us all feeling that though it was a hot day we are going to be in for a long hard winter.