---
Monday 29 August
Torquay United 0 Chester City 1

League Two
Attendance: 2,245 Half Time 0-0
Booked: none.

Torquay United: Marriott, Hockley, Woods, Taylor, Sharp, Constantine, Hill (McGlinchey 45), Coleman (Bedeau 45), Hewlett (Garner 27), Kuffour, Sako. Subs not used: Skinner, Hancox.
Chester City: MacKenzie, Vaughan (Drummond 67), McNiven, Bolland, Artell, Regan, Davies, Curtis, Bertos (Blundell 69), Richardson (Lowe 45), Branch. Subs not used: Dimech, Walker.
Referee: P.Miller (Bedfordshire).



"Oh I do like to be beside the seaside" ...and so did 14 Chester players and 230 overjoyed travelling Blues fans when Ryan Lowe scored a last-gasp winner to ensure victory at struggling Torquay.
The three points were no less than City deserved after a 15-minute final assault on the Torquay goal that saw Gulls' goalkeeper Andy Marriott make several top-class saves until Lowe finally got the better of him.
City started the game at a much slower pace in the sweltering Bank Holiday conditions and with a line-up that raised a few Blues' eyebrows – there was no starting place for Gregg Blundell, Stuart Drummond or Luke Dimech. Stephen Vaughan Junior was also making his first start of the season.
Torquay, under some pressure after failing to win so far this season, had the most of the ball in the game's opening spell, but failed to test Chester 'keeper Chris MacKenzie. He wasn't seriously called into action until half-way through the first half when the Gull's 6ft 7ins Frenchman, Moriko Saco, had a shot from distance which rebounded off him. Macca then managed to snaffle the ball just ahead of on-rushing Torquay striker, Jo Kuffour.
At that stage the closest City had come to testing the Gulls' well-travelled 'keeper was when Michael Branch unselfishly crossed the ball to Ben Davies, only for Davies to shoot wide.
But towards the end of the first half, Chester started looking brighter. Leo Bertos – the Kiwi who seems to have inspired one of the oddest chants I've heard the 'blue army' sing – made a couple of threatening runs from midfield. He had one long-range shot easily saved by Marriott, then the Torquay 'keeper had to make a dive to keep out his second effort.
By now Marriott was busier than the ice-cream sellers on the nearby beach. First he made one save from a Ben Davies' effort, then he finally appeared to be beaten by a Phil Bolland header from a corner. However referee Patrick Miller disallowed the effort for a foul in the box.
Just a few minutes later, it was the Torquay fans' turn to be disappointed by referee Miller. A Torquay free-kick just outside the box was headed out by Bolland, then crossed back into the box before Torquay's Steve Woods headed the ball into the net. But the linesman flagged for offside, and the teams went into the half-time dressing rooms on level pegging.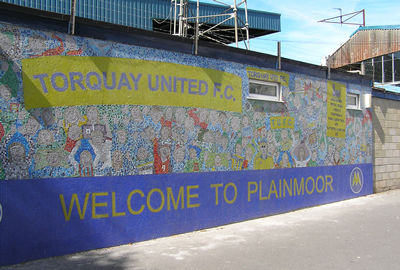 City boss Keith Curle replaced ex-Torquay man Marcus Richardson with Ryan Lowe for the second half. The first drama of the re-start came with an accidental clash of heads between Dave Artell and James Sharp. Artell was badly cut and was off the pitch being treated for several minutes, leaving City down to 10 men.
Torquay had a couple of excellent chances to score, but wasted them with rather rash shots which went over the bar. The City supporters breathed a collective sigh of relief when Artell trotted back onto the pitch, complete with 'Terry Butcher-style' bandage.
The direction of the match really changed in Chester's favour when Vaughan and Bertos were replaced by Drummond and Blundell for the last 20 minutes. Chester were soon marauding on the Torquay goal and Michael Branch had an excellent opportunity to score from a few yards out, but squared the ball and the chance went begging.
Then Lowe found himself in the box and chose to shoot rather than pass it to the unmarked Blundell – resulting in the Chester strikers having a 'few words' with each other. It was actually getting hard to keep track of the Chester attempts on goal at this stage, with Marriott keeping out everything thrown at him – including a great reflex stop with his legs from a Blundell strike and another diving save to keep the ball from top corner.
The deadlock finally appeared to be broken on the 80th minute when Davies took a free kick and Branch headed the ball into the net. But once again the goal attempt was ruled out for offside.
The Torquay man-of-the-match was rightly named soon after as Andy Marriott, the ex-Wrexham man earning himself a round of applause from Chester and Torquay fans alike. But moments later his smile was wiped off his face when a Blundell strike hit the crossbar, then Marriott's back, before the ball seemed to cross the line. Marriott clawed the ball out, but it was hit home again a split second later by Lowe.
The City fans went wild and the players were equally delirious. The referee's whistle went soon after and the Chester fans were left pinching themselves – undefeated in the League throughout August, a sunny Bank Holiday Monday in Torquay, a last-minute winner away from home AND still above Wrexham – does life get any better as a City fan? I'm still coming down to earth.
Sue Choularton
---
Saturday 27 August
Chester City 4 Darlington 4

League Two
Attendance: 2,469 Half Time 0-2
Booked: Bolland, McNiven, Curtis.

Chester City: MacKenzie, McNiven, Dimech, Bolland, Regan (Hessey 45), Drummond (Curtis 45), Davies, Walker, Bertos (Richardson 45), Branch, Blundell. Subs not used: Vaughan, Artell.
Darlington: Bossu, Martis (Duke 45), Hutchinson, Clarke, Valentine, Wainwright (Jameson 83), Peacock (Webster 71), Dickman, Logan, Sodje, Johnson. Subs not used: Wijnhard, Ndumbu-Nsungu.
Referee: G.Sutton (Lincolnshire).

Goals in the final two minutes by Gregg Blundell and Marcus Richardson gave City a remarkable 4-4 draw to maintain their unbeaten start to the League season. Manager Keith Curle gave a home debut to both Blundell and Leo Bertos after the pair had come on in midweek at Wolves. David Artell recovered from injury to make the subs bench but there was no place for the still sidelined Abdou El Kholti.
City, looking to recover from the mauling in midweek started well, Ben Davies forcing a save from Bertrand Bossu in the visitors goal as he tried his luck with a 30-yard free-kick. The Blues however fell behind as early as the fourth minute as Phil Bolland's outstretched leg was adjudged to have felled Simon Johnson in the box. Johnson picked himself up to send MacKenzie the wrong was from the spot-kick.
Chester pressed and forced a series of corners, Bolland saw a header saved by Bossu from the pick of them. There were shouts for a penalty when the lively Davies fell in the box. Bossu cut-out a dangerous cross from Blundell before City went two down as Akpo Sodje was left in space to head home Carlos Logan free-kick giving Chris MacKenzie no chance.
Curle wasted no time in changing things at the break making a triple substitution. Sean Hessey, Tom CUrtis and Marcus Richardson coming on for Carl Regan, Stewart Drummond and Bertos respectively. The move paid dividends two minutes later as Richardson slotted the ball home after Blundell had forced a save from a Davies corner.
City fell two behind again just two minutes later though as the dangerous Sodje took advantage of a Johnson touch to shoot well past MacKenzie in front of the traveling support.
Davies saw two more corners cleared, City forced 14 in the match, before Blundell pulled the score back to 2-3 on 55 minutes as he took advantage of a Scott McNiven shot that seemed to be going wide to beat Bossu from the edge of the six yard box.
The Blues pushed for an equaliser and Richardson saw a header fly past the left post from six yards, minutes later he sent a similar effort wide of the right upright. Hutchinson also had to be alert to save an effort from Michael Branch after a fine move involving Richardson and Blundell.
Nine minutes from time Sodje completed this hat-trick as he beat his marker to head home at the near post and it looked game over for City.
Bolland was on hand to clear as Darlo forced a couple of corners in the dying stages but with a minute remaining Blundell pulled a goal back as he ghosted in at the back post to score with ease from close range. Sixty seconds later Blundell turned provider as he intercepted a pass and rounded Bossu on the left before clipping a cross over to the unmarked Richardson to head home from three yards to complete a remarkable match.
---
Tuesday 23 August
Wolverhampton Wanderers 5 Chester City 1

Carling Cup Round 1
Attendance: 9,518 Half Time 1-0
Booked: Bolland, Hessey.

Wolverhampton Wanderers: Ikeme, Kennedy, Lescott (McNamara 80), Gyepes, Edwards, Davies, Seol (Ndah 55), Cameron, Anderton, Clarke (Ganea 70), Miller. Subs not used: Olofinjana, Postma.
Chester City: MacKenzie, Regan (Bertos 69), Bolland, Dimech, McNiven, Hessey, Walker (Blundell 45), Curtis, Drummond, Davies, Branch (Vaughan 75). Subs not used: Brookfield, Curle.
Referee: T.Leake (Lancashire).

City fans enjoyed a night out in the big time and turned out in force at Molineux. The team were vociferous supported throughout the evening even when they were eventually overwhelmed. At least we could claim a stake in the "goal of the night" competition as Ben Davies curled a free kick perfectly into the corner of the net to give us the consolation of a goal that we craved.

The new Molineux is a magnificent venue and much changed from the last time City played competetively here. Back on the 2nd January 1989 Steve "Mean Machine" Johnson scored and also missed a penalty in a 3-1 defeat in front of over 21,000. The pitch was then a long way from the John Ireland Stand, the only part of the new ground completed at that time. Now the stadium is one of the best outside the Premiership with great views and the pitch in perfect condition. It was a shame that the crowd, even with reduced admission prices was still just under 10,000.

Perhaps the only disappointment on a very entertaining occasion was that City did not show so much of the "Mean Machine" era and gave their illustrious opponents plenty of room to play their football. Wolves players seemed to have plenty of time and space on the ball. There again they are a good side and City did not get much of a look-in really.
For the better part of an hour, though, only Miller's sharply taken but wickedly deflected goal separated the two sides. There was a moment when Michael Branch was bearing down on goal from the left wing and might have shot or crossed first time when we dreamed of an equaliser but caution seemed to overtake him and the moment was gone.

When substitute George Ndah raced past two defenders and cut in to set up Cameron for a second goal, City's bubble well and truly burst. MacKenzie made a hash of a free kick from debutant Darren Anderton and two minutes later a shell shocked Chester defence were overwhelmed again as Davies slalomed through and set up Cameron's second.

Vio Ganea added another but still the City fans kept on singing and deserved the reward they got in cheering a quite superb Davies goal.

All in all, a good night out and further consolation was provided by results from elsewhere and some sparkling Black Country bitter.

Colin Mansley


•
More pictures
---
Saturday 20 August
Rushden & Diamonds 1 Chester City 1

League Two
Attendance: 2,682 Half Time 0-0
Booked: Walker, Regan, Richardson. Sent-off: Lowe.

Rushden & Diamonds: Young, Gier, Gulliver, Allen, Hawkins, Bell, Savage (O'Grady 58), McCafferty, Kelly, Chillingworth (Taylor 65), Pearson. Subs not used: Woodman, Dempster, Nicholls.
Chester City: MacKenzie, McNiven, Bolland, Artell, Regan, Davies, Walker (Curtis 70), Drummond, Lowe, Branch, Richardson (Vaughan 87). Subs not used: Hessey, Dimech, Brookfield.
Referee: D.Deadman (Cambridgeshire).

It was honours even at Nene Park as Chester and Rushden & Diamonds, both pre-season bookies' favourites to finish in the bottom four, each maintained their unbeaten start to the season.
Either side could actually have shaded the three points, with both missing easy scoring opportunities, although fussy referee Darren Deadman kept spoiling the flow of the game, particularly in the second half.
The game's opening spell was dominated by the Diamonds, playing in all red this season, as David Bell, Daniel Chillingworth and captain Dave Savage all had attempts on goal in the first few minutes. But Chester, with two changes from the last match as Dave Artell and Justin Walker replaced Luke Dimech and Tom Curtis, were able to soak up the early pressure.
Defender Scott McNiven tried to turn the game around when he made an impressive run up the park from deep in his own half. It's encouraging to watch a back-four defender have a run on the goal – something we've not seen too often at Chester in recent years. He chipped his shot towards the goal, but it went just wide of the crossbar.
Chillingworth then found himself well-placed in the Chester box, but somehow headed wide in front of the 341 travelling Blues' fans, when it seemed easier to find the target. City's Number 1, Chris MacKenzie, would probably have gone into the half-time dressing room the happier of the two 'keepers, despite something like four goal kicks that just went direct from one box to another.
Towards the end of the first half, referee Deadman had booked City's Walker and Carl Regan for an accumulation of fouls. Diamonds' Savage was booked on the 17th minute for a tackle on Walker. In the second half, three more yellow cards and a red were to follow as Mr Deadman attempted to keep control of the game.
R&D made a threatening start to the second half, with Bell squandering another golden opportunity as he shot the ball well wide in front of goal. And soon the travelling supporters were in raptures after McNiven had a shot deflected for a corner. The ball came to Dave Artell who headed down to an unmarked Ryan Lowe. He took his chance well and thwacked the ball home in front of the away end.
But the Blues' delight did not last longer than five minutes. Diamonds' manager Barry Hunter responded to the goal by bringing on striker Chris O'Grady, on-loan from Leicester. With barely his first touch of the game, he received a good pass, shot on the turn and saw the ball go in the net past the diving MacKenzie.
Marcus Richardson had a good chance to make amends when he found himself running into the box, but his first touch was too strong and the ball ran away from him. He was back in the action again with an attempted bicycle kick on goal, but he failed to connect properly with the ball and fell badly.
He lay prostrate on the ground while the ref allowed play to continue at the other end. But he blew up as the shaken Richardson was recovering when a Diamonds' player went down injured near the Chester box. Play was re-started with a drop ball, and soon after the ref was at the centre of attention again when he waved away an appeal for a penalty from Michael Branch.
Chester fans were also left puzzled by Mr Deadman's response to an apparent elbow on Lowe. He failed to see the elbow, but blew up for a foul within striking distance of the goal. However the R&D wall didn't appear to retreat the full 10 yards and Ben Davies' free kick went straight into it and out of danger.
Mr Deadman made himself even less popular with the City faithful when he booked Richardson for persistent fouling after he was apparently dragged down in the penalty area. And to add to the catalogue of oddities in the ref's notebook he promptly booked Diamonds' O'Grady in a clear case of mistaken identity with Greg Pearson. It was as well Justin Walker had been substituted by Tom Curtis at that stage, or else the confused ref was in danger of accidentally mixing him up with Davies (easily done), and somehow getting Walker sent off for a second bookable offence.
On the 86th minute, Keith Curle replaced Richardson with Stephen Vaughan Junior (despite the Tannoy announcement of Sean Hessey). Soon after Lowe missed a clear-cut chance to score a well-timed winner when his shot from a Davies cross went agonisingly wide.
Lowe was back as centre of attention a minute or so later when he was the victim of another apparent elbow, this time on the touchline. The linesman saw the incident and waved his flag for a foul. The referee responded by booking R&D's Pearson (who really should have been sent off for a second bookable offence), then red-carded Lowe for foul and abusive language.
Just a few moments later, Mr Deadman blew up for full-time. Both sides were left reflecting on a 1-1 draw that was probably a fair result, in a game spoilt by questionable officiating.
Earlier in the day, there was no question of dodgy refereeing when nine players gathered for the bi-annual Exiles All-Comers Cheese Skittles challenge at the Locomotive Inn in Wellingborough. The tightly-fought game produced some quality 'cheeses', with a record score of 16pts for a single throw achieved by Cheese Skittles 'virgin' Alan Beattie. He eventually finished a brave runner-up, allowing former champion Howard Jolley to reclaim his crown from yours truly. We'll have to wait until April 29 for a re-match before the Northampton game and there's a lot of water to flow under the Chester City bridge before then.
---
Saturday 20 August
Chester City U18 2 Preston North End U18 1

Youth Alliance North and Midlands West Conference



Chester got off to the better start creating a few half chances. However, after a disappointing start Preston eventually got going, and both teams cancelled each other out, turning the remainder of the half into a scrappy affair, which saw Marsh-Evans and Scales receive yellow cards along with the away number four.

Half Time 0-0

After the break Chester came out with all guns blazing and created numerous chances.

Paul Rutherford got in behind the Preston defence and sent in a low curving cross into the six yard box, but Marsh-Evans and Holroyd failed to make contact. A few minutes later and Rutherford beat the offside trap to glance a header just inches wide of the foot of the post.

In the 65th minute North End undeservedly took the lead and Chester coach Jim Hackett introduced first James Wilson at right back and then Nick Linford at centre midfield. Three minutes later Carroll set the ball up for Linford who curled the ball into the keeper's top right hand corner from 20 yards out.

Chester maintained to probe the Peston defence and ten minutes later won a corner. When the Preston defence failed to pick up James Wilson, he directed a thunderous header into the back of the net to earn Chester Youth a thoroughly deserved win.
---
Saturday 13 August
Burnley U18 4 Chester City U18 3

Youth Alliance North and Midlands West Conference



In the words of Jimmy Greaves, "this was a funny old game."

The game started off at an even pace with Chester finding the net first after 18 minutes, only for the goal from Neil Carroll to be disallowed, the Assistant correctly indicating that the ball had gone out for a Burnley throw-in prior to him scoring.

Despite this early warning, Burnley where soon on top with some quick flowing football, passing the ball around with great accuracy. The deadlock was broken in the 22nd minute when the Chester offside trap failed. A few minutes later, and again the Chester defence where looking raggered when they were undone by some intricate passing.

At 2-0 down Chester had a mammoth task on their hands and were having great difficulty in getting hold of the ball; Burnley keeping the ball at times for fun. With ten minutes left until the interval Chester had a rare attack with Carroll sending in a cross from the right wing, and James Scales looked certain to score with his head only to be denied by the keeper's fingertips.

Half Time 2-0

Within ten minutes of the restart Chester found themselves 3-0 down and where looking totally dishevelled. A few minutes later Burnley produced the move of the match culminating with a goal that would have graced any Premiership ground. With Chester on the attack Michael Deacon was dispossessed by the Burnley left back, and within four passes the ball was in the back of the City goal, a magnificent display of counter attacking football.

Being four goals to the good Burnley looked home and dry and I was looking at my watch praying for the game to end, still 30 minutes left. 'It was going to be a long day!'

From the kick off, Paul Rutherford's battle cry of, "let's have some pride lads" seemed so pitiful and embarrassing. But still at least someone wanted to fight to the death, and gradually Chester somehow raised their game. The introduction of Mark Cadwallader seemed to increase the movement, and options up front and soon Caddy got his just rewards when the centre half failed to head the ball away. Caddy not one to look a gift horse in the mouth coolly slotted home under the keeper.

Shortly afterwards, Rutherford picked the ball up on the halfway line and ran with determination, skipping past two challenges then playing the ball wide to Deacon who cut back inside the penalty area sending in a low cross. Not spurning the opportunity Cadwallader swung his right foot at the ball and found the bottom corner. Now with heightened confidence, Chester probed at every given opportunity and Burnley looked like a punch drunk heavyweight boxer clinging on for dear life.


Within minutes the boys where on the attack again when Carroll cut the ball back to Rutherford; he jinked inside past his marker and from 25 yards out unleashed a thunderous shot that cannoned off the crossbar. With less than two minutes remaining Deacon crossed the ball into the Burnley box over-shooting everyone except for Carroll who cut the ball back onto his right foot and guided the ball home under the keeper's body. Despite their gallant effort, it was not to be and Burnley held on by the skin of their teeth.
---
Tuesday 9 August
Chester City 2 Lincoln City 2

League Two
Attendance: 2,637 Half Time 0-2
Booked: Drummond, Branch.

Chester City: MacKenzie, McNiven (El Kholti 45), Regan, Bolland, Dimech, Drummond, Lowe, Davies, Curtis (Walker 45), Richardson (Artell 79), Branch. Subs not used: Vaughan, Hessey.
Lincoln City: Marriott, Beevers, Mayo, McCauley, Morgan, McCombe, Brown, Cryan, Green (Bloomer 85), Birch, Molango (Asamoah 59). Subs not used: Keates, Kerr.
Referee: R.Booth (Sutton Ashton).

Keith Curle's new look Chester City mounted a second half come back against a tough, uncompromising Lincoln City, to snatch a point at the death. Chester went into the half time break slightly unlucky to be two nil down. As in recent seasons Lincoln proved difficult to break down, giving City little room to manoeuvre. Only rarely did the Blues managed to compose a passing movement to threaten a strike at the visitors' goal. Ben Davies had Chester's first attempt but his rasping shot was defelected wide.

Lincoln's main threat came from set pieces but they broke the deadlock from open play. The ball was hoofed out to the left corner flag and then returned swiftly and venomously into the six yard box where Brown scored with a thumping header. It was classic route one football, brutally effective and strangely beautiful. City were then unfortunate to go further behind just before half time. A free kick was given for hand ball on the left hand corner of the penalty area. Chester seemed to defend slightly too deep and the kick was met first time by Birch's left footed volley which flew into the net. Birch ran to the City supporters in celebration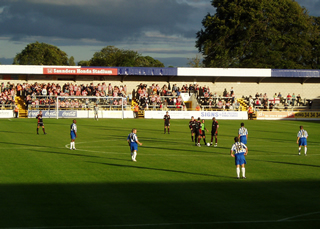 before he remembered which end he had scored in and tempered his jubilation.

Curle acted decisively at half time and threw on two substitutes. City attacked like a whirlwhind from the kick off and when Ryan Lowe got behind the defence his right wing cross was met by Branch. His flicked shot rebounded off the crossbar and back into open play. Still Chester came forward, managing to play more of a passing game. Branch crossed from the right again and his chipped centre was fumbled by Marriott under pressure. Davies gleefully lashed the loose ball home. Marriott clearly felt he had been impeded and went after the referee but the goal stood and all he received was a yellow card for his pains.

City continued to press for an equaliser and had the lion's share of the ball without making their pressure tell until the fourth minute of injury time. Davies was brought down in the box during a hectic finale. Branch ignored Marriott's antics on the goal line to send him the wrong way from the penalty spot and jubliant celebrations followed – which resulted in a booking for City's captain.

Had they not equalised this would still have been a good display by City. There were lots of promising signs in both style of play and fitness. Lincoln were difficult opposition and will probably be there or there abouts in the play offs again. It was therefore a stern test which City did well to pass.
---
Saturday 6 August
Peterborough United 0 Chester City 1

League Two
Attendance: 4,980 Half Time 0-0
Booked: Davies, Dimech, Curtis, Bolland, Lowe.

Peterborough United: Tyler, Holden, St. Ledger, Burton (Plummer 89), Arber, Kennedy (Day 73), Boucaud (Semple 58), Gain, Carden, Benjamin, Crow. Subs not used: Harrison, Logan.
Chester City: MacKenzie, McNiven, Dimech, Bolland, Regan, Davies, Drummond, Curtis, Lowe (Walker 82), Richardson, Branch. Subs not used: Vaughan, Artell, El Kholti, Brookfield.
Referee: M.Messias (S.Yorkshire).

A fair few ghosts were laid to rest at London Road when a determined Chester team came away from Peterborough with a much-deserved three points.
When City last won an away game on the opening day of the season, Margaret Thatcher had just become Prime Minister, InterCity 125 trains were new in service and the Boomtown Rats were top of the charts with 'I Don't Like Mondays'. It seems a long time since that victory at Wimbledon's Plough Lane back in 1979, but Blues fans know all about being patient.
City fans of a slightly younger vintage still have to stretch their minds back to 1983 for our last victory at Peterborough, a match witnessed by a mere 1,661. But for all Blues followers, the last match with Posh which saw Chester relegated to the Conference in May 2000 was still sharply in focus.
It was certainly payback time for all sorts of reasons and few Chester fans were sorry that Mark Wright, now managing Peterborough a year after walking out on City on the eve of last season, was on the receiving end of a quality second half performance by the Blues.
The match kicked off ten minutes late as Peterborough seemed ill-prepared for the number of home and away fans and didn't appear to have enough turnstiles open. Once we were underway, the home team had the best of the first 20 minutes, with Luke Dimech and Phil Bolland both making quality clearances, as they did throughout the rest of the afternoon. It certainly seem like Chester wanted to make their point to Mark Wright – with Ben Davies and Dimech both being booked for fouls in the opening stages.
Neither goalkeeper were particularly challenged until Ryan Lowe beat a Peterborough defender and had a clear shot on target, which was safely smothered by Mark Tyler.
Soon after another familiar figure was yellow-carded, Posh captain Paul Carden – ex-Chester captain and veteran of 194 City appearances, including the fateful relegation match. Referee Matt Messias was also on the pitch for that relegation game. I can't remember much about his performance on that day, but during this match he simply did not let the game flow.
The third City booking within 28 minutes, came with a foul by Tom Curtis on Posh's ex-Leicester frontman, Trevor Benjamin. The resultant free kick by Sagi Burton just shaded over the crossbar, watched closely by the newly shaven-headed Chris MacKenzie.
Chester came into the action a little more and a Ben Davies corner was headed over the crossbar by Stuart Drummond. Soon after, Bolland also found himself in Mr Messias's book when he challenged Tyler in the goalmouth. Booking number five came just before half-time when Ryan Lowe protested after Chester got the ball in the net after a goalmouth scramble, only for the goal to be disallowed.
The second half started much as the first – with Posh having more of the ball in the opening spell. They appealed for a penalty when Bolland tackled tricky Danny Crow, but the ref gave a corner instead. That corner came to nothing, as did another Posh corner not long after – the Blues' defence did put on a reassuringly impressive show.
Lowe was now looking more dangerous and made a couple of teasing crosses into the Peterborough box, which didn't quite result in quality finishes. But that soon changed on the 70th minute when Branch made an excellent cross after a good Chester combination. His cross found Ben Davies' head, and 'keeper Tyler could only parry the ball out. Drummond was completely unmarked about seven yards out and had no trouble slotting the ball home. The City fans went wild – I'm not sure I've seen such goal celebrations since the Conference promotion winner against Scarborough!
There was an edgy 20 minutes left on the clock, and Posh's Benjamin continued to threaten the Blues' goal. MacKenzie was wrong-footed by a Crow lob and just went it looked like the ball was going in the net, Dimech somehow ran back and cleared it off the line.
MacKenzie redeemed himself in the dying minutes with an impressive-looking diving save from a Posh free-kick to keep Chester ahead. Just when it seemed Mr Messias would never blow up, Chester won a corner and look-alikes Davies and sub Justin Walker killed time around the corner flag. Soon after the whistle went, and the Chester players saluted the 600-700 travelling fans, who'd given the team tremendous support all afternoon.
Well, the last time City had a victory away from home on the first day of the season, they went on to reach the fifth round of the FA Cup in the same season – beating Barnsley, Newcastle and Millwall on the way. Let's all hope that history for once repeats itself.
---