---
Tuesday 2 August
Airbus UK 0 Chester City 2

Friendly
Attendance: 620 Half Time 0-0
Booked: -

Chester City:
C.Davies, D.Jones (Cadwallader 62), El Kholti, Artell, Hessey, Scales (Morgan 72), Rutherford, Carroll (Humphries 62), Marsh-Evans, Holroyd, Curle. Subs not used: Brookfield, Hope.

With the new season only four days away it was inevitable that City would field a team predominantly made up of youngsters for the final friendly at Airbus. The only potential first teamers on display were Sean Hessey and Abdou El Kholti, who are both suspended for the Peterborough game, and Dave Artell, who is still fighting to regain his fitness. Perhaps the biggest surprise was the sight of Richard Hope on the substitute's bench.
Amongst the youngsters were Paul Rutherford and James Scales, who both played at TNS, as well as Tom Curle who has figured prominently in the pre-season friendlies. Also included were centre-forward Robert Marsh-Evans, a triallist from the Welsh League, 16 year old Neil Carroll from Liverpool and Chris Holroyd, an 18 year old who has just completed two years with Crewe. There was some speculation that Matt Duke from Hull City might play in goal but Clint Davies was once again given a chance after playing the second half at Blackpool. The remaining players, like Rutherford and Scales, had all represented the youth team last season.
It would have been nice to report that the first half was packed with incident and goalmouth action but there was very little to stir the crowd. In fact the only noteworthy moments were a long range shot from Scales, deflected for a corner, and a couple of good runs from Rutherford which petered out into nothing.
The second half provided marginally more excitement as Chester seemed to step up a gear and within two minutes Curle sent in a dipping long-range shot which was tipped away by the keeper. City took the lead on 58 minutes when Rutherford was put through by Marsh-Evans and eventually rounded the keeper to score – a deserved goal for a player who frequently took the eye. With four minutes remaining Chester added a second goal when the gangly Marsh-Evans, who had become more involved as the game progressed, delivered a superbly weighted pass for substitute Matty Humphries to fire into an empty net.
Although it proved a useful workout for the youngsters against a full strength Airbus side there was nothing on display for City fans expecting pointers for the season's opener at Peterborough.
Report and pictures: Chas Sumner.
---
Saturday 30 July
Blackpool 6 Chester City 0

Friendly
Attendance: 1,632 Half Time 2-0
Booked: - Sent-off: El Kholti

Blackpool: Jones (Edge 83), McGregor, Coid (Butler 51), Southern (Grayson 78), Edwards, Clarke (Doughty 83), Parker (Wiles 72), Doolan (Blinkhorn 75), Murphy (Anderson 75), Vernon (Shaw 83), Prendergast (Burns 80).
Chester City: McKenzie (C.Davies 45), McNiven, Regan (El Kholti 45), Dimech (Artell 45), Bolland, B.Davies (Vaughan 68), Drummond, Curtis (Hessey 68), Lowe (Walker 50), Branch (Curle 68), Blundell (Richardson 45).



Fresh from a convincing victory at TNS on Tuesday, City took to the road again for a much sterner test with a visit to League One side Blackpool. The game was originally scheduled for Deva Stadium but switched at the request of Blackpool who were without a planned home pre-season match.
Like many grounds we used to visit on a regular basis in the past, Bloomfield Road is unrecognisable from the ground City last played in nearly 10 years ago. A new stadium is springing up on the site with two new stands built and another under construction. The old home end is now flattened allowing a distant view of 'The Big One' from the away seats where the kop used to be.
The match started ten minutes late, the game being all-ticket, supporters first had to queue up at the ticket office to buy a 'personalised' ticket before entering the ground.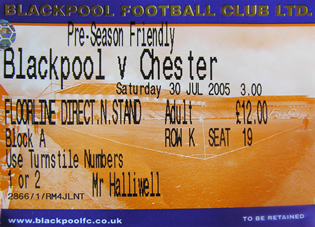 City were first on the ball and it was newly-appointed assistant captain Scott McNiven who had the first shot of the game on five minutes from the edge of the box. Despite this early showing it was the home side that got into their stride and Carl Regan had to be alert to prevent Vernon getting in a header on target as Blackpool pressed.
Chris MacKenzie in the City goal was next to block an effort, this time turning round Parker's shot for a corner, but the resulting flag-kick brought with it the opening goal as former City striker John Murphy headed home with ease.
The central defence was being caught out though and 'keeper Chris MacKenzie was called on to make a superb one-on-one save to deny Murphy his second.

The home side doubled their lead on 32 minutes with Parker this time making no mistake with a low shot past MacKenzie in to the bottom corner.
City forced to great chances before the break, first Ryan Lowe beat the offside trap but saw his curling shot go just wide of the far post, then Just before the break Michael Branch saw a shot hit the inside of the post and bounce clear.

City made several substitutions at the break and one of them, Abdou El Kholti, lasted just two minutes before being sent-off for a professional foul after pulling down Parker. The decision was harsh, rarely is a red card seen in friendlies, especially for a foul such as this. but a red card it was and City were down to ten men.
Jones in the home goal made a great save to deny Branch before the Tangerines numerical advantage told and they increased their lead on 63 minutes. Murphy had the simplest of chances to net from close range past trialist goalkeeper Clint Davies who had been brought on at the break.
With nine minutes remaining Davies saved a penalty from Vernon after fussy referee Jones penalised the Blues defence for a foul. The save brought a short respite before Pool hit a flurry of goals in the closing stages.
On 84 minutes Burns headed home at the far post, two minutes later Wiles made it five with a curling effort that gave davies no chance and in injury time the rout was complete as Blinkhorn added the sixth.
---
Saturday 30 July
Everton 1 Chester City 0

Youth Team Friendly

All credit to Everton who put out a strong team, which contained at least three youth internationals.

The first half was a dire affair with neither team taking the initiative, until the 43rd minute when the home side were awarded a corner kick on the right hand side. This culminated in a scramble in the six yard box where the ball was toe-poked into the net.

Chester responded immediately, with Paul Rutherford picking the ball up some ten yards inside the Everton half, where he went on a powerful run culminating in a finely struck shot that produced a good save out of the Everton keeper.

In the second half Everton sat on their slender one goal advantage and allowed Chester to have much of the play. Chester grew in confidence and in the 63rd minute James Scales had a fierce shot turned round the post by Lake in the Everton goal.

Another two golden opportunities fell to Michael Deacon in the 70th and 76th minute, who should have certainly converted his first. With the Everton keeper miss-kicking his clearance the ball fell to Deacs who had time to bring the ball down and slot it home from 12 yards out, instead he went for a spectacular finish and struck the ball first time high over the crossbar.

All in all, a good performance by the lads who showed no signs of being phased by their Premiership counterparts.
---
Tuesday 26 July
TNS Llansantffraid 1 Chester City 3

Friendly
Attendance: 307 Half Time 0-1
Booked: -

TNS Llansantffraid: Doherty, Baker (Leah 61), Holmes, Jackson, Evans, Toner, Ruscoe, Lloyd-Williams, Rooney (Wilde 62), Beck, Lawless.
Chester City: Neal (Harrison 56), McNiven (Vaughan 63), Regan, Dimech, Hessey, Drummond (Curtis 56), Davies (Rutherford 56), Walker (Scales 75), Blundell, Lowe (Curl 63), El Kholti (Jephcott 56). Sub not used: Bolland.

Two goals from Ryan Lowe helped City to a comfortable win at TNS. The Blues took the lead on ten minutes with Lowe's shot taking a slight deflection.
City increased their advantage on 52 minutes through Ben Davies who side-footed home after superb build-up play following a cross from El Kholti, a back heel from Gregg Blundell and a step-over from Stewart Drummond. Three minutes later Lowe was on the scoresheet again with an excellent effort from long range.
The home side pulled back a late consolation goal through Wilde six minutes from time, but it was another good work-out for City who step up a level with a trip to League One side Blackpool on Saturday.
---
Saturday 23 July
Droylsden 1 Chester City 4
Friendly
Attendance: 298 Half Time 0-2
Booked: -

Droylsden: Worsnop, Williams, Warner, Sturdy, Robinson, Brodie, Morris, Murphy, Cameron, Morris, Talbot. Subs: Burke, Halford, Banim, Rapley, Fitzpatrick, Howarth, Hall, Phillips.
Chester City: MacKenzie (Neal 55), McNiven (Regan 60), Hessey, Dimech, Bolland (Curle 46), Vaughan (Drummond 59), Davies, Curtis (Walker 59), Blundell (Lowe 60), Richardson, Branch (El Kholti 33). Sub not used: Jephcott.

Pre-season friendlies often produce conflicting feelings. On the one hand, there is optimism and impatience for the season ahead. On the other a sense of indecent haste, feeling I should be observing the traditions of summer watching cricket or playing tennis. But as I set off for East Manchester on a warm afternoon, I was happy to set aside convention for ninety minutes and make my own assessment of the new players and changes brought in over the summer.
And so it was, while England struggled to reclaim the Ashes, Chester made light work of their task with a comfortably 4-1 win against a Droylsden side with more than a few familiar faces.
Chester began the game with purpose quickly taking control of the midfield. Freedom, not usually available at this level, allowed early chances for both Vaughan and Branch. So it was no surprise that on twelve minutes, Richardson got ahead of his marker to tap in a simple chance after Davies and Blundell had linked well on the left side of the box.
Droylsden to their credit fought back strongly making the most of some static defending. In separate incidences Dimech and Bolland were forced to make timely tackles and on twenty-five minutes, only the linesman's flag denied Droylsden an equaliser following a well-placed header.
But real opportunities for the home side were few and any efforts by the home side tended to be long range which Mackenzie dealt with confidently. Marshalled by Dimech, and some neat distribution by Hessey, City rode the worse of the fight back and it was no surprise when Davies on forty minutes took advantage of space after good work by El Kholti to blast an unstoppable shot past ex-City keeper Worsnop, from just inside the box.
The only sour incident was just before the break, when a clumsy challenge by Cameron on Bolland bloodied his nose, and led to a few choice words. It was probably wise that the former City striker did not return for the second period replaced by another, Kevin Rapley.
One interesting discovery was a change in the rule on throws-ins. "A new rule that's came in, in the summer", said the referee as he penalised the Droylsden defender: "no player to be within two metres of the person taking the throw in. You may not have heard it before but you've heard it now". The Droylsden player clearly hadn't and shook his head in disbelief. I must admit I hadn't either.
Half-time score. Droylsden 0, Chester 2.
The second half saw multiple substitutions. Drummond, Walker, Regan, Lowe, Curle, Walker and Neal all coming on at various points, the later replacing MacKenzie who did himself credit with a solid performance.
Chester started brightly with McNiven coming close on fifty-three minutes with a lob that wasn't far away. So it was surprise when on fifty-six minutes Droylsden pulled a goal back. A big gap in City's defence allowed space on the right for Rapley to latch on to a pass inside the box which he buried with some ease. Given the torrid time he's had over the past couple of seasons, no-body could deny him this brief moment of revenge.
The two-goal lead though was restored when Richardson took advantage of a slip and casually flicked the ball under the body of a static goalkeeping celebrating with deliberate understatement.
As the game continued so the pace of the game slowed. Regan got into some nice positions and Davies work rate remained high brining in Drummond to remind us of the important part he will play next season. On the other side of the pitch, Curle and Curtis became more involved stretching a tiring Droylsden midfield who to give them credit fought well throughout the afternoon.
With ten minutes to go, Richardson completed his hat-trick after some nimble football, dancing around two defenders after Davies, El Kholti and Walker had all linked well outside the box.
Lowe might have added a late fifth and Droylsden themselves may have made it 4-2 after Neal did redeemed himself after an earlier a fumble.
But it was a decent workout, on a pitch that was not always kind. Curle (Manager) afterwards commented: "It was all about attitude and application of the players after being away for four or days and it was spot on".
"It's always pleasing when a centre-forward scores goals. Marcus is learning. There are things in his game I like. There are certain things in his game at the minute I don't like and it's the same with all the players"
For me I liked the look of Dimech although I thought he looked more like a defensive midfielder than a centre half and needs greater match fitness. But out of the new faces that caught the eye was El Kholti. Although slight in stature, he looked comfortably on the ball, has a nice touch and an awareness of the game that Branch and Blundell could well exploit.
So on in all a good afternoon's football at what appears to be a well-run and friendly club.
With just two weeks to go, Curle must have seen enough of his squad to know what they can do. Cricket season or not, I just can't wait for the Peterborough game.

Match report and pictures: Tim Savidge
---
Wednesday 20 July
St Blazey 2 Chester City 5
Friendly
Attendance: - Half Time 0-2
Booked: -

St Blazey: Annear, Bance, Waters, Street, Burton, Duff, Gosling, Harrington, Hooper, Vercesi, Bland. Subs: Densham, Whetters, Reed, Ovens, Hodge,
Chester City: Neal, McNiven, Hessey, Bolland (Dimech), El Kholti, Davies (S.Bruce-Lowe), Vaughan (Gannon), Walker, Curle, Lowe (Bell), Blundell. Subs: MacKenzie, Sherman
.

Chester started the game with El Kholti at left full back and Stephen Vaughan in centre of midfield, they seemed to be playing 4-4-2 system. Defender Dave Artell has an injured knee and Avun Jepcott has injured his foot in last nights game against Tavistock AFC.

City started brightly and in the first minute should have scored when a Gregg Blundell header put Ben Davies through on goal chipped the keeper only to see the ball clear the crossbar. A minute later Davies again caused the Blazey defence trouble and they hacked him down just inside the box Lowe converted the penalty.
In the third minute Blundell down the left hand side crossed to Lowe who blazed over when it seemed easier to score, a good run by Lowe in the 13th minute his cross find Tom Curle who blasted his shot well wide.
Ryan Lowe and Davies started brightly and causing Blazey all sorts of problems, in the 16th minute Lowe again fetched a good save with his legs from Annear, then the Blues doubled their lead following a good run down the right by McNiven who slipped it to Lowe who this time made no mistake to make it 2.0.
Two minutes later Blundell ran through the Blazey defence and as the keeper came out slipped it past him but it went the wrong side of the post. The keeper was on hand to make another good save from Annear this time from Davies. In the 21st minute a clear penalty was turned down by Cornish referee M.Hawkin when Lowe was brought down right in front of him.
Chester then eased of and allowed Blazey to knock the ball round in midfield without creating anything, a Scott McNiven run down the right on the half hour ended when he shot just wide. Just before the interval Harrington shot over for Blazey in there first attempt at goal, half time 2-0

There were substitutes at the interval for Chester with John Gannon assistant manager coming on for Steve Vaughan and Luke Dimech on for Phil Bolland.
Five minutes after the restart a miss-hit back pass by Burton was seized on by Blundell who scored his first goal of we hope of many for the club to make it 3-0.
Just before thr hour mark, good work down the left hand side by El Kholti whose cross evaded everyone but was retrieved by Lowe whose cross into the box was turned away by Annear as Blundell was waiting to pounce.
The next minute saw Davies shoot over following good work by Lowe and Tom Curle. On 62 minutes El Kholti and Blundell set up Lowe only to see him fire wide, before another good run by El Kholti to the edge of the area set up Blundell only to see Annear punch away his shot.
The 69th minute saw a neat Lowe back flick set up walker to fire home number four, Blazey had there second chance when in the 70th minute Hooper fired straight at Blues keeper Chris Neal.
Chester took Lowe and Davies off on 72 minutes and replaced them with David Bell and Stuart Bruce-Lowe. In the 78th minute Densham who was left unmarked in the middle of the area score to make it 4-1, and two minutes later Hooper headed home powerfully to score blazeys second from a corner.
Much to the delight of the watching Chester players, Steve Lee swiveled and volleedy the ball into the bottom of the net 5-2 after 83 minutes and that's how the Chester tour of the south west ended two decent work outs and all playerers getting a good run out

After the game Keith Curle told me he thought it was a good work out approached the game in the right manner, the first 35 minutes was superb moved the ball round well in difficult conditions grass a little to long, but that's all we wanted to get out of the game, improve fitness levels and work on different things.
---
Tuesday 19 July
Tavistock AFC 0 Chester City 9
Friendly
Attendance: 150 Half Time 0-5
Booked: -

Tavistock AFC: Meads, Cann, Irland, Hallett, Arscott, Pugh, Steer, Westlake, Morris, Stringer, Condy.
Chester City: MacKenzie, Vaughan, Bolland, Regan, Dimech, Drummond, Curtis, Branch, Richardson, Curle, Jephcott (Davies 46).

Chester started slowly and could have been two down with the defence getting caught with ball over the top, then they slowly got in to gear with Curtis and Drummond starting to get going.
Drummond missed chance on five minutes knocking wide from good position, then Jepcott scored after six minutes following good work from Richardson and Curtis.
There were chances for Richardson on 12, 13, 15, through Tavy still creating problems over Dimech. Michael Branch had chance on 25 minutes but fired wide, on 35 Curtis makes it 2-0 after being set up by Richardson, the Tavy keeper got hand to the ball but it slowly rolled in.
Drummond on 38 fetched good save from Meads in home goal after being set up by Curtis. Curtis maked it 3-0 following corner and a one two with Branch, while great run by Drummond from the halfway line made it 4 on 41 minutes. On the stroke of talf-time Carl Regan scores a good goal following good work between him and Drummond, 5-0 half time.
Chester started the second half with Davies replacing Jepcott who took a knock just before the break. Five minutes after the break it got to much for the lino who had to retire witha thigh strain. Branch and Drummond both come close and Branch hit the bar on 56.
Five minutes later Richardson heads powerfully home from Tom Curles cross, and on 63 minutes Richardson again scored following a burst of speed down the middle and shot powerfully into the roof of net 7-0.
Tavy make couple of changes but it made no difference as Chester continue to move forward with good ball movement along the ground a sight unseen last season. On 71 minutes a 30 yard grass-cutter from Curtis completes his well deserved hat-trick, 72min Richardson cross for Davies to score number nine, followed by more Tavy subs and the game petered out.
1. MacKenzie — nothing to do
2. Vaughan — got caught out a few times
3. Regan — played well
4. Dimech — got caught with balls over his head, not to sparkling
5. Bolland — solid
6. Drummond — good game
7. Curtis — my man of match good engine, always probing
8. Curle — nothing special
9. Jephcott — ok
10. Branch — very lively
11. Richardson — started slowly improved as game went on
---
Saturday 16 July
Burton Albion 0 Chester City 1
Friendly
Attendance: 1,341 Half Time 0-0
Booked: -

Burton Albion: Crane, A.Hall, Corbett, Holland, Tinson, Clarke, Stride, Street, Shaw, Graves, Harrad. Subs: Hen-shaw, Ducros, Austin, Miller, Dudley, Anderson, C.Hall.
Chester City: MacKenzie, McNiven (Dimech 67), El Kholti (Hessey 45), Regan (Vaughan 45), Artell (Bolland 45), Davies (Curtis 45), Drummond (Curle 45), Walker (Drummond 67), Blundell (Richardson 45), Lowe (Branch 45), Smyth (Jephcott 45).

City's third pre-season match took them to the smart new surroundings of Burton Albion's Pirelli Stadium. Located just a stone's throw away from Eton Park, the £6.4m stadium is an expanse of brick cladding. chrome and glass, and although unfinished will rank up with the best of the grounds in the Nationwide Conference.
The squad were put through their paces on the newly-laid pitch in the Burton sunshine prior to kick-off with Keith Curle, David Bell, John Gannon and Grenville Millington all casting an eye over the mixture of full-time and trialists.
The Blues gave a debut to Gregg Blundell following his record signing last week and gave a first run-out of the summer to Chris MacKenzie. There was a second appearance of former Nuneaton Borough signing Avun Jephcott while ex-Liverpool player Mark Smyth also had a run-out. The Brewers gave a debut to Shaun Harrad, signing from Notts County in the week.
City had the earlier efforts on goal though there was no doubt that MacKenzie was the busier of the two keepers in the first period. Clarke's bullet of a header from a left-wing corner, was pushed over the bar by MacKenzie from under the bar, he saved smartly on the ground following a right-wing cross-shot, and on at least two occasions had to rush out to save at the feet of oncoming forwards.
The Blues had efforts too with Ryan Lowe heading over the bar and Blundell shooting wide from a narrow angle after picking up a superb through ball. The best chance fell to Stewart Drummond though who side-footed a shot high over the bar from close range as he found himself in the clear at the back post.
Branch, on for Lowe at the interval, saw an effort saved just after the interval before City took the lead on 49 minutes.
Branch broke down the right and cut-in to the byline. His near post cross was only palmed away by Crane in the home goal to substitute Jephcott who couldn't miss from six yards in front of the band of away fans.
Both side created further openings, mostly from set-pieces, but City held out utilising their entire squad with the exception of goalkeeper Harrison to win a good competitive match.
The Blues now embark on a short tour of Cornwall and Devon that will include a match at Tavistock AFC on Tuesday (19:00hrs) and St. Blazey on Wednesday night (19:15hrs).
---
Thursday 14 July
Rainworth Miners' Welfare 0 Chester City 3
Friendly
Attendance: 850 Half Time 0-2
Booked: -


Chester City: (first half) Neal, Regan, Hessey, Artell, Bolland, Drummond, Walker, Branch, Lowe, Curle, Hamilton.
Chester City: (second half) Harrison, Vaughan, McNiven, Dimech (Booth 70), El Kholti, Davies, Curtis (Owens 70), Smyth, Maxwell, Richardson, Nester.

On a warm Nottinghamshire evening Chester strolled to a straightforward 3-0 victory against the village side from Rainworth. In a true game of two halves City played separate teams for each of the 45 minutes with the first half line-up looking more cohesive and creating most of the chances.
The first half line-up featured triallists Chris Neal (Preston), Davion Hamilton (Birmingham City) and Tom Curle who is currently training with the club. Neal had little to do but made one magnificent save five minutes before the break when a Welfare player was given a free header from a corner.
Hamilton, the young winger, looked useful and created a couple of good openings while Curle squandered a couple of excellent chances including one which sent Ryan Lowe apoplectic as the manager's son rounded the keeper and went for goal rather than square the ball to the unmarked former Shrewsbury striker. In fact it was Lowe who looked the liveliest City player and he had a couple of 20 yard efforts turned over the bar by the busy Welfare keeper. Justin Walker caught the eye early on mainly because of his remarkable resemblance to Ben Davies while Dave Artell appeared to be twice the size of the covered accommodation at the Welfare Ground.
Chester's opening goal came about as a result of clever work on the left by Lowe and his well-judged cross was firmly headed home by the unmarked Stewart Drummond from the edge of the six yard box in the 21st minute. City added a second goal 15 minutes later when Tom Curle's header was handled on the line after good work from Michael Branch. It was Branch who took the resulting penalty which he placed into the bottom left hand corner of the net.
In the second half Chester introduced triallists Paul Harrison and Mark Smyth (Liverpool), Nester (a striker) and Leyton Maxwell (currently unattached). Midway through the half they were joined by Lee Owens (Wigan) and Paul Booth a defender from Oldham Athletic. Marcus Richardson (a bigger version of Uriah Rennie) quickly took the eye and showed some good touches and a useful ability to hold the ball-up – something that was lacking last season. Although he wasted one good chance he scored City's third goal in the 80th minute with a terrific finish from the edge of the area. Ben Davies was always at the heart of the action and he seemed to relish the opportunity to emerge from the shadow of Paul Carden, Alongside him, Tom Curtis looked busy in the centre of midfield while Maxwell linked up on the left. Abdou El Kholti (surely destined to be nicknamed El Coyote) looks to be a clever player while it was difficult to judge the defenders who were rarely troubled throughout the game.
All in all it was a useful workout at a friendly club who provided competitive opposition. The officials at Rainworth were delighted with the attendance which comprised a fair number of Mansfield fans. Before the game Keith Curle was approached by a number of Stags fans who clearly had great respect for their former manager. The game itself was played in good spirit although if it had been a league fixture there would have been a red card to a Rainworth player for handling on the line and probable yellows for Sean Hessey for a couple of crunching tackles and Steve Vaughan for squaring up to a Welfare defender.
Oh and it was only £1.40 for pie, peas and mint sauce.
| | |
| --- | --- |
| | |
| Rainworth welcome | Luke Dimech |
| | |
| Abdelhalim El Kholtie, Marcus Richardson, Ben Davies. | Sean Hessey |
| | |
| Chris Neal | The squad |
---
Tuesday 12 July
Chester City 1 Stoke City 1
Friendly
Attendance: 0 Half Time 0-0
Booked: -
Chester City: (first half): Harrison, Vaughan, El Kholti, Dimech, Welch, Maxwell, Davies, Walker, Branch, Richardson, Milligan.
Chester City: (second half): Neal, McNiven, Bolland, Hessey, Regan, Curle, Curtis, Smyth, Lowe, Jephcott, Drummond.
Stoke City: Simonsen, Hall, Buxton, Stark, Duberry, Russell, Brammer, Asaba, Gudjonsson, Neal, Sidibe. Goal: Sidibe 70.



The honours were shared in an entertaining encounter against Championship side Stoke City played in the heat in front of an empty Deva Stadium.
Manager Keith Curle used the first of his pre-season build-up matches to cast an eye over several trialists as well as his signed-up players and it was one of those trialists, Avun Jephcott, who slotted home City's second half equaliser.

The visitors had taken the lead on 70 minutes through their new signing Mamady Sidibe, heading home past trialist Chris Neal, from a Lewis Neal corner but the Blues gave a battling display to earn a share of the spoils with Jephcott's goal twelve minutes from time.
---