---
Saturday 30 August
Chester City 5 Barnet 1

League Two
Attendance: 1,295 Half Time 1-0
Booked: -.

Chester City: Danby, J.Vaughan, Linwood, Roberts, Wilson, Mozika, S.Vaughan, Hughes, Taylor, Lowe, Ellison. Subs not used: Kelly, Barry, Partridge, Mannix, McManus.
Barnet: Harrison, Devera, De Magalhaes, Leary, Thomas, Adomah, Bishop, Mitchell (Porter 71), Hart (Akurang 64), Birchall, Medley (Tabiri 71). Subs not used: Kadoch, Charles.
Referee: Paul Gibbs (West Midlands).



After a torrid start to the season City fans finally had something to celebrate as four second half goals brough a comprehensive win over a lacklustre Barnet side at Deva Stadium. Like City, the Bees had failed to register a win this season prior to Saturday's encounter and it was the Blues who looked the hungrier side as they created several chances.

Manager Simon Davies brought in Stephen Vaughan and Paul Taylor to the X1 beaten at Rotherham last week, with Sean Kelly and Anthony Barry dropping to the bench.

The goalscoring began on 32 minutes as Ellison picked up a through ball on the right wing and cut inside, he exchanged a quick one-two with Ryan Lowe on the edge of the box before shooting left footed beyond Harrison into the bottom corner.

The goal gave City confidence and Barnet 'keeper Lee Harrison was overworked as he made saves to deny Paul Taylor, Lowe and Damien Mozika as Chester looked to add a second.

Barnet responded though and De Magalhaes saw a well struck free kick go wide. Two inswinging Aswad Thomas corners were cleared and on the stoke of half-time Adam Birchall shot wide when well placed just twelve yards out.

City doubled their lead just before the hour mark. Elison made a surging run from midfield down the left, he beat Michael Leary before crossing to the far post by Ryan Lowe who cooly trapped the ball, side-stepped a defender, before passing the ball into the net to the delight of the City fans behind the goal.

Minutes later the Blues killed the game off with a third goal as captain Paul Linwood ghosted in between three Bees defenders to score from close range after meeting a far post Lowe free-kick on 62 minutes.

Kevin Roberts was next on the scoresheet just three minutes later as he met Lowe's left-wing corner to head towards goal, the ball hit a defender but Roberts acted quickly to poke the ball home from six yards.

City completed their scoring as man-of-the-match Lowe ran through down the left following an Ellison flick-on to beat the onrushing Harrison with a low shot.

In stoppage time the visitors grabbed a consolation goal through substitute Cliff Akurang as the City defence twice failed to clear the ball from the edge of their own box. Their goal didn't take the shine off a great City performance that brought a standing ovation from the Deva crowd at the final whistle.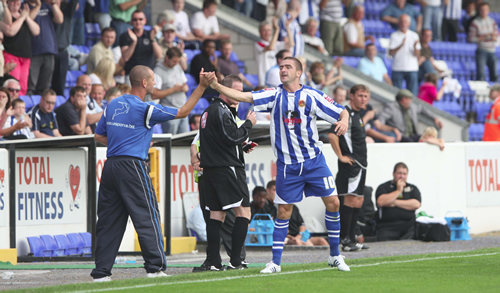 • More photographs | League table
---
Saturday 23 August
Rotherham United 3 Chester City 1

League Two
Attendance: 3,462 Half Time 3-1
Booked: J.Vaughan.

Rotherham United: Warrington, Lynch, Fenton, Sharps, Green, Danny Harrison, Cummins, Hudson, Reid, Broughton (Burchill 66), Rhodes (Yates 70). Subs not used: Cann, Haggerty, Holmes.
Chester City: Danby, J.Vaughan, Linwood, Kelly, Wilson, Barry, Roberts (Hughes 61), Mozika, Harris (Taylor 46), Lowe, Ellison. Subs not used: Butler, Dinning, Partridge.
Referee: David Webb (County Durham).



City's new season woe continued on Saturday as they registered their fourth straight defeat. Manager Simon Davies made just one change from the side beaten at home by Wycombe Wanderers last Saturday with Kevin Roberts replacing Tony Dinning in defence.

The Blues have an awful defensive record already this season and the frail back line was caught cold after just a minute at the Don Valley Stadium as former Chester forward Drewe Broughton headed an Alex Rhodes free-kick back across goal for unmarked Ian Sharps to apply the finishing touch from close range.
City responded through Kevin Ellison who saw a shot flash just wide after a well worked free-kick with Ryan Lowe.
Reuben Reid had a great chance to add a second for the home side but saw his header fly wide from an unmarked position. However The Millers doubled their advantage on 14 minutes with a bizarre goal. A long though ball saw Laurence Wilson back peddling and when he attempted the clear the danger his kick for touch cannoned of Reid and past John Danby from the edge of the box.

Four minutes later Kevin Ellison gave the Blues a lifeline on 18 minutes as he chased a Lowe through ball, shrugged off a couple of challenges on the left. before sending a shot across Warrington in the home goal into the far corner for Chester's first league goal of the season.

Any chance City had of getting back in the game were dealt a further blow on 27 minutes as the home side extended their two goal advantage and once again the City rearguard contributed to their own downfall as the Millers simply passed their way through a static defence for Alex Rhodes to apply the finishing touch.

Six minutes later the ball was in the City net again but this time Rhodes' effort was ruled out for offside. Hudson, Reid and Harrison all saw efforts go close as the home side rampaged through the City defence.

At the break manager Simon Davies changed the formation and replaced Jay Harris with Paul Taylor. The Blues began to create chances and Paul Linwood and Ellison both saw efforts fly wide. Mark Hughes made his first appearance of the season replacing Roberts but City could only create one more chance of note as Lowe saw a shot rebound off the woodwork.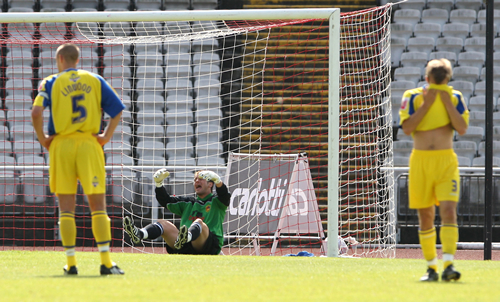 Picture © Evening Leader

• More photographs | League table
---
Saturday 16 August
Chester City 0 Wycombe Wanderers 2

League Two
Attendance: 1,419 Half Time 0-1
Booked: Moxika, Lowe, Wilson.

Chester City: Danby, J.Vaughan, Linwood, Kelly, Wilson, Dinning (Partridge 72), Mozika, Barry, Harris (Taylor 72), Lowe, Ellison. Subs not used: Roberts, S.Vaughan, Mannix.
Wycombe Wanderers: Shearer, McCracken, Williamson, Johnson, Woodman, Grant (Rice 90), Doherty (Ashton 90), Spence, Mousinho, McGleish, Zebroski (Vieira 81). Subs not used: Young, Crooks.
Referee: Darren Drysdale (Lincolnshire).



Both sides came into the match following midweek maulings in the Carling Cup and so a cautious start was inevitable. Dinning came in to City's line up to partner Mozika in the centre of midfield, Kelly kept his place at centre back.

Chester played the ball around the back quite patiently looking for an opening but were unable to move up a gear when needed. They played the ball about commendably, Barry made several raking passes to find first Ellison and then Harris on the left. Ellison took the pass well but didn't quite get a shot in. Mozika was subdued by comparison with Tuesday – an early and extremely harsh booking didn't help.

As is so often the case these days, when City threaten the visitors' goal, they were hit hard on the break. Kelly had just failed to get on the end of Linwood's header back across goal and Wycombe broke quickly. A ball over the top released Moushino into the clear and the ball bounced perfectly for him to lift it over Danby as he raced out to meet him on the edge of the penalty area.

It was harsh on City and an undoubted blow to confidence. After the break Chester tried hard for an equaliser and seemed to be building up a head of steam. Lowe had a shot from a narrow angle parried by the keeper. Then a one-two with Ellison set Lowe through but his touch took him slightly wide and Shearer was able to block his shot.

Shortly after this City fell further behind when Zebroski, who had tried his luck at diving in the first half, tangled with Wilson sufficiently to convince the referee he should give a penalty. City's protests were long but inevitably in vain. Simon Davies' water bottle skittered down the running track, kicked there in frustration. Danby touched but could not keep out McGleish's penalty kick.

The clock ticked down as City tried to fight back without making clearcut chances. Ellison had a header just wide but generally City lacked the pace on the wings to get behind the Wanderers defence.

Wycombe's sheer cynicism added to the frustration felt. Not content with taking as long as they could over throw-ins, they took the biscuit with a double substitution in added time which involved the player furthest from the dug out plodding slowly off the field and then repeating the same with another. Where was the joy Wycombe?

City remain pointless but with the luxury of three teams on minus points below them. The clock is ticking, however, and the gap is closing. Stephen Vaughan hinted in the programme that he is looking to bring someone experienced in alongside Davies. A bit of know-how and guile is needed on this evidence.


•
More photographs
---
Tuesday 12 August
Chester City 2 Leeds United 5

Carling Cup Round 1
Attendance: 3,644 Half Time 1-5
Booked: Mozika, J.Vaughan.

Chester City: Danby, J.Vaughan, Linwood, Butler (Kelly 46), Wilson, Partridge (Harris 46), Barry, Lowe, Ellison, Mannix, Mozika. Subs not used: Dinning, S.Vaughan, McManus, Taylor, Roberts
Leeds United: Ankergren, Richardson, Huntington, Marques, Sheehan, Snodgrass, Howson (Douglas 52), Delph, Robinson (Johnson 52), Becchio, Beckford (Showunmi 52). Subs not used: Lucas, Michalik, Telfer, Elliott.

Referee: Graham Salisbury (Lancashire).



City's already fragile confidence took another battering against a slick Leeds United, hungry to get back to where they used to be in the top flight of English football.

Needing to steady the ship after Saturday's debacle at Dagenham, the Blues could hardly have got off to a worse start. Leeds scored after just three minutes – Jermaine Beckford getting on the end of an eighty yard punt from the goalkeeper. He held off a floundering Butler and prodded the ball past a startled Danby.

Worse was to follow a few minutes later when Leeds broke swiftly down the left following a Chester free kick. The City defence was at sixes and sevens as the ball came across and Snodgrass finished crisply into the bottom corner.

Although the defence was looking very shaky, City were by contrast neat and inventive going forward. They pegged Leeds back with a goal of their own when Ryan Lowe shot from the edge of the box. It took a deflection off a defender and looped into the goal off the post.

City were back in the game for a few minutes but the tie was put beyond them when Beckford capitalised on Linwood's mistake and curled a left footed shot in from outside the area. Further humiliation was heaped on the Blues when Robinson scored with ease as City's defence was cut to ribbons. Beckford completed his hat-trick and the first half rout with a peach of a goal, chipping Danby from thirty-five yards. Even the home fans had to applaud that.

The game was only thirty-five minutes old but not too early for some City fans to leave, not wishing to prolong the agony. Grenville Millington – Chester's 'keeper when they had faced Leeds thirty-four years ago had been warmly welcomed before the game. A Leeds supporting friend sent a text to Ged (the bloke next to me) saying that Draper and James were coming on after half time. The spirit of 1974 was elusive but things did improve for City after the break. Butler and Partridge were replaced by Kelly and Harris. Leeds replaced three of their players soon after the interval as they opted for cruise control.

One of the few positive signs for City on the evening was the form of new signing Damian Mosika. He was absolutely outstanding and shone out like a beacon with his good use of possession and ability to run with the ball. His strong tackling got him into trouble as he was booked in the first half for persistent fouls but he won a spot kick for City himself. It gave Ryan Lowe the chance to add a second goal from the resulting penalty and impress his two year old son who was mascot for the match. Earlier Ellison had gone close with a diving header and lost his shorts in the process – a good job he was wearing cycling bloomers underneath.

In the end City left the field to sympathetic applause rather than brickbats. Leeds clearly were streets ahead of them. Saturday's game against Wycombe will provide a more realistic benchmark of how City will measure up after this torrid start to the campaign.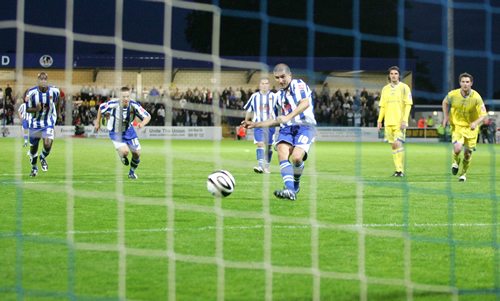 •
More photographs
---
Saturday 9 August
Dagenham & Redbridge 6 Chester City 0

League Two
Attendance: 1,434 (204 Chester) Half Time 2-0
Booked: Mozika.

Dagenham & Redbridge: Roberts, Okuonghae, Uddin, Arber, Griffiths, Saunders, Taiwo, Gain, Green (Southam 89), Strevens (Nurse 84), Benson (Nwokeji 85). Subs not used: Thompson, Alaile.
Chester City: Danby, J.Vaughan, Butler, Roberts, Wilson, Partridge (Taylor 78), Barry, Harris (Mannix 57), Mozika, Lowe, Ellison. Subs not used: Dinning, S.Vaughan, Kelly.

Referee: Trevor Kettle (Rutland).


Although I'm not the most optimistic of City fans, even I thought the opening game of the season at Dagenham would not be as bad as last season's 6-2 drubbing. How wrong I was!
Chester were hit for six again, this time without reply, in one of the most depressing displays of football I've seen in my City-watching career.
A Dartford Tunnel traffic jam spared me of the first 15 minutes, but I'm told that Chester – without injured Paul Linwood – made a reasonable fist of the opening spell.
But as I walked through the turnstiles, I heard Dagenham fans cheering as they won a free kick in a dangerous area. Dominic Green took the kick well and the first League Two goal of the season went against the Blues.
Soon after City tried to reply, as a Ryan Lowe shot rasped against the crossbar, but that was about the closest they came to getting past the solid Dagenham defence all game.
The Daggers, playing with far more confidence, were able to make several forays into the Chester box and on the 40th minute a Dagenham attacker was tripped in the area by Kevin Roberts. Ben Strevens made John Danby dive the wrong way to make it 2-0 to the home side.
Their third goal came in the second half when a 20-yard free kick from Sam Saunders somehow evaded everyone and found its way into the net.
The 204 despairing away fans had little to cheer in the second half. Richie Partridge was in a one-on-one with 'keeper Tony Roberts, but his weak shot was well held by the Welshman.
Damien Mozika made a reasonable debut, but the rest of the midfield seemed too lightweight and the back four definitely missed Linwood. Kevin Ellison took the captain's armband in his place, but he made little impression on the game.
The match was typified by a Paul Butler throw-in which led to the fourth goal when it fell to Dagenham's unmarked Paul Benson. He passed to Saunders who easily found the net before running 50 yards to celebrate in front of the Chester fans.
Loan signing Paul Taylor came on to replace Richie Partridge in the 78th minute and he had a chance to head home a consolation goal. But his effort was easily held by Roberts.
Dagenham made it five a minute later when a defence-splitting pass found Benson and he took his turn to put his name on the scoresheet as he slotted the ball past Danby.
The sixth goal came after the ball pinged about the box following a Dagenham corner, before referee Trevor Kettle declared it had crossed the line.
From the fourth goal onwards, a group of City fans had been chanting "what a load of rubbish" and as I headed back towards the Dartford jams it was hard to reflect on anything from the afternoon that would make me disagree with them.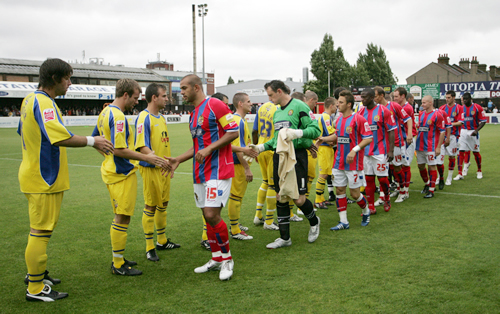 •
More photographs
---