---
Tuesday 28 October
Chester City 3 Brentford 0

League Two
Attendance: 1,301 (222 Brentford) Half Time 1-0
Booked: Harris.

Chester City: Danby, J.Vaughan, Linwood, Roberts, Barry, Harris, Mozika, Hughes, Ellison, Lowe, Johnson (Rutherford 88). Subs not used: McManus, Mitchell, Williams, Allison.
Brentford: Hamer, Newton, Bennett, Wilson, Wood (Dickson 63), Williams, Bean, Halls, Poole (Phillips 77), Elder (Ademola 53), MacDonald. Subs not used: O'Connor, Brown.
Referee: Craig Pawson (Sheffield).



As wintry weather enveloped the Deva Chester fans could be forgiven for thinking that Christmas had come early as City humbled high flying Brentford by three goals to nil. A quick glance at the liturgical calendar revealed that this was not Yuletide but the feast day of St Simon and St Jude – the latter is, after all, the patron saint of lost causes.

The match did not get off to the best of starts for Chester after Linwood gave away a free kick on the edge of the box and Harris was booked extremely harshly for encroaching after just eleven seconds. Brentford, unbeaten in the League since the first day of the season moved the ball around slickly and occasionally found too much room for Chester's comfort. MacDonald clattered in to the back of Danby as a cross came over and the game was delayed while the keeper received attention.

At the other end City were looking more threatening than usual. A real turning point in the match occurred in the twenty-fourth minute. Poole whipped in a low cross from the left and Mr(Marcus) Bean ghosted in to the area. His shot cannoned off the underside of the bar and away to safety. Within a minute Chester took the lead as Johnson flicked on a forward ball from Linwood and Lowe ran on in the inside right channel to finish past Hammer in the Brentford goal.

You felt that the next goal would be crucial to the result – mercifully it went City's way. Lowe was nudged off the ball by City's right corner flag. Bennett protested his innocence so vehemently he was still wittering on at the ref when the free kick came over and Roberts dived to meet Lowe's cross with a sublime header to make it two-nil. Even better was to follow a few minutes later when Lowe sprung through the Bees' offside trap and nicked a shot past Hamer and in off the post.

Three-nil to City and there was still half an hour to go! Brentford continued to have a lot of possession but their play was continually broken up by the business of Mozika, Hughes and Harris in midfield – all of whom gave immense performances for the Blues. In the end Lowe and Johnson both went agonisingly close to adding to City's total but neither went quite as near as substitute Rutherford who ended a flowing move from Lowe and Ellison by striking the foot of the post with his shot.

The final whistle was greeted with a huge cheer and prolonged applause for a superb City performance. Icing on the cake was provided with the news that Eastwood Town had secured their place in the first round proper of the FA Cup (at the expense of a certain Welsh club down the road). The Harry McNally Terrace fans who had kept the chanting going for the full ninety minutes continued in good voice all the way down Bumpers Lane.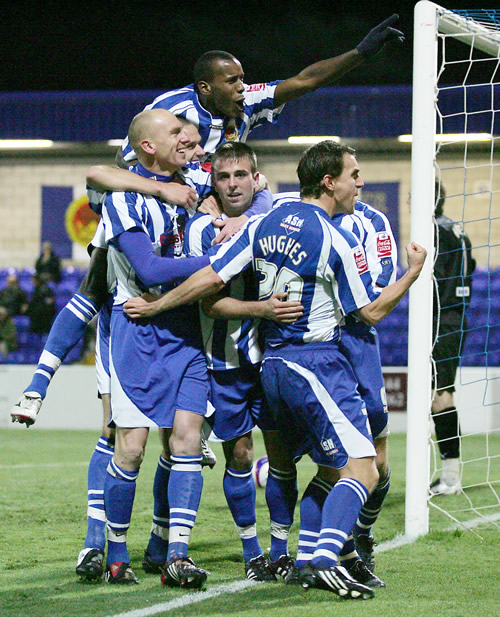 • More photographs | League table
---
Saturday 25 October
Gillingham 2 Chester Ciy 0

League Two
Attendance: 4,852 Half Time 0-0
Booked: Harris, J.Vaughan.

Gillingham: Royce, Richards, Mills, King, Nutter, Southall (Payne 90), Weston, Miller (Lewis 65), Barcham, McCammon (Jarrett 55), Mulligan. Subs not used: Julian, Cumbers.
Chester City: Danby, J.Vaughan, Roberts, Linwood, Barry, Lowe, Harris, Hughes, Mozika, Ellison, Johnson. Subs not used: McManus, Rutherford, Williams, Allison, Mitchell.
Referee: Gavin Ward (Surrey).



This was one of those games where the scoreline wasn't a true reflection of the performance of both sides, but the Gills fans won't care about that.
Chester, with two changes from the 6-1 midweek drubbing at Rochdale, put in a creditable first-half showing and with a bit more luck could have sneaked a draw from their long trip to Kent .
The Blues, cheered on by a small, but vociferous, away following, certainly had the best of the game's opening spell. Ryan Lowe, one of the Chester man-of-the-match contenders, had a tame shot on target in the first five minutes.
Soon after, Damien Mozika brought all sides of the impressive Priestfield Stadium out into smiles when a wild shot cleared the impressive Rainham End Stand. It was an 'achievement' that can't be witnessed many times in a season.
Still, he had a lively afternoon, and was often in the thick of the action. The five fouls he committed at least showed a determination on his part.
Otherwise, the first half saw Eddie Johnson have a shot easily held by Gillingham goalkeeper Simon Royce, before City's John Danby made a good block from a Gills' strike. Kevin Ellison had the best chance of the half when he was unmarked in the area, but shot over the bar.

The second half started much as the first, until Gillingham manager Mark Stimson bought on substitute Albert Jarrett on the 54th minute. He made an immediate impact, drawing James Vaughan into a challenge that earned him a booking.
The onus now seemed to be with the Gills, and Stimson's second substitution on the 63rd minute, when the unpopular Adam Miller was replaced by Stuart Lewis, led to another noticeable improvement.
On the 70th minute, City failed to deal with an on-rushing Jarrett and after at least three chances to clear the ball, it was put into the back of the net by a Gills player. Even the matchday commentator couldn't decide who to award the goal to, but it was Andy Barcham who claimed it.
A core of the travelling army turned against the Blues and within a few minutes, Gillingham won a rare home corner. Again there seemed to be confusion in the City defence and the ball found its way into the net.
Chester heads dropped as all around realised there was no way back from 2-0 down with 17 minutes to go. Lowe, Ellison and Johnson all had efforts on goal, but there seemed to be no real danger of a point being earned.

From the post-match banter with the Gills fans, we had obviously flattered their team and they were not without praise for Chester. But as an away fan, it was one of those days when the pre and post-game meeting pubs were more exciting than the match.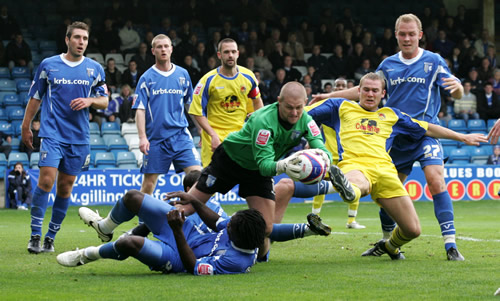 • More photographs | League table
---
Tuesday 22 October
Rochdale 6 Chester Ciy 1

League Two
Attendance: 2,162 Half Time 2-0
Booked: -. Sent-Off: Rule.

Rochdale: Russell, Wiseman, Stanton, McArdle, Kennedy, W.Buckley, G.Jones (Keltie 86), Toner, Thompson, Dagnall (Le Fondre 64), Thorpe (Rundle 76). Subs not used: Holness, Spencer.
Chester City: Danby, J.Vaughan, Roberts, Linwood, Rule, S.Vaughan, Hughes, Mozika, Ellison, Johnson (Barry 75), Lowe. Subs not used: Harris, Taylor, McManus, Rutherford.
Referee: Mark Haywood (West Yorkshire).

City conceded six goals for the second time this season as they were left humiliated at Spotland following this drubbing. Dagenham hit Chester for six on the opening day of the season and the Blues have won just twice since then as their poor start continued here.
Manager Simon Davies recalled James Vaughan, suspended for Sunday's defeat by Port Vale, and brother Stephen at the expense of the injured Shaun Kelly and Anthony Barry who took a seat on the bench.
In the wet and windy Rochdale conditions City were given a chance in the opening minute but Paul Linwood was unable to take advantage of a Ryan Lowe's inswinging corner and headed over.
The home side took the lead on 13 minutes with an individual goal from Chris Dagnall, picking up a ball from Gary Jones before turning and firing in a shot past John Danby from long range.
City's cause wasn't helped just before the half hour with the dismissal of Glenn Rule. The youngster was shown a straight red card following a lunge on Joe Thompson on half-way. Three minutes later they paid the penalty.
Dagnall received a through ball from Thompson, lost his marker to score with ease past Danby and give the home side a two goal advantage.
Lee Thorpe almost added a third but he just failed to connect with a teasing cross from Scott Wiseman. As half-time approached Kevin Ellison brought out a good save from Sam Russell who ensured the home side took their two-goal advantage into the break
City started the second half well and pulled a goal back on 53 minutes. Lowe swung in a free-kick from the left and Rory McArdle headed the ball past his own 'keeper Russell.
Any thoughts City had of a fightback were wiped out minutes later and Dagnall completed his hat-trick striking home following a cross from the impressive teenager Thompson.
Linwood was on hand to head off the line as City came under the cosh and it wasn't long before the Blues conceded again as Thorpe headed past Danby on 63 minutes. Four minutes later the ball was in the net again with substitute Adam Le Fondre meeting a lobbed pass to shoot past the exposed Danby.
Le Fondre made it 6-1 a minute later converting Thompson's cross from the right. City had conceded four goals in the space of just 11 minutes.
With the game well and truly gone manager Simon Davies decided to change things bringing on Barry for Eddie Johnson.
Danby denied Le Fondre his hat-trick with a fine save and William Buckley saw a 20-yarder come back off a post in the last minute as did Keiran Toner in stoppage time.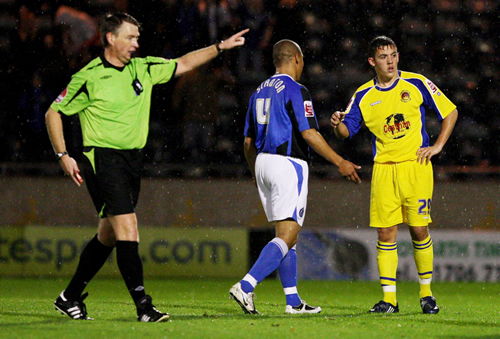 Picture © Evening Leader

• More photographs | League table
---
Sunday 19 October
Chester City 1 Port Vale 2

League Two
Attendance: 3,102 (1,536 Port Vale) Half Time 0-1
Booked: S.Vaughan, Hughes, Roberts.

Chester City: Danby, Rule, Kelly (S.Vaughan 35), Linwood, Roberts, Mozika, Hughes, Barry (Taylor 71), Lowe, Johnson (McManus 80), Ellison. Subs not used: Harris, Rutherford.
Port Vale: Anyon, Stockley, McCombe, Prosser, Paul Edwards (Richman 57), McCrory, Howland (Rodgers 72), Griffith, Davidson, Dodds, Richards. Subs not used: Martin, Glover, Lawrie.
Referee: Scott Mathieson (Stockport).

City suffered their third home defeat of the season as they once again paid a heavy price for defensive errors.

Striker Eddie Johnson made his debut for City and with James Vaughan suspended youngster Glenn Rule made his first appearance of the season at right back.

For City it was certainly a game of two halves, the first 45 saw a lackluster effort with the Blues hardly creating any problems for the visitors and generally being out muscled all over the pitch. After the break, with Ryan Lowe fired up, they took their game to Vale well and could well have taken a point from the game.

After an opening stalemate the visitors opened the scoring on ten minutes. Ross Davidson split the City defence with a through ball that found Marc Richards on the left edge of the box and the Valiants skipper advanced before curling a shot across John Danby in to the opposite top corner of the net to the delight of the 1500 traveling support.

The visitors should have doubled their lead as the Blues defence failed to spot a quick short-corner routine that saw a far post cross find the unmarked Richards who saw his volley clip the top of the bar and fly over.

Manager Simon Davies was forced into a substitution ten minutes before the break as Stephen Vaughan replaced the limping Shaun Kelly. Chester created very little and on the rare occasion they did threaten failed to trouble Anyon in the Vale goal, they were also guilty of falling time and time again to the offside trap. But with half-time approaching they showed signs of life with both Lowe and Johnson shooting wide.

After the break City were a different proposition all together and should have drawn level in the opening 30 seconds as Lowe was sent through one-on-one with the keeper. His shot beat Anyon but bounced back off the post to Johnson who with the goal at his mercy blazed over from ten yards out.

Ten minutes later the Blues thought they'd drawn level. Johnson saw a shot fumbled by Anyon and Lowe pounced to net the rebound only for his effort to be ruled out for offside by the linesman.

Lowe continued to make a series of probing runs forcing a series of corners and free-kick's. But the Blues were left to rue those missed opportunities as the visitors scored a second goal very much against the run of play.

Paul Linwood failed to clear a Roberts effort, substitute Luke Rogers picked up the loose ball and fired in a goalbound shot, Kevin Roberts did well to clear the ball off the line but was powerless to stop Simon Richman blasting the rebound home from six yards.

A neat bit of skill beating three players from substitute Paul Taylor sent Lowe through six minutes from time and the striker, making his 50th appearance in a City shirt, slotted the ball home for his 22nd goal.

The ball was in the City net again in the dying moments as vale caught City on the break, however referee Mathieson ruled the effort out. Quite bizarrely Anyon had raced half the length of the pitch to celebrate the 'goal' with the Vale fans down the side totally unaware that it had been ruled out. He was still being mobbed by supporters as Chester broke clear from the free-kick but with the Vale defence chasing back in numbers the Blues were unable to take advantage as the visitors held out for three points.

• League table
---
Saturday 11 October
Chesterfield 1 Chester City 1

League Two
Attendance: 3,042 (183 Chester) Half Time 0-1
Booked: Harris, Lowe, J.Vaughan.

Chesterfield: Carson, Lowry, Page, Downes, Goodall, Currie (Teixeira 88), Niven, Luke Boden (Kerry 54), Robertson (Winter 54), Ward, Lester. Subs not used: Austin, Harsley.
Chester City: Danby, J.Vaughan, Kelly, Linwood, Roberts, Hughes, Barry, Ellison, McManus (Harris 63), Lowe (Rutherford 88), Mozika. Subs not used: S.Vaughan, Mannix, Williams.
Referee: David Phillips (Sussex).



Manager Simon Davies received good news before the match as midfielder Damien Mozika was passed fit to start against the Spireites after recovering from a groin injury. However Richie Partridge and Paul Taylor – who phoned in ill in the morning – were missing allowing a recall for both Ryan Lowe and Shaun Kelly to the side that played Morecambe in the week.
It was the home side who were in the thick of the early action, the crossbar came to City's rescue inside the opening five minutes as Jamie Ward saw an effort beat Danby but bounce clear. A minute later he lost Kevin Roberts to force a corner the result of which saw Derek Niven shoot wide.
Despite being under the early pressure it was City who took the lead on 17 minutes. A needless foul by Luke Boden on Mozika presented the Blues will a free-kick on the left. Lowe arrowed the ball in for Paul Linwood to rise and head home his second goal of the season past a stranded Trevor Carson.
The goal gave Chester a lift for the remainder of the half but they couldn't add to their tally. The Blues did force two late corners but Ellison saw a header cleared by Jack Lester at the foot of the post.
Chesterfield made a double substitution ten minutes after the break changing their midfield formation with the introduction of Lloyd Kerry and Winter. The move paid off as six minutes later the home side were level. Jamie Lowry sent in a right wing cross that was missed by Kelly, Ward appeared to have plenty of time to control the ball before shooting past Danby. Two minutes later the City 'keeper was called into action again as he saved from Kerry's 20 yard effort.
The home side began to do all the pressing as City brought on Jay Harris for Paul McManus in an attempt to counter the Spireites in midfield. Lowe saw a shot blocked by Lowry and Ellison was penalised for a foul following an inswinging Lowe corner.
Chances for Chester were at a premium, the best one falling to Lowe who saw his shot saved by Carson following a fine through ball from Harris.
Lowry was on hand to make another timely block as he prevented Mark Hughes' shot reaching the target following a quick Lowe free-kick.
As the game entered the final minutes Ward saw a free-kick go over the bar and in stoppage time Mozika was on hand to clear the lively Ward's far post corner to safety and preserve City's hard earned point.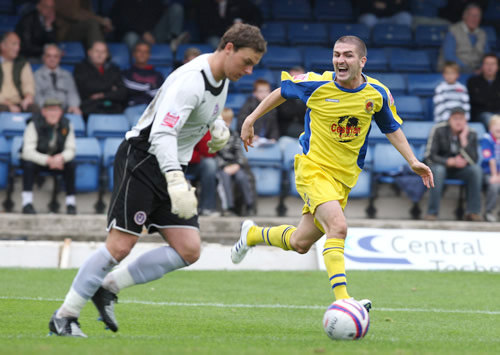 Picture © Evening Leader

• More photographs | League table
---
Tuesday 7 October
Chester City 1 Morecambe 1
(City lose 3-1 on penalties)

Johnstone's Paint Trophy Round 2
Attendance: 926 (180 Morecambe) Half Time 0-1
Booked: -.

Chester City: Danby, J.Vaughan, Roberts, Linwood, Wilson, Barry, Mozika, Hughes, Partridge (Lowe 61), Ellison, McManus (Taylor 60). Subs not used: Kelly, S.Vaughan, Harris.
Morecambe: Roche, McCann, Artell, Bentley, Parrish, Hunter, Stanley, Drummond, Twiss (Wainwright 17), Howe (O'Carroll 87), Curtis (Taylor 85). Subs not used: Scott Davies, McStay.
Referee: Tony Bates (Staffordshire).


After being second best for most of the first hour of the match against Morecambe, City were transformed when Davies threw subs. Lowe and Taylor in to the fray. Before this the visitors had been controlling the game. Chester were limited to putting lofted balls forward for Ellison and McManus but the Morecambe defence, led by Artell and Bentley were dealing with this flimsy attacking play quite easily.

Once Lowe and Taylor were introduced into the equation the game became more stretched, the tempo increased; Morecambe defenders were put under pressure; and a gap opened up behind City's forwards which the midfield began to exploit. Chester's fluid attacking was rewarded when Taylor got hold of the ball in the inside left channel, dribbled past a couple of players and pulled the ball back for Ellison. The big man curled a right footed shot low in to the far corner and City were level with eight minutes left to go.

Ellison had one more chance to score again before the final whistle but Roche beat away his angled shot. So the tie was decided by penalties at which City succumbed fairly feebly. Morecambe introduced a couple of subs near the end and both (O'Donnell and Taylor), along with Artell converted their spot kicks. Roche saved the efforts from Barry and Roberts' tired legs before Lowe scored for Chester and Drummond had his shot saved by Danby. But Morecambe's fourth penalty was decisive after Paul Taylor's was parried by Roche.

Earlier, after a couple of decent strikes by Ellison and Hughes, City had lapsed back into a similar display to Saturday's against Lincoln. Morecambe players had time on the ball to pass and move while Chester had to resort to airborne clearances and losing the ball too cheaply. The Shrimpers took the lead just before half time whn Roberts seemed to misjudge a long clearance from Roche and Howe went through to lob over the on-rushing Danby.

City's second half fight back was more encouraging and may well have produced another goal in extra time but now we'll never know. Dreams of a trip to Wembley via this route have been denied again.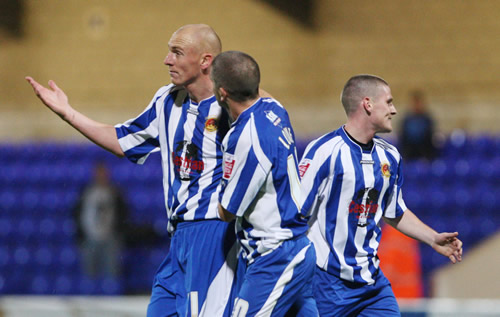 •
More photographs
---
Saturday 4 October
Chester City 0 Lincoln City 2

League Two
Attendance: 1,962 (245 Lincoln) Half Time 0-1
Booked: Linwood, J.Vaughan.

Chester City: Danby, J.Vaughan, Linwood, Kelly, Wilson, Mozika, S.Vaughan (Barry 73), Hughes, McManus (Taylor 58), Lowe (Partridge 59), Ellison. Subs not used: Harris, Rutherford.
Lincoln City: Burch, Green, Hone, Kovacs, Beevers, Frecklington (Brown 46), Kerr, Clarke, John-Lewis, Patulea, N'Guessan. Subs not used: Duffy, Gall, Wright, Mullarkey.
Referee: Oliver Langford (West Midalnds).

Chester's good run which saw them unbeaten in September fizzled out as the chill October wind whistled round the Deva Stadium. Lincoln breezed in and dominated the game from the start.

Speaking after the game, Manager Simon Davies said that Chester never got started and that was how it seemed to us on the terraces too. City never got out of first gear and had no answer to a Lincoln side who were quicker to the ball, stronger in every department, strung passing movements together and kept City penned back in their own half.

City's attacking moves were sporadic, relying on the odd long ball over the top. McManus dispossessed Kovacs, Lincoln's Hungarian centre half (and approximately four times his size) but could not go on to threaten goal. Another time McManus got through and appeared to be tugged back by Hone but the referee turned a blind eye.

At the other end, the visitors pressed and harried and gave City little time on the ball and broke up any attempt at passing football. The Romanian striker Patulea might have done better when the ball fell to him at the far post but Danby blocked his shot and dealt with the subsequent rebound. For all Lincoln's dominance that was their most meaningful chance until the second minute of added on time in the first half. A corner from Lincoln's left seemed to be glanced towards goal and under Stephen Vaughan's foot on the line. No-one was sure who had scored but Kovacs later claimed it.

Needing to get back in to the game after the break, City failed to get going once again and when a sweeping move from left to right ended with first N'Guessan miscuing and then Patulea with time to pick his spot while the Chester defence was AWOL the home fans sensed there would be no way back.

Davies had been preparing substitutes when Lincoln got their second. When Taylor and Partridge came on in the next couple of minutes it was a case of shutting the stable door after the horse had bolted. Lowe was unhappy at being replaced and ran straight down the tunnel. The new arrivals added a bit more urgency but still City continued to misfire.

A more exciting finish might have ensued had Wilson's thirty yard piledriver not smashed back into play off the cross bar. Instead it was just the pitiful play-acting of Imps' 'keeper Burch which rattled the home fans' cage.

City were well-beaten. Although Lincoln were without an away win so far, former City favourite Peter Jackson had them well set up for this game. The optimism generated by Chester's September run evaporated into the autumn mist.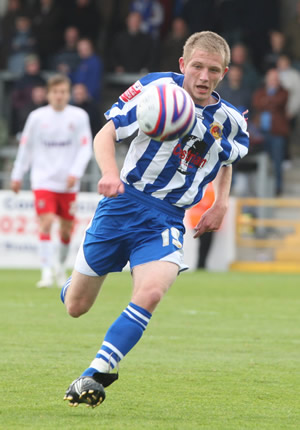 • More photographs | League table
---