---
Saturday 30 August
Gateshead 2 Chester 1

Football Conference Premier
Attendance: 1,138 (188 Chester) Half Time 0-1
Booked: G.Roberts, Hobson.

Gateshead: Bartlett, Jones, Curtis, Clark, O'Donnell, Oster (Ramshaw 52), Chandler, Turnbull, Wright (Guy 77), Shaw, Rodman. Subs not used: Brown, Allan, Baxter.
Chester: Worsnop, Taylor, Kay, Heneghan, G.Roberts, Harrison, Rooney (Riley 62), James (Iwelumo 87), McConville, Hobson (Winn 77), J.Hall. Subs not used: Brown, C.Roberts.
Referee: Jason Whiteley (Leeds).

Chester lead at the break through Craig Hobson but concede two second half goals to lose at Gateshead.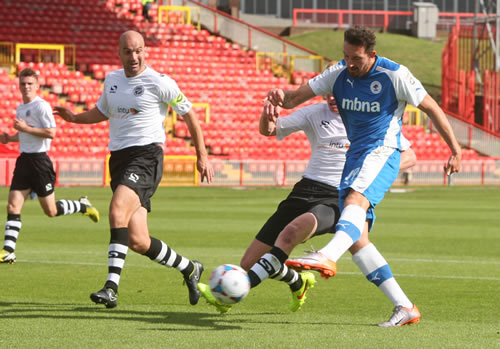 • League table after this game | More pictures


Rate Chester's performance
---
Monday 25 August
Kidderminster Harriers 2 Chester 2

Football Conference Premier
Attendance: 2,304 (397 Chester) Half Time 2-0
Booked: McConville, Brown.

Kidderminster Harriers: Harriers: Lewis, Hodgkiss, Gowling, Dunkley, Nicholson, Byrne, Storer, Gittings, Johnson (Grimes 47), Reid (Verma 60), Blissett (Gash 63). Subs not used: Styche, Singh.
Chester: Hall, Taylor, Kay, Brown, Roberts, Harrison, James (Riley 78), Rooney, Hobson, Iwelumo (Winn 60), McConville. Subs not used: Heneghan, Worsnop, Blake.
Referee: Paul Rees (Somerset).



If I had a crystal ball, I'd have stayed in one of Kidderminster's stupendous pubs until the second half of this Bank Holiday clash at Aggborough.
But I didn't have such foresight and once the Blues went behind by two goals inside the first nine minutes, my thoughts went back to last season's performance at Braintree Town.
This time was different though. The travelling fans did not give up their support for the team, despite the shaky defence letting Callum Gittings score from close range after a sixth minute corner. Chester had barely re-grouped from that when Kidderminster's Chey Dunkley headed home after goalkeeper Freddy Hall failed to punch the ball away from danger.
It was nearly game over for Chester a few minutes later when a goal-bound Kidderminster header was cleared off the line. Still the travelling army kept up their incessant chant. It was reminiscent of the match at Leyton Orient back in the 1999-2000 season when Ian Atkins almost saved the Blues from the drop into the Conference.
The first half was not without chances for Chester, but when the best opportunity came to striker Chris Iwelumo after a John Rooney cross, it was disappointing that the best he could do was hit the top of the stand.
Oh well, it was time for the Chester fans to decide what delicacy they wanted at half-time – a tasty soup, cottage pie, or chicken chow mein, perhaps? A few might have thought about escaping via the Severn Valley Railway line, which we could see steaming through the rain into the nearby station as half time was approaching.
But the Blue Army stayed at their post and their unwavering support continued. Within a minute of the half starting they got their reward when Kidderminster defender Dunkley was sent off for handling the ball in the area. Iwelumo's resultant penalty was distinctly feeble and was easily saved by Daniel Lewis.
That seemed to whip Chester into action and the action remained in the Kidderminster half. There were chances for both Rooney and Craig Hobson before Steve Burr changed the team's focus when he took off Iwelumo, who had been largely ineffectual, and replaced him with Peter Winn.
The Chester pressure continued and both Hobson and Sean McConville missed out on scoring opportunities before the match turned in the last ten minutes.
Hobson then scored the first goal Kidderminster had conceded all season when he hit a great header past Lewis to give the Blues fans a reward for their support.
But there was more to come a few minutes later when Chester won a free kick, which saw Wayne Riley slot it home from the re-bound. Naturally, there was jubilation from the Chester fans, who wondered if their 10th minute chant of: "We're going to win 3-2" was going to come true. It nearly did, but the Blues had to settle for a hard-fought point at full-time.
It was good to see Steve Burr getting all-round applause from the ground and the après-match Chester chat was a lot more positive than we might have expected at 3.09pm. This was a match which had good pubs, food, atmosphere and – to cap it all – two away goals for Chester. It was simply one of those days which reminds me of I'm a football fan. Can we have more please?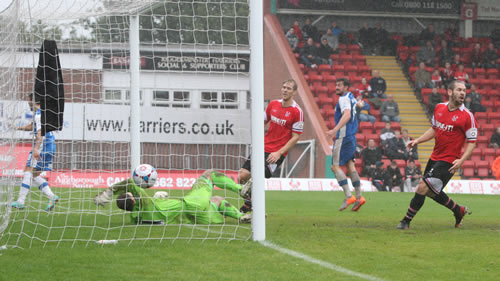 • League table after this game | More pictures


Rate Chester's performance
---
Saturday 23 August
Chester 0 FC Halifax Town 3

Football Conference Premier
Attendance: 2,501 Half Time 0-1
Booked: Charnock.

Chester: Hall, Roberts (Heneghan 46), Kay, Brown, Charnock, James, Rooney, McConville, Mahon (Menagh 54), Winn (Hobson 77), Iwelumo. Subs not used: Worsnop, Blake.
FC Halifax Town: Glennon, Roberts, Williams, McManus, Bolton, Pearson, Maynard, Marshall, Boden, Jackson (Schofield 62), Peniket (Dyer 80). Subs not used: Senior, Ainge, Roberts.
Referee: Darren England (South Yorkshire).



City were taken apart at home for the second time in succession as they ended up well beaten by another strong and lively side – this time Halifax. Following the opening day thrashing by Barnet, City had restored some pride with an improved display at Forest Green and then a win on the road at Braintree. This display seemed to set them back to square one.

Right from the start the Blues were up against it as, almost to a man the Shaymen seemed taller and more athletic than their counterparts. The visitors came sweeping forward, finding swathes of room in front of City's defence. Peniket blazed over in the first minute. The signs were ominous.

City battled but were often overwhelmed by their stronger and fitter opponents. It was a struggle for the Blues to clear their lines at times and, when it seemed that City had weathered the worst of the storm, they conceded from just such an incident. Peniket pounced when a failed clearance rebounded to him and he tucked the ball past Hall.

The Chester keeper had done well previously to turn a Jackson shot round the post. Brown recovered well to made a brilliant last ditch tackle on Boden. City at least were hanging in there and offered brief glimmers of hope at the other end – Rooney's shot from distance flashed wide and Winn's deflected effort was narrowly off target.

At half time City's rearguard was rearranged, with Heneghan coming on for Roberts. The former went to right back while Kay went into the centre and Charnock to left back. Blues continued to struggle defensively however and though they tried to press forward, never got behind the Shaymen's back line. Winn and Mahon ended to be isolated on the wings and, like everyone else in a blue shirt, closed down quickly when in possession.

Once Halifax scored a second goal on seventy minutes the result was never in doubt. When it came the goal seemed simple enough. A raking ball from deep on the right found Boden drifting away from his marker to head just inside the far post. There seemed little prospect of City getting a goal back. Worse followed when they lost possession in attack on the right and one deft ball had Pearson racing through on his own to score with embarrassing ease.

Disgruntlement boiled to the surface around three sides of the stadium, unconfined joy at the other. Steve Burr will want a much better showing than this when he returns to Aggborough on Monday.


•
League table after this game


Rate Chester's performance
---
Saturday 16 August
Braintree Town 1 Chester 3

Football Conference Premier
Attendance: 819 (170 Chester estimated) Half Time 1-0
Booked: Brown.

Braintree Town: Hamann, Peters, Brundle, Massey, Habergham, Mulley, Davis, Marks, Sparkes, Walker (Bakare 58), Marks (Cox 65). Subs not used: Case, Clerima, Pentney.
Chester: Hall, Disney (Heneghan 45), Brown, Charnock, Roberts, Mahon, Rooney, James, Winn (Menagh 90), McConville, Iwelumo (Hobson 85). Subs not used: Worsnop, Riley.
Referee: John Brooks (Melton Mowbray).



Chester staged a second half fight back to register their first win of the season as the Blues lifted themselves off the foot of the table in style.
Manager Steve Burr made two changes to the side that lost at Forest Green Rovers for the trip to Essex, Chris Iwelumo and John Disney came into the starting X1 replacing Craig Hobson and Danny Taylor, new signing Ben Heneghan started on the bench.
Goalkeeper Fredy Hall was in action in the very first minutes saving well from Chez Issac as the home side came at Chester from the off, Sean Marks his the crossbar before the hosts took the lead midway through the opening half as Disney handled a free-kick insode the area and referee John Brooks awarded The Iron a penalty that captain Kenny Davies duly despatched. The home side carved out a number of chances in the first half with a Marks header just wide of goal being the pick of them.
Heneghan replaced Disned at half-time and after a few chosed words from Burr ringing in their ears the Blues came out and drew level three minutes into the second period. John Rooney had alread hit the post before he set up Sean McConville who shot past Nick Harrison in the home goal. On 64 minutes Chris Iwelumo stooped at the far post to meat McConville's cross and head Chester into the lead.
Three minutes later Chester wrapped up the poinst as Craig Mahon fed McConville who scores his second goal of the game to list Chester to the heady heights of 16th place – their highest league position since reforming.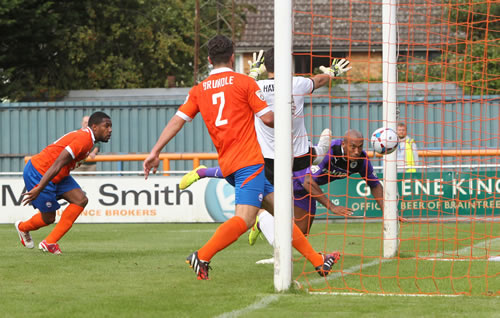 Picture © Rick Matthews (Chester Leader)
• League table after this game | More pictures
Rate Chester's performance
---
Tuesday 12 August
Forest Green Rovers 2 Chester 1

Football Conference Premier
Attendance: 1,083 (335 Chester) Half Time 1-0
Booked: Roberts.

Forest Green Rovers: Russell, Pipe, Stokes, Oliver, Wedgbury, Hughes (Rodgers 81), Kamdjo, Frear (Norwood 76), Sinclair (Guthrie 76), Parkin, Coles. Subs not used: Kelly, Oshodi.
Chester: Hall, Roberts, Brown, Charnock, Mahon (Iwelumo 60), James, Rooney, Winn, Taylor, McConville, Hobson (Menagh 64). Subs not used: Worsnop, Disney, Blake.
Referee: Adam Bromley.



Since last Saturday City supporters had been looking forward to The Glorious Twelfth, the beginning of the grouse shooting season, with as much enthusiasm as the birds themselves. The prospect of facing another fancied and powerful side so soon after the mauling by Barnet did not give cause for optimism. But in the end this was a much, much better performance by Chester and, with a little more fortune, they might have come away from the New Lawn with a point for their efforts.
To begin with, however, City got off to another wobbly start. Forest Green have under-achieved in recent years given the investment in their club and have definite ambitions for the play offs this season. The huge presence of new signing Jon Parkin – like a luminous Jolly Green Giant - loomed in attack as they came sweeping forward. Sinclair and Kamdjo both captured from Salisbury, came back from the end of last season to haunt Chester again.
Kamdjo got an early header on target, but straight into the arms of Chester debutant Hall. But a slick move down the right a few minutes later ended with the Cameroonian ghosting in to meet Sinclair's cross and glance the ball into the back of the net. After this, Blues, encouraged by a large and vociferous travelling contingent, showed their resilience and gradually got a footing back in the game. James had a shot wide of the target; Rovers' keeper Russell dropped the ball at the far post under pressure from Hobson before a defender's clearance. There were some promising signs. There were mistakes as well as passes went astray and, from a good position, Rooney ballooned a free kick way over the heads of the waiting Chester forwards but at least City were staying in the game.
After the interval The Blues – maybe we should call them The Viola in their away kit – had a real purple patch. They pressed and held the ball well and drove Rovers back into their own half. Hobson had a half chance to score after James' deflected shot just eluded him. They forced a succession of corners which ended with Peter Winn blazing an effort narrowly over the bar.
As City continued to press, they were undone on the counter attack by Rovers. Taylor tussled for the ball on the right wing with Elliott Frear. The latter broke clear and raced forty or fifty yards down the wing with Taylor in hot pursuit. Frear crossed and found Parkin at the far post. His first shot was blocked but the ball fell kindly to him and "The Beast" bludgeoned a second goal into the back of the net.
City retaliated and Hobson was unlucky to see his venomous shot on the turn go narrowly wide. Kieran Charnock, stealing in at the far post, just failed to get on the end of a Gareth Roberts' cross. Chris Iwelumo replaced Craig Mahon and was almost immediately drawn into the arguments that followed Hobson being knocked to the ground off the ball by Coles the Rovers defender. The latter received a yellow card.
The momentum of the game swung again and Forest Green dominated for a while. Hall was called upon to make a couple of saves from Hughes and from Frear. The Blues began to regain composure and hold on to the ball better - McConville, deputising for the suspended Harrison was doing sterling work in this regard but the attitude and workrate of all the team was really impressive.
Menagh replaced Hobson and FGR threw a couple of pairs of fresh legs into the fray too.
With just over ten minutes to go Chester got the breakthrough their play merited when, following good possession down the right, Rooney's cross tantalised Coles whose header fell to Winn. The left winger struck a sweet low shot in off the post. Fresh belief surged round the terraces and on the field as City began to look for an unlikely equaliser. The home side were definitely rattled as the Blues forced them back and into some desperate defending. Parkin took the ball into the corner to run the game down. Nerves were jangling. James got into the box on a couple of occasions but Rovers defended in depth and he couldn't find a way through the tangle of legs. The closest City came to a second was Rooney's grass-cutter shot to the corner which Russell just managed to get to and palm away at full stretch.
When the final whistle blew the dejection of the Blues players was clear – they had given their all. But the tremendous ovation they received from the travelling support lifted them to their feet. Bruised pride had been purged by the players' great efforts tonight and hope rekindled in the hearts of their supporters. It almost felt like City had won.
Colin Mansley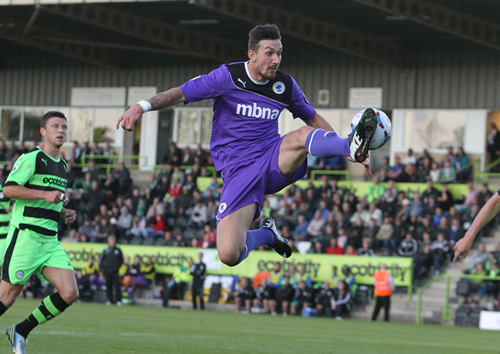 Picture © Rick Matthews (Chester Leader)

• League table after this game | More pictures
Rate Chester's performance
---
Saturday 9 August
Chester 0 Barnet 5

Football Conference Premier
Attendance: 2,514 Half Time 0-3
Booked: James. Sent-off: Harrison.

Chester: Worsnop, Taylor (Iwelumo 58), Brown, Charnock, Roberts, Harrison, James, Rooney, Mahon, Hobson (McConville 78), Winn (Menagh 58). Subs not used: Hall, Disney.
Barnet: Stack, Yiadom, N'Gala (Saville 54), Stephens, Johnson, Vilhete (Marsh-Brown 54), Togwell, Weston, Cook (Villa 58), Akinde, MacDonald. Subs not used: Muggleton, Nurse.
Referee: Steven Ruston (Stoke-on-Trent).

The Blues made a disastrous start to the new campaign as they were humiliated by a strong Barnet side. Barnet at home was Steve Burr's first game in charge last January. Then City managed a last minute win – what a contrast in emotion there was at the end of the game today. Since then the Bees have changed manager – Edgar Davids did not last long after the loss. Martin Allen, his replacement, has recruited well and came to watch City pre-season. The Bees hit the ground running.
It all started going wrong from the moment City lost the toss and began attacking the Harry Mac end. Winn did well to win a free kick after dispossessing Yiadom by the corner flag. Rooney whipped the ball in and Matt Brown's header hit James and flew just the wrong side of the post.
Barnet's first attack produced a goal when Yiadom raced on to a lay-off and scored with ease with an angled shot past Worsnop. City responded with another attack and all but equalised when James found Winn and his driven cross almost deflected over the line until it was scooped clear by a Barnet defender.
Harrison was then dismissed after lunging for a misplaced pass put just beyond him. It was harsh but nevertheless rash given City's poor disciplinary record last season. There is less room for error in today's game. The Bees swarmed round the ref until he stung Harrison with a red card.
City were soon in disarray as Barnet doubled their lead. Lee Cook, signed from Leyton Orient on Tuesday found ample room inside the box to volley a looping shot into the far corner. At the other end Hobson made a nuisance of himself with Barnet's towering centre backs. He wriggled past one to lift a bouncing ball over the keeper but a foot wide of the post.
By half an hour the game was effectively over when City conceded a third from the penalty spot. Worsnop had rushed out of his goal to fly at the feet of Akinde and down the forward went. MacDonald thrashed the ball into the net.
As half time drew near City built up a head of steam. Hobson, proved more than a handful for Stephens, literally so as the defender was penalised for grappling with him on the edge of the box. Mr Rushton the referee lined up the defensive wall – without World Cup vanishing spray (Though he could have improvised with a toilet roll thrown conveniently into the area). Vilhete, the smallest player on the pitch was right in the middle of the wall. When Rooney's kick powered straight at him he handled the ball, to protect his face, and City were awarded a penalty. Rooney shot low and accurately but without enough power and Stack caught the ball at full stretch. City were denied the glimmer of hope that a goal would have provided and the new season's balloon of optimism was well and truly deflated.
Any hopes of a City revival after the break were swiftly snubbed out as Barnet scored two further goals. First City's lack of cover on the right was horribly exposed as Akinde strode down the left and cut the ball back for Cook to score with a crisp shot into the corner. Then Marsh-Brown, three minutes after coming on as substitute, tormented Chester with a horribly soft goal. Somehow, from an acute angle, he threaded the ball past Roberts and Worsnop as though they weren't there.
The Blues had been given the run-around and there was still over half an hour to go. Burr threw Menagh and Iwelumo on but the game was long gone. City tried to salvage some pride – Stack saved well from Rooney and spectacularly from Mahon – but this was a crushing defeat.
Following the Blues has always been character-building. City have lost 0-5 at home on the opening day before – to Northampton in 1987. Encouragingly they recovered to finish mid-table. On the other hand, when they have lost to Barnet on the opening day previously (1999 and 2013) City have been relegated. Which omen you trust indicates whether you are an optimist, pessimist or maybe something in-between. Oh how we long for a season of mid-table obscurity.
Colin Mansley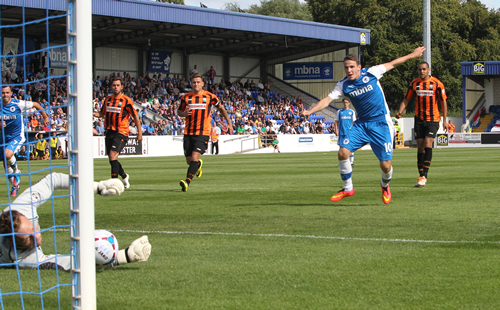 Picture © Rick Matthews (Chester Leader)

• League table after this game | More pictures
Rate Chester's performance
---