---
Sunday 28 December
FC Halifax Town 0 Chester 2

Football Conference Premier
Attendance: 1,901 (295 Chester) Half Time 0-1
Booked: Rooney, Touray.


FC Halifax Town: Glennon, M.Roberts, K.Roberts, McManus, Bolton, Jackson (Marshall 49), Smith (Peniket 45), Schofield, Boden, Maynard, Hatfield. Subs not used: Senior, Williams, Pearson.
Chester: Worsnop, Heneghan, Brown, Charnock, Touray, Menagh, Rooney, James, Hobson (Peers 71), McConville, Richards (Mahon 82). Subs not used: C.Roberts, Kay, Riley.
Referee: John Brooks (Melton Mowbray).


Chester put the disappointing Boxing Day display behind them as they ran out winners at The Shay. Manager Steve Burr made two changes to the side beaten by Altrincham, in came Jamie Menagh and Ben Heneghan at the expense of Michael Kay and Craig Mahon both of whom took their place on the bench.
The Blues got off to a great start taking the lead in the seventh minute as Kane Richards crossed from the left for skipper Matty Brown to head past former Blue Matt Glennon in the home goal.
Chester were coping better with the tricky conditions and saw a shot from Sean McConville fly wide before Kane Richards missed the target with a header following good build up work from John Rooney.
Jon Worsnop was called into action in the 25th minute racing out to prevent Lois Maynard latching onto a through ball. Worsnop was called into action again to deny Jamie Jackson before Will Hatfield fired wide for the Shaymen.
McConville and Menagh set up Graig Hobson with a chance to add a second but the Blues striker fluffed his chance. As the match approached half-time both Kieran Charnock and Brown saw far post headers fly inches wide and Hobson saw an overhead kick clear the bar. The last chance of the half came from James Bolton who came close to an equaliser with a 20-yarder that flew just over the Blues bar.

Minutest after the restart Halifax went close as Maynard saw a deflected shot go straight at Worsnop. The Shaymen came more into the game and Marc Roberts headed wide when well placed from a corner.
McConville forced a fine save from Glennon and Brown saw a header hit the post before Ibou Touray was well placed to clear a Richard Peniket effort from under the bar to preserve the slender lead.
Ten minutes from time Scott McManus missed a great chance to level as he headed when unmarked over from a Danny Schofield cross. The home side were made to pay for the miss four minutes later as Menagh broke down the right and crossed, the ball was met with a flying header from substitute Tom Peers who scored a memorable first senior goal for the club and secure the first win in seven matches for the Blues.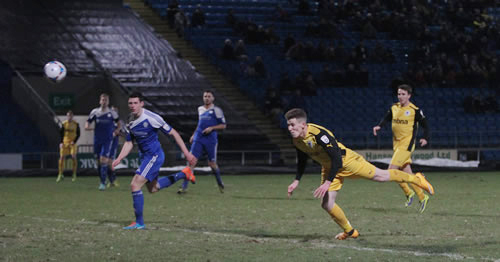 Picture © Rick Matthews (Chester Leader)

• League table after this game | More pictures
Rate Chester's performance
---
Friday 26 December
Chester 0 Altrincham 2

Football Conference Premier
Attendance: 2,569 (301 Altrincham) Half Time 0-1
Booked: -.


Chester: Worsnop, Kay, Brown, Charnock (Heneghan 65), Touray, Rooney, James, Mahon (Menagh 65), McConville (Riley 78), Richards, Hobson. Subs not used: Roberts, Peers.
Altrincham: Coburn, Densmore, Marshall, Havern, Griffin, Cavanagh, Moult, Lawrie, Richman, Crowther (Clee 69), Perry (Leather 90). Subs not used: Gillespie, Wilkinson, Parton.
Referee: Darren England (Barnsley).



If truth be told, the only things I'll remember from this Boxing Day Cheshire derby was the chance to share Christmas greetings with fellow Chester fans and the heavy second half snowfall that added to the festive atmosphere.
Unfortunately there was no other seasonal joy for me as Chester's lacklustre performance around both penalty boxes led to them losing 2-0 to a team that were sitting below them in the Conference table.
As the rain pelted down in the first half hour, the best opportunities for the home side came from a couple of corners. One of them resulted in the closest they came to scoring all afternoon when an Altrincham defender was well-placed on the line to head the ball over the bar.
But it was Alty who found the net first when a good freekick found the head of unmarked Tom Marshall. He put the visitors 1-0 up with relative ease on the 25th minute.
Chester missed out on a real chance when Kingsley James appeared to be fouled in the box as he controlled the ball in readiness for a strike. But referee Darren England denied the Blues a penalty to leave Altrincham ahead at the break.
Not long after the re-start, the rain turned to heavy snow and Chester made promising threats during the opening spell. Craig Hobson had shot which was well off-target, followed by a couple of disappointing Chester corners. But it was a corner for Altrincham which finished the game off for the Blues. Chester failed to clear the ball and it came to Gianluca Havern who headed for home on the hour mark.
By now the snow was falling thick and fast, not making it easy for any of the players. Ben Heneghan replaced Keiron Charnock, while Jamie Menagh came on for Crain Mahon. Menagh looked lively, but the two-goal deficit was too much to overcome. Hobson had another chance, but he was no match for Alty goalkeeper Stuart Coburn.
A last throw of the die came with Wayne Riley making a rare appearance with around 13 minutes left to play. He was largely anonymous though, and it was so cold that it was almost a relief for everyone when the full-time whistle blew.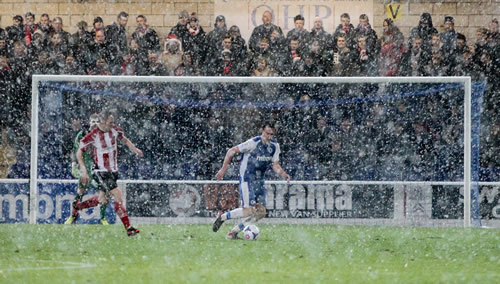 • League table after this game | More pictures


Rate Chester's performance
---
Monday 22 December
Chester 1 AFC Telford United 1
(After Extra Time, Telford win 4-3 on penalties)
FA Trophy Round One Replay
Attendance: 898 (88 AFC Telford) Half Time 1-0, Full Time 1-1
Booked: Rooney.


Chester: Worsnop, Kay, Brown, Charnock, Touray (Winn 73 (Menagh 98)), Heneghan, James, Rooney, Mahon, McConville, Hobson (Peers 86). Subs not used: Harrison, Greenop.
AFC Telford United: Hedge, Higgins, Byrne (Todd 85), Owens, Brownhill, Deacey, Grogan, Barnett, Cooke, Smith, Farrell (Gray 76). Subs not used: Hall, Poku.
Referee: Simon Bennett (Stoke-on-Trent).



Chester and Telford met for the fourth time in recent weeks to fit this FA Trophy replay in to the busy pre-Christmas schedule. It was match which arguably neither side wanted with plenty of games coming up over the holiday period. But the Trophy is a non-League club's best chance of a Wembley appearance at its climax and brings in an extra source of income as teams progress through the rounds.

So City fielded as full strength a side as they could muster, given Gareth Roberts' suspension and Kane Richards' ineligibility, as they made real efforts to reach the next round and a trip to Fylde. They began brightly enough with Rooney firing just wide and Heneghan's header wide of the mark too. Chester found plenty of room down the right as the Bucks' defence seemed to flounder. It was Heneghan stealing in again at the far post who side-footed the ball home to give City the lead.

Blues continued to dominate during the first period and Heneghan appeared to double both his and City's tally when he latched on to Rooney's pass and steered the ball past Hedge into the goal. The linesman's flag was raised however and the goal ruled out. Offside decisions continued to frustrate Blues – Mahon was the leading but not only culprit as they were caught out over and over again.
Chester went into the break a goal to the good but Telford were still in the game – a second goal was needed to secure victory and it continued to elude City. The Bucks, seeking to impress newly appointed manager Steve Kittrick, who watched the game from the stand, upped their tempo in the second half and began to have more of the possession as Chester became increasingly leg weary.

Within minutes of being introduced as sub, former Blues striker Tony Gray – hat trick hero of Telford's most recent game (A 3-4 defeat to Eastleigh) had contrived an equaliser. His shot took a deflection off Sam Smith and squirmed past Worsnop. It was scruffy but effective and enough to secure extra time and possible penalties – which the die-hard supporters felt in their bones to be inevitable.

Menagh and then Kingsley James went closest for City in the second period of extra time – both flashed the ball across the face of the goal from either wing. At the other end Gray elected to pass when he might have shot for Telford's best chance at goal.

The players congregated in the centre circle to participate in the ensuing penalty shoot-out. Blues went first with Menagh scoring confidently. But James – ironically the only City player to score from a normal penalty this season – saw his reasonable effort well saved at the foot of the left hand post by Hedge. Smith gave Blues fans hope when he blazed well over the bar but young Tom Peers saw City's fifth penalty saved in identical circumstances to James'. It was left to Cooke to score the Bucks' final pen which took them through.

It was a huge disappointment to the club and the die-hard fans who turned out but City had to accept that their tilt at the Trophy was over for another season. It seemed to be weariness and lack of a cutting edge which had brought about their collective demise. It was not so much the sudden death of the penalty shoot-out as the slow death of City hopes as the Blues faded and went off the boil as the game wore on.

Colin Mansley
Rate Chester's performance
---
Saturday 20 December
Barnet 3 Chester 0

Football Conference Premier
Attendance: 1,946 (191 Chester) Half Time 1-0
Booked: Heneghan, Charnock, Mahon. Sent-off: G.Roberts.


Barnet: Stack, Yiadom, N'Gala, Saville, Johnson, Villa, Togwell, Weston, Cook (Vilhete 61), Akinde (Stephens 77), MacDonald (Mensah 69). Subs not used: Muggleton, Hunt.
Chester: Worsnop, Heneghan, Brown, Charnock, G.Roberts, James, Rooney, Mahon, McConville, Richards, Hobson (Touray 55). Subs not used: Kay, Winn, Peers, Greenop.
Referee: Dean Treleaven (West Sussex).



This Chester performance was not as bad as the scoreline reflected and it could have been a different result had new signing Kane Richards not been declared offside when he netted the ball on 16 minutes.
At that stage in the game, it had been a fairly even encounter, with Sean McConville missing a close range header which seemed easier to score than head over the bar.
Video replays later showed the offside decision against Richards was at best dubious when he struck a perfect lob over the head of Barnet goalkeeper, Graham Stack. The well-travelled shot-stopper then made a couple of good saves from a Matty Brown header followed by a Richards' pounce onto the rebound.
Barnet's first proper chance of the afternoon led to them going ahead when John Akinde collected a poor back pass from Kingsley James before drilling the ball home past Jon Worsnop. Chester striker Craig Hobson had a weak header saved before half-time and Richards, who made a confident debut following his signing from Ilkeston, was also in the thick of the action again.

Not long after the re-start, another Hobson header hit the crossbar. But it was all over for the Blues on the 52nd minute when defender Gareth Roberts was given a straight red card for apparently elbowing Luisma Villa. The Spaniard made the most of the encounter, but there was no real doubt over the referee's decision this time.
Barnet were now on the offensive and made their pressure count on the hour mark when Charlie MacDonald put them two-up. Worsnop was then called on to make a couple of good saves, but could do nothing about Curtis Weston's shot on the 80th minute to give top-of-the-table Barnet the start they wanted for their Christmas campaign.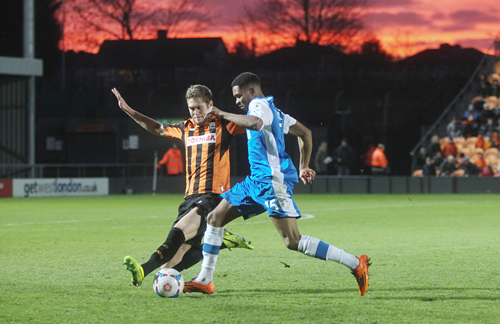 • League table after this game | More pictures | Match highlights [You Tube]
Rate Chester's performance
---
Tuesday 16 December
Chester 0 Barnsley 3

FA Cup Round Two Replay
Attendance: 3,534 Half Time 0-1
Booked: Kay.


Chester: Worsnop, Kay, Brown, Charnock. G.Roberts, Heneghan (Greenop 67), James, Rooney, Mahon, McConville, Hobson (Winn 89). Subs not used: C.Roberts, Touray, Harrison, Menagh, Blake.
Barnsley: Turnbull, Holgate, Crainie, Ramage, Brown, Bailey (Digby 89), Berry, Hourihane, Jennings (Boakye-Yiadom 90), Hemmings, Cole (Lita 83). Subs not used: Davies, Treacy, Abbot, Cowgill.
Referee: Keith Hill (Royston).



Chester's hopes of progressing to a home tie against Middlesbrough disappeared with a squib as damp as the evening. The rain never ceased all night and Barnsley, having learned their lesson from the first tie, were equally unrelenting in their grip on this game.

The Tykes were well organised and determined and took control of this replay early on. Hemmings and Jennings threatened but it was Berry who had the first shot in earnest with Kay doing well to throw himself in its way. But after surviving this scare the Blues were not so fortunate when another Berry shot hit Brown and fell kindly for Hemmings to pick his spot and score the first goal of the tie.

Gareth Roberts, looked the pick of City's defence as he battled tenaciously at left back. He picked the pocket of a dawdling Devante Cole as he watched the ball to the touchline. Roberts cleared it from under his nose. More crucially he raced across to rob Hemmings of possession as he bore down on goal in a Barnsley counter attack. Later, as James was deprived of the ball in a tight spot, Worsnop – playing in a mask to protect his cheekbone - had to dive full stretch to tip away Hourihane's resultant shot.

City were not having much joy holding on to the ball, Barnsley pressed high up the pitch and with the midfield having to come back in search of the ball they often had to resort to the long ball towards the isolated Hobson. The lone Blues forward got little change out of Barnsley's centre-backs but he got little support. A change of boots after half time seemed to bring better results from City's number nineteen and briefly after the break Chester began to threaten.

Kay combined well down the right and managed a couple of step-overs before his cross came to no avail. He crossed again only for Henneghan to be pipped to it by a defender. Rooney put the ball back in and Henneghan went close but the referee had blown up for a push by Hobson. Minutes later Kay was booked for sliding over enthusiastically into a challenge in the Tykes' penalty box with Hourihane.

Just after the hour mark, Barnsley caught City napping from a free-kick. Cole dummied a pass which left Kay exposed on the right and Jennings had space to shoot in to the far corner. City replied with Hobson glancing a header narrowly over the bar and Brown went close with another header. But the tie was finally put to bed when Jennings cut in again from the left and brushed aside three defenders before curling his shot inside the same far post as his earlier effort. It was a well-crafted goal but disappointing from a defensive point of view and somewhat harsh on the Blues.

As the game wound down a plastic bottle appeared to be thrown towards Roberts and he seemed reluctant to give it to the referee, he then seemed to pick something off the floor and give it to a Barnsley player who put it in his mouth. Was it a gum shield or even his false teeth we wondered? Later we discovered that Gareth "Jaffa Cake" Roberts was thrown and distributed a packet of biscuits.

City were not disgraced but knew that their main chance to win had come in the first match. With the element of surprise removed, the Tykes produced a professional performance to win this game. Blues were still roundly applauded for bringing their opponents from two leagues above back to Chester and earning extra revenue from the replay and the television rights. The word went around that a new signing was being made in the morning to strengthen the playing squad.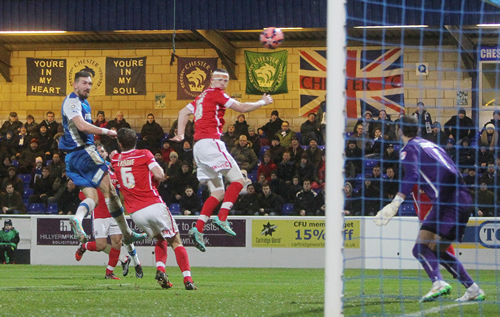 •
More pictures
Rate Chester's performance
---
Saturday 13 December
AFC Telford United 1 Chester 1

FA Trophy Round One
Attendance: 776 Half Time 1-1
Booked: Kay, Charnock.


AFC Telford United: Hall, Higgins, Grogan, McDonald (Smith 59), Brownill, Hancock, Poku, Platt (Barnett 14), Todd, Deacey, Farrell. Subs not used: Hedge, Gray, Cooke.
Chester: Worsnop, Kay (Peers 57), Brown (Touray 65), Charnock, G.Roberts, Heneghan, James, Rooney, Mahon, McConville (Menagh 82), Oates. Subs not used: C.Roberts, Hobson.
Referee: Jason Whiteley (Leeds).



AFC Telford United and Chester will have to meet for the fourth time this season after this first round FA Trophy match ended in a draw. Manager Steve Burr made one change from the side that drew at Barnsley recalling Rhys Oates and dropping Craig Hobson to the bench. A protective mask enabled Jon Worsnop to carry on in goal after he suffered a cheekbone injury at Oakwell.
Chester started well and almost took the lead in the eighth minute as Sean McConville saw a fine run end with his curling shot bouncing back off the crossbar with goalkeeper Freddy Hall well beaten.

The Blues didn't have long to wait for the opening goal though as they were awarded a penalty on 12 minutes after Mike Grogan had tripped Craig Mahon in the box. Up stepped Kingsley James to send Hall the wrong way in converting the spot-kick.

McConville almost doubled the lead rounding the defence and seeing his shot trickle just wide of the far post on 20 minutes.
Telford began to come more into the game and found themselves on level terms just before the half hour as a well worked one-two saw Jordan Deacey slot the ball past Worsnop from close range.
Oates and John Rooney both saw long range efforts test Hall but the score remained 1-1 at the break
Ten minutes after the restart Charlie Barnett saw an effort cleared off the line by Gareth Roberts as the home side pressed. Manager Steve Burr made a couple of changes as Chester looked to win the match.
Substitute Tom Peers, Oates and Rooney both missed good chances to score but the best effort in the final minute fell to Telford as a snap shot was pushed round the post by Worsnop to ensure the sides must replay at Chester just before Christmas.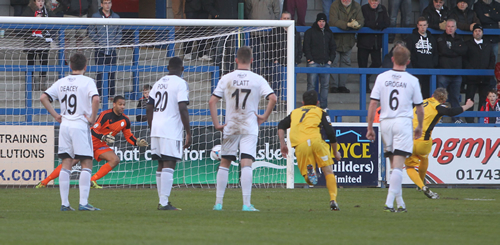 Picture © Rick Matthews (Chester Leader)

• More pictures
Rate Chester's performance
---
Sunday 7 December
Barnsley 0 Chester 0

FA Cup Round Two
Attendance: 7,227 (2,143 Chester) Half Time 0-0
Booked: -.


Barnsley: Turnbull, Cranie, Ramage (R.Brown 19), Nyatanga, Dudgeon, Hourihane, Berry, Abbott (Jennings 58), Trotta, Lita (Treacy 71), Hemmings. Subs: Davies, Digby, Holgate, Cowgill.
Chester: Worsnop, Kay, M.Brown, Charnock, G.Roberts, Heneghan, James, Rooney, Mahon, McConville, Hobson. Subs: C.Roberts, Touray, Harrison, Greenop, Menagh, Riley, Blake.
Referee: Darren Handley (Bolton).



This was a day to remember to all the 2,143 Chester fans who made the trip to Barnsley's Oakwell Stadium as they cheered their team onto an impressive draw and into the hat for the FA Cup Third Round.
Chester put on such a passionate performance that they were unlucky not to win the game outright as their League One opponents looked uncomfortable each time the Blues came forward and there was even a shout that a first half Craig Hobson header had crossed the line.
One of the heroes of the game emerged not long after kick off when Jon Worsnop was struck in the face by the trailing boot of Barnsley's Brad Abbott. It looked doubtful that he could carry on, but after attention from the physio and a check from the doctor he was allowed to stay on the field. It later emerged that he played for 85 minutes with a double cheekbone fracture.
He was soon called into action to make a save from Kane Hemmings, and the Blues fans heaved a sigh of relief as he dived low and held onto the ball. Attention soon turned to the other end when a Craig Mahon strike was parried onto the crossbar by Barnsley goalkeeper Ross Turnbull.
Then came the Hobson header that a couple of the Chester players pleaded had crossed the line, but referee Darren Handley said Reds' defender Joe Dudgeon had cleared it in time. Not long after that, it was Chester's turn for a good clearance when Keiron Charnock stopped a goal-bound shot from Marcello Trotta.
Half-time came with the comforting knowledge that Chester often put on a better performance in the second half and this time they had the added advantages of shooting towards a stand of raucous Chester supporters with the biting South Yorkshire wind behind them.
And so it was no surprise the Chester took the second half by the throat, with fearless Craig Mahon running at the retreating Barnsley defenders almost from the off. With less than five minutes gone, he collected a good pass, jinked into the box and had his strike saved by Turnbull.
At the other end, Worsnop was called into action to stop a Leroy Lita strike. But many of Barnsley's chances went nowhere near the goal. It was no wonder the Chester fans were justified in chanting: "Football League, you're having a laugh!".
As Chester continued to press forward, Charnock found himself with a free header in the area, but he squandered the opportunity and somehow the score remained 0-0. However, the Blue fans went momentarily wild when Sean McConville put the ball in the back of the net. But it was wishful thinking as both he and Ben Heneghan were clearly in an offside position.
Worsnop made another excellent save in the last 10 minutes and Barnsley also had another chance that went just wide. This was one of those 0-0 encounters that had as much goalmouth action as the 3-2 win at Dartford.
Mahon's eyecatching display continued as he rampaged into the Barnsley box in the game's dying minutes. His strike just dipped over the bar to deny Chester the win they deserved. By now Chester nerves were jangling, but Matty Brown stood firm in injury time to clear a ball off the line. A last minute Barnsley goal would have been cruel on Chester, and the referee blew his whistle just as the ball was cleared from danger.
Barnsley slumped off to a booing set of home fans, while the Chester team and bench were straight over to applaud the travelling army – the biggest away following at Oakwell so far this season. If Chester can replicate that performance in the reply, then they'll be into Round Three. We can only dream about what will happen next.
Sue Choularton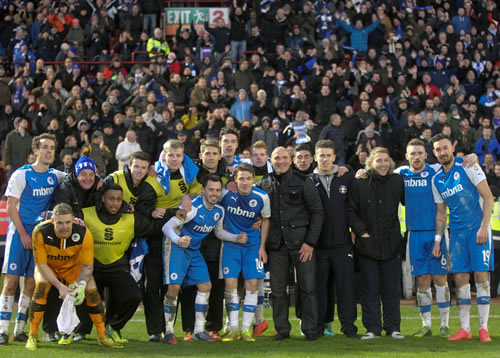 Picture © Rick Matthews (Chester Leader)

• Match highlights [BBC] | More pictures
Rate Chester's performance
---
Tuesday 2 December
Chester 2 AFC Telford United 0

Football Conference Premier
Attendance: 1,860 Half Time 0-0
Booked: Kay, Mahon.


Chester: Worsnop, Kay, Brown, Charnock, G.Roberts, James (Harrison 81), Rooney, Mahon (Touray 85), McConville (Peers 90), Hughes, Oates. Subs not used: C.Roberts, Hobson.
AFC Telford United: Hall, Higgins, Parry, Akrigg (Hancock 46), McDonald, Brownhill, Grogan (Cooke 64), Poku, Ledsham, Smith, Gray (Farrell 72). Subs not used: Hedge, Platt.
Referee: Richard Wigglesworth (Doncaster).



The Blues ground out what proved to be a comfortable victory in the end as they scored two second half goals to beat bottom of the table Telford and move themselves firmly into mid table.

The Bucks had held Grimsby to a draw at the weekend and started the game the brighter of the two sides tonight as they strove to play catch-up with the rest of the Conference. Godfrey Poku was the most influential midfielder as the visitors drove forward towards the Clock End. He it was whose effort was deflected upwards and over the bar on to the roof of the net – Worsnop was either completely deceived by the flight of the ball or the coolest customer in the stadium as he watched it drop to safety. The visitors also included Karl Ledsham in midfield, on loan from Lincoln, he had scored twice for Southport in the eventful draw at the Deva last season.

City had lost disappointingly away at Nuneaton but welcomed back Kingsley James from suspension. Gradually Chester began to see more of the ball and wrest control of the game from the Bucks. Hughes initially had little joy against the impressive Higgins at right back. But when Hughes and Mahon switched wings they began to make more headway. The Fleetwood loanee teamed up well with Kay a couple of times as the Blues began to exert pressure down the right.

McConville's claims for a penalty were waved away by referee Wigglesworth as he deemed the Chester forward to have gone down too easily. More mystifying was his denial of a spot kick when Rooney's goal bound shot clearly hit Grogan's left hand and away to safety. It was noticeable the linesman in particular gave every contentious handball that occurred to City after that. City's best and brightest moment of the half ended with Mahon shooting narrowly wide from the edge of the box through a crowd of players.

Freddy Hall, given a warm reception in the Telford goal had a lucky escape when his throw out rebounded off a defender's legs but did not fall kindly for Rhys Oates and was scrambled clear.

Telford changed things around at the break and brought on midfielder Hancock to replace former Skelmersdale and Southport centre back Akrigg. The tactic appeared to have backfired when a good move early in the second half saw McConville win a corner on the right which he proceeded to take himself. From his delivery Matty Brown rose to nod in the first goal of the evening.

Kay, rightly, and Mahon, inexplicably, were booked by referee Wigglesworth in as many minutes but City's rhythm was undisturbed. McConville and Hughes combined well but Hall pulled off a tremendous save from the winger's shot. Blues finally got the second goal they craved when Oates latched on to a through ball and his pace worried Hall into hurrying his clearance only to see it canon back off a defender and back into the net. A scruffy goal but Chester weren't complaining.

Telford rarely threatened and when Sean Cooke ballooned his free kick over the bar from a threatening position on the edge of the area we began to sense that City might hold on for the three points. After the disappointment of last weekend, this result was all important.

Now for a brief respite Chester can concentrate on the FA Cup on Sunday and dream about making progress towards the trophy that was on display – albeit temporarily – in the club shop before tonight's match. City fans took pictures of it with their phones and were told by security guards to look but "Don't touch". We wondered who will be getting their hands on it next May.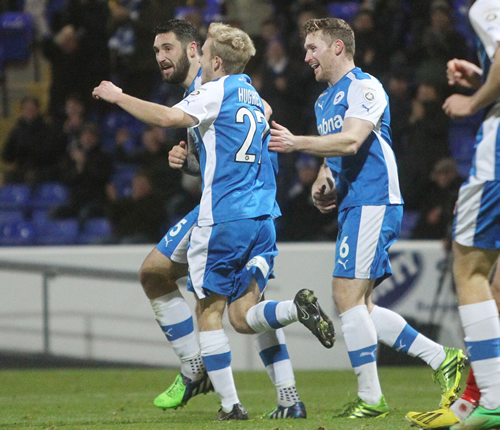 • League table after this game | More pictures
Rate Chester's performance
---