---
Saturday 25 August
AFC Telford 3 Chester 1
Conference National North
Attendance: 1,876 (535 Chester) Half Time: 2-0
Booked: Livesey, Hughes, Smalley, Burton.

AFC Telford: Bramley, White, Morley (Smith 46), Deeney, Sutton, Streete, Cowans, McQuilkin (Dawson 73), Morgan-Smith (Brown 76), Udoh, Knights. Subs not used: Royle, Wycherley.
Chester: Shenton, Grand, Livesey (Moran 46), Pritchard, Dominic Smalley, Burton, Stopforth, Waters, Hughes (Marsh-Hughes 65), Mahon (Thomson 65), Dudley. Subs not used: Howson, Mooney.
Referee: Benjamin Speedie.

My long-awaited trip to Telford for my first glimpse of the Bernie & Jonno Chester FC team ended up following a familiar pattern – a cracking boozer on the doorstep of the ground, a great behind-the-goal atmosphere and then a let down on the pitch.
After my appetite for the 2018-19 season was whetted in the excellent Cock Hotel as I caught up with the summer activities of fellow Chester fans, it was a real blow that the team went behind inside just 15 minutes.
It was an unusual opening goal as after goalkeeper Grant Shenton made a poor clearance he initially redeemed himself with an excellent stop. But the ball rebounded out to Telford's James McQuilkin and the ball hit the woodwork before finding the net.
Memories of last season flooded back just four minutes later when Amari Morgan-Smith won the ball and had no problem making it 2-0 to the home side. It looked like Chester had a mountain to climb at this stage and their best chance of the first half fell to Craig Mahon, but his attempt went wide.
Chester seemed to step up a gear in the second half and Mahon, playing in a midfield role, was the most dominant man in yellow. However, just when Chester looked to be coming back into it, they went 3-0 down on the 76th minute. In typical fashion, Chester lost the ball after winning a corner when it was hit upfield to dangerman Daniel Udoh, once on loan at Chester. He took his chance well and it was 'game over' for the visitors.
A 85th minute consolation goal for Chester came in the shape of a Simon Grand header from another corner. The referee took a while to decide the ball had crossed the line, giving the 535 away fans at least something to cheer.
Following the full-time whistle, most of the Chester squad came down towards the away fans behind the goal – shaking a few hands as they trooped off the field. There were a few angry words exchanged on both sides, and thankfully there's a long way to go in this season yet.
Rate Chester's performance
---
Saturday 11 August
Blyth Spartans 8 Chester 1
Conference National North
Attendance: 737 Half Time: 3-0
Booked: Hughes.
Sent-off: Roberts.

Blyth Spartans: Jameson, Nicholson, Liddle, Green (Oliver 62), Buddle, Cunningham, Rivers (Wrightson 65), Reid, Maguire, Holmes (Horner 67), Dale. Subs not used: Watson, Skirpan.
Chester: Shenton, Dominic Smalley (Marsh-Hughes 73), Pritchard, Howson, Grand, Livesey, Stopforth, Roberts, Mooney (Burton 62), Hughes, Dudley. Subs not used: Mahon, Thomson, Moran.
Referee: Richard Aspinall.

After a promising start to the campaign Chester were brought straight back down to earth suffering their worst defeat in 0ver 60 years when they were thrashed at Blyth Spartans.

The home side took the lead on 14 minutes when a poor backpass from Dominic Smalley was intercepted by Dan Maguire who beat Grant Shelton from close range. Four minutes later it was 2-0 as a ball over the top of the Blues defence found Jarrett Rivers and his cross was converted by defender Kieran Green.

Chester were all at sea and the home side added a third goal on the half hour as Jamie Holmes shot past Shenton following good build up play down the left.

Ten minutes into the second period Sean Reid headed home from a corner giving Shenton no chance to make it 4-0. Chester were the reduced to ten men as captain on the day Gary Roberts was shown a straight red card for what was deemed a late tackle by referee Richard Aspinall.

From the resulting free-kick Blyth made it 5-0 as Steve Howson turned the ball into his own net after the Blues defence had failed to clear the danger. Adam Wrightson added a sixth as a rampant Blyth cut through the Blues defence at will.

Chester pulled a consolation goal back through Gary Stopworth on 71 minutes, the midfielder firing past Peter Jameson from the edge of the box.
However Nathan Buddle added a seventh soon after and the rout was completed in stoppage time when Maguire scored with ease from close range.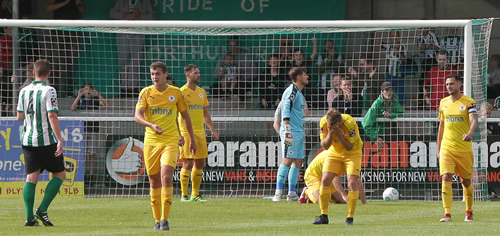 Picture © Rick Matthews (Chester Leader)
Rate Chester's performance - 0 star option not available.
---
Monday 6 August
Curzon Ashton 0 Chester 3
Conference National North
Attendance: 977 Half Time: 0-2
Booked: Mooney, Dudley.

Curzon Ashton: Mason, Morton, McJannet, Hunt, Shaw, Rowney, Guest, Marshall (Crankshaw 65), Sharpe (Brooke 65), Fawns (McKenzie 76), Hughes. Subs not used: Baillie, Ali.
Chester: Shenton, Grand, Livesey, Howson, Pritchard, Dominic Smalley (Thomson 81), Roberts, Stopforth, Mooney (Brown 72), Tuton (Mahon 68), Dudley. Subs not used: Moran, Downes.
Referee: David McNamara.

Chester followed up their opening day point with a deserved victory at Curzon Ashton just two days later. Goals from Simon Grand, Anthony Dudley and John Pritchard brought the three points back from the Tameside Stadium.

The Blues, who had named an unchanged side from Saturday, almost fell behind on 10 minutes as Cameron McJannet's through ball caught out the defence and found Chris Sharpe who shot wide when a goal looked certain.

It was half way through the opening period before Chester had their first real look at goal as Shaun Tuton's cross was cleared to Gary Stopworth who forced a save from Cameron Mason in the home goal.

Chester took the lead from the resulting corner as Grand headed home John Pritchard's cross from close range. The Blues soon doubled their lead as Gary Roberts, instrumental in midfield, sent Dudley through on goal and the on-loan striker gave Mason no chance.

The Blues maintained their lead at the break thanks to a Grant Shenton save that denied Joe Guest two minutes before the interval.

On the hour mark Chester added a third to wrap up the points. Good work from Dudley set up Roberts and Dominic Smalley whose cross was met by Pritchard, the ball hitting the net via a deflection.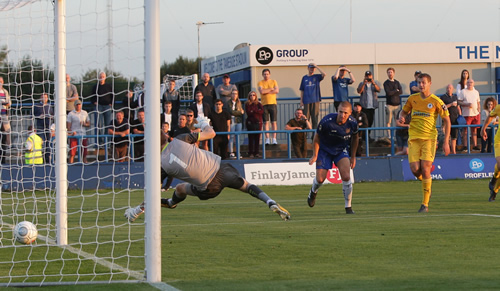 Rate Chester's performance
---
Saturday 4 August
Chester 0 Spennymoor Town 0
Conference National North
Attendance: 2,191 Half Time: 0-0
Booked: Roberts, Mooney.

Chester: Shenton, Dominic Smalley, Howson, Livesey, Grand, Pritchard, Roberts,, Stopforth, Mooney (Mahon 64), Dudley, Tuton. Subs not used: Moran, Thomson, Brown, Downes.
Spennymoor Town: Gould, Williams, Thackray, Curtis, Brogan, Chandler, Anderson (Hibbs 76), Ramshaw (Boyes 90), Foley (Henry 64), Taylor, Johnson. Subs not used: Elliott, King.
Referee: Aaron Jackson.

The points were shared as Chester and Spennymoor started the season with a stalemate at the Deva. Chester had the better of the first half but faded a little after the break.

No fewer than ten new signings started for the Blues as the new season under joint managers Anthony Johnson and Bernard Morley got underway in front of a crowd of over 2,000. Scott Burton missed out through injury so Gary Roberts took the captain's armband.

After an early Dan Mooney strike drifted wide The Blues forced the first real chance midway through the half as Anthony Dudley split the visitors defence with a perfect path to Mooney, he struggled to control the ball but found Dudley who fired just wide from 20 yards.

Chester saw Gary Roberts curl a free-kick just over the bar and Mooney again was in the action sending a shot just over on the half hour as Chester pressed.

Ten minutes before the break Spennymoor almost took the lead as Rob Ramshaw burst through only for his effort that looked goalbound to be cleared by Danny Livesey for a corner.
Minutes into the second period Matthew Gould in the Spennymoor goal did well to save a Shaun Tuton 20-yard effort, the same striker saw another good effort fly just wide of the post moments later.

At the other end, Glen Taylor forced a close range save from Gary Shenton and Stephen Brogan chipped an effort over the bar after latching on to a ball sent over the top of the Chester defence.

Chances were coming at both ends as Dudley saw an effort bounce back from the underside of the bar and with eight minutes remaining Gould produced a top-class save to deny John Pritchard whose effort was heading into the top corner.

The last effort of the game came two minutes from time as Dudley turned his marker to shoot low but straight at Gould.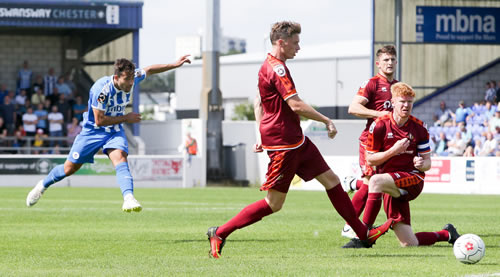 Picture © Rick Matthews (Chester Leader)

• League table
Rate Chester's performance
---