---
Tuesday 27 November
Chester 0
Southport 2
FA Trophy Third Qualifying Round Replay
Attendance: 654 Half Time: 0-0
Booked: Roberts.

Chester: Shenton, Grand, Thomson, Howson, Livesey, Roberts, Stopforth, Dawson (Smalley 66), Dudley, Jordan (Mahon 66), Mooney (Marsh-Hughes 66). Subs not used: King, Noble.

Southport: Hanford, Richards, Ogle, Morgan, Astles, Winnard, Charles (Homson-Smith 76), Wood, Green (Mueller 87), Archer, Bauress (Parry 76). Subs not used: Sampson, Tibbetts.
Referee: James Bell.



Chester were knocked out of the FA Trophy at the first hurdle as defensive mistakes were punished by Southport.
The Blues had the first opening which saw Dan Mooney collect a long kick from Grant Shenton only for the on-loan midfielder to see his shot saved by Dan Hanford in the Southport goal.

Chester were slow to close the visitors down on 15 minutes allowing Devam Green a long range effort that flew just wide of the Chester goal.
Chester forced a series of corners that saw Adam Dawson shoot wide from a good position, Mooney then saw an inswinging corner bounce back off the bar to Dawson, whose effort from 20-yards was gathered by Hanford.
Anthony Dudley sent an inviting cross right along the Southport goalline but there was no blue shirt to tap the lose ball home.
Seven minutes into the second half the Sandgrounders took the lead as David Morgan picked up a loose ball and unleashed a 30-uyarder that flew past a static Shenton.
Two minutes later the visitors doubled their lead as a poor back pass from Gary Stopforth was intercepted by ex-Blue Luke Jordan who scored with ease.
Gary Roberts curled a free-kick just over as Chester looked to respond but the Blues created little to trouble the opposition who held on comfortable to book their place in the next round.
Rate Chester's performance
---
Saturday 24 November
Southport 0 Chester 0
FA Trophy Third Qualifying Round
Attendance: 914 (281 Chester) Half Time: 0-0
Booked: Howson, Grand, Dawson.

Southport: Hanford, Richards, Ogle, Morgan, Astles, Winnard, Charles, Wood, Bauress (Homson-Smith 67), Sampson, Archer (Green 67). Subs not used: Mueller, Parry, Tibbetts.
Chester: Shenton, Howson, Grand, Livesey, Thomson, Roberts, Stopforth, Mooney, Mahon, Dudley, Dawson (Smalley 65). Subs not used: Marsh-Hughes, Noble, Jordan, Moran.
Referee: Paul Brown.



This game followed the pattern of most of the Southport games I can remember from recent years – where the activities off the field were more interesting at times than what was happening on the pitch.
This turgid FA Trophy tie never looked like being anything other than a draw and there wasn't really a shot on target all game. Instead most of the 281 Chester fans were entertained by the activities of a Southport supporter standing near the away end. In the second half he started sprinting along the terrace like a budding athlete – giving much more amusement to the travelling Blues than they were getting from watching the game.
The highlight of this game on the field was the performance of academy graduate Matty Thompson, who proved solid in defence and must have been Chester's man-of-the match.
But the busiest man in the first half actually seemed to be the fussy referee, who booked three Chester players in the match – all arguably for challenges he could have let pass to make it a more open game.
The second half saw the Blues shooting towards their supporters and it was a better – albeit goalless – 45 minutes from Chester. Dan Mooney made this presence felt in this half, but often seemed to take one tackle too many or pass the ball instead of making an attempt on goal. It just felt like a frustrating afternoon all round.
Southport certainly had more corners than Chester, but never realistically looked like scoring. Grant Shenton made an excellent diving stop from a Southport strike, but the attempt was declared offside. So both sides will have another attempt to find the net on Tuesday night, with a home tie against Solihull Moors awaiting the winner.
Sue Choularton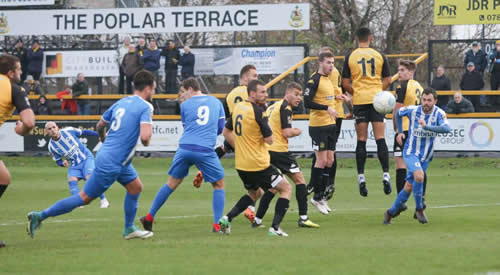 Picture © Rick Matthews (Chester Leader)
Rate Chester's performance
---
Saturday 17 November
Leamington 1 Chester 0
Conference National North
Attendance: 975 Half Time: 0-0
Booked: Roberts.

Leamington: Breeden, English, Gudger, Flanagan (Clarke 90), Hood, Mace, Dunbar, Gittings, Bishop (Obeng 87), Edwards, Taylor. Subs not used: Lane, Bowen, James.
Chester: Shenton, Moran, Grand, Howson, Livesey, Stopforth, Roberts, Mahon, Mooney, Dawson (Deane Smalley 83), Dudley (Dieseruvwe 83): Subs not used: Dominic Smalley, Pritchard, Noble.
Referee: Elliott Swallow.



Welcome to the most isolated ground in football, I thought, as I drove into Leamington's New Windmill Ground for Chester's first ever visit. Situated nearly five miles out of town and on a road with no footpath, the only way in was by vehicular transport.
However, the distant location didn't stop the Blues fans turning up in their droves, to make up more than a third of the unsegregated attendance of 975.
The ground had that familiar non-league feel to it, with a bumpy pitch and quite long grass. The floodlights, PA system and turnstiles had come from Oxford United's old Manor Ground to add to that 'old school' atmosphere, but it was also the first ground where I'd ever noticed pot-pourri in the ladies' toilets and it also had a snazzy electronic scoreboard.
The travelling army positioned themselves on the open terrace behind the goal or under a small stand alongside the pitch for the first half. They were rewarded with the first appearance of new signing Adam Dawson. He made some good touches, but didn't make a startling impression and was replaced near the end of the game by Deane Smalley.
Chester did have most of the play in the first half and came close to scoring when a Simon Grand header from a Dan Mooney free-kick thundered against the crossbar. The rebound fell well for Chester, but Leamington's captain and goalkeeper Tony Breeden made an excellent stop to keep the score level.

At the other end, the Brakes won a series of corners, but never really threatened to find the net in the first half. As the sun set over the ground, we switched sides for the second half and most of the Chester fans moved to the covered terrace behind Breeden's net.
The atmosphere was great, with the City supporters in good voice throughout most of the final 45 minutes. It was Chester's turn to win a number of corners in this half, and they came close to scoring on several occasions. They saw one cleared off the line, another strike sail over a near open goal and then Breeden made an excellent save to stop another attempt.
The ball was just not falling well for Chester, and then it was Leamington who had the lucky break of the match. A Shenton save re-bounded out to trouble, and Colby Bishop was on hand to put the hosts ahead.
There was only ten minutes' of normal time remaining, and Chester substituted Dawson and Anthony Dudley, giving the side a new formation for the end of the game. But Smalley and Many Dieseruvwe had little time to make an impression, with Leamington getting behind the ball to preserve their lead and depriving Chester of their first ever point at this football outpost.
Sue Choularton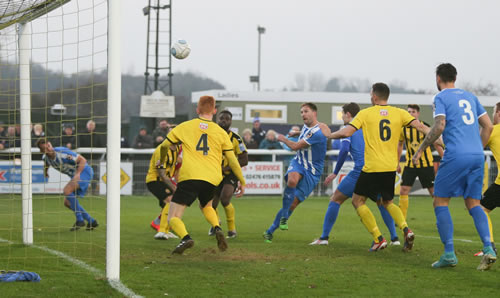 Picture © Rick Matthews (Chester Leader)

• League table
Rate Chester's performance
---
Tuesday 13 November
York City 0 Chester 0
Conference National North
Attendance: 2,319 (174 Chester) Half Time: 0-0
Booked: Dominic Smalley, Stopforth.

York City: Bartlett, Law, Newton, Digie, Davis, Griffiths, Hawkins, Moke, Burrow (Parkin 88), Ironside (Langstaff 84), Bray. Subs not used: Harris, Ferguson, Dyer.
Chester: Shenton, Howson, Dominic Smalley (Moran 46), Grand, Livesey, Mahon, Mooney, Roberts, Stopforth, Dieseruvwe (Dawson 46), Dudley (Deane Smalley 84). Subs not used: Noble, Pritchard.
Referee: Tom Parsons.


The early action was with Chester who saw Dan Mooney force a save from Adam Bartlett in the home goal. Craig Mahon saw an effort hit the post before Anthony Dudley shot wide with another great chance for the Blues.
At the other end the Blues had a let-off as Joe Ironside headed wide of the Chester goal when well placed.
The Blues made changes at the interval with a debut for new signing Adam Dawson and Jon Moran replacing Mani Dieseruvwe and Dominic Smalley, but it was York who wasted the next effort with Ironside again missing the target.
Gary Roberts saw a long range effort drift wide and both Moran and Danny Livesey failed to connect with a teasing Mahon centre as the Blues had to be content with a point that saw them move fourth and one point from leaders Bradford (Park Avenue).

• League table
Rate Chester's performance
---
Saturday 10 November
Chester 1 Altrincham 2
Conference National North
Attendance: 2,388 Half Time: 0-1
Booked: Roberts.

Chester: Shenton, Moran (Noble 86), Grand, Roberts, Livesey, Howson, Pritchard (Jordan 77), Mooney, Dieseruvwe (Deane Smalley 77), Dudley, Mahon. Subs not used: Dominic Smalley, Murray.
Altrincham: Thompson, White, Hampson, Jones, Hannigan, Moult, Johnston (Densmore 90), Harrop (Richman 72), Hulme, Hancock, Dale. Subs not used: Gabbidon, Scott, Wynne.
Referee: Matt Cortlett.



Chester missed out on the chance to go top of the league as their 11 match unbeaten league run was brought to an end by Altrincham.



The Robins started the game strongest and Grant Shenton was forced into a save as early as the fourth minute denying Andy White's half volley. It was short respite though as the visitors found the net in the 11th minute as breaking down the left the ball was fed to Jordan Hulme who shot low past Shenton

.

Chester responded with Anthony Dudley seeing a long range effort clip the bar and Dan Mooney forced a save from Tony Thompson in the Alty goal. On-loan striker Mani Dieseruvwe created a fine chance for himself only to shoot straight at Thompson.

The Blues responded at the start of the second period and drew level on 52 minutes as Gary Roberts free-kick found Simon Grand who headed home unmarked from six yards out.

Chester were back in the game and Steve Howson headed just over from a free kick and a last-ditch tackle prevented Dudley from a sight of goal from just ten yards.

Against the run of play it was Altrincham who scored next with Hulme netting his second of the game from close range after a corner had been knocked down.

The Blues brought on Dean Smalley and Cain Noble late on as they chased an equaliser but it was Altrincham who went closest to finding the net as Owen Dale forced a smart save from Shenton.

• League table

Rate Chester's performance
---
Tuesday 6 November
Chester 3 Nuneaton Borough 2
Conference National North
Attendance: 1,462 Half Time: 2-0
Booked: Moran.

Chester: Shenton, Moran, Grand, Howson, Livesey, Mooney (Dominic Smalley 90), Roberts, Stopforth, Mahon (Murray 76), Dudley (Pritchard 46), Dieseruvwe. Subs not used: Deane Smalley, Jordan.
Nuneaton Borough: Belford, Calveley, Obeng, Wesolowski (Richards 46), Addison, Carter, Baker, Wharton (Benjamin 70), Panayiotou, Angus (McGurk 53), Kelly-Evans Subs not used: Basso, Davies.
Referee: Michael Barlow.



Chester overcame a nervous ending to the match to defeat a plucky Nuneaton Borough and move to within a point of the top of the table.

Despite their lowly position, the visitors started in a confident fashion with Dior Angus forcing a save from Grant Shelton in the opening five minutes.

It was rather against the run of play on 17 minutes when Chester took the lead. Craig Mahon, making his 200th appearance for the Blues,
crossed from the right to Steve Howson who saw his header saved by Cameron Belford but the ball fell kindly to Danny Livesey who headed home the rebound.
Three minutes later the Blues doubled their lead, again Mahon was in the action crossing for Anthony Dudley to drive the ball home in emphatic style.

After their slow start, It was all Chester now. Jon Moran saw a header deflected over the bar and Simon Grand couldn't keep his shot on target from close range after pouncing on a loose ball.
Chester scored their third four minutes into the second period as Mooney notched his second of the game with a spectacular effort that gave Belford no chance after the midfielder cut in from the right.
Carl Baker pulled a goal back on 60 minutes for Nuneaton as his shot deflected over Shenton. Mani Dieseruvwe blazed an effort over the bar before Borough scored again as Adam McGurk headed home with ten minutes remaining.
It was a hugely uncomfortable final few minutes for the Blues as Borough pushed for an unlikely equaliser, but the Blues rearguard managed to hang on and extend their unbeaten run to 11 matches.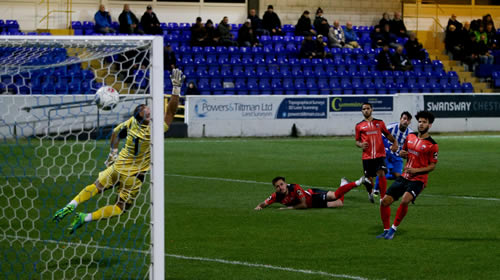 Picture © Rick Matthews (Chester Leader)

• League table
Rate Chester's performance
---
Saturday 3 November
Brackley Town 2 Chester 2
Conference National North
Attendance: 650 Half Time: 0-0
Booked: Roberts.

Brackley Town: Lewis, Murombedzi, Franklin (Fairlamb 68), Byrne, Hall, Dean, Walker, Armson (Nti 90), Ndlovu, Lowe (Myles 90), Walker. Subs not used: Jeffers, Noon.
Chester: Shenton, Moran, Howson (Deane Smalley 83), Livesey, Grand, Stopforth, Roberts, Mahon, Mooney, Dudley (Pritchard 78), Dieseruvwe (Jordan 89). Subs not used: Murray, Dominic Smalley.
Referee: Aaron Bannister.



Two breath-taking goals from Fleetwood loanee Dan Mooney made this another trip to Brackley Town that will live long in the memory of the travelling Chester fans.
The second one was simply stunning with the ball coming across behind him before he spun and volleyed an unstoppable strike right into the top corner. His timing was perfect as it came in the 5th minute of injury time and there was barely a kick after the re-start before it was full-time.
The Chester fans, who must have made up more than a third of the crowd, went absolutely wild as his goal earned City a vital point, as well as making it ten League games undefeated.
Until then, this was not a good spectacle for a neutral, with the first half largely forgettable. Chester's only change from the previous game was the start for fellow loanee Emmanuel Dieseruvwe. He had a few good touches when he looked like he had the makings of a quality centre forward, but he never quite managed to pose a threat.
There was actually no serious likelihood of a goal until the 50th minute when Brackley opened proceedings after a Grant Shenton block was pounced on by Connonr Franklin to put the hosts ahead.
But not long after that Dieseruvwe made a neat move on the left-hand side and crossed the ball across goal. Mooney, who had largely been anonymous until then, proved that he knows where the net is with a shot into the top corner from the edge of the box.
Chester had barely settled from that equaliser when they did what seems to happen all too often. Less than a minute after Mooney's goal, they allowed Brackley to run forward and a good pass to Sean Byrne was slotted home to put the Saints back in front.
There was still half an hour to go at this stage, and Chester had several corners and free kicks without looking likely to score until Mooney's goal-of-the-season contender on the 95th minute. It was a strike more than worthy of the point that it earned.

Sue Choularton

• League table
Rate Chester's performance
---