---
Saturday 29 December
Brentford 3 Chester City 0

League Two
Attendance: 4,323 Half Time 1-0
Booked: Hughes, Rutherford.

Brentford: Brown, O'Connor, Heywood, Osborne, Dickson, Ide (Shakes 46), Smith, Pead, Poole (Moore 84), Montague, Connell. Subs not used: Masters, Charles, Sinclair.
Chester City: Danby, Marples, Butler, Linwood, Vaughan, Partridge, Hughes, Roberts, Ellison, Yeo (Rutherford 56), Holroyd. Subs not used: Ward, Newton, McManus, Rule.

Referee: Clive Penton (Sussex).



Never has the chant…"All we are saying is give us a shot"…ever been so apt at a Chester game, as City somehow managed to play 90 minutes of football at Brentford without one attempt on target.
The match started with City's only fleeting threat of the game when Chris Holroyd shot wide of the post in front of the travelling support of around 300 Blues fans.
But within moments the action was at the other end of Griffin Park when Brentford striker Alan Connell lobbed City 'keeper John Danby to make it 1-0 to the Bees inside four minutes.
It never got any better than that as City played like a team who'd only just met for the first time at the M4 service station down the road.
To be fair, they were missing key figures including John Murphy, Tony Grant, Nathan Lowndes, Laurence Wilson and Tony Dinning. But those standing in for them didn't play like wanted to make a stake for a first-team starting berth.
The rest of the first half was not a pretty spectacle for any neutral, with what must have been about the worst all-round display of League Two football I've seen since Chester returned from the Conference. Danby had to make a couple of easy saves, but that was about as exciting as it got.
The second half was an improvement – but not for City fans. Brentford started playing some football and in the early stages of the second half Connell had another couple of good chances. Danby also did well to hold onto a Glenn Poole strike from 25 yards.
The closest Chester came to making a similar impression was when Paul Rutherford, who replaced Simon Yeo on the 56th minute, aimed a long-range lob at the Brentford goal. But it fell well wide of the target.
The Chester fans did their best to cheer on their side, with a long-running chant of "Big Bob's Barmy Army", but it was to no avail and on the 75th minute a well-aimed Brentford cross found the head of unmarked Ross Montague, who knocked the ball home.
Kevin Ellison, probably City's liveliest performer on the day, took a good pass from Rutherford not long after the re-start, but he couldn't find the target and that seemed like Chester's last advance in the final quarter of the field.
Brentford were on the scoresheet again on the 78th minute when Craig Pead beat Simon Marples and passed to Poole, who had an easy job to slot the ball in from ten yards.
So 2007 ended in bitterly disappointing fashion for Chester, with the travelling supporters feeling like they were entitled to a refund after seeing just one off-shot target in return for their £19 ticket price.
Come on lads, it's just the time for a New Year resolution for an improved performance at home against Grimsby. After that showing, the fans deserve it.

Sue Choularton
Rate City's performance (no star option not available!)
---
Wednesday 26 December
Morecambe 5 Chester City 3

League Two
Attendance: 3,419 (515 Chester) Half Time 4-1
Booked: Linwood, Roberts.

Morecambe: Lewis, Yates, Artell, Bentley, Adams (Howard 64), Thompson, Hunter (Sorvel 90), Stanley, Baker, Twiss (Curtis 72), Blinkhorn. Subs not used: Scott Davies, Newby.
Chester City: Danby, Marples, Linwood, Butler, Vaughan, Partridge, Roberts, Hughes, Ellison, Rule (Holroyd 54), Murphy (Yeo 32). Subs not used: Ward, Rutherford, Newton.
Referee: Mike Pike (Cumbria).



Morecambe completed the double over Chester thanks in main to three goals in a six minute first half spell. With forward Nathan Lowndes ruled out through injury, manager Bobby Williamson gave a full debut to Glenn Rule, the rest of the team was unchanged from the side that started against Bury on Saturday.
City backed by over 500 fans started the game brightly forcing a corner in the opening minute that was cleared. Five minutes later though City drew first blood. Richie Partridge was fouled 25 yards out and Kevin Ellison duly converted into the top corner giving Lewis in the home goal absolutely no chance. The home side responded and Paul Butler cleared up after Carl Baker had found space in the box.
On 18 minutes the Shrimps drew level as Jim Bentley headed home from a narrow angle. Two minutes later Garry Thompson headed home a Twiss flag kick from two yards out to give the home side the lead. on 20 minutes Baker forced another corner. This time Danby managed to block the first header from former Chester defender Dave Artell, but Blinkhorn was first to react to head the rebound into the empty net, 3-1.
City almost conceded again but had Paul Linwood to thank for racing back to clear from Blinkhorn who had chipped over the advancing Danby following a Baker through ball.
Williamson was forced into replacing the injured John Murphy with Simon Yeo. Danby again saved from Blinkhorn before the home side added a fourth goal in first half stoppage time. Bentley again in the action headed another Twiss corner against the post and in the resulting melee Baker turned the ball home.
Ten minutes after the break Williamson made another switch with Chris Holroyd replacing Rule as City looked to get back into the game. The Blues created two great chances to add a second, first Ellison latched onto a Partridge pass only for Lewis to block his effort six yards out, then Holroyd shot across goal when well placed. Lewis saved further efforts from both Holroyd and Ellison before Bentley made it 5-1 with a header 20 minutes remaining.
With nothing now to play for but pride Chester managed to pull two goals back to make the scoreline a little more respectable.

Ellison blasted home a 20-yarder that again gave Lewis no hope on 73 minutes. Three minutes later Holroyd scored from 20 yards after a poor clearance from substitute Curtis following a Yeo effort, but try as they might City could not break through again in a half in which they had responded well but simply could not make up for the poor defending that had set them back in the opening period.
---
Saturday 22 December
Chester City 2 Bury 1

League Two
Attendance: 2,260 Half Time 1-1
Booked: Hughes.

Chester City: Danby, Vaughan, Butler, Linwood, Marples, Partridge, Roberts, Hughes, Ellison, Murphy (Holroyd 86), Lowndes (Yeo 58). Subs not used: Ward, Rutherford, Newton.
Bury: Provett, Haslam, Morgan, Futcher, Parrish (Hughes 83), Scott, Buchanan, Woodthorpe, Adams, Bishop, Hurst. Subs not used: Baker, Barry-Murphy, Dorney, McAllister.
Referee: Lee Probert (Wiltshire).

City fans went into the festive period in good mood as Chester came from behind to take all three points off the Shakers. In truth Chester did not play particularly well for long parts of the match but their persistence paid off as Bury – resplendent in dark chocolate with sky blue trim – melted at the end.

A low winter sun dazzled the linesman as well as the spectators in the Vaughan stand. He was criticised for not raising his flag when Bishop skipped through for a first attempt on Chester's goal. It was the same player who opened the scoring when he held off Butler's challenge just outside the six yard area and managed to get a shot in which took a slight deflection to go just inside the post.

Bury were playing the better football for much of the first half. Buchanan was the pick of a lively midfield which gave City little chance to settle into any rhythm. James Vaughan was brought into left back to cover for the inured Wilson and although he did a fair job defensively, City missed a natural left footer to get things going down the flank. Partridge, returning from injury on the other wing, was starved of service and struggled to make an impact.

Just before half time Adams got the better of Butler down the right and cut in from the touchline. Instead of pulling it back for Bishop, the winger went for goal and struck the side netting. It was a let off for Chester and proved to be a turning point as they snatched an equaliser deep into stoppage time. Bury failed to clear a corner from the right and Hughes rifled a shot in through a crowded penalty area. The visitors could not believe their bad luck. Scott demanded to look at the referee's watch to check that there was still time to kick off again and the official duly obliged.

Bury continued to press after the break but as Chester came forward, Bishop was penalised and booked for a challenge on Hughes. A few minutes later the same player caught Marples late and was given his marching orders.

Gradually City began to play the ball about to make use of their one man advantage but chances were few. Hughes had a long range shot which Provett saved at full stretch. Lowndes was replaced by Yeo. A cross from a free kick on the right fell fortunately for the Bury 'keeper after ricocheting off a defender's back side.

Then with eleven minutes to go, a moment of inspiration. Roberts picked up Murphy's flicked header and sped for the touchline. He managed to hang the ball perfectly up to the far post and Ellison rose to beat his marker and nod it in off the upright. The big man patted his bald pate with jubilation as he celebrated so energetically he could hardly get his breath back for the next five minutes.

Yeo might have sealed it with a third but wanted too long on the ball on the edge of the box. Colin Woodthorpe – the only ex-Cestrian who played at Sealand Road still playing in the League – was booked for tugging Holroyd's shirt to blot an otherwise impeccable performance.

Chester maintained their place in the play off positions with this win even if their form was not thoroughly convincing.
•
League Two table


---
Saturday 15 December
Darlington v Chester City

League Two
City's League Two game at Darlington was been postponed due to a frozen pitch. It will now be played on Tuesday 19 February, kick-off 19:30.
•
League Two table
---
Saturday 8 December
Chester City 1 Peterborough United 2

League Two
Attendance: 2,291 (331 Peterborough) Half Time 1-0
Booked: Rutherford.

Chester City: Danby, Marples, Butler, Linwood, Wilson (Sandwith 30), Rutherford (McManus 82), Hughes, Roberts, Ellison, Murphy, Lowndes (Yeo 83). Subs not used: Ward, Vaughan.
Peterborough United: Tyler, Gnakpa, Morgan, Westwood (Hughes 69), Day, Whelpdale (Low 63), Hyde, Lee (Keates 63), Boyd, Mclean, Mackail-Smith. Subs not used: Jalal, Howe.
Referee: Roger East (Wiltshire).



Chester v Peterborough games have never been tepid affairs in recent years, and this rain-soaked Deva Stadium match was no exception.
Posh, with manager Darren Ferguson pacing the touchline 'Terry Smith-style' in just a jacket and trousers despite the wintery conditions, made the brighter start with his side pressing forward in the opening minutes.
Chester featured Paul Rutherford as a replacement for winger Richie Partridge, injured in the midweek Barnet game, and he had City's first shot on goal as the game approached the 10th minute.
His attempt missed the target, but was City's cue to get more into the game as new assistant manager, Jimmy Bone (wearing, dare I say it, a 'Mark Wright-style' peaked cap), did his part to urge the Blues forward.
Not long after a Chester corner, Nathan Lowndes made a threatening pass to Kevin Ellison. After a strong run, his shot towards goal hit the post.
Ellison, who later won a deserved man-of-the-match award, was back in the action soon after. In a neat move, he passed to John Murphy, who laid it off for Mark Hughes. He hammered the ball home from 25 yards out to make it 1-0 at half time, as referee Roger East blew up straight after the re-start.
Both Rutherford and Ellison made bright starts to the second half, with Ellison having another shot from 20 yards out after a good Rutherford pass.
Rutherford himself was almost on the scoresheet when a cross/shot from the right flank hung agonisingly in the air before hitting the post just on the wrong side and bouncing out.
John Danby was at his best soon after when Peterborough's Craig Mackail-Smith, who scored four in their last match, was running clear with only the City shot-stopper to beat. Danby dashed out, spread his body out well, and made a quality save on the edge of the area.
But Peterborough started getting the better of the poor conditions, with City missing Laurence Wilson, who had been replaced through injury by Kevin Sandwidth in the first half.
Posh's Aaron Mclean got his name on the scoresheet following a left-wing cross by Jamie Day. Mclean was seemingly unmarked when the ball came to him in the box, and he had no trouble slotting it home.
Soon after, Rutherford and Lowndes were replaced by Simon Yeo and Paul McManus. Both Rutherford and Lowndes got an excellent reception from the home stand as they came off.

But just a few minutes later, Posh were back in the Chester box. Jeff Hughes took a theatrical fall over Kevin Roberts' trailing leg and Mr East awarded them a penalty. Mackail-Smith took the spot-kick and left Danby no chance of saving it.
There was just eight minutes of normal play and three minutes of injury-time left, and although City were urged forward by the home support, there was little they could do in the dying moments.
As the City fans left the ground, the game was almost forgotten as the match-talk quickly turned to what was going on behind the scenes and another chapter in the life of Chester City FC was unfolding…

Sue Choularton
---
Tuesday 4 December
Chester City 3 Barnet 0

League Two
Attendance: 1,858 (80 Barnet) Half Time 2-0
Booked: Linwood.

Chester City: Danby, Marples, Butler, Linwood, Wilson, Partridge (McManus 89), Hughes, Roberts, Ellison, Murphy (Holroyd 85), Lowndes (Yeo 81). Subs not used: Ward, Vaughan.
Barnet: Harrison, Devera (Porter 74), O'Cearuill, Yakubu, Gillet, Carew (Grazioli 72), Wright, Bishop (Leary 78), Puncheon, Hatch, Birchall. Subs not used: Beckwith, Tabiri.
Referee: Darren Drysdale (Lincolnshire).



A brace of spectacular goals from Kevin Ellison and one from Richie Partridge featured in an emphatic and long awaited home win for Chester.

The Blues took an early lead when Ellison beat his man on the touch line and crossed towards Murphy on the far post. A Barnet defender glanced a header to help the ball on its way but only as far as Partridge who volleyed home from an acute angle.

Stung by this reverse, the Bees brought the game to City and enjoyed more of the ball, passing swiftly. Hatch and Birchall were a danger up front and the latter looked certain to score when played though but Danby stuck out a leg and saved briliantly. For all their possession Barnet could not fashion any better chances than this one.

City went further ahead following a slick passing move involving Wilson, Partridge and Lowndes which saw them sweep the ball from left back to Ellison who was lurking on the right. He cut inside and looped a sensational shot from outside the area into the far top corner which left the veteran Harrison rooted to the spot as he watched it sail in to the net. One of the finest goals seen at the Deva in many a season.

After the break Chester came forward looking for the goal that would finish the game but were almost caught on the break themselves. Birchall went close with another shot and Puncheon had an attempt which just whistled past the top corner.

The familiar name of Grazioli was introduced into Barnet's attack as they tried to reduce the arrears and he forced another good save from Danby. But it was City who made the points safe due to another exhilarating finish from Ellison. Murph just got to Marples' cross on the far post but only succeeded in heading the ball upwards. As a Barnet defender dithered, Ellison controlled the ball well, turned and lashed a shot from a narrow angle across goal which thumped into the far post and into the net.

Chester played with great confidence now and the fresh feet of McManus and Holroyd were introduced to torment Barnet further. The breezy conditions made the high balls difficult to predict and as the Bees tired, the ball was launched over the stands at regular intervals. The band of away fans never tired of their incessant chanting but with little reward. Both teams played their part, however, in a very entertaining game.

| | |
| --- | --- |
| | |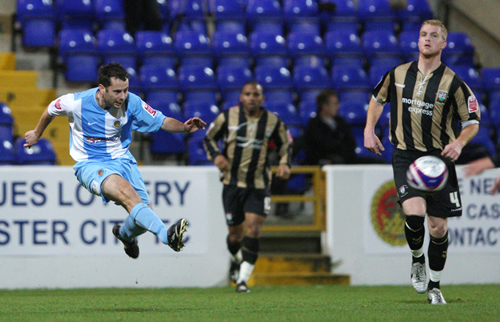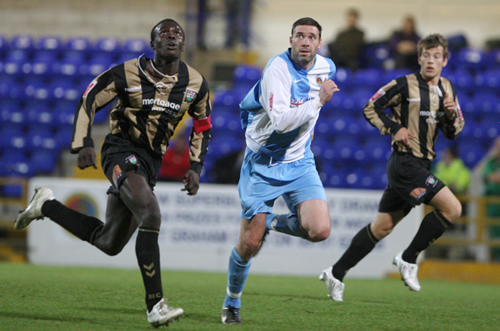 ---